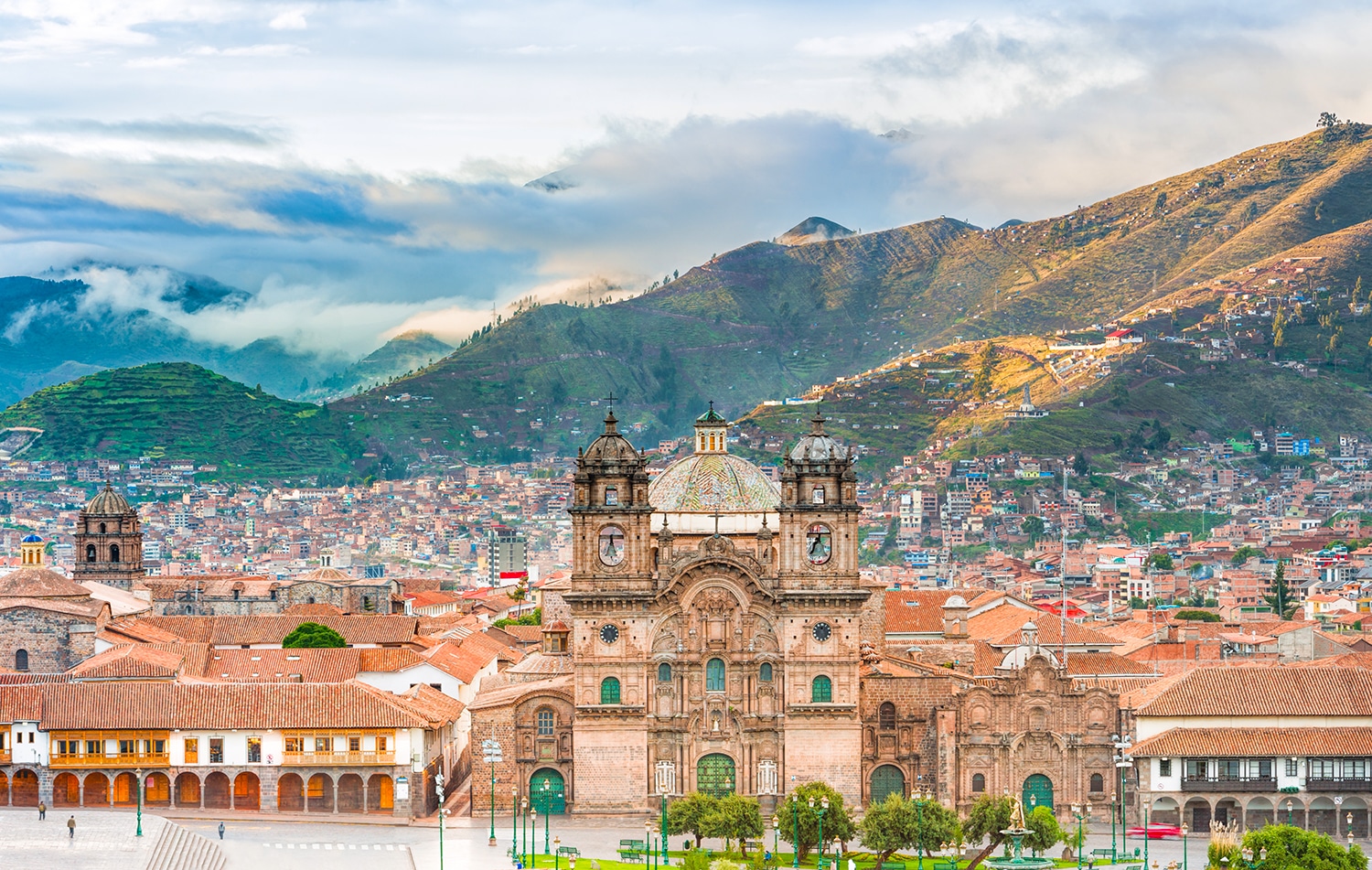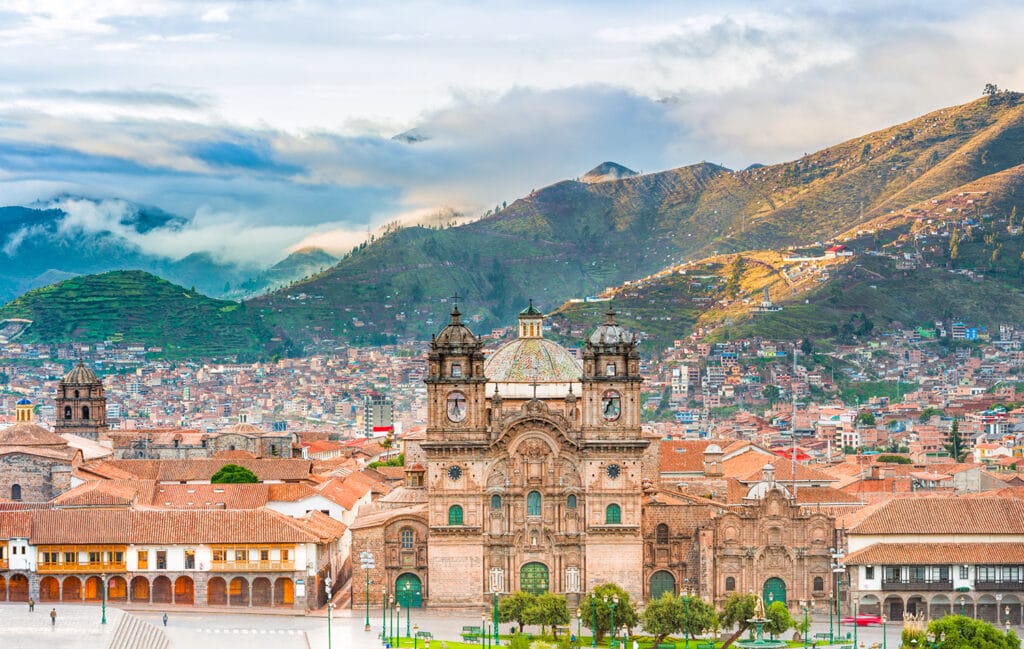 A Digital Nomad Guide to Cusco, Peru
Peru is home to the Incas and is considered the land of the sacred. Peru is situated in the northwest of South America, bordering Ecuador, Columbia, Brazil, Chile, and Bolivia. Peru is a magical country with every terrain imaginable with hundreds of historical sites and places of curiosity. From the depths of the jungle to the sandy beaches, Peru has almost every climate imaginable and is home to some of the rarest animal species. Peru is known for its abundance of llamas and alpacas, as well as the world-famous site that is Machu Pichu.
The currency in Peru is sol, which means sun in Spanish. The Incas named the currency after Inti, the sun god. The official language in Peru is Spanish. However, there are around 50 Incan languages that are still used in mountainous and remote towns such as Quechuan.
Cusco, also known as Cuzco, is located in the Sacred Valley in the center of Peru, and whilst being a fairly large city with its own airport, the old town, where most tourists go, is quite compact and quaint. Cusco is at the heart of Incan Culture, and you will see this through the abundance of crafts, monuments, and museums. Situated at 3,400 m (11,200 ft) in the Andean Mountains, Cusco is a UNESCO World Heritage Site, and it was the capital of the Incan Empire.
Nomad Friendly
Value for Money
Internet
Workspace
English
Food
Safety
Health
Transportation
Friendly
Quality of Living
Living in Cusco Overview
| | |
| --- | --- |
|  Meal, Inexpensive Restaurant | $1.96 |
| Domestic Beer (1 pint draught) | $2.09 |
| Cappuccino (regular) | $2.00 |
| Loaf of Fresh White Bread (1 lb) | $1.15 |
| Water (1.5 liter bottle) | $0.98 |
| One-way Ticket (Local Transport) | $0.26 |
| Basic Utilities (Monthly) | $68.88 |
| Internet | $35.66 |
| Fitness Club (Monthly) | $29.57 |
| Apartment (1 bedroom) in City Centre | $639.19 |
[erw_exchange_rates_widget lg="en" tz="0″ fm="EUR" to="EUR,USD,GBP,AUD,JPY,RUB" st="primary" cd="" am="1″][/erw_exchange_rates_widget]
Max Withdrawal: €400
Use of Credit Cards: Widely Accepted
Digital Nomad Personal Experience in Cusco
Peru is one of my favorite countries, and I have been to various areas of the country, from the northern beaches in Huanchaco to the Amazon jungle, Lima, and Cusco. I have been fortunate enough to have been to Cusco twice, and I would jump at any opportunity to go again. I stayed in a hotel my first time when I was there and a hostel the second, and both were great experiences. 
Cusco is an ancient town that is full of quaint cobblestone alleys, bustling markets, and some of the most interesting architecture. It is the best place to be if you want to acclimatize to the altitude, and this is where you will need to be for a short time before attempting to hike Machu Picchu. I was in Cusco when there was a festival, and it was such an experience, so I would highly recommend checking out when these are to see if they coincide with your trip.
I spent most of my days off wandering around the beautiful streets, eating street food, browsing local crafts, and hiking in the Sacred Valley of the Incas.  You will find many things to do in Cusco, especially if you like museums, historical sites, markets, and food! I was lucky enough to have my car as I drove in with a group of friends from Ecuador, down through the country. Having access to a vehicle meant that I could visit the lesser-known sites and get to experience true daily life in Peru.
Work in Cusco
Cusco has a great selection of places to work, from coworking spaces, cafes, and bars. The biggest thing to consider when looking for a space to work in is internet speed. Cusco has an average internet speed of 6.2 megabits per second (Mbps), and the global average is 7.2 Mbps. Other than internet speed, most other requirements for working as a digital nomad are accessible in Cusco. There are around ten coworking spaces as of 2021; however, they are widespread, and some are better suited to digital nomads, so here are some of the best coworking spaces closer to the old town.
Best Places to Work in Cusco
Selina
If you aren't familiar, Selina is one of the fastest-growing brands of coworking co-living spaces across the world, and they have multiple locations in Cusco. The main Selina is located in Plaza de Armas, and they have wonderful facilities. If you have ever visited a Selina coworking space, then you will recognize their style and consistent workspaces. Daily hot desking in Cusco starts at $13 USD per day, $59 USD for weekly passes, and finally, monthly hot desking starts at $100 USD. Selina is a great coworking space for the social type and someone who wants to be automatically integrated into a community of like-minded individuals. 
Genup Coworking
Also located close to Plaza de Armas, Genup is a highly rated coworking space that offers a variety of packages, office spaces, and facilities. The only downside to this space, is that prices are not displayed on their website or social media pages, so you will need to get in contact directly for more package information. The space is perfectly located offers opportunities to connect with local entrepreneurs. 
Ayni Center, Kuska and Cowokring Cusco
These coworking spaces are located just outside the city center and they offer great facilities. These are more geared towards Spanish speakers and locals, but digital nomads are welcome to use the spaces too. All three offer a selection of facilities with various options for daily passes, weekly and monthly memberships and they are all price on request.
You will find that these aren't the only ones in Cusco and more are popping up due to the concept of digital nomadism becoming more popular.
Cafés
Cusco has many cute cafés and coffee shops that you can also work from. For the lower-end budget, cafés are a great space to work in as you have more flexibility and freedom, unlike committing to the membership at a coworking space. They do have their cons, though. Working from a café or public space can be distracting and not as reliable as paying for a coworking space, but at the end of the day, it is down to individual needs. One of the main things to be aware of in Cusco is internet speed, so when looking for a café to work from, make sure to check the speed before getting comfy. Most places will offer Wi-Fi, and generally, it is a good speed, but it may not be perfect for uploading large files.
Some of the best cafés in Cusco for digital nomads are Laggart Café, Café Panam, The Meeting Place Café, and Cappuccino Café. They all have great seating for working and excellent Wi-Fi.
Best Places to Live in Cusco
Best Neighbourhoods
Cusco is a fairly large and spread-out city, so choosing an area to be in can be difficult. There are many factors to consider when choosing a place to stay, and it depends on what your needs are. Most tourists stay around the Plaza de Armas; as it is in the heart of the historic center, however, there are some great places to stay in the more residential areas of Cusco too. I stayed close to the Historical Center as I love being right next to the museums and galleries. Here are some of the best places to stay, offering a variety of vibes.
Plaza de Armas
This is at the heart of the historical center, and it is where you will find more tourists. It can be slightly more expensive in this area, but you will find a great selection of hotels and apartments here. Being located in the historical center means you will be able to immerse yourself in the history of the city as it is on your doorstep.
Magisterio
This is a nice residential area outside of the historical part of the city and closer to the newer and upcoming parts of Cusco. You will find this is a residential area for locals, and it is a pleasant place to be. It is just a short bus journey, around 20-30 minutes, costing around $0.20 USD into the Historical Center or around a 45-minute walk. This is a great place to be if you prefer to stay in a more localized area to get a true feel for life in the city. It is also a little cheaper here when compared to the more touristic areas.
San Blas
Located just a 10-minute walk from the historic center, this is the creative bohemian corner of the city. There are many cute bars, restaurants and there is a trendy, laid-back vibe here. It is very popular with backpackers and digital nomads, and it is an excellent place to be located. It is also slightly elevated, so you get excellent views of the city from here.
Lucrepata
Located right next to San Blas is the lesser-known area of Lucrepata. It is an up-and-coming area that is a quaint residential corner. It is about a 15-minute walk to Plaza de Armas and is a little quieter than San Blas. You will find many ex-pat families here.
San Cristóbal
This is a really authentic area to be, and it much less touristy than other areas I have mentioned. It is located at the top of the hill that overlooks Cusco, which offers fantastic views of the city. The only downside to living up here is the walk home as it is all uphill. Whilst it is only ten minutes to get to Plaza de Armas going downhill, it will take a little longer to get home.
Find an Apartment in Cusco
There are several ways to find the best apartment in Cusco, and many of these platforms will help find places that suit certain needs better than others. Websites such as Airbnb, booking.com, Hostelworld, and co-living websites are the best places to search. Depending on what you are after, here are some different suggestions for finding an apartment and predicted costs.
Airbnb can sometimes offer some great deals on apartments; however, as it is more popular with tourists than it is longer-term renters, prices can be quite a bit higher than booking a private apartment through an agency. You can get a studio apartment close to the Plaza de Armas for around $300 USD. Prices can go up to around $465 USD for a one-bedroom apartment within walking distance of the historic town center. 
Anyplace is another search engine that's popular with digital nomads, offering private rooms, mostly in hotels. For example, on this platform, you can get a modern private room in Cusco for $750 USD per month. The apartments on offer provide private bathrooms, desk space, and excellent facilities. This could be a great option for someone who has the extra cash to spend and wants convenience. As with many rentals, they require you to provide a security deposit for your stay, so make sure to add this to your budget. 
Selina coliving has multiple sites in Cusco, offering private rooms and shared dorm rooms. This is a great place to stay for combing coliving and coworking under one roof but still maintaining privacy. They offer what is listed as their micro room for $648 USD per month, which gets you access to the coworking space as well as access to events. The great thing about booking packages with Selina and other coworking spaces is that sometimes extras are included, such as breakfast. If you are looking for more than just a private room, such as having your own bathroom, then Selina offers private suites with prices starting at around $1080 USD per month. Prices can vary between the Selina venues, depending on their facilities and locations, so make sure to enquire before you book.
There are many apartment rental pages on Facebook which showcase apartments to rent in Cusco, and most of the services use Airbnb for booings. Although these don't offer an alternative search engine for finding a property, they may present different results, so it is worth looking. Having looked myself, there are apartments available for around $600 USD per month. 
Alternative search engines such as Coliving are coming soon to Peru, so keep an eye out for these types of sites as the ever-growing community of digital nomads means that these types of services are ever developing.
Cheap Places to Stay in Cusco
There are many hostels in Cusco offering very affordable accommodation with excellent facilities. It is possible to find beds in dorm rooms for as little as $6 USD per night. Most hostels will offer private rooms too, so this is another option for a mid-range budget for someone who wants a little more privacy. Private rooms start at around $15 USD per night. This is a great option for a couple or for anyone who wants to be in a social space while still having their own private area to retreat to. Another thing to be aware of is tourist tax, as this isn't always included in the price displayed, and if you are staying for over a month, this can soon mount up. 
Some of the cheapest but highly rated hostels, located just a short walk from the historic center, are Dragonfly Hostel, Saqray Hostel, Selina, Tucan Hostel, Mama Simona, Ayni Hostel, and Supertramp Hostel. Another top tip is to see which ones offer breakfast, as this is sometimes included and can help reduce your food costs.
Selina coliving has multiple sites in Cusco, and this is a great place to stay for combing coliving and coworking. Their cheapest option available is a bed in a dorm, which will cost around $324 USD per month, and this includes coworking, wellness classes, and access to events. This isn't the cheapest coliving, coworking space in Cusco, but it is still a good deal for someone looking for a community on their doorstep and convenience.
Another option for a lower budget is Nomad Hideout, which is located in Magisterio, just a short bus journey from the historic center. Rooms start from around $11 USD per night, and the venue is a coliving, coworking hub. It is great for someone on a lower-end budget who wants to combine coliving and coworking. Nomad Hideout offers weekly and monthly discounts so you can have a private room, including coworking for one month for a total of $248 USD.
Cusco Visa
Peru is one of the easiest countries to enter, and you don't always need a visa for entry. Passports from most countries in the Americas and western Europe do not require any form of visa, just a passport valid for six months from the date of entry. The average maximum stay is for 183 days; following that, you are required to apply for a residency permit. Other countries in South America can enter Peru using their national ID cards and do not need a passport to enter. Some countries will need to apply for a tourist visa before they travel. For specific information, visit the official tourism board website at peru.travel or contact your embassy in Peru to find out what type of visa you need for your stay.
If you are planning on working in Peru, then you will need to obtain a working visa, which is generally done by your employer. To be granted a working permit, you need to have a native put their name to your application as they will act as your guarantor. Usually, if you accept a job before your arrival, your employer should apply for you and obtain the correct visa before your arrival. 
Culture and Food in Cusco
Local food
Some of the best restaurants serving up some of the local specialties and some of the best Peruvian cuisine are Piedra & Sal Restaurante, Pachapapa, Limo, and Uchu Peruvian Steakhouse. Some of the specilaities to look for are ceviche, quinoa, Papas a la Huancaína, cuy, Rocoto Relleno and Papas A La Huancaina. 
Fast-food
You will notice some popular fast-food chains in Cusco, and whilst I don't personally enjoy eating at these, for someone who is missing a familiar taste, this will certainly curb that craving. You will see McDonald's, KFC, and Burger King.
Street Food
Cusco has some wonderful markets offering some of the best street food in Peru. San Pedro Market was my personal favorite as it offered a variety of hearty home-cooked meals for a very low price of around $3 USD. Many of the food stands inside the market will serve a "meal" rather than just one item. You will find the women offer just one set menu, which is usually a soup, followed by the main, which is generally rice, beans, and some sort of meat or fish, all served with a cup of tea. This "set menu" generally costs around $3-4 USD, and you get a very large helping. 
Guinea Pig (Cuy)
Now, this might sound odd as in many places, guinea pigs are seen as pets; however, they are a staple food in Peru. There are many myths and legends in Peru, and there was one I was told when I was in Cusco. The story is that guinea pigs were given to university students across the world for analysis. The species breed like crazy, hence they made a great food source, so some were sent to see if breeding could be optimized to produce larger species by selective breeding. However, the story is that the recipients of the guinea pigs thought they were so cute that they ended up keeping them for pets, and that is how guinea pigs have appeared across the globe! Whether this is true or not, the guinea pig is still eaten in Peru and is often part of a celebratory meal. You will find it on many menus, and it is often served whole on a platter. Personally, I am not a huge fan of eating meat; however, I did try it whilst there, and it was a very dense meat, almost like a cross between pork and chicken. It is often written as El Cuy on the menu, and restaurants that serve it in Cusco charge around $13 USD.
Alpaca and Llama
Another specialty in Peru is alpaca and llama. They are both very lean meats that were a staple for locals and have now become part of cuisine across the country. You can find the meats in many forms, from steaks cooked on a volcanic rock to appearing on a pizza. Again I did try both whilst out there, and it isn't for everyone; however, I recommend finding a local spot to eat at and giving it a go.
Vegan and Vegetarian
Cusco has a wide selection of vegetarian and vegan restaurants, and many will cater to different dietary needs. You will find restaurants serving both local cuisine and others that offer a variety of cuisines from across the globe that all cater to special dietary needs. Some of the best vegetarian restaurants are Green Point restaurants, Shaman restaurant, Chia Vegan, Govinda Lila, Green falafel, Organika, El Encuentro, PER.UK, Greens, Nuna Raymi and Organic madre tierra.
Cusco Nightlife
Nightclubs
The best nightclubs in Cusco are located around Plaza de Armas, and you have a great variety to choose from. Mama Africa is rated as one of the top nightclubs in Cusco, and it is the party place. With multiple dance floors and drinks offers, this is the place to go for a wild night. Other nightclubs in the area include Ukuskus Bar, which is great for live music, La Chupitería, which is home to the best shots in town, and Chango Club. 
Many of the largest Hostels, such as Loki and Wild Rover, will also put on club nights in their bars, which can make for a fun-filled night of drinking and dancing.
Bars
For a more low-key evening, there are many bars to sit and have a drink at. The thing that is great about Cusco is there is something to suit everyone's needs, and you will find a huge variety of bars. Some offer a relaxed space for a chilled drink with friends, whilst are higher-end offering some of the best cocktails in some of the most sophisticated bars in Cusco. Some of the best bars are KMO, The Muse, Indigo, El Jardin Secreto, Mushrooms, Los Perros, Nuevo Mundo Craft Beer, and Fallen Angel. Paddy's is another spot that is popular with tourists, and it resembles a British pub.
Night Tours
As well as guided day tours, there are night tours that offer a great way to see the city in a new light and admire the lights. This is a nice way to spend a quiet evening and a great way to meet like-minded tourists. 
Cocktail Classes
When in Peru, you have to try the local specialty, which is Pisco. Pisco is the famous spirit of Peru, which is made from distilling fermented grape juice, and it is similar to brandy. Pisco sours is the most popular cocktail using the spirit. Cusco offers a variety of cocktail masterclass evenings, with prices starting from around $25 USD. Usually, these will includes tasters and a lesson on how to make cocktails with Pisco.
Things to do in Cusco
Cusco is a beautiful city located in the mountains in the Sacred Valley of the Incas. There are plenty of things to see and do in Cusco itself; however, it is very popular to take excursions from the city to surrounding areas. The Sacred Valley is full of historical sites, and there are many tours running from Cusco to see the rich history of the area. In Cusco you will see many museums, galleries, shops, markets, bars, and cafés, so you certainly won't be bored if you decide you don't want to take any trips outside of the city. 
Museums

There are many museums in Cusco, showcasing art, crafts, and historical elements of Peru as well as Incan Culture. The best museums for Incan Culture and arts are Museo Inka, Museo de Arte Precolombino, and Museum of Contemporary Art of the Municipality of Cusco. Other historical museums include Museo Casa Concha, Regional Historical Museum of Cusco, Coca Museum, Casa Garcilazo, and Museo de Sitio Puca Marka.

Markets

There are many markets in Cusco, selling local produce, food, and crafts. Even if you don't go to buy something, they are great to just explore for a day and see what is present in local culture. Baratillo Market is held every Saturday, and it is also known as the "smugglers market." Baratillo Market is not as touristy and is more popular with locals. You will find locally grown produce and antiques in this bustling market. 

Coffee and Chocolate Museum

Peru is known for its coffee and chocolate farming, and there are museums that showcase these industries in Cusco. ChocoMuseo is a great place for any foodie or chocolate lover. They have two locations in Cusco, and they offer a variety of tours and workshops. Chocolate-making tours can cost anything from $25 USD up to $50 USD for a day experience.

Cooking Class

One of the best ways to get to know a country is through its food; what better way to experience the culinary side of culture than through a cooking class. Cookery classes are very common in Cusco and come in a variety of forms. Most half-day cooking experiences start at around $40 USD. This usually includes a tour of local food markets where you purchase local produce followed by a cookery class, learning how the locals eat.

Shops/Crafts

Cusco is full of craft stalls, markets, and shops selling some of the finest Peruvian crafts. From alpaca jumpers to leather goods, tapestries, and friendship bracelets. For true handmade items, visit the official stores as many items found in the markets are produced in Asia on a mass production level for tourism. You can easily find jewelry, clothing stores, and craft shops where you can see the locals at work, creating authentic souvenirs. Even if you don't want to buy anything, but you enjoy looking at color crafts, then I suggest you spend an afternoon exploring the colorful markets. Peru is known for its colorful textiles, and you will find the textile markets and stores such as The Fair Trade Store and Centro de Textiles Tradicionales del Cusco sell authentic goods. Centro Artesanal is also good for looking at local crafts. The King of Maps is another great shop to admire some incredible local talent.

Festivals

Across South America, festivals are held on a regular basis, and if you happen to be there whilst one is happening, then you must go and experience it. It is common to celebrate Saint days, and each town has its own saint that they celebrate. Carnivals, processions, and music are common attributes of a festival in Peru.

Machu Picchu

This is probably one of the most famous sites in Peru and one of the most popular places to visit from Cusco. This is because before visiting Machu Pichu, it is advised to stay in Cusco for a few days to get used to the altitude, especially if you are planning on hiking up Machu Pichu. Prices vary dramatically, as there are an array of options, some including transport, some including a night's stay in Aguas Calientes, the town at the bottom of Machu Pichu, etc. I have been lucky enough to visit twice, and each time I took a different trip. My favorite was a tour organized from Cusco, which drove us to the end of the Inca Rail line, from which we followed the tracks hiking to Aguas Calientes. We had accommodation arranged for us here, and we got up at 4 am the following morning to hike up Machu Pichu. After a day up the mountain, we returned back to where the bus had dropped us and returned to Cusco. This was one of the cheapest options available, but there was a lot of hiking in a very short time frame, so it isn't for everyone. Trips to Machu Pichu will cost around $100 USD upwards.

Sacred Valley of the Incas

The Sacred Valley of the Incas spans from Pisac to Ollantaytambo along the Urubamba River. As well as being home to Cusco and Machu Pichu, you will find many incredible sites in this region. Sites include Moray, Maras Salt Mines, Pisac, Ollantaytambo, Sacsayhuaman, and Chinchero. You can purchase the Cusco Tourist Ticket (Boleto Turistica del Cusco) for $38 USD, which will give you entry to multiple sites in the Sacred Valley.

Salt Mines in Maras

The Salt mines in Maras, Sacred Valley, are an incredible sight to see. These purpose-built salt mines were formed using an ancient Incan farming technique to harvest salt. They are located about 50 kilometers north of Cusco, and there are many tours running from Cusco. Tours from Cusco start from as little as $20 USD, including transport to and from the site.
Best Time to Visit Cusco
Peru is located in the southern hemisphere, so their summer runs from October to March, and the winter months are from April until September. The coldest month is July, with temperatures getting as low as 9.7 °C (49.5 °F). The summer months are when the rainfall comes, and temperatures will hover around 13.3 °C (55.9 °F) in November, which is the warmest month.
The weather can really vary dramatically, and this will have a large impact on your stay, so make sure that you are staying there at a good time of year to suit your needs. It is easy to define the two seasons. Cusco is located in the Andean mountains and sits at 3,400 m (11,200 ft), and has a subtropical highland climate which is generally dry.
The best time of year to visit for outdoor activities is from late April to mid-June and from mid-July to early October. However, saying this, I visited in March and in May, and although I had rain, I still had a great time and managed to get out on many hikes. 
Cusco for Families
Cusco is a great place for families, as it is rich in culture, history, and things to do. Using Facebook groups such as Expats Cusco is a great way to connect with a community that is already on the ground. This is the best way to find out information about local schools, daycares, and facilities in the region that might be useful for you and your family.
Lima is the capital of Peru, and this is better suited for facilities as it is an international hub, whereas although Cusco is still one of the largest cities in Peru, facilities aren't quite up to the same standard as Lima. It will make integration easier if you and your children speak Spanish.
Some of the best international schools in Cusco are ANDINO Cusco International School,  IBS International British School, and Proyecto Peru Centre. As always advised, it is best to contact schools directly for exact information on the curriculum that is taught and what is on offer. There are also a number of daycares in Cusco, many offered with hotel stays too, so if you book a hotel, make sure to see if this is available. 
For accommodation, the best place to search is online using sites such as Airbnb and booking.com. On Airbnb, you can get a nice apartment that sleeps a family of four, with two bedrooms for around $840 USD, located close to the historic center. 
There are many things to do in and around Cusco to keep the family entertained. This includes visiting the huge selection of museums and galleries in the city, admiring the ancient architecture, and going on excursions in the Sacred Valley. Take them to the ChocoMuseo to make your own chocolate, show them how local crafts are made, and let them experience some traditional methods of weaving and dyeing wool. There is so much to do in Cusco, and it is all very affordable.
Living in Cusco
Cusco Transportation
Bus
There are multiple bus routes in Cusco, running both within the city and also outside the center to other towns. Public buses run in Cusco, and they will cost you around $0.20 USD regardless of where you are going as it is a fixed price per journey. Buses outside of the center to nearby villages and towns cost around $2-3 USD for a single journey, depending on where you are heading to.
Taxi
Official taxis in Cusco will have "Municipalidad del Cusco" written on them, and they will be the ones with the fixed prices. You will see many unmarked, unofficial taxis in Cusco, but it is advised to take the official ones. Always make sure to agree on the price before you get in or the journey begins, as rates can vary. Most taxi rides will cost a few dollars, around $3 USD for a ten-minute ride. Uber and Easy Taxi are the only two taxi apps that can be used in Cusco. A taxi from the Cusco airport to Plaza de Armas will cost around $15 USD.
Train
There is a train station at Cusco, with trains running all over the country from two operators; Inca Rail and Peru Rail. Tickets can be bought on their websites and will often be considerably cheaper this way. For example for a return ticket to Aguas Calientes (the base of Machu Pichu) will cost $68 USD per person; however, their websites show tickets for half price if booked in a certain time frame.
Car Rentals
There is also the other option of renting a car from Cusco, and this is a great way to see the Sacred Valley of the Incas. You can find cars for as little as $30 USD per day. You will find lots of rental companies in Cusco, so just have a look online to see which has the best offer for you. As well as cars, you can hire mopeds and even trucks!
Fitness and Health
There is a good selection of gyms and fitness centers in Cusco, all offering a variety of packages and memberships. As well as gyms, there is also the option of hiking and running for the lower-end budget. One thing to be careful with is the altitude; although you might be a runner at sea level, being at high altitude can really affect your performance, and if you push your body, you can experience serious health implications. So always remember to take it easy and don't push yourself until you are acclimatized. Most gym memberships cost around $50 USD per month, but they can vary depending on what access you need. Some of the best-rated gyms in Cusco are Smartfit, Crossfit Cusco, Premier The Cusco Gym, and Titanium Fitness. Most gyms are English and Spanish speaking, so you should find it easy to integrate. 
For yoga classes, there are a number of studios based in Cusco, such as Evergreen, holistic healing, and Healing House. Classes start from around $7 USD for drop-ins, but many centers offer packages. One of the best in Cusco is Evergreen, offering a 10 class package for $50 USD.
If you are on a lower budget, then look out for offers with your accommodation, as places like Selina coworking offer wellness classes that are included with your membership. Many hostels will also run yoga sessions, and some hotels have gyms too. There is also the option of hiking and walking around the city. As Cusco is located right next to the Sacred Valley, you will find many hikes, only a short bus ride away.
Cusco People
Peru is home to the Incas, who were at one point the rulers of this area of South America. Most Peruvians are Spanish-speaking and Catholic; however, in the more mountainous and rural regions, Peruvians differ quite dramatically. Due to colonization by the Spanish, many Peruvians follow Spanish culture; however, there are still remnants of Incan culture within daily life. This can be seen in the way they dress, some dress in modern styles of clothing while others wear brightly colored traditional clothing.
The people of Peru are incredibly proud of their heritage; pre-Inca, Spanish, and Inca culture make daily life in Peru wonderful, and the people are full of joy.
The magical atmosphere of Cusco is often seen through the people that live there and the festivals and traditional celebrations that happen. Across Peru, festivals, carnivals, and events are always happening, and this is a great way to experience the true culture of Peru. One of the most important festivals celebrated in Cusco is Inti Raymi, to mark the solstice.
You will feel very welcome in Cusco as the people there are always smiling and are very friendly. I found that many locals are firm believers of pachamama (mother earth) and are well connected to the planet and nature. This mentality makes for a very grounded and spiritual society, and this was something I really admired in the people in Cusco.
Cusco Insurance and Medical Care
As when visiting anywhere outside of your home country, it is always advised to take out medical and gadget insurance as incidents can occur anywhere in the world. There are a variety of companies that will cover various aspects, so have a look online to see what packages will suit your needs. Cusco and Peru as a whole is a relatively safe place; I personally never had any issues whilst in the country; however, there are some areas that are poorer, and you may find that if there is an opportunity, then it is taken.
As for medical, Peru is a developing country, so medical care varies across the country. In the capital, Lima, healthcare is readily available and is at a high standard; however, once you start getting out into the mountains into some of the more remote places, access to medical help and supplies becomes more difficult.
Cusco is one of the most popular tourist destinations in Peru, so the standard of healthcare is almost up there with Lima. There is both public and private healthcare in Peru. Public healthcare in Peru is seriously underfunded, and it can take months to get an appointment for a minor health issue. You will also find that there is a huge lack of access to preventative care, so it is highly recommended to use private healthcare whilst in Peru. Public healthcare facilities will most likely not speak English, and the level of service offered is poor.
Private healthcare in Cusco is the best option for digital nomads, as there is more modern equipment and a higher standard of care is offered. Even if you have insurance, you will most likely need to pay for treatment upfront in cash, but it is very affordable when compared with other parts of the world. There are many pharmacies across Peru offering a good selection of over-the-counter medication, some even being 24 hours. The biggest issue in Cusco is altitude sickness, so it is advised to treat this with caution and carry relevant medication.
Make sure you are fully covered by reading our full Digital Nomad Travel Insurance guide.
Jobs in Cusco
Finding a job in Cusco may prove difficult unless you carry certain skills. Although Cusco is a large tourist destination attracting millions from across the world, it is difficult to find a paid job in this sector. This is mainly because the tourism industry tries to employ locals to help the economy. Jobs in Cusco will be mostly in the tourism or outdoors industry. This is because any tech-related jobs will most likely be based in the capital, Lima, and many jobs in the Cusco are related to the tourism industry, employing mostly locals and only a handful of foreigners. However, certain qualifications and skills are desired in Cusco, so it is worth seeing if you have something to offer to the community. Without a working visa, it will also be difficult to find a job. It is advised to look online and apply before you go, then that way, you know that all the correct visas will be in place.
Paid Jobs
The specific industries that you will find offering jobs to foreigners in Cusco are teaching, in particular teaching languages, focusing mostly on English. If you are an adventure guide or mountain leader, then it might be possible to find a role as a tour leader. Many jobs exist within hospitality and tourism, and the best place to find these are on websites such as jobs.goabroad.com/search/peru/cusco/jobs-abroad-1, Indeed Peru, CompuTrabajo Peru, Laborum Peru, and Aptitus.
Volunteering
You will find lots of volunteering opportunities in Peru set up by organizations that bring extra help to the local communities and the environment. Websites such as volunteerworld.com offer a variety of opportunities where you can help by teaching, caring, and helping out conservation projects. This is a  great way to experience a country whilst not having to worry about visas, etc. Some volunteer opportunities are part-time; others offer more of a long-term experience.
Check out our Digital Nomads Jobs Postings to find the best jobs available for Digital Nomads.
Nomad Friendly
Value for Money
Internet
Workspace
English
Food
Safety
Health
Transportation
Friendly
Quality of Living
Cost of Living Cusco
The expected cost of living in Cusco can vary dramatically depending on your needs. It is possible to live for a very small amount in Cusco if you regularly eat at markets and street food; however, if you want to take part in excursions and want your creature comforts, then costs can soon mount up.
For a low-end budget, you should expect to be spending around $798 USD per month. This can be broken down into $248 USD for accommodation in the Nomad Hideout, which will also cover your coworking area too. You should budget around $10 USD per day ($300 USD a month) for food, assuming you are happy eating street food, cooking, and buying groceries from local markets. $50 USD for transport, which will cover quite a few bus journeys and assuming you will be walking a lot. Finally, $200 USD for exercise, leisure, and excursions is a good budget. 
For a higher-end budget and a full experience, then you should look to budget around $1850 USD. As a price break down that would be $750 USD on a high-end private accommodation with a private bathroom. Then another $100 USD on use of a coworking space, and a budget of $15 USD a day on food ($450 USD a month). Then a budget of $50 USD for exercise in the form of gym membership or exercise classes, $50 USD for transport, assuming that you will mostly be able to walk as you would be based in the historic center. And finally, a budget of $500 USD for fun! If you want to go to Machu Pichu, visit some local sites like Rainbow Mountain and enjoy taking tours, then you should have this as a rough budget; however, you may spend less.
The highest outgoing cost in Cusco is excursions to places like Machu Pichu, so if this is a must for you, then you need to budget around $100-200 USD for that alone. But if you are not fussed, then you can spend this on multiple museum entries, food or cooking classes, and tours. If you are going there to live, then it is possible to spend under $1000 USD in a month.