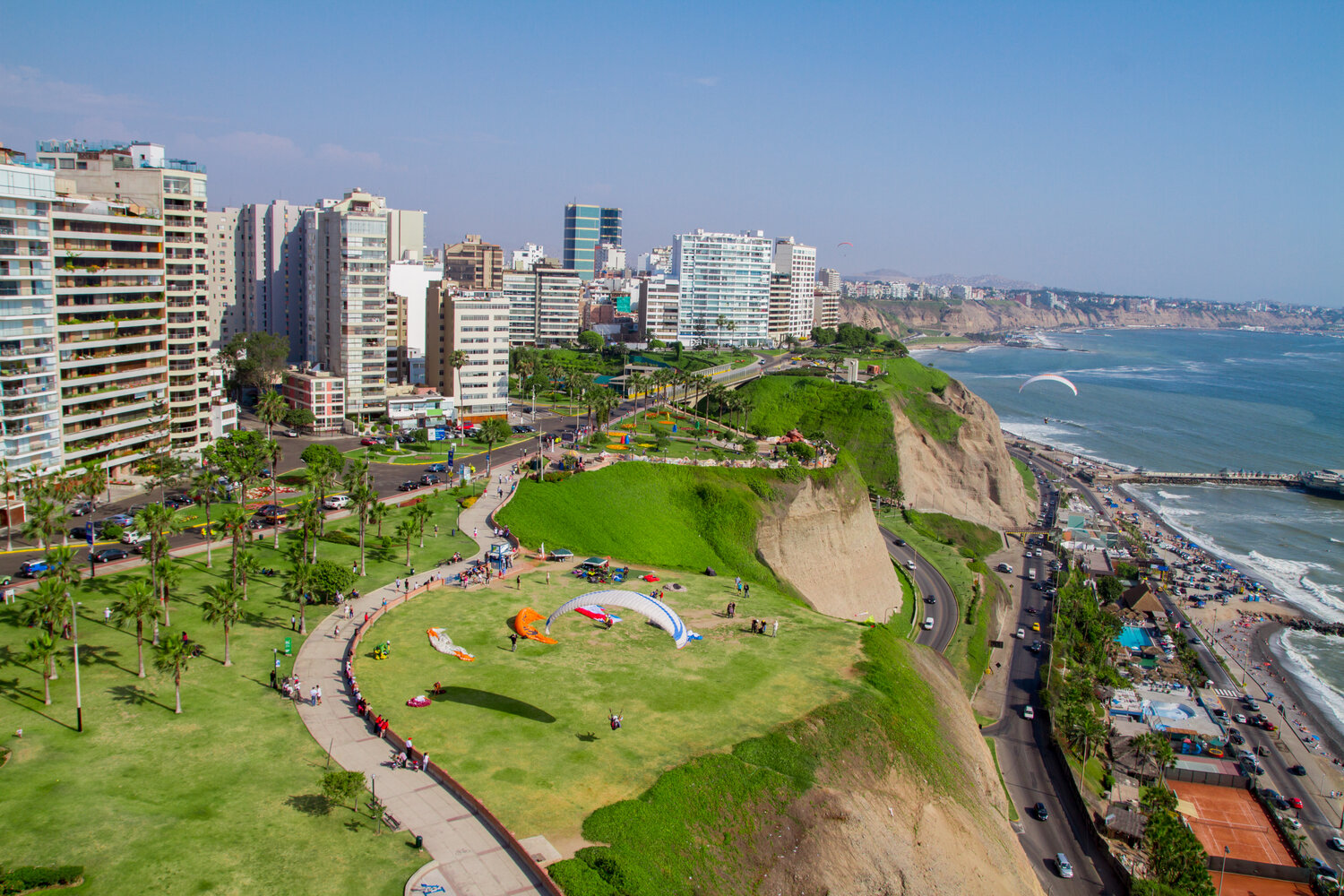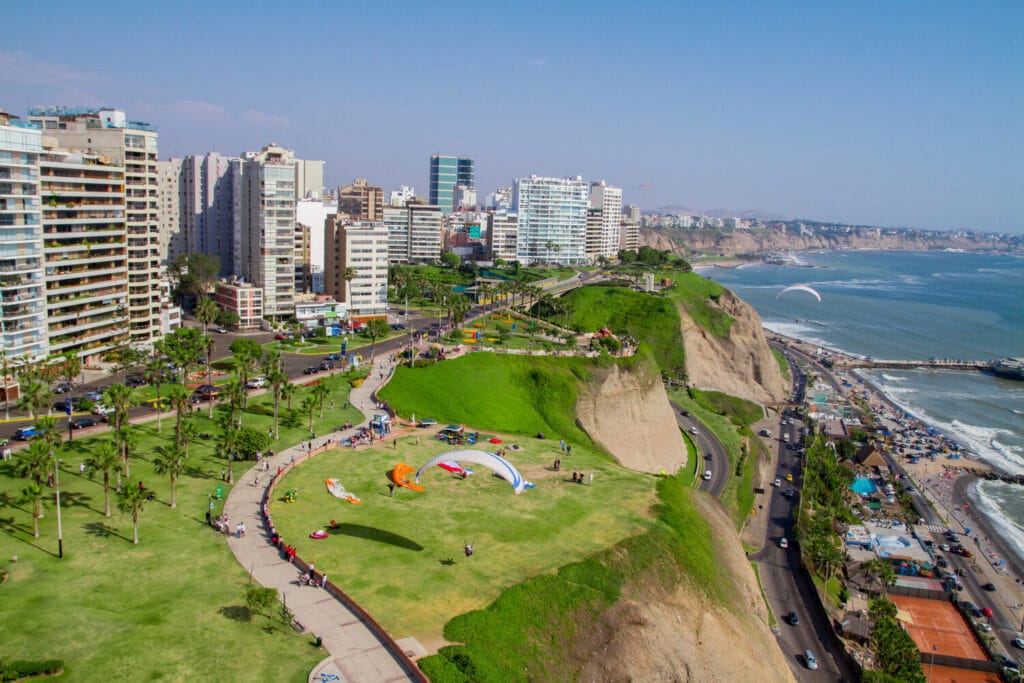 A Digital Nomad Guide to Lima
Lima is the capital and the largest city of the Republic of Peru. It is one of the largest cities in South America with an incredible history behind. Lima already had a civilized society from around 300 BC, then the area was conquered by the Incas in 1570 and, later, by the Spanish until Perú's independence in 1821. It was founded with the name of Ciudad de los Reyes by the Spanish conqueror Francisco Pizarro in 1535. Then it became the capital of the Viceroyalty of Peru due to its valleys and its low altitude above sea level. In times of the Viceroyalty, it was the largest and most important city in all of Southern America during the colonial period.
At present it is considered as the political, economic, industrial, cultural, financial and commercial center of the country. At the international level, it is currently the fifth largest city in Latin America, the fourth by GDP and the fifth by number of inhabitants.
It is located on the central coast of the country, on the shores of the Pacific Ocean. The Lima metropolitan area stretches 70 kilometers from north to south, from the district of Ancón to the district of Pucusana, and 44 kilometers from east to west, from the district of La Punta to Chosica. It is flanked by a coastal desert and extends over the valleys of the Chillón, Rímac and Lurín rivers. In addition, the city has around 9.5 million inhabitants, while the metropolitan region with around 11 million inhabitants.
Lima and Peru are the best culinary destination in Latin America and worldwide, as proof of this in the 26th award of the best tourist destinations by the World Travel Award, Lima and Peru were chosen as the best culinary destination for the 8th consecutive year.
The city has an architecture like no other. Some churches are of Baroque, Renaissance or neoclassical style, several built between 1535 and 1700. Additionally, it has a very varied range of museums, among which the Larco Museum stands out. It displays a wonderful collection that encompasses a total of 3000 years of ancient Peruvian history.
In Lima, every street, every square, every pre-Columbian enclosure has a lot to tell us.
Nomad Friendly
Value for Money
Internet
Workspace
English
Food
Safety
Health
Transportation
Friendly
Quality of Living
Living in Lima Overview
| | |
| --- | --- |
|  Meal, Inexpensive Restaurant | $3.50 |
| Domestic Beer (1 pint draught) | $2.06 |
| Cappuccino (regular) | $2.36 |
| Loaf of Fresh White Bread (1 lb) | $1.42 |
| Water (1.5 liter bottle) | $0.71 |
| One-way Ticket (Local Transport) | $0.52 |
| Basic Utilities (Monthly) | $61.61 |
| Internet | $29.55 |
| Fitness Club (Monthly) | $38.77 |
| Apartment (1 bedroom) in City Centre | $494.08 |
Currency: Indonesian rupiah (Rp)
[erw_exchange_rates_widget lg="en" tz="0″ fm="IDR" to="EUR,USD,GBP,AUD,JPY,RUB" st="primary" cd="" am="15000″][/erw_exchange_rates_widget]
ATMs
Max Withdrawal: Rp 3,000,000
Withdrawal Fee: Rp 30,000 – Rp 50,000
Use of Credit Cards: Mostly Cash
Digital Nomad Personal Experience in Lima
Lima, known as Ciudad de los Reyes (City of Kings), is like a wine: an acquired taste. When I arrived driving to the city my first impression was negative due to the aggressive driving they have, the pollution, the dirt, the noise and the incredible traffic congestion.
However, my opinion changed little by little when I got to know neighborhoods like Miraflores, San Isidro and Barranco. It has a beautiful historic center from the colonial era declared a World Heritage Site by UNESCO and some archaeological sites that are more than 1.000 years old. It also has beaches, some modern and cosmopolitan areas, and an exquisite world-famous gastronomy. It is also close to amazing places like the Oasis of Huacachina and Paracas both located in the Department of Ica.
The city is undoubtedly reborn at night, giving way to a vibrant capital with a lively nightlife. The local people like to have fun and the gastronomic, bar and nightclub offers seem endless.
Its people treated me very well. They always asked me if I needed anything, they worried if they didn't see me for a while and they showed me several interesting spots of their city.
It may not be a monumental city, but it is a city that must be given time. If you meet its people and you really explore the city, you will find that it has many things that you like beyond that first impression. Lima is not a city to visit, but to live it little by little.
Work in Lima
In Lima there are a large number of coworking spaces: shared and adapted physical spaces where entrepreneurs and SMEs can carry out their conferences and projects. It is usually a temporary office with everything you need; which can be rented annually, monthly and even by hour. Monthly base prices are typically between 180 USD and 350 USD. Most are open Monday through Saturday and close on Sundays.
Best Places to Work in Lima
Regus
For example, Regus has two attractive locations for the financial sector. It has pleasant rest areas and well-lit spaces. It is surrounded by the headquarters of various banks and prominent corporations, as well as restaurants with the best local cuisine. Likewise, this coworking is ideal for teamwork, due to the spaciousness and comfort of its spaces. It also has virtual offices and a community that grows every day.
Residencia Coworking
Residencia Coworking is located near the beach. If you like a more relaxed and less corporate atmosphere, this is the right coworking space for you. The rooms are spacious and well lit, with ergonomic poufs and chairs. It has a cafeteria, free coffee, filtered water and a large outdoor area equipped to work, among other things. Everyone at Residencia Coworking speaks English so language will not be a problem here.
Ubicua Offices
Ubicua Offices (Av. Antonio Miroquesada 425, Of. 401, Magdalena del Mar) is considered the first Prime coworking service in the Peruvian capital. It stands out for its personalized service and its avant-garde designs. It is designed for entrepreneurs and executives who prefer to enjoy privacy. It has individual AC, IP telephones, acoustic walls, first-class ergonomic tables and chairs. Likewise, it is possible to access the shared desk area at any time of the day through a magnetic card access. Ubicua has memberships, as well as unlimited coffee service and parking service, kitchenette, auditorium, and printers.
Lima Coworking
Lima Coworking has two offices: Miraflores (Martir Olaya 129, José Pardo Business Center) and San Isidro (Las Camelias, block 8). With more than six years of experience, Lima Coworking is a great option of space to work. It offers flexible and scalable services, among which stand out virtual offices, meeting rooms for up to six people, private offices for up to 4 people and shared workspaces. In addition, it guides and facilitates entrepreneurs to process the transferee operating license in San Isidro and Miraflores, address before Digemid, address before Senasa, among others.
CO-LABORA Coworking
CO-LABORA Coworking has two different locations: Rio Business Center (Rio de la Plata 167) and Aramburú (Av. Aramburú 878). CO-LABORA is an ideal coworking for those looking for pleasant spaces and all the tools to boost their business. It has training rooms, private offices, shared workspaces, unlimited tea and coffee, among other things. This coworking focuses on entrepreneurs who are in search of a more professional space to carry out their ideas and conferences, always respecting a rigorous biosafety protocol.
WeWork
WeWork (Av. Jorge Basadre 349), the recognized coworking space worldwide is also present in Lima. It has everything you can imagine in a comfortable and modern space. In addition, it has a monthly subscription, a reading club and a language club that will allow you to develop skills necessary for personal and business development.
In addition to these coworking spaces, you will find several more in the capital. You can even try a few before deciding which one you like the most. Enjoy the adventure!
Best Places to Live in Lima
Best Neighbourhoods
Miraflores
Due to security concerns, the vast majority of expats consider choosing the safest districts in Lima. Among them is the Miraflores neighborhood, which is one of the most cosmopolitan in the capital. In addition, it is conveniently located on the seafront, in the south-central area, and has eight beaches, ideal for families and water sports. Much of the national artistic sphere takes place in Miraflores and has large theaters, squares, restaurants, shops and parks such as the Raimondi, which is a paragliding jumping area. Additionally, here are the ruins of the Huaca Pucllana (archaeological site) and the Amano Museum, a permanent exhibition of ceramics, textiles and various objects from the pre-Columbian cultures of Peru. It is the perfect place to live in the tranquility of a neighborhood with a balance between modern and classic architecture. To move around the area, the best option is the blue bus line: 301, 302 and 303 (Metropolitano) make the same route, but 301 is the only one that stops at all stops.
San Isidro
San Isidro, on the other hand, is the most exclusive neighborhood in Peru. The district of San Isidro is located in the south center of the city of Lima, between Miraflores and Pueblo Libre. Known as the financial center of the capital, it borders important avenues such as Javier Prado and Arequipa, which make it one of the busiest districts. Despite all the movement and hustle, San Isidro has green areas such as San Isidro Golf or El Olivar Park. a plantation of ancient olive trees from the colonial era with more than 450 years of existence. Close to everything and with great accessibility, you will be surrounded by the best restaurants in the city, as well as numerous art galleries and exclusive cafes. Here are national and foreign companies, many of the city office towers and Huaca Huallamarca (Calle Ribera, 201): an archaeological space that has a stepped pyramid of adobe blocks and that functioned as a religious and administrative center among the first settlers of the Lima area.
Jesús María
Jesús María neighborhood, another recommended district, is cheerful and welcoming. It is an upper-middle class residential district. In addition, it is a tourist area because it houses the Natural History Museum of Lima, Plaza San José, the Peruvian-Japanese Cultural Center and the Botanical Garden of the National Institute of Traditional Medicine. It has access to the main roads of the city such as Av. Brasil, Av. Salaverry, Av. San Felipe, which lead to various educational entities, shopping centers and renowned companies.
Barranco
Barranco is a neighborhood where many young people choose to live, since it is considered the bohemian district of Lima, has access to a beach and is known for its intense nightlife. Historically, it was characterized by the presence of poets and musicians. Today, Barranco still preserves that bohemian air in all its streets, as well as the great diversity of bars. If what you are looking for is to start living independently, Barranco may be your best option since it is also relatively inexpensive. Among the cultural offers, here you find the Pedro de Osma Museum, which offers a collection of viceregal art (Avenida Pedro de Osma, 421). To move around Barranco and access other districts of Lima, you can use Metropolitan bus lines 301, 302 and 303. The metro is also available.
Magdalena
Finally, Magdalena is one of the best districts to live with your family. It is part of the "modern Lima" but preserves much of the tradition of yesteryear, reflected in the varied gastronomic offer. This district enjoys the distinction of Sustainable City of Peru by the world organization World Wildlife Fund (WWF). In addition, it is one of the most connected points thanks to its privileged location.
Find an Apartment in Lima
Most apartments and houses are advertised on renting websites. You can search for accommodation or configure alerts for the requirements you want. The best websites to start a search are: Mercadolibre.com.pe, Lamudi.com.pe, Housinganywhere.com, Laencontre.com.pe and Adondevivir.com.
You can also look for accommodation in the print versions of local and national newspapers such as El Comercio, La República, Correo Perú, El Peruano, Expreso and Diario Uno. Other sources include college bulletin boards and expat Facebook groups. If you already know which neighborhoods you like, you can also walk around them looking for rental signs. In Lima, it is very common that agencies and landlords hang rental signs from the balconies, with the contact number.
Hiring a real estate agent can be helpful and will save you a lot of time, although you will need to pay them a percentage. The agent will consult you in your search and will go with you to visit each of the properties that interest you. Additionally, they will help you to draft the documents to sign the contract legally. The price of the rental agency services may vary; therefore, it is necessary to discuss it beforehand and sign a contract. The agent is paid only when the contract with the owner has been signed. Also keep in mind that the more expensive the property, the lower the percentage for the real estate agent. Sometimes, in the case of rental agreements, the cost of the real estate agent's service is equal to a monthly rental fee.
Many times, the rent does not include the costs of gas, electricity, telephone and other costs unless specified in the contract. I advise you to ask if these bills should be paid monthly or if there is a balanced payment plan available, that is, a fixed price each month. Balanced payments are recommended, especially for heating bills, as they cost little or nothing in the summer, but can lead to unexpectedly high monthly bills during the winter months. If you are moving into a furnished apartment, I also recommend that you sign a detailed inventory to confirm the condition of the accommodation and furniture. This is also your guarantee in case something is damaged.
A rental agreement is only valid in writing and must have two copies, one for the tenant and one for the landlord. Please note that unless specified in the rental agreement, it can be terminated by the tenant with a one-month notice. The landlord can terminate the contract only in a limited number of cases, especially if the tenant has damaged the rental property or uses it for purposes not specified in the contract. The contract must also state if a security deposit or prepayment is to be paid, how much and in which currency.
Cheap Places to Stay in Lima
If your budget is not enough for renting an apartment, you should consider to share one with friends or look for a room in a shared house. It will be cheaper and at the same time you will have a "chosen" family that can help you to get used to the city.
Lima's room rental prices on Airbnb are quite expensive in relation to the price of renting something outside of this type of online platform. The minimum price for a room in a shared house on Airbnb is 158 USD per month.
In addition, in the city there are different universities and university centers that host hundreds of thousands of students per year. It is true that many of them come from the same city, but there are also many university students who come from other locations. Therefore, finding cheap rooms in shared flats is not difficult, especially in university areas. 
For rooms in a shared flat, most homeowners ask for a one-month deposit. Make sure the deposit is included in the contract.
You can start the search in groups of expats, visiting the billboards of the universities or in Facebook groups such as Lima Apartments Co (co-living), Room Rental for Exchange Students LIMA /PERU and URBAN HOUSE-Rent ROOM/ Alquiler cuartos.
Lima Visa
To enter Peru, you must have a valid passport that will remain valid 6 months after your planned stay.
Most countries in America and Western Europe do not require a tourist visa to enter Peru, and the maximum length of stay granted by the authorities is 183 days. For a longer stay or with other objectives (business, study or work) it is necessary to previously request the corresponding visa to the Peruvian consulates.
You do not need a visa to land in Peru if you are a European or American citizen, or from Oceania (with very few exceptions included) and the purpose of the trip is to travel around the country within the days that you are allowed. Citizens of any South American country are also exempt from a visa. Citizens of Argentina, Brazil, Paraguay, Uruguay, Ecuador, Colombia, Bolivia, Venezuela and Chile can enter the country with their national identification document.
You will need a visa to enter as a tourist if you are a citizen of one of the countries marked with a SI in the list of countries of the Ministry of Foreign Affairs of Peru. Also, if you travel to Peru to work, study or if you are a journalist or artist.
Please note that country agreements may change. I recommend that you contact the nearest Peruvian consulate to verify your specific situation.
Culture and Food in Lima
A new and creative generation of chefs, inspired by the great diversity of Peruvian culture, helped transform Peru into one of the most important culinary countries in the world. In 2019 Peru appeared in the ranking of the 50 best restaurants in the world, ranking number 6 with Central restaurant and 10 with Maido restaurant.
Central restaurant (Av. Pedro de Osma 301, Barranco) has a biological and cultural research center that works at the service of the restaurant. Its menu, focused on ingredients of Peruvian origin, encompasses ecosystems at varied heights ranging from high mountains to beneath the Pacific Ocean. It was designated three times as the best restaurant in Latin America thanks to its chef Virgilio Martínez. Its room, with capacity for 30 people, also surprises with its elegant travertine marble tables.
The Maido restaurant (Calle San Martin 399, Miraflores), on the other hand, combines Peruvian and Japanese food. Here the young chef Mitsuharu Tsumara uses his freedom and creativity, but based on the Japanese technique with Peruvian ingredients. For five years it ranked in the top positions of the Latin America's 50 Best Restaurants. A varied cellar with wines from the Old and New World, well assisted by the sommelier Flor Rey, complete the proposal.
Astrid y Gastón restaurant (Av. Paz Soldán 290, San Isidro) was chosen N ° 1 in the inaugural list of the 50 best restaurants in Latin America in 2013. Here you will find the best ceviche on the planet and Peruvian warmth and hospitality. The extensive tasting menu offers an exploration of the ingredients, traditions and culinary techniques of the region such as the Chinatown Crepe de Cuy Pekinés. In addition, it also offers delicate sweets and chocolates handmade by Astrid Gutsche, an expert pastry chef, who won the Latin America's Best Pastry Chef Award in 2015.
At Osso restaurant (Av. Sto. Toribio 173 and Vía, Av. Central 172, San Isidro), Renzo Garibaldi proposes experiences from his travels, along with family experiences and local tradition. It is an artisan boutique butcher shop that opened a luxury grill, with the purpose of making his products to transform them into dishes. You must book weeks before to be able to enjoy their dishes due to the high demand and its international recognition.
La Mar restaurant (Av. La Mar 770, Miraflores) is a business project that spreads Peruvian culture through its offices in Santiago de Chile, Sao Paulo, Miami, Buenos Aires, San Francisco, Doha and Bogotá. Currently the kitchen of La Mar Restaurant is led by Chef Gustavo Montestruque. His main dish is ceviche and he uses incredibly fresh products.
Rafael restaurant (San Martin 300, Miraflores) appeared several times on the list of the Latin America's 50 Best Restaurants on its 18 years on the gastronomic market. Chef Rafael Osterling offers honest signature cuisine, with a strong Mediterranean and classic identity. On the menu, grouper stands out among fish, and lamb among meats.
Other recommended restaurants are La Picanteria (Sta Rosa 388, Surquillo) with dishes that range from seafood to meat, El Cordano (Jirón Ancash 202) which with its 112 years offers good traditional food at affordable prices and Fiesta (Av. Reducto 1278, Miraflores) where the spicy ceviche stands out.
Lima Nightlife
Lima's nightlife is fun and hectic with multiple options for bars and clubs in each neighborhood. For example, Bazar Bar (Francisco de Paula Camino 231, Miraflores) has a relaxed and not so pretentious atmosphere, ideal for an after-office meeting. It has a very cosmopolitan atmosphere and a good drink menu with excellent service. Bazar Bar is open from Monday to Friday from 7 pm to 3 am and Saturdays from 8:30 pm to 3 am.
Ayahuasca Restobar (Avenida Prolongación San Martin 130, Barranco) is located in a Republican-era mansion called Mansión Berninzon, built between 1875 and 1895. It is decorated with clear references to shamanism. It has a varied cocktail menu; most are Pisco-based. It opens from Monday to Friday from 6 pm to 3 am and Saturdays from 8 pm to 3 am. His After Office is every Thursday and Friday from 6 pm to 8 pm.
The Tayta Bar (Av José Larco) is a classic bar with more than 20 years, ideal for talking and enjoying music. A troubadour will accompany you with his music while you enjoy a good atmosphere. It has a great variety of local drinks and a menu of snacks where the "tequeños" stand out.
Barranco's night (Pasaje Sánchez Carrión 199 A, Barranco) is one of the reference spots in Lima since 1991. Great artists from the city have passed through its stage. Depending on the day, here you can find live concerts, tributes, rock, reggae, electronic and jazz. In addition to the concert and party area they also have a bar area.
Hensley RnR Bar (Avenida Grau 982, Barranco) has live music and an exceptional decoration. Its walls covered with graffiti makes it have an interesting underground atmosphere. From Thursday to Sunday you can enjoy hardcore, punk, ska, rock and metal bands. It is a good option to escape from Latin rhythms and reggaeton. Get ready for a wild night to the beat of local bands.
La Casona de Camaná (Jirón Camaná 975, Cercado de Lima) is one of the best nightclubs in the country. It is located in an old manor house that has been turned into a maze of rooms with eight different styles of music: electronic, reggaeton, international rock, salsa, dembow, pachanga, jukebox and live music. It is a very well-known nightclub both by Peruvians and by foreigners residing in Lima.
Bizarro (Francisco de Paula Camino 220, Miraflores) is a famous nightclub that is located in the most European district of Lima. Here the prices rise and you begin to see that the percentage of foreigners is higher. It has two areas, one with techno music and the other with reggaeton.
This is just a small selection of the most varied and less conventional party places you can find in Lima, but the Peruvian capital has an endless supply in all its districts.
Things to do in Lima
Some of the most touristic districts of Lima are Miraflores, Barranco and the Historic Center of the city. All of them have attractions that you can visit on your own without having to hire a tour.
Miraflores is one of the safest and most touristic districts of Lima, so you can visit it on foot. You can start with the Malecón de Miraflores that stretches for several kilometers and has breathtaking views of the Pacific Ocean. There you will find several squares, monuments and places to rest. One of the most touristic spots on the boardwalk is the Parque del Amor. This park is characterized by its benches decorated with ceramic mosaics and messages of love and by statue of El Beso. You can also visit the Place of Memory that tells the story of violence that occurred in Peru between 1980 and 2000; the Larcomar Shopping Center; the Lighthouse of the Marina; and the Raimondi Park, where they perform paragliding flights. The flight time is approximately 10 minutes and they can reach a maximum height of 250 meters.
From there you can visit Huaca Pucllana, an archaeological area that is located in a residential area of ​​Miraflores and it was built almost entirely of adobe. Guided tours can be hired, both during the day and at night. The tour last about an hour. 
Parque Kennedy and Parque Central de Miraflores are also in the area; very close to each other in the most central part of the Miraflores district. Kennedy Park is known for housing a significant number of cats, which are cared for by an organization that seeks to find a home for them. In the surroundings of these parks, you will find restaurants and shops.
The Miraflores Handicraft Market is located a few meters from Kennedy Park and is a corner where you will find many things from looms, small ornaments, silver and wood work, clothing and traditional products. An ideal place to buy a couple of souvenirs or a unique gift.
In the Historic Center of the city you can see the changing of the guard ceremony that takes place in the Government Palace, in front of the Plaza de Armas. This ceremony lasts approximately 20 minutes and takes place at noon. Plaza de Armas is the main public space in the city, also known as the Plaza Mayor. In addition, this sector is characterized by its yellow colonial buildings with wooden balconies. In front of the Plaza, you can visit the Cathedral of Lima and the Museum of Religious Art. The external part of the Cathedral of Lima is built in the Renaissance style and its towers are neoclassical. This place reflects the history of the Viceroyalty period. As for the interior, it is a true artistic jewel influenced by styles: late Gothic, Renaissance, and Baroque.
You will also find in the area the Convent and Catacombs of San Francisco, dating from the 17th century, where you can take a one-hour guided tour of the convent and the catacombs. Other attractions to visit in the surroundings include the Basilica and Convent of Santo Domingo, Torre Tagle, Casa de Aliaga, Plaza San Martín, Museo de Sitio Bodega and Quadra, among others. The Museum of Santo Domingo will surprise you by its beauty. The columns are covered with Sevillian tiles that decorate the garden in a special way. It also has a luxurious library and houses the tomb of one of the most important Saints in America and the most important for Peru: Santa Rosa de Lima.
Another neighborhood to visit is Barranco, with its bohemian style. Barranco is full of renowned art galleries, trendy cafes and boutiques, many of them housed in restored colonial mansions. It is also a place where you will find abundant urban art on the walls. You can start touring it from the Plaza de Armas de Barranco, where the Municipal Library building is located, famous for its particular architecture, as well as the Municipality of Barranco and a tourist information office. Then you can head to the Bridge of Sighs (El Puente de los Suspiros). The legend says that if you hold your breath the first time you cross the Bridge of Sighs, a wish will be granted.
Some museums in Barranco are the Pedro de Osma Museum, located in a mansion where objects of religious art are exhibited; the Museum of Contemporary Art; the Mario Testino Museum (MATE) and the Electricity Museum, among others. You can also visit the Federico Villareal Park, La Ermita Church, Bajada de los Baños, Barranco Funicular and Dedalo Gallery.
Close to the Center of Lima is one of the best museums in South America. In this museum you can learn about the culture of the original peoples of Peru through a tour of the 13 rooms of the museum, among which the Erotic Room stands out. The Larco Museum has an incredible collection of pre-Columbian art and they have a great way to display it. In addition to all a spectacular deposit of huacos (delicate ceramic piece produced by Peruvian pre-Hispanic cultures). It is convenient to visit it during the morning.
At sunset you can visit the Magic Water Circuit, in the Reserve Park 4 kilometers from Plaza de Armas. It is a walk through 13 electronically controlled water fountains, which have different colors, lights and shapes. The main attraction of the park is the Fuente de la Fantasía, where 15-minute shows of lights and colors are held at 7, 8 and 9 at night. Admission is only about 1 USD.
Additionally, I recommend you to make two more excursions nearby the city: the Oasis of Huacachina (an amazing desert oasis with a small village) and Paracas, both located in the Department of Ica. Paracas is a coastal city known for its beaches, such as El Chaco. The city is a starting point for the uninhabited Ballestas Islands, home to sea lions, pelicans and Humboldt penguins. The rugged Paracas National Reserve has abundant wildlife and the huge prehistoric geoglyph of the Paracas Candelabra on the peninsula is carved into the side of a hill.
Best Time to Visit Lima
The city of Lima is located in a flat area of the desert coast of Peru, about 10 kilometers from the coast of the Pacific Ocean. Lima's climate is a mixture of desert climate and subtropical climate because it is located between the sea and the Andes mountains, and in a desert area. This means that the temperatures are mild, the rain is completely absent, and the humidity in the air is high. The total absence of rain is balanced by the strong humidity that comes from the Pacific Ocean and that makes the sky of Lima often cloudy.
Lima is characterized by relatively cold temperatures, due to its latitude. The rains are absent, but clouds often cover the city's skies. The sunniest months are from December to April. The annual average temperature is 19,2 °C. The hottest months are January, February and March, during which the average maximum temperatures exceed 26 °C. In these months the average minimum temperatures are above 19 °C.
The coldest months are July, August and September, when the average maximum temperatures do not exceed 19 °C. The average minimum temperatures mark 14.9 °C in August and September.
In the months of June to November, the fog is persistent and almost constant. July, August and September are almost always characterized by fog and cloudy skies.
The best period for visiting Lima is between December and April, the sunniest months, and when the city is often free of the cold fog that covers it during the rest of the year.
Lima for Families
If you are moving to Peru with your family, two of the most important things for you will surely be safety and education. Keep in mind that your children will not be able to run down the street unsupervised unless they are safely inside a private neighborhood, and you must be with them every time they go out. However, this happens in most Latin American capitals.
Regarding education, the public system is free and school education is compulsory for all students between 5 and 16 years of age. Both the public and private school sectors have to follow the same basic national curricular guidelines, which are established at the federal level and supervised by local education authorities. The literacy rate in the country is up to 94.2%. Preschool education begins at the age of 5. Primary school is for ages 6 to 12 and lasts for 6 years, secondary school is for ages 12 to 16 and lasts for 5 years. General secondary education is 2 more years.
However, public education is entirely in Spanish and leaves much to be desired. Other options are private schools, although it is difficult to find one that is really bilingual, in general they teach in Spanish and have classes of different languages. Although there are high-quality private schools that have higher tuition, informal and cheaper private schools are also offered. Informal private schools are those that provide an educational service without the authorization of the Ministry of Education. As a result, students will not be able to transfer to another school, access higher education, and enter the job market. To combat informality and to guarantee the quality of the educational service, the Ministry of Education offers the Identicole web platform so that they can verify if the school is registered and has authorization to carry out its activities. By accessing the web address, parents can find public schools and licensed private school registry, according to their location, the cost of the monthly board, their tuition, some other payment, and the number of students per classroom.
Finally, Lima also has recognized international schools. Many schools provide the International Baccalaureate Organization. Some are: Escuela Franklin D. Roosevelt, Davy University, Escuela Santísimo Nombre de Jesús, Escuela Internacional Andino Cusco and Colegio Peruano Británico.
Living in Lima
Lima Transportation
If you arrive in Peru by plane, you will land at Jorge Chávez Airport. From there you can take one of the taxis inside the airport or hire some of the private taxi services to take you from the airport to Miraflores or bring you closer to your destination. Some of the transfer service companies are Airport Express Lima and Quickllama. 
Once in the city, there are different options to move within it. For example, the inhabitants use "combis" or "bus" (buses) really often to travel through different districts of the capital. In order to use them you will have to make a hitchhiking sign or wait for it to stop at its authorized location. There are many variants, but if you move through the most popular neighborhoods, the blue trunk buses (blue corridor) are a perfect option. They have a very long journey from the center of Lima to the Barranco neighborhood. There are 301, 302 and 303. All three make the same route, but 301 stops at all stops, 302 at a few fewer, and 303 only at the most important ones. The cost of the ticket varies depending on your destination. It will generally cost you between 0,15 USD and 1 USD. These vehicles tend to fill up with people between 7 and 9 am and between 6 pm and 8 pm since at that time people go to or return from their jobs.
If you prefer to travel safe and fast, you should take the Metropolitan service. It is a kind of railway that runs through the Metropolitan Lima area much faster than any other form of public transportation. Consider that although it is one of the fastest, it is also one of the most crowded, especially in the mornings when people go out to work and in the afternoons from when everyone finishes their working day. Therefore, if you are going to a date or an important meeting, it is convenient to have a change of clothes. In order to use the service, you will have to buy a card that will serve as a payment method. If you want to purchase a reloadable card, you will have to deposit around 1,21 USD in authorized vending machines. When you buy it, you will automatically have a 0,50 USD recharge. However, the standard ticket for any route of the Metropolitan of Lima costs around 0,60 USD so you will have to recharge the missing amount.
Regarding taxis, it is not advisable to take a taxi on the street for safety reasons. Taxi service applications such as Uber, Beat and Cabify have been very popular and used in the city for many years. If you are a foreigner and it is your first visit to Peru, I recommend you use these services as they will make you move around Lima faster and safer.
Fitness and Health
The main sport practiced in the capital is soccer, as in the rest of the country. Other sports practiced in the city are: athletics, badminton, cycling, horse riding, five-a-side football, golf, karate, fronton paddle, paragliding, rugby, squash, surfing, tennis, table tennis, shooting, triathlon, sailing and volleyball. To practice these sports, the city has: the Mariscal Cáceres Coliseum (owned by the Peruvian Army), the Eduardo Dibós Coliseum, the Amauta Coliseum, the Campo de Marte (owned by the Peruvian Sports Institute), the Terrazas de Tennis Club. Miraflores, the Los Inkas Golf Club, the Lawn Tennis Club of the Exhibition (headquarters of the Davis Cup Team of Peru), the Lima Golf Club, the Lima Cricket and Football Club and the Athletics Stadium of the National Sports Village. Also noteworthy is the fact that the city itself has seven golf courses, with the Monterrico Racetrack in the Santiago de Surco district (owned by the Jockey Club of Peru) and the Villa María del Triunfo Sports Complex.
If you prefer to train in a gym, I recommend Smartfit (Av. Alfredo Benavides 347 Miraflores) one of the largest gym chains. It has 17 gyms inaugurated throughout Peru. Here you will find modern, clean facilities, with air conditioning and everything you need to train. In addition, Smartfit also stands out for its affordable prices and interesting deals.
Another option is Gold's gym, the largest chain of gyms in the country, which offers a wide range of training machines in comfortable, clean and orderly spaces. It also has remodeled environments, nutrition services with specialists and trained instructors who will guide you to obtain the best results every day. It has different training areas ranging from functional training, rigorous circuits, abdominal area, cardiovascular area and the bodybuilding area. A very complete and very comfortable gym with several locations in Lima.
Lima People
Lima is a very diverse and complex society, with a multiplicity of communities, but in general they tend to be warm people who enjoy social encounters.
The people of Lima recognize and appreciate those who are tough and persevering. This is closely linked to its history, full of difficulties, and the struggle of migrants in the city. The ability to resist is one of the aspects of Lima residents that is reflected in daily vehicular traffic, in which many spend two hours or more to get to their destinations. However, they do not complain about things that should outrage them.
In addition, they think about their own things, little or nothing they care about things that affect the whole country or their city. They are going to contribute in a group, as long as it suits them. This type of mentality means that the country does not develop due, among other things, to individualisms. It is not that the citizens of the capital feel any animosity against Peru, but that they do not commit to the country project and their loyalty is directed only to their family and friends.
Regarding the negative aspects of the people of Lima, they highlight the distrust and lack of self-care of their own health in general and, even more, of emotional health. Also, they don't respect rules. For example, traffic regulations, such as running a red light or throwing garbage on the street.
As in any capital they are always in a hurry. This is evidenced by the fact that when they drive they change lanes several times, they do not let anyone pass even sometimes when the traffic light is green for the pedestrian and they walk quickly through the streets.
They tend to be resourceful and cunning, sometimes for the better and sometimes for the worse. They use their abilities to pass traffic signals and to speed up any procedure. The people of Lima will always see the opportunity to sneak in or obtain an exoneration, if there is one.
But in their daily dealings, people from Lima generally like to be liked by the others, they are friendly and they make sure that as a foreigner you have a good impression of their people.
Lima Insurance and Medical Care
Before entering the country it is recommended to have the following vaccines: hepatitis A, hepatitis B, yellow fever and rabies. Please note that the above list is only a guide. I recommend you contact a health professional before traveling to the country to confirm all required vaccinations. It should also be considered that altitude sickness is common for visitors to Peru and it is better to take the necessary precautions. Symptoms include headache, nausea, lethargy, and dizziness.
In the country there is both public and private medical care. Public health insurance is available to Peruvian nationals through two systems, Segura Integral de Salud (SIS) and EsSalud. The SIS is administered by the Ministry of Health of Peru and is aimed mainly at people living in poverty and without health coverage, while EsSalud is aimed at the working population and their families.
Public facilities tend to have a lack of doctors, supplies and facilities. Public hospitals are subject to long wait times, those with minor health problems often have to wait months for an appointment, and doctors may not speak English.
Private health facilities are generally better staffed, much more equipped than public facilities, and many private hospitals have staff who speak different languages. For this reason, expatriates tend to prefer the private sector.
If you are moving to Peru as part of a corporate relocation package, it is a good idea to negotiate beforehand that if they will cover your costs of private medicine insurance or an international health insurance policy. Private healthcare in Peru is affordable, but doctors often expect a cash payment up front, regardless of the patient's healthcare. Therefore, when you visit a doctor, it is important to confirm it in advance.
Additionally, while medical care is generally good in Peruvian cities like Lima, there are few decent facilities available in more rural areas so you should be cautious if you leave the city.
Make sure you are fully covered by reading our full Digital Nomad Travel Insurance guide.
Jobs in Lima
In order to work in Peru, you must consider that you will obtain a working visa either at an embassy or once you enter the country. Furthermore, Peruvian law establishes that foreign employees cannot constitute more than 20% of the total number of employees of a local company, even if it is owned by national or foreign capital. However, there are job opportunities in Lima and other places in Peru in the areas of finance, banking, mining, public services, agriculture, engineering, mining, IT and health.
The job market in Peru is increasingly diverse and professional specializations are highly valued in addition to social and emotional skills. For this reason, it is more frequent every day that there is a series of interviews, with the first one lasting one hour and other half-day meetings. Keep in mind that it is important to dress elegantly and conservatively, present a CV, business card and copies of certificates.
It also important to consider that the national minimum wage is around 225 USD per month, however the minimum for an experienced adult employee increased to 525 USD per month. The salaries of those expatriates who are brought into the country by international companies increase widely.
Some of the largest search engines available in the country are: OLX, Computrabajo and Bumeran. There are also job offers for executives and professionals, as well as sections dedicated to specific professions, in the classifieds of: Perú 21, el comercio, Diario Correo, La Primera and Diario Perfil.
Check out our Digital Nomads Jobs Postings to find the best jobs available for Digital Nomads.
Nomad Friendly
Value for Money
Internet
Workspace
English
Food
Safety
Health
Transportation
Friendly
Quality of Living
Cost of Living Lima
Lima is the most expensive city in the country when it comes to renting a flat, but it is cheap compared to other cities in Latin America. Renting an apartment in the capital can range from 360 to 750 USD per month as long as it is not a luxury apartment. For example, renting a furnished 85-square-meter flat in the expensive part of the city costs around 750 USD. You will also need around 50 USD per month to cover electricity, water and electricity costs. You should also consider paying 15-20 USD per month for internet service.
The price of transport is always a point to value, especially if you do not have your own vehicle. For a single public transport ticket they will ask you between 0,15 and 1 USD depending on the route. If you live and work in the same city of Lima, you need to reserve 50 USD per month to get around by public transport. If you opt for a taxi you will need USD 14 to pay for a journey of 8 kilometers during the day.
A menu of the day in a cheap restaurant generally costs 5 USD. On the other hand, a dinner for two in a restaurant in the expensive part of the city can cost around 35 USD.
If you decide to go to the supermarket, you will need on average 0,58 USD to buy 1 kilo of potatoes, 1,05 USD for 1 liter of milk, 1,67 USD for 12 eggs and 0,83 USD for a kilo of tomatoes.
If you want to go to the movies make sure you have 9 USD for two tickets, 21 USD for 2 tickets in the best seats available in a theater and 1,75 USD to have a pint of beer in a bar.