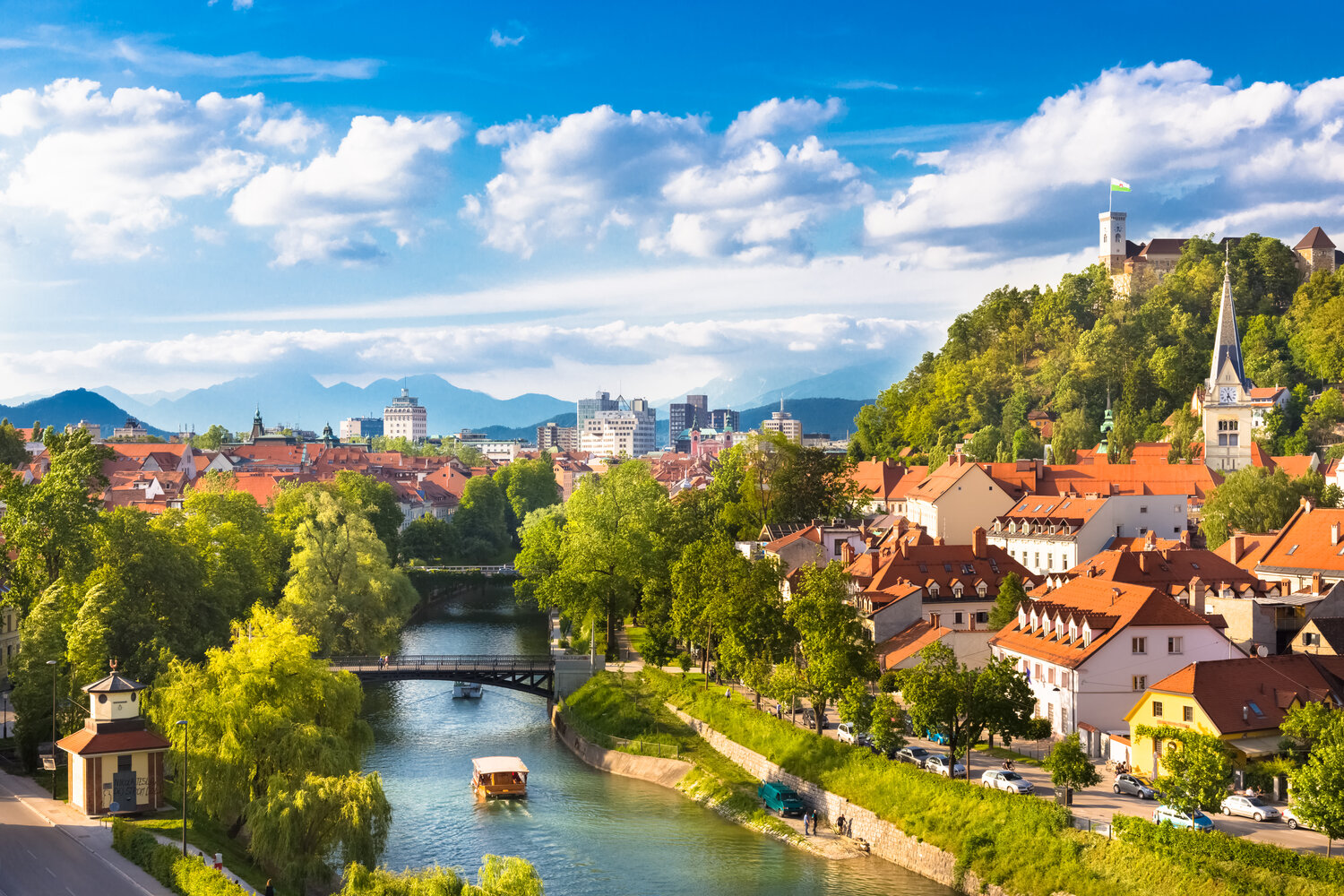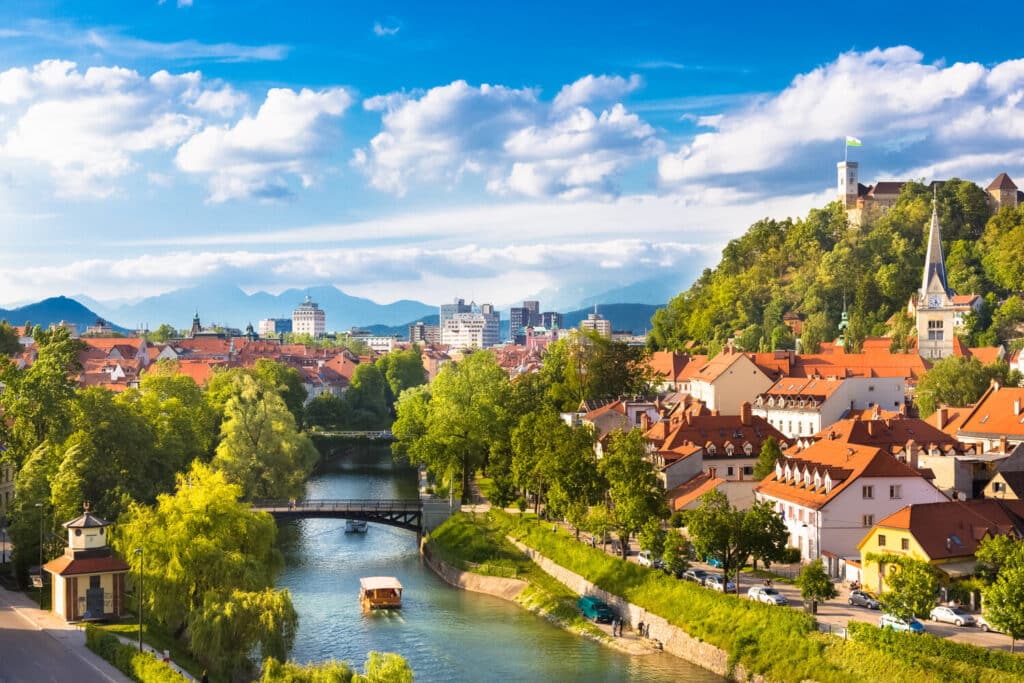 A Digital Nomad Guide to Ljubljana
Ljubljana is the capital city of Slovenia and is located right in the center of the country. The city is also the largest in Slovenia, with around 280,000 inhabitants. The country only has around 2,1 million inhabitants, which is quite low for its size of 20,300 square kilometers.
Slovenia was part of the Republic of Yugoslavia after World War II and became independent fairly recently in 1991, making it one of the younger countries in Europe. The city is especially well-known for its many universities and great student exchange programs, which is only one reason why more and more people from abroad are visiting the area.
Ljubljana is sometimes considered the city of festivals with different events being put on every weekend during the summer. With so much art, culture and heritage to discover, the Slovenian capital has a lot to offer. Ljubljana was nominated as the "greenest city in Europe" in 2016 and acts as a gateway to the beautiful surrounding countryside.
Many digital nomads have been making Ljubljana their temporary home in the last few years and the tourism industry is growing steadily. While the community of remote workers is still small, it's expected to expand rapidly in the future. This can largely be attributed to the unique culture and hospitality of Slovenia. Most Slovenians speak basic English and communication should not be an issue in larger cities like the capital.
Ljubljana also has a great train connection throughout the country, making it easy to visit some lesser known towns such as Maribor or Celje. Therefore Ljubljana is an ideally located home base for digital nomads that want to travel through the rest of Slovenia or its neighboring countries.
Nomad Friendly
Value for Money
Internet
Workspace
English
Food
Safety
Health
Transportation
Friendly
Quality of Living
Living in Ljubljana Overview
| | |
| --- | --- |
|  Meal, Inexpensive Restaurant | $10.08 |
| Domestic Beer (1 pint draught) | $3.02 |
| Cappuccino (regular) | $1.80 |
| Loaf of Fresh White Bread (1 lb) | $1.53 |
| Water (1.5 liter bottle) | $0.72 |
| One-way Ticket (Local Transport) | $1.31 |
| Basic Utilities (Monthly) | $234.62 |
| Internet | $31.78 |
| Fitness Club (Monthly) | $42.73 |
| Apartment (1 bedroom) in City Centre | $669.32 |
Currency: Indonesian rupiah (Rp)
[erw_exchange_rates_widget lg="en" tz="0″ fm="IDR" to="EUR,USD,GBP,AUD,JPY,RUB" st="primary" cd="" am="15000″][/erw_exchange_rates_widget]
ATMs
Max Withdrawal: Rp 3,000,000
Withdrawal Fee: Rp 30,000 – Rp 50,000
Use of Credit Cards: Mostly Cash
Digital Nomad Personal Experience in Ljubljana
Ljubljana was an unexpected favorite for me as a digital nomad, and the city has a lot of potential, in my opinion. The remote work community is still growing and will hopefully continue to inspire more people to visit in the future. What I liked about Slovenia and its capital is the quality of life and the value you can get for your money. A lot of European capitals are expensive and overcrowded with tourists, and Ljubljana has managed to keep a lot of its charm in this regard. You can enjoy affordable food and drinks, and nights out are incredibly fun, especially if you manage to meet local friends. 
While it can be a challenge to make friends if you don't speak the local language, it's important to make an effort and immerse yourself in the life of the city. It did take me some time to feel at home here, but once I did, I never wanted to leave. There are a lot of cool places you can visit as part of a day trip or weekend away, and Ljubljana makes for a fantastic home base while you're traveling around. There is always something going on here, and summers are especially fun in this city. You'll never know what awaits you around a corner, and since there aren't as many other tourists as in other large cities in Europe, you feel like a local to some extent. 
I'd highly recommend learning a bit of the language to help you make some friends, which is the best way to make the most of your time in Ljubljana. Spend your time outside and avoid working from home if you can, which can make your time in the city feel isolated and perhaps even a bit lonely. Luckily, the number of digital nomads in Slovenia is growing, although most don't stay much longer than a few months. This makes Ljubljana a good choice for shorter stays but not quite yet the best choice for those in search of a long-term home.
Work in Ljubljana
Best Places to Work in Ljubljana
Most digital nomads are constantly looking for quiet work spaces with reliable WiFi, all while staying on a budget. The WiFi in apartments in Ljubljana can be questionable at times and working from home may be the best way to enjoy a new city. Luckily, there are coworking spaces and cafes to try if you need a change of scenery.
If you like to change your work environment from time to time, Ljubljana offers a great selection of cafes and coworking spaces to choose from. Since a coffee and a snack in a cafe are usually quite affordable in Ljubljana, many digital nomads prefer to work there instead of in a coworking space. Paying for a coworking space is mostly worth it if you plan on going every day or need a quiet place for video calls.
Here are some of the best places to be productive in Ljubljana. 
Lolita bakery
The Lolita bakery is located not far from the Triple Bridge in the heart of Ljubljana. This cozy bakery is the perfect place to start the day with a hot cup of coffee and something sweet. You'll find a steady crowd of remote workers here getting some work done while having breakfast. Lolita is open every day from 9:00 AM until late.
Cafetino
Cafetino cafe is a small coffee shop offering indoor and outdoor seating, a great selection of coffee, and reliable WiFi to work. You can get a cappuccino for just €1.90, which is a great value for money in this touristy area of Ljubljana. They also have a small selection of pastries which go perfectly with the freshly brewed coffee.
Tozd
Tozd coffee shop offers a comfortable work atmosphere, especially inside, where you can find tables in between bookshelves and antique decorations hanging from the walls. The terrace has a breathtaking view overlooking the Ljubljana river. If you're looking for a unique place to get work done, this is it.
Neboticnik Skyscraper
The Neboticnik Skyscraper is by far the most beautiful location to work at in Ljubljana. You can overlook the whole city from its open-air terrace, which makes it the perfect place to get some hours in on a sunny day. It is, of course, a bit more expensive than other cafes but definitely worth a visit every now and then.
ABC Hub is located northeast of the city center and is a popular coworking space among digital nomads in Ljubljana. This workspace offers 24/7 access for all its members, plenty of parking on site, dedicated working spaces, meeting rooms as well as a communal kitchen. A single-month membership costs only €90 and €230 for three months, which is quite a deal in Ljubljana.
Kreativni center Poligon
This coworking space is a bit more centrally located and has a real start-up feel about it. It's a great place to connect with like-minded people and get some work done. Here you have hot desk seating which operate on a first-come-first-serve basis as well as meeting rooms with a projector, which need to be booked in advance.
Impact Hub Ljubljana
Impact Hub is a very modern coworking space right in the city center of Ljubljana. The space is well furnished with a large selection of different seating areas. It is easy to connect with other digital nomads here or just be in your own little area if you prefer privacy. Small and medium-sized meeting rooms are also available upon request. Unfortunately, this coworking space is closed on Saturdays and Sundays, so why not go to a coffee shop instead?
Coworking S Hub
The S Hub is a small coworking space located in the city center of Ljubljana. Here you will find single desks, a hangout area with a football table and a tv. This is a very creative and laid-back space and monthly memberships start as low as €95.
Best Places to Live in Ljubljana
Best Neighbourhoods
Ljubljana can be divided into different neighborhoods, each with its own distinct character and reasons why you should stay there as a digital nomad. The following neighborhoods are the most popular ones in town and include something for every lifestyle.
Old Town
The Old Town is a part of the historic city center in Ljubljana and is the most popular neighborhood to stay in as a digital nomad. Here you can find a wide variety of restaurants, bars, and cafes, as well as plenty of other shops within walking distance. This is also where tourists can do the majority of their sightseeing since most attractions are located close by. The historic architecture is slowly being joined by modern modern buildings which creates a fusion between old and new.
City center
The city center and the Old Town are just separated by the river, but technically can be seen as one neighborhood. A lot of museums and other attractions are located within walking distance as well as lots of authentic local restaurants and traditional pubs. This is  also the part of the city where you will find the most nightlife with many cocktail bars and clubs that are usually open until late. Depending on the exact location of your accommodation, this area can get noisy at night so keep that in mind when choosing an apartment. 
Train station area
The neighborhood around the train station is another popular place to stay as a digital nomad in Ljubljana. You are still close to the city center but also well connected to other parts of Slovenia. There is a decent selection of attractions located near the train station, which makes this neighborhood the perfect place to stay for a short-term or long-term visit. If you have the time, do not miss out on the opportunity to explore other regions in Slovenia, which are also well worth a visit.
Koseze
Koseze is located northwest of the city center in Ljubljana and is the perfect neighborhood for digital nomads coming to Slovenia with their families. Tivoli Park is located close by and offers a great playground for children and plenty of space to run around and have a picnic. This neighborhood is quieter and more laid back than the city center and perfect for a longer visit to Ljubljana. In addition to that, the rent costs in Koseze are more affordable than in the touristy areas, which is great for long-term stays.
Rozna Dolina
Rozna Dolina is located south of Tivoli Park and is a popular neighborhood among students and young professionals on a budget. However, Rozna Dolina is not as lively as the city center and it is much easier to connect with like-minded individuals instead of running into tourists constantly. You can still find many student bars offering great happy hour deals as well as affordable meal options. Furthermore, the city center is just a short 30 minutes walk or 15-minute bike ride away.
Find an Apartment in Ljubljana
Renting in Ljubljana can be a bit of a challenge if you don't speak the local language. It's best for expats to find a short-term option first and then go house hunting on arrival in Slovenia. There are some websites that will help, such as Housing Anywhere, Think Slovenia, Nest Pick, and Real Estate Slovenia.info. However, it's most likely easiest to find a place to stay on Airbnb, and you may even be able to negotiate a good deal for longer stays directly with the landlord. 
Another option is to go to a local real estate agent and see if they've got some options suitable for your needs. However, they're often mostly interested in long-term contracts and may not be willing to find you a place for only a few months. It's generally best to talk directly to the landlord if the language barrier allows. If you're able to find a local friend who speaks Slovenian, you'll be in luck. Otherwise, walk around popular neighborhoods, keeping an eye out for vacancy signs which may have a contact phone number on them. 
There are also sometimes homestays or rooms available for rent where you'll have a private room but share the kitchen or bathroom. This is fantastic for those on a budget. You'll be able to find options for as little as €400 per month but expect to pay at least €500 for a decent one-bedroom apartment close to the city center. For somewhere between €600 and €800 you'll be able to enjoy a spacious two-bedroom place with modern furnishings and a nice kitchen.
Ljubljana is a student city which means you'll be able to find rooms for rent in shared properties. If you don't mind living with others, this can be a great way to make friends who aren't other digital nomads but locals who can show you around the city and introduce you to the culture. While private student accommodation is often limited to university students, there are plenty of options designed for students but open to others. Consider joining Facebook groups for either expats in Slovenia or international students in the city. This is where accommodation offers are often posted, and you might find some good deals.
Just make sure to look at a place first before paying a deposit or committing to a contract. Foreigners who don't speak the language may fall victim to scams, so always take care and, if possible, have someone who speaks Slovenian read over any contracts before signing. It's not advisable to commit to an apartment before you arrive just in case the landlord is not being genuine. Instead, stay at an Airbnb or hotel for a few days to give you time to explore the city, decide on a neighborhood and find a place that suits your needs as a remote worker. This allows you to test the WiFi speed, get to know the city, and decide how long you would like to stay in Slovenia before signing a contract.
Cheap Places to Stay in Ljubljana
As is the case in most European cities, a room in a shared house will most likely be the best option for budget travelers visiting Ljubljana. This could be a group of digital nomads living together, local students, or even young professionals looking to save money. The best way to find vacancies is through Facebook groups or sites like iRoommate. Make sure to always meet potential roommates in person first before deciding to live together. Clarify whether a room comes furnished and if things like wifi, electricity, and water bills are included. If you stay a little bit outside of the city, you may be able to find a room for as little as €300 per month if you get lucky. 
Another option is to stay in a local hostel long-term. Many hostels allow work for accommodation deals which involves helping out for a few hours per day in exchange for a bed. This is not the most luxurious option but great for those looking to save as much money as possible during their time in Ljubljana. Remember to make sure you're not violating your visa conditions when working for accommodation and clarify how much work is involved before committing. 
Finally, keep in mind that longer stays will be more affordable than short-term rent. Some landlords may give discounts if you agree to rent for a year or even longer, which can make your stay in Ljubljana a lot more affordable. However, this may not be suitable for all digital nomads, and since most remote workers only stay in Ljubljana temporarily, it may be best to look for shorter options like student accommodation instead.
Ljubljana Visa
There are talks of a digital nomad visa for Slovenia being available in the future, but at the moment, the Schengen visa is the best way to enter the country as a foreigner. This means digital nomads from the European Union are in luck since they can easily cross the border and only need to register after a period of three months should they wish to stay in Slovenia longer. Those from another region in the world will have to apply for a Schengen visa, which is a straightforward process for most nationalities. You are able to stay for 90 days and cross borders of neighboring countries if you require. This means remote workers are able to explore countries beyond Slovenia if they would like to see other parts of Europe. 
However, the Schengen visa does not allow them to work locally, and it's important to ensure that any money is earned remotely and online. Longer visas are available but may be difficult to obtain without a family member in Slovenia, a local job, or a local partner. In this case, a residence permit is essential, and the process may be complicated and lengthy. It may be easier to head to another neighboring country instead after 90 days and return to Slovenia after. Note that it's only possible to obtain a Schengen visa once every 180 days, so a traditional visa run is not possible. Many remote workers use the UK, Serbia, Bosnia, or other countries to wait until they can reapply for a Schengen visa.
Culture and Food in Ljubljana
Slovenia might not be the first place you think of when looking for foodie destinations, but its delicious cuisine is not the be underestimated. You'll find a variety of unique dishes to try in Ljubljana, and prices for local meals tend to be affordable, which is great for digital nomads on a budget. The country is known for its soups and stews, which are filling and hearty. Since Slovenia is quite small, its cuisine is heavily influenced by its neighboring countries, including Italian pasta, Austrian pastries, and dishes from Eastern Europe. Some of the best things to try include:
Kranjska Klobasa
This delicious sausage is often served with pickled cabbage similar to Germany's sauerkraut, mustard, and a fresh bread bun. This creates a sort of Slovenian hot dog, which is a delicious snack and guaranteed to appeal to most visitors.
Štruklji
Many countries in Europe have some sort of dumpling in their cuisine, and Slovenia is no exception. Head to a traditional restaurant in Ljubljana to try the famous Štruklji, a rolled dumpling that comes in both sweet and savory versions. A great dessert or a side dish for a stew or soup.
Potica
This is one of Ljubljana's most famous treats and a delicious way to immerse yourself in the local culture. Potica is a rolled cake that dates back to the 17th century and comes with a variety of different fillings. Satisfy your sweet tooth and enjoy this as a dessert or afternoon snack.
Ajdovi zganci
This is one of Slovenia's most famous dishes and is prepared differently in parts of the country. It mostly consists of water and buckwheat and is sometimes served with sausages and cabbage. It's very filling and a must-try when you're in Ljubljana. 
Ljubljana is often considered one of Europe's capitals for culture, arts, and creativity. There are lots of special events and festivals to join, especially during the summer. Enjoy classical music, theater, and traditional costumes, all in the Slovenian capital. There are jazz events and food markets, and life generally takes place outside, with locals enjoying spending time together as families. In winter, the cold weather means most events move indoors, except for the city's impressive Christmas markets, which populate the streets in December.
The city also offers a wide variety of museums and art galleries and is the ideal spot for those who appreciate the arts and want to learn more about Slovenia's history.
Slovenian culture is family-oriented, with several generations often living together in one house. However, in bigger cities like Ljubljana, life is usually more modern, and lots of young professionals live in the city. For a better insight into Slovenian culture, it's highly recommended to leave Ljubljana behind for a weekend or more and go to experience the countryside, which is still far more rural and, in some places, more authentic. Ljubljana is often considered to be very different from the rest of the country and makes for a great home base to explore the rest of this incredible country.
Ljubljana Nightlife
Ljubljana is a popular destination for bachelor parties and, therefore, well known for its diverse nightlife. Whether you like electronic dance music, hip hop, or live sing-along music, you will find everything in Ljubljana. Many nightclubs and other venues also host regular LGBTQ-themed events and parties. 
Ljubljana is generally a safe city, even at night, and is suitable for solo travelers. However, use common sense, stay in busy areas and avoid walking home alone as a female. It's always best to enjoy Slovenian nightlife with a group of friends, which is more fun anyway.
The later the evening, the more crowded it gets in the city center and the Old Town, where you find many pubs and local bars offering affordable drinks and beers. Most pubs are open until late at night which is why many people go out and stay in a pub all night long. If you're keen to go dancing, there are plenty of cocktail bars with a live DJ on site.
Ljubljana has several breweries offering both traditional and craft beers. Beer is an important part of Slovenian culture and the drink of choice for many locals. Luckily it's also a very affordable beverage in Ljubljana, making the city a great choice for digital nomads looking for a night out on a budget. It's very common in Ljubljana for groups of friends to go to a local pub or tavern for drinks and a hearty meal before heading out to the next club. Some of the best and most popular clubs in town include:
​​Metelkova Town
Metelkova Town is an old military base that has been converted into a social and cultural center close to the city center in Ljubljana. Here you can listen to live music, see theater performances and dance the night away to the newest club music. Even on weekdays, you can find lots of entertainment here during the day but the main events, of course, happen during the weekends.
Klub K4
Klub K4 is located close to the city center and is a well-known place with a mixed music genre throughout the night. They are open from Tuesday to Saturday until the early hours of the morning. Each day they have a great mix of music from techno, disco house, RnB, Rock n' Roll, and hip hop. It is best to follow them on Facebook to see upcoming events.
Klub 12
Klub 12 is just a 15-minute train ride to the northwest from the main train station in Ljubljana. The club is very popular among locals and tends to get very crowded after midnight. The Balkan-style music is not everyone's favorite but definitely a fun experience when visiting Ljubljana.
Kino Siska
Kino Siska is a popular event venue located a bit further out from the city center but still reachable within 30 minutes by foot or 15 minutes by public transport. Depending on the night, you can dance to live music from a band or on other days to the newest electronic sounds mixed by a DJ. Check out their website to get the latest information about the upcoming events and parties.
Things to do in Ljubljana
Join a free walking tour

One of the best things to do when you arrive in a new city is to join a free walking tour. Not only will you see the city's main landmarks and get a detailed explanation of its history, but you will also find your way around much easier. Free walking tours in Ljubljana usually take around two hours, depending on the size of the group, maybe a little longer. If you were happy with the tour and the tour guide, a small tip is highly appreciated to keep the tours available for free.

Stroll around the central market

The central market is also a well-known tourist attraction in Ljubljana. You can find not only fresh fruits and vegetables but also local products like cheese, bread, and pastries. It is highly recommended to ask the vendors for a sample of their products which they usually give out for free. You can find many small souvenir shops here, where you can purchase gifts for family and friends at home.

Admire the Cathedral of St. Nicholas

This Roman Catholic cathedral is another sight in Ljubljana that is well worth visiting. You can go inside the cathedral and marvel at the baroque interior as well as the gilded details and the impressive paintings on the ceiling. The front of the cathedral is a popular spot for taking photos and usually gets busy during mid-day.

The Museum of Illusions is a great place to go on a rainy day in Ljubljana. With so many different illusions to trick your mind this is a fun and unusual place especially for families with young kids. Tickets cost 12€ for adults, 8€ for children, and 30€ for families of four and are worth every penny.

Climb up to Ljubljana Castle

One of the city's main landmarks is the 11th-century Ljubljana Castle, from which visitors can enjoy breathtaking views of the city. The castle is open to the public and can be visited for free, which is why this is one of the top things to do in the Slovenian capital. The path up to the castle is in good condition and not really steep. However, keep in mind that it is steadily going uphill so the hike isn't easy. Visitors who do not want to walk all the way up to the castle can also take the funicular, which costs €4 per person one way.

Preseren Square

Preseren Square has several attractions to offer, including the Franciscan Church of the Annunciation and the so-called Triple Bridge. The church from the mid-16th century is hard to miss with its red and orange color, making it easy to recognize from afar. The interior is not as spectacular as the Cathedral of St. Nicholas, but still worth a visit. The three bridges that cross the Ljubljana river are located opposite the Franciscan Church of the Annunciation and are also a popular spot for taking pictures and hanging up a love lock. The middle one dates back to 1842 and was mainly used for traffic. The bridges on each side were added later on in 1930 to support the walkability of the city.

Stroll through the Tivoli Park

Tivoli Park is the largest park in Ljubljana and the perfect place to enjoy some nature away from the hustle and bustle of the city. It is a great place for picnicking, walking around, or playing with the whole family. You will find many families here who are taking their children on a day out. The botanical garden is also a great place to visit inside Tivoli Park, where visitors can admire numerous tropical plants.

Rent a bike

Ljubljana is easy to navigate by bike as the city has invested a lot of money to build bike lanes. Public bikes can be rented almost everywhere in the city from different rental shops, the tourist office, or with an app called BicikeLJ, which is the cheapest and most popular way. Visitors with the BicikeLJ app need to subscribe for at least one week for only €1. With this subscription, they have unlimited trips for seven days, with the first 60 minutes free. The second hour costs another €1 and so on.

Ljubljana has several breweries since beer has an important role in Slovenian culture. The Union Brewery in Ljubljana is the most popular destination for all beer lovers and should not be missed on your trip to Ljubljana. Not only can visitors take a guided tour through the brewery which dates back to 1864, but they can also try the different beers which include both traditionally brewed options and internationally acclaimed craft beers. The guided tour costs €14 for adults and €7 for children aged between 6 and 18. Tours should be booked in advance to reserve the spot since they tend to be sold out quite quickly.

Join a food and wine tour

Food and wine tours in Ljubljana are a great way to try local products and learn more about the culture of the city and Slovenia as a whole. Participants will go to up to ten different restaurants and try local cheese, pastries, and wines. There are several tours to choose from, all with a duration between two and four hours.

Visit the train station

Ljubljana is well-known for its historic buildings, which includes the beautiful old train station. The building is dated back to 1848 and is still in use as the main train station in the city of Ljubljana. You will come by the building sooner or later anyway, which is why you don't need to plan on going there on a specific day.

National Museum of Slovenia

Located on the eastern edge of Tivoli Park is the National Museum of Slovenia. The museum shows the history of Slovenia through objects found during excavations. One of these finds, for example, includes parts of a Neanderthal flute dating back over 60,000 years.
Best Time to Visit Ljubljana
The best time to visit Ljubljana is from the beginning of June until mid-September, when temperatures rise up to 80°F (27°C) during the day. The nights are usually a bit colder during these months, with temperatures between 51°F (11°C) and 58°F (14°C). For this time it is recommended to pack short clothes for the day and long clothes to go out in the evening. 
From April to November, regular rainfalls can occur in Ljubljana, which can be over in an hour or, in some cases, last almost the whole day. This should be taken into consideration, especially when you want to see a lot in a short time. An umbrella and a waterproof jacket can be very helpful to avoid staying home when it rains. Luckily, there are plenty of museums in the city to explore on rainy days.
The coldest months are from November to February. Visitors can expect average temperatures of 48°F (9°C) in November and 39°F (4°C) in January. During that time, temperatures can drop to somewhere between 44°F (7°C) and 26°F (-3°C) at night.
From mid-December until the end of January, regular snowfalls can be expected due to the freezing temperatures. Especially during Christmas time, snow creates a magical atmosphere in Ljubljana. If you have decided to visit Ljubljana during the colder months, don't forget to pack a winter jacket, a scarf, and a hat to stay warm when stepping outside.
Ljubljana for Families
Many European cities are great for families, and Ljubljana is no exception. The city is very walkable and accessible even with a stroller in case you're traveling with very small children. There is plenty to see and do, such as a visit to Ljubljanski Grad, the impressive castle that overlooks the city. Kids will love the trip up the hill in a traditional funicular that involves no walking. The views are breathtaking, and the ride is almost as fun as the interactive exhibitions in the castle museums. A fantastic activity for little ones who love knights and fairytales.
Slightly older children will enjoy a day at the House of Experiments, a fun science center filled with activities and new things to learn. This is the perfect excursion for families needing a break from sightseeing while still enjoying an educational experience. The center is only open on weekends, so make sure you plan your trip accordingly.
On a sunny day, head to Tivoli Park for a picnic and some fun outdoor games. The Ljubljana Zoo is also located nearby and is a great choice for children of all ages. Don't forget to pack your camera to snap some unforgettable photos. Afterward, families can head to the water for a fun river cruise through the city of Ljubljana. This is not only a great activity for children but will also be a fantastic way to get to know the area.
Ljubljana has plenty of international schools and English-speaking daycare centers to choose from. Most are located close to the city center and range from affordable to more expensive private school options. The French International School of Ljubljana, Ljubljana International School, and the European School Ljubljana are some of the most popular options. Education here takes place in English, which unfortunately cannot be said for most local schools where the main spoken language is Slovene. Younger children may be able to adapt quite quickly, but older ones will most likely benefit from attending an international school instead.
Living in Ljubljana
Ljubljana Transportation
Ljubljana is a very walkable city, and digital nomads living here do not need to own a car to get around. If you're staying close to the city center, you can get to most places on foot which is not only a great way to stay active but also fantastic for getting to know the city. Another popular method of transportation is getting around by bike. Those hoping to stay in Slovenia for longer periods of time should consider purchasing a second-hand bike that can easily be sold again when it is no longer needed. This is great for flexibility and will be the most budget-friendly option for getting around. For shorter stays, there are public bikes available throughout the city, which can be rented for a few euros per hour. This is ideal for the occasional bike trip or shorter commutes.
However, consider the cold temperatures Ljubljana experiences during the winter months, which might make biking uncomfortable. Luckily, there are other public transport methods to choose from for when it gets cold.
The public transport system in Ljubljana is convenient and will get you to most important places across the city. There are a wide variety of bus routes to choose from, and rides rarely cost more than a few euros. This is especially useful for remote workers living a little bit further outside of the city center. Simply purchase a rechargeable bus card which can be used to pay for your ride. There are also monthly options available for those hoping to get a good deal on extended stays. Buses in Ljubljana are generally comfortable and reliable. They're usually air-conditioned during the summer and accessible for wheelchair users.
There are also the urban trains which are extremely popular among tourists. There are limited stops available, but the route is a great choice for sightseeing and getting to know the city. Tickets are slightly more expensive than the local buses, but rides operate on a hop-on-hop-off basis, meaning you can pay once and utilize the train as long as you like. While this might not be ideal for regular commutes, it's most likely the best choice for sightseeing days. Each train ticket also includes a complimentary audio guide which is available in eight languages.
If you're looking for a fun way to explore the city, you should consider riding a so-called Kavalier. These small electric vehicles are similar to golf carts and can be used free of charge. There are only a limited number available, so they might not always be ready to use, however, can be very useful if you do happen to find one.
Note that there are no ride-sharing services in Slovenia, such as Uber or Lyft. Only registered taxis are allowed to operate, and they can be pricey. Always make sure that your taxi driver has a taximeter to avoid scams, especially when going to or coming from the airport. Download the HOPIN app to request a taxi directly from your phone, which is far more convenient than hailing one on the street.
Fitness and Health
There is a great selection of gyms available in Ljubljana as well as group sports teams you can join. Football is probably the most popular sport in the country, and the Slovenian national team has qualified for the FIFA World Cup several times. If you've been wanting to play football but haven't gotten the chance, this is a great opportunity to go for it. 
Ljubljana is surrounded by nature, and digital nomads living in the city should go for a hike and explore the area if they get the chance. There are beautiful trails located close to the city and plenty of opportunities for mountain biking, trekking, or hiking. If you go a bit further, you can even go white-water rafting, kayaking, or climbing. 
Gym memberships in Ljubljana start at around €25 per month and can go as high as €80. This depends on the length of the contract, the location of the gym, and the equipment available. Some memberships may include fitness classes or personal training sessions, which can lead to an increase in price. Alfa Gym, Gym24, and Fit City are a few popular options close to the city center. 
Those who prefer working out outdoors should consider getting into running during their stay in Ljubljana. Tivoli Park is a great choice for this with its many paths and trails. This will not only help you keep fit but also get to know the city while you are at it. Plus, in winter, you can try your hand at ice skating, which is fun and ideal for warming up on a cold day.
Ljubljana People
Ljubljana is a student city with a large university that is a popular place for exchange students from all around the world. This gives the local culture an interesting twist and makes the city much younger with a lot going on. Where large parts of Slovenia are still very conservative and religious, Ljubljana is a lot more liberal with international influences. A lot more people here speak English and are politically open-minded. Art and culture are what make this city thrive, and Slovenians are proud of their flourishing capital. They are generally very welcoming to tourists and expats and love to see foreigners appreciating their country's beauty. 
Slovenia is often overlooked by travelers who favor more well-known countries such as Spain, France, or Greece. However, with tourism growing steadily, Slovenia is an up-and-coming hotspot for both remote workers and tourists who can enjoy their time in this green country. Known for its stunning nature, Slovenia is great for nature lovers, and Ljubljana is the gateway to discovering the beauty of the surrounding area. 
Slovenians love a good party, event, or festival, and this passion is reflected in their capital city. There is always something going on in Ljubljana, and the likelihood of being bored here is slim. The city fuses the old and the new to create a hybrid of culture, food, and people. It's beloved by most Slovenians, even those who live in the countryside and only come to the city for special occasions. In such a small country, the capital is an important place, and geographically, four regions of Slovenia meet where Ljubljana is located, giving it a unique location.
Slovenia has interesting and unique traditions, some unusual like the blessing of the motorcycles in spring, others more well-known, like celebrating name-days. There is also the day of the dead on November 1st, where those who have passed away are honored by lighting candles at their graves. Ljubljana itself is known for its many festivals and events, such as medieval days, jazz weekends, theater performances, and folk dance. Since a large number of the population are Christians, catholic holidays are celebrated in an elaborate way. 
Christmas time is an especially great time to visit Ljubljana when the streets are beautifully decorated, and there are markets where local delicacies are available for purchase. Ljubljana is a city of wine, and many tourists come here only to do wine tastings. Slovenian wine is up and coming and considered to be high quality and delicious, even for those who aren't experts quite yet. Slovenians love their wine and beer, but harder liquor like slivovitz which is made from plums or other fruit, is also very popular. 
Drinking brings people in Ljubljana together, and those not used to spirits need to proceed with care when keeping up with the pace of locals who are very used to consuming liquor regularly. Wine may be the better choice and will ensure you're immersing yourself in the culture and being social at gatherings. The Slovenian people are happy to share their culture with foreigners, always eager to promote tourism, and invite others to enjoy their fascinating capital city of Ljubljana.
Ljubljana Insurance and Medical Care
Ljubljana is a large city, and there are several major hospitals as well as plenty of smaller clinics to choose from. Slovenia has a public healthcare system that is free for its citizens and residents, being largely financed through taxes. It's relatively easy to get a doctor's appointment, and in Ljubljana, it should be no problem to find an English-speaking doctor. However, in more rural areas, there may be a language barrier so try to stick to the city center. The medical care in Ljubljana is generally good and of high quality. However, having medical insurance is extremely important, especially for non-European digital nomads visiting the country. While those from other European countries may be covered by their home insurance in case of emergencies, hospital visits can be expensive for other foreigners. 
It's usually best to obtain an insurance policy from one's home country instead of finding local options. Make sure to double-check which countries are covered and if there are regulations on which doctors can be visited. For minor issues, it's often sufficient to go to a pharmacy where a wide variety of medications are available over the counter, without a prescription, and for affordable prices. For emergencies and severe medical problems, nomads should head to one of the city's larger hospitals, such as the University Medical Center Ljubljana. This is where you'll have a high chance of finding English-speaking staff and a great quality of care.
Make sure you are fully covered by reading our full Digital Nomad Travel Insurance guide.
Jobs in Ljubljana
Ljubljana and Slovenia, in general, are known for being active in the car, IT, and pharmaceutical industries. However, unemployment rates are high in parts of the country, and despite the growing tourism industry in recent years, there is still a shortage of local jobs. This means that digital nomads might struggle to find work in the city, especially when looking for higher salaries. It's best to come to Ljubljana with a remote job in place, which also guarantees that there will not be issues regarding visas and work permits. Remember that it's not permitted to work locally on a regular Schengen visa, and penalties for violating this rule can be high. 
If you are interested in finding local work, it may be worthwhile to apply for jobs with Slovenian firms remotely, which may be more convenient for obtaining a long-term visa. This only applies to non-EU citizens, though. 
Those with an EU passport can work locally in Slovenia without having to obtain a work permit. This can be convenient when looking for a part-time job in Ljubljana, especially during the high season in summer when there may be seasonal work available. However, consider that local work almost always requires some knowledge of the Slovenian language, which is essential to communicate with locals. Make sure you learn this before applying to jobs and consider whether remote work may not be the more convenient option. It allows for more flexibility and may even be paid better as wages in Slovenia are relatively low; minimum wage lying below €1,000 per month.
Check out our Digital Nomads Jobs Postings to find the best jobs available for Digital Nomads.
Nomad Friendly
Value for Money
Internet
Workspace
English
Food
Safety
Health
Transportation
Friendly
Quality of Living
Cost of Living Ljubljana
Ljubljana is affordable but also not the most affordable in Eastern and Central Europe. Rent can quickly get expensive in popular neighborhoods, and finding good deals may be a challenge, especially during summer. Luckily, public transport and groceries are cheap, and nightlife is also relatively affordable considering the value you are able to get. The city is definitely a lot more expensive than the rest of Slovenia, which invites digital nomads to go out and explore more of the country. 
It's possible to live in Ljubljana on a budget, but it's also easy to splurge and spend a lot more than planned. The sample expenses below are very conservative, and it's best to add a bit more to account for unforeseeable costs and additional things to pay for. Consider that you might not want to be working from home in such a large city, so a coworking membership is almost essential. This will add a considerable cost as even the budget-friendly coworking options cost as much as US$150 per month.
Sample expenses for one month in Ljubljana
Essential costs
US$500 basic one-bedroom apartment
US$150 bills for water, gas, electricity, WiFi 
US$50 public transport
US$200 groceries 
US$20 cell phone plan
_________________
≈ US$920 total per month
Optional costs 
US$250 eating out and nightlife
US$200-300 health insurance (varies greatly according to country)
US$150 budget for day-trips
US$40 gym membership
US$150 membership at a coworking space