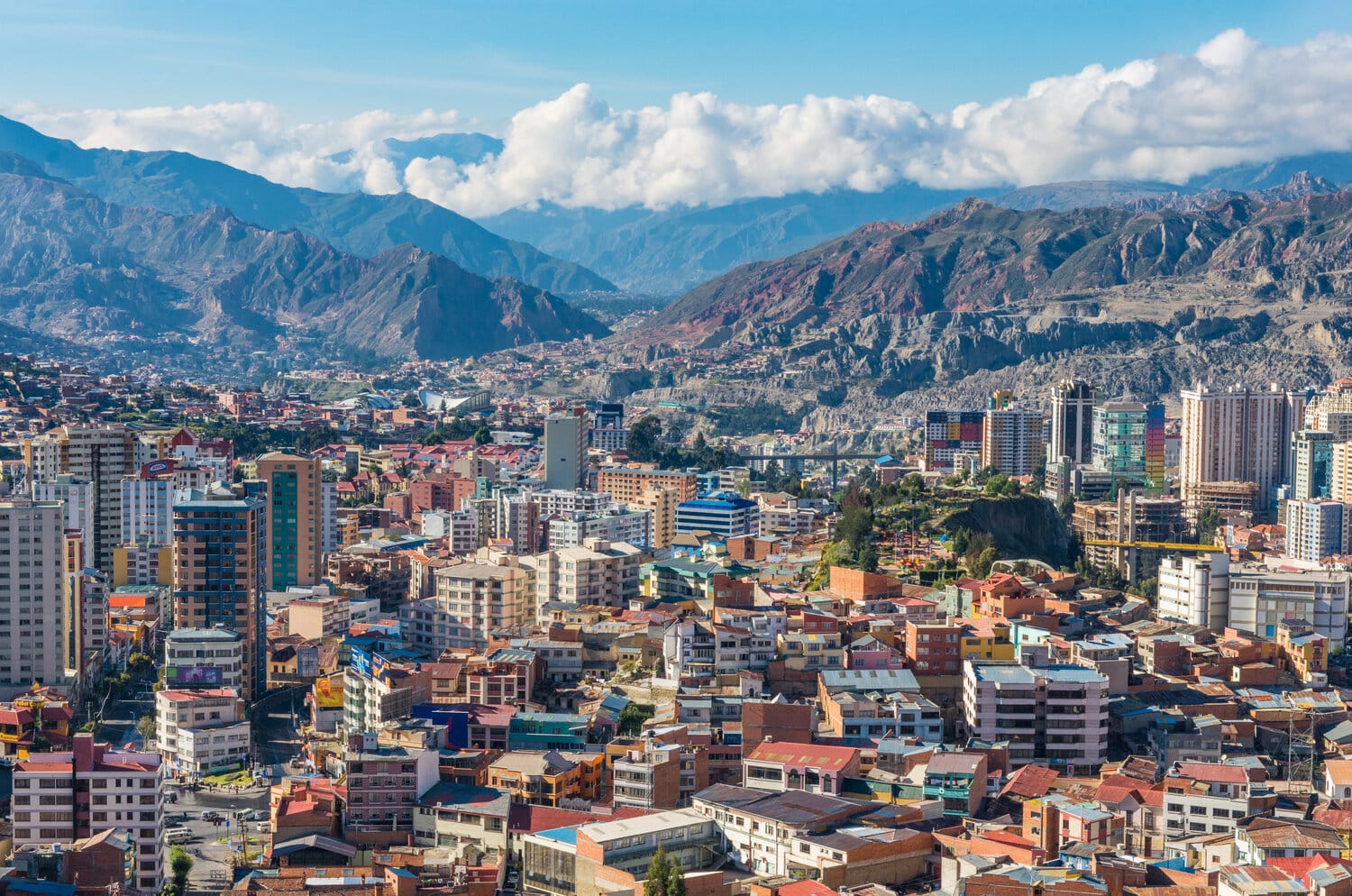 A Digital Nomad Guide to La Paz
The city of La Paz, despite not being the constitutional capital of the country, is the seat of government, the administrative capital and the largest cultural, political and financial center. Located in the west of Bolivia, just 70 km away from the famous Lake Titicaca, it is located at more than 3.600 meters above sea level, in the Choqueyapu river canyon, surrounded by the mountains of the Andean Altiplano.
Founded in 1548 by the Spanish Alonso de Mendoza, it received the name of Our Lady of La Paz in honor of the pacification of the wars of the Viceroyalty of Peru. In its beginnings, it was a transit point within the commercial route established between Lima and the Potosí mines.
Today it is the most important city in the country, a mixture of cultures where mestizos, Aymara and Quechua coexist in harmony in a unique environment and surrounded by natural beauties that will take your breath away.
This impressive Bolivian city was elected in 20214 as one of the seven wonder cities of the world, thanks to a vote carried out among more than 1.200 candidates.
It also stands out for having the longest and highest air transport system by cable in the entire planet. Its natural environment, its rich combination of cultures and its interesting curiosities have made La Paz occupy one of the positions of the wonder cities of the world, along with other important destinations such as Havana, Kuala Lumpur and Beirut.
Nomad Friendly
Value for Money
Internet
Workspace
English
Food
Safety
Health
Transportation
Friendly
Quality of Living
Living in La Paz Overview
| | |
| --- | --- |
|  Meal, Inexpensive Restaurant | $3.63 |
| Domestic Beer (1 pint draught) | $2.54 |
| Cappuccino (regular) | $2.66 |
| Loaf of Fresh White Bread (1 lb) | $0.97 |
| Water (1.5 liter bottle) | $1.01 |
| One-way Ticket (Local Transport) | $0.44 |
| Basic Utilities (Monthly) | $44.93 |
| Internet | $49.47 |
| Fitness Club (Monthly) | $45.31 |
| Apartment (1 bedroom) in City Centre | $318.04 |
[erw_exchange_rates_widget lg="en" tz="0″ fm="EUR" to="EUR,USD,GBP,AUD,JPY,RUB" st="primary" cd="" am="1″][/erw_exchange_rates_widget]
Max Withdrawal: €400
Use of Credit Cards: Widely Accepted
Digital Nomad Personal Experience in La Paz
At night, especially if you live in El Alto, the dark streets are practically deserted, covered in discarded plastic, boarded up shops, barred windows, and occasional lonely men leaning against the walls. By arriving in the city at night, I felt that I did not want to stay here too long.
During the day the feeling changed completely making me feel more secure. La Paz seemed bright, colorful, welcoming, and a real adventure. Crooked cobblestones, modern multi-lines, parks and squares as the center of social life, strange witchcraft markets, an abundance of surprisingly good food, and ladies dressed in petticoats and big, tall hats made me feel like in colonial times or at least in a city so different from anything previously known.
Most of its streets are very steep since La Paz is shaped like a teacup with its walls built, but also the bottom of the cup is not flat but in turn has ups and downs that due to the height of the city ​​takes your breath away. The combination of the mountainous track, the slippery rocks and the high altitude quickly tired me. Instead, the locals walked normally, as if they were at sea level on a flat surface.
I loved that the cable car was a part of everyday life and I tried to ride it whenever I could. The views were simply breathtaking and the colors changed depending on the time of day.
Also, every time I had a day off I would go to explore a different place outside the city. Today I remember those little trips as dreams and I have to look at the photos to confirm that the landscapes were as incredible as I remember them.
Far from my first impression, I loved La Paz so much and every now and then I feel like going back.
Work in La Paz
Coworking spaces in La Paz were born due to a need to reduce operating costs and the desire to increase the productivity of Bolivian society, especially in the absence of an environment that fully pushes individual productivity, collaboration in groups of people with or without experience, allowing to join forces between people who are willing to get ahead not with a job but doing what they like.
Best Places to Work in La Paz
Squemas Cowork
While there used to be many coworking spaces, most closed due to the pandemic and did not reopen. However, some are still standing. Among the options that the city still offers is Squemas Cowork (Av. Arce, Edificio Arcadia 2588, Mezzanine) with a perfect location in a well-connected neighborhood, with many type of spaces and services like wi-fi, private rooms, meetings rooms, and conference rooms. They also have biosecurity services, technical support, printing machines, and cafeteria services. The spaces are simple and elegant. Prices start at 12 USD for 4 hours and 22 USD per day although they usually upload promotions to their Instagram feed.
Link Cowork
Link Cowork has modern workspaces, semi-private and private offices that will meet your work needs. It is specially designed in order that teams between 1 and 20 people can work comfortably and productively. It offers professional printers, HD projectors, cafeteria, high speed internet, stationery, seminar rooms and daily cleaning. Monthly plans start at 170 USD.
NetWork
Located in the heart of San Miguel, and noted for its comfortable and modern design, NetWork (San Miguel, Av. Montenegro 1350, floor 4) is defined as a shared workspace created to promote creative freedom. It has private spaces, shared spaces and meeting rooms equipped with televisions and blackboards so its clients can comfortably enjoy the place they prefer. All spaces are designed with optimal lighting. Apart from this, any package includes reception services, high-speed wi-fi, scanner, professional-level multifunction printer, free coffee, water and fruit, newspaper and headphones, among other amenities and services. Network also developed strategic alliances to provide a cafeteria menu with exclusive delivery at no additional cost. It also offers providers such as legal services, IT advice and support, web development, graphic design, accounting and administration with special packages for Network partners.
Nexo Cowork
Nexo Cowork (Achumani, Av. Alexander y, calle 13 No. 70) offers you a variety of space for you to work and develop professionally in an innovative environment. It is in the best location of the southern part of the city and has ample parking access for you and your clients, shared offices, lockers, printer, photocopier, coffee and tea, wi-fi, private offices for 1 or 2 people, meeting, training and filming rooms for youtubers. Also, outdoor spaces and weekly and monthly plans. 
Anticafe Chukuta
Anticafe Chukuta (Calle Tarija # 328) is a coffee shop that offers an arrangement that makes it qualified to be a co-working space. Fast wi-fi, several plugs, good light and even meeting rooms. If you are for a short period in town you should probably try here first.
Best Places to Live in La Paz
Best Neighbourhoods
Historic Center
If you are staying in La Paz for a limited time, you may prefer to stay in the historic center, the best neighborhood for sightseeing. Avenida 16 de Julio crosses this neighborhood, and is the nerve center of commerce, finance and entertainment in La Paz. In addition, the historic center is a well-connected neighborhood with other attractions such as Plaza Murillo, around which most of the museums and monuments are located. You also find the Bus Terminal that connects the city with numerous destinations both inside and outside the country. Designed by Gustave Eiffel, it was built at the beginning of the 20th century with metal structures brought from the American city of Pittsburg. Nearby is the famous Witches Market, with numerous products destined to perform Bolivian rituals to Mother Earth; Jaén Street, one of the best preserved colonial streets; and the beautiful Killi Killi viewpoint, with a panoramic view of this peculiar city.
Sopocachi
To the east of La Paz is the neighborhood of Sopocachi. Founded during the republican era, it was an area destined mainly for the construction of single-family homes. Mainly foreigners, students and families of upper middle level live here. It is a bohemian, busy and lively neighborhood with the largest offer of bars, theaters and nightclubs in the city. One of its main characteristics are its houses with stately and mestizo architecture, many of which have been declared as architectural heritage of the city. It has four heritage sites: Plaza Isabel la Católica, Rosendo Gutiérrez, Alborta Vickers and Francisco Bedregal, and the National Conservatory of Music and the National Academy of Fine Arts.
Miraflores
Also to the east, you find Miraflores, a residential and leisure neighborhood separated from the center by the Central Urban Park Canyon. It has a large number of services, numerous cafes, restaurants and shops. Here you find the Hernando Siles Stadium with a capacity for 45.000 people, where musical concerts and sporting events are held. It also houses the main hospitals and universities of La Paz, the Botanical Garden, the little Big Ben (a clock donated by British citizens on the occasion of the 400th anniversary of the city) and the Villaroel square where the Museum of the National Revolution is located.
The southern area is the one with the lowest altitude of the entire city: between 3.200 and 2.800 meters above sea level. It is made up of most of the residential neighborhoods of La Paz, among which are Koani, Achumani, Obrajes, San Jorge, Irpavi and Calacoto. These neighborhoods make up the well-known South Macrodistrict. Over the years it became the new commercial and financial center of La Paz. Therefore, it is one of the most exclusive and elegant areas to live, with wide avenues, fashionable restaurants and luxury stores. It is also the diplomatic area where you find a great deal of consent from embassies and consulates of different countries. However, unlike other cities, it is well connected with other areas. 
Find an Apartment in La Paz
If you are going to move to Bolivia, you should bear in mind that it is not easy to find a nice apartment, in a good area and with a certain luxury such as heating, Wi-Fi, washing machine, etc. On the other hand, if you are a digital nomad, you should also consider that the internet speed is low even in the city.
I do not advise you to walk the city to look for an apartment, the type of place you are probably looking, because of the poverty level of the city, will be published in a newspaper or on the internet.
 As for where to look, Airbnb is an expensive but quick option to find furnished apartments with all the requirements we want. A one-bedroom apartment with a local-style living room costs around 400 USD per month while in a more modern one you can expect to pay between 600 and 900 USD per month.
You can also go to a real estate agency although they will charge you a commission. You can find a list of available agencies at bolivia.inmobiliaria.com.
A good option is to look at the web pages of local Bolivian newspapers such as El Diario de La Paz which has a classified section that includes apartment rental listings.
There are also several property rental websites with apartments and houses for rent. Bolivia.inmobiliaria.com is one of the best and you can also look at Doplim (free classified ads in Spanish), Evisos, Yakaz, Tuinmueble mainly with houses for sale and occasional rentals and Sublet.com.
Bolivia, and therefore La Paz, also has several apartment blocks where you can check if there are any available. For example, Almudena Apart Hotel is located on the outskirts of the center and has spacious and clean excellent value 1, 2 and 3 bedroom modern and well-furnished units. Alcalá Apart Hotel, a 15-minute drive from La Paz city center, offers elegant accommodation with free Wi-Fi. Aparthotel A La Maison, 1 km from San Francisco Cathedral, offers 8 luxury self-catering apartments with Wi-Fi and breakfast. La Lodge has 5 modern and elegant apartments with all the services of a hotel.
Cheap Places to Stay in La Paz
La Paz itself is a cheap city if you don't have modern standards. On Airbnb, you will find individual rooms for renting with costs between 150 and 200 USD per month but for 250 or 300 USD you can get a whole apartment. If your budget is even more limited, you should ask people in the area if they know someone who is renting. You can get for 100 USD per month but keep in mind that it will have more precarious conditions and probably without considerations regarding the design of the place, the cold or the cleanliness.
If you will be staying in the city for a short time, you should pay for a shared dormitory in a hostel for 5 USD per night. For example, The Adventure Brew Hostel (Av Ismael Montes 503) is cheap for what it offers and even has a bar at the entrance.
La Paz Visa
Citizens (ordinary passport holders) of specific countries and territories are eligible to visit Bolivia for tourism or business purposes without having to obtain a visa. There are 3 groups of countries: countries whose citizens do not require a visa, countries whose citizens must obtain a visa prior to entry for free or upon arrival for a fee, and countries whose citizens must obtain visa in advance with special authorization.
National of the following countries must obtain a visa prior to arrival at any Bolivian embassy or consulate free of charge, or on arrival:
Nationals of Iran can obtain a visa on arrival for 30 days only at Cochabamba, La Paz and Santa Cruz airports. They need to pay a fee.

Nationals of  China (including  Macau and  Hong Kong) can obtain a visa on arrival for 90 days. They need to pay a fee.

Nationals of  Taiwan can obtain a visa on arrival for 90 days. They need to pay a fee.
Nationals of the following countries cannot obtain a visa on arrival and are required to obtain further authorization from a Bolivian embassy or consulate: Afghanistan, Angola, Bhutan, Cambodia, Chad, Democratic Republic of the Congo, Indonesia, Iraq, Israel, Laos, Libya, Nigeria, North Korea, Pakistan, Rwanda, Somalia, Sudan, Syria, Timor-Leste, Yemen.
However, I recommend that you call the Bolivian consulate in your country to verify whether or not you need a visa since this information may change over time.
Keep in mind that people of different nationalities, for example Argentina, are asked for the yellow fever vaccination card. You can also check it at the consulate. If you will apply for a job, they will also ask you for a work permit.
Culture and Food in La Paz
Bolivian gastronomy originated from a fusion of traditional Aymara cuisine with the influences of the different migratory waves since the Spanish colonization. The central ingredients of Bolivian food are: corn, potatoes, rice, beans and quinoa.
A good La Paz breakfast begins with a llaucha in Mercado Rodríguez, a local market where you can find many types and with good prices. Llaucha is a wheat dough empanada filled with cheese, butter and red pepper, and baked until it reaches its typical golden color.
The anticucho is Bolivia in a bite, in a dish made of thin cuts of beef heart, potato, peanut pepper, oil and vinegar, almost always served directly on the stick. It is a preparation of an almost poetic simplicity. A place to enjoy an excellent anticucho in La Paz is the Corazón en Llamas restaurant.
In the middle of the morning you can eat a salteña: a baked empanada filled with hard-boiled egg, potatoes, spices, olives and various types of meat. Restaurants like Paceña La Salteña and Salteñas La Caribeña are some of the most popular places.
Paceña La Salteña (coming Heroes del Pacifico Number 1162) is an authentic street food store in the center of La Paz. This award-winning mini point-of-sale system is more than a quarter century old and can be found in four locations throughout the city.
El Pueblito (Linares Number 880, 1st floor), near the Witches Market, offers a traditional culinary experience in abundant portions and with a reasonable budget. This authentic and local place is especially worth visiting at lunchtime.
Beyond the typically local dishes, La Paz is a city that allows visitors to visit other traditions through restaurants such as Pronto Dalicatessen, a suitable place for a romantic European-style dinner. Another place is Isu Sushi, the perfect place to enjoy Japanese and Asian cuisine without leaving La Paz.
When food critics realized that Claus Meyer, co-founder of the world's second-best restaurant today (Noma, in Copenhagen), was going to open a new restaurant, no one expected it to be in Bolivia. This Scandinavian sailor brought cordon bleu to the Andes, incorporating local flavors in his new restaurant Gustu (Calle 10 number 300, Calacoto). The à la carte offerings have been carefully chosen to reflect the biodiversity and tradition of the country.
Finally, you can take a short culinary trip to Switzerland at Chalet La Suisse (Avenida Muñoz Reyes Number 1710 Calacoto). Imported wines, cheeses and chocolate fondue coexist peacefully with Bolivian trout, llama meat and chunks of meat in this luxurious and cultural restaurant.
La Paz Nightlife
Like the biggest cities of South America, La Paz offers many alternatives for those who want to enjoy its nightlife. To the award as one of the seven wonder cities of the planet is added the cataloging that the prestigious National Geographic magazine made of La Paz in 2010, qualifying it as the sixth most partying, fun city and with the best nightlife on the planet.
You can start the night in one of the peñas-restaurants. Located in the historic center of the city, here you can appreciate local folk music, dance and gastronomy.
Once a year the city allows you to enjoy the Long Night of Museums, where you can visit for free the museums distributed in different parts of the city, especially in the central urban area.
One of the La Paz neighborhoods that is known for its active nightlife and for having a great artistic and cultural movement is the Sopocachi neighborhood, since there are several cafes, bars, karaoke bars, discos, theaters, art galleries, museums and various cultural centers. For example, the Diesel Nacional nightclub. With an exterior that looks like any other warehouse, it surprises you on the inside with an industrial-style decoration where remains of old trains, cars and planes stand out. It is the place chosen by many to have an after-office during the week, or to warm up with a varied menu of food, drinks and craft beers.
Very close to Diesel is Malegria, a traditional bar with quality cocktails to quench the thirst caused by non-stop dancing. Live Afro-Bolivian Saya Thursdays are a classic in Male for frequent customers.
In the same area, for more than 25 years Equinoccio has been synonymous with Bolivian rock. It is a place where rock lovers always feel at home.
Instead, the Costilla de Adán is a mix between a bar and a museum of Bolivian popular culture. Created by an antique collector, this two-story venue contains more than 19.000 antique pieces from all over Bolivia. If you arrive, be sure to try the Leche de Negro, a mixture of brandy liqueur, quince liqueur and Coca Cola. If you are hungry, order some special empanadas with goat cheese, corn and basil.
The Dubliner, located in Irpavi, is the city's Irish bar. Here you can enjoy live music and promotions that change every month, both in food and drinks.
Senses Club, in the Calacoto neighborhood, is one of the most popular clubs for young people. It's a good place if you want to go have a few drinks and dance. Just around the corner from Senses, Gitana Bar is located, a recommended place for those looking to dance to the rhythm of local groups.
 The night should end at Los honguitos. This traditional point of Sopocachi is to enjoy a vacuum, a choripán or a peceto. Small meat dishes, with their special sauces and ideal for relaxing the body before going to sleep.
Things to do in La Paz
La Paz is usually a starting point to go to Lake Titicaca, the city of Copacabana and to explore what nature offers around, but it also has its own charm. While you won't find a long list of interesting activities, the city itself is so different from any other that wandering its streets aimlessly becomes the main attraction.
The most famous site in the city is the Bruges Market which is located behind the Plaza Mayor. Although there are more tourists than locals and the prices are a bit inflated, it is still cheap and you can experience the native culture. Here you can get from wooden crafts, masks, alpaca clothing, music instruments and everything that has to do with the typical colorful designs of Bolivia. However, the most interesting articles are those related to traditional medicine and magic. For example, llama fetuses and the different elements that the Aymara and Quechua use for different rituals, whether to bring good fortune to a house under construction or to thank Mother Earth. The market streets are very picturesque with their distinct European-style alleys and well-kept facades, compared to the rest of the city. Among the foreigners, the "ladies in skirts" with their lace and their hats hat stroll. Most speak Aymara and a very rough Castilian Spanish, which denotes that it was their second language and that they use it only when necessary.
I also recommend you to walk between El Prado and the San Francisco Church, the most important in La Paz, where you can soak up of local life. On the streets there are several food houses that sell Jawita (cheese pie).
When you feel like the traffic chaos overwhelms you and there is too much information for your senses, it is best to take a bus on a 10-minute trip to the quiet neighborhood of Sopocachi. You will find several cafes and streets totally empty of people. A good option is Casa Fusion Hotel Boutique that serve delicious things in their cafeteria.
The modern cable car in La Paz works not as a tourist attraction but as part of the public transport network. It has three lines with different panoramic views. The green that goes to the south and the yellow and red that go to different parts of El Alto, the famous area from where you can see the entire city. The best time to take it is at sunset when the Illimani mountain is seen in pastel tones and the lights of the city begin to turn on, giving you another perspective of it.
In the Mercedario neighborhood you will find the Whipila buildings with their huge colored murals that completely cover them. Under government construction and the design of the now famous Mamani-Mamani, low-cost housing was provided. For now, they have not yet become famous although they attract visits from foreigners who are looking for urban places that visually impact them.
Continuing with the urban constructions, you can visit the Cholets in the Villa Adela neighborhood. The architect Freddy Mamani decided to change the face of La Paz and Cochabamba and began to build houses and buildings with a different style called by people galactic baroque. These 6- or 7-story houses can cost anywhere from 1 to 3 million. If you go by taxi or bus, tell the driver to drop you off at Cholet Imperio del Rey, one of the best known. You will recognize it because downstairs is a room for events painted red.
Near the city you can visit Chacaltaya, the highest sky track in the world (5.400 meters above sea level) and closest to the Equator line. On the Andes Mountains and 35 kilometers from La Paz, each year it has less snow due to global warming that causes the temperature to rise. The Chacaltaya glacier is the first tropical glacier in South America to become extinct and requests and projects have already been submitted to the government to produce snow through artificially induced rains. The landscapes that you will see on the way to Chacaltaya will take your breath away. Snowy mountains, grazing flames and crystalline lakes that smoke in the cold. Chacaltaya is not accessible by public transport but if you do not have your own or a rented vehicle, there are tours from La Paz that take tourists and locals to enjoy the snowy peaks. They generally link it with the Valley of the Moon, leaving at 8 in the morning and returning at 3 in the afternoon.
 Locals say that the Moon Valley was the astronaut Armstrong himself who gave that name to the rock formations that are located 9 km from the center of La Paz. The entrance to the Valley of the Moon costs 15 bolivianos and once inside there are two circuits, one of 15 and the other of 45 minutes, both very easy to do on foot. I recommend doing both.
Finally, you can visit the mythical Route of Death or Death Road, that formerly linked the subtropical valleys of the Yungas with La Paz. It was built using Paraguayans who were taken as prisoners during the Chaco war around 1930. Many died during its construction and for this reason it was baptized with that name. The Inter-American Development Bank gave it the title of the most dangerous road in the world in 1995, having exceeded 85.000 deaths in 2006. Since 2006 an alternative asphalt road has been built using the Death Route for adventure cycling, tourism and locals living in the area. The maximum height it reaches is 4.700 meters above sea level, between curves bathed by small waterfalls, amazing landscapes, thick fog that covers some of its sections and rains that make the road almost impassable. During winter it is very cold while going down to Yolosa the weather changes becoming humid and warm. The road is consolidated and consists of 64 kilometers of which only 35 are gravel. From the city you can hire a tour or go on your own if you have your own transportation vehicle.
Best Time to Visit La Paz
La Paz is known for being the highest capital in the world. In fact, the city is located on the Bolivian Andean plateau at more than 3.600 meters high. The highest areas of the city exceed 4.000 meters in height. Its high-altitude position means that La Paz has a high mountain type of climate with rainy summers and dry winters. The rains are not very abundant, the average amount is little more than 600 mm per year. Most of the rains fall between December and March, with January being the rainiest month.
The average annual humidity is 64%. But the average monthly humidity varies considerably between 78% in the months of January and February and 51% in the month of June. During the winter months, light snowfall can sometimes fall.
The temperatures due to the altitude are quite cold. The average annual temperature in the central area of ​​the city is 11 ° C. While in the highest area of ​​La Paz, which exceeds 4,000 meters, the average annual temperature is 7 ° C. In the central area of the city, the average maximum temperatures vary between 17 ° C in the winter months and 19 ° C in the summer months. While the average minimum temperatures vary between 6 ° C in the summer months and 1 ° C in the months of June and July. On average, the warmest month is November, while the coldest month is June.
It should be considered that due to the differences in heights within the city, the macro-districts in the north of the municipality of La Paz have even more differentiated climatic characteristics than those of the urban area; the northern part of the municipality presents characteristics of Yungas.
La Paz for Families
Similar to other education systems, Bolivia's National Education System is composed of a formal and a non-formal sector. Formal education is organized in four cycles: initial or pre-primary, primary, secondary, and higher education. Primary education for children 6 to 13 years of age is free and officially compulsory. Secondary education, lasting up to 4 years, is not compulsory.
Secondary education is offered to students of 14 to 18 years of age. Divided in two sub-cycles, students can either follow the basic technical degree, preparing apprenticeship for technical work (Bachillerato de técnico básico); or the general education degree (Bachillerato en Humanidades), preparing students for the entrance to university according to the subject of choice: Science, Literature or Biology.
Higher education in Bolivia allows students having approved the Aptitude Entrance Exam (Prueba de Suficiencia Académica) to freely enroll at any state public university and in any subject they wish. In general, there are three types of higher education in Bolivia: Higher technician (Técnico superior o avanzado), Undergraduate studies leading to a Bachelor's degree (Licenciatura), and Post-graduate studies (Maestría and Doctorado).
Public education in Bolivia is in Spanish and does not have a good level. Its main problems are the digital gap, the lack of teacher training and the lack of an up-to-date curriculum.
Nevertheless, La Paz has international schools and schools in English. For example, the American Cooperative School offer an excellent college preparatory North American education that enables your kids to enter the best universities in the United States, Canada, Europe and Latin America.
Living in La Paz
La Paz Transportation
The Micros are undoubtedly the most picturesque of all the transports with which you can move around La Paz. They are buses of the Dodge, Chevrolet and Ford brands, which report their stops with signs on the windshields. The colors determine the fixed route they take. The rate is 1.5 Bolivian pesos, which are paid when going up. In addition to the pre-established stops, you can request to get off wherever you want. Express Buss are like Micros but more modern.
The Trufi is a kind of shared taxi. In its front part, two people can travel next to the driver, so that in total up to 6 people can enter. They also have different rates depending on the distance you travel on them, ranging between 1.5 and 3 bolivianos.
The Mini is a carpool van. More people enter the Mini than the Trufi. The price of the mini varies between 1.5 and 3 bolivianos, which are usually paid when getting out of the van. The mini is usually filled starting with the rear seats and ending with the front seats. In total, I would say 12 people can fit in, including the driver.
The PumaKatari is the pride of transport in the city, just like the cable car. These modern buses depend on the Municipal Autonomous Government, while the cable car is administered by the Plurinational Government of Bolivia. For many years, public transportation in La Paz has depended on the service offered by the owners of one or more vehicles with a driving license. These small businessmen are mostly grouped in unions. PumaKatari, is the name of the buses implemented as the first phase of the so-called Integrated System of Mass Transportation of the City of La Paz, and is administered by the Municipal Transportation Service. The first 61 PumaKatari began to circulate in February 2014. Currently, the Pumakatari operates 24 hours a day and has six lines or routes that operate within the city of La Paz.
La Paz cable car, known by Mi Teleférico brand, is an ambitious project that had a very positive social impact, especially among the most disadvantaged who live in the highest neighborhoods. The cable car in La Paz works as one more public transport. The construction of this infrastructure was entrusted to an Austrian company and there are currently three cable car lines in operation. The cost of the journey for a foreigner is 3 Bolivians, although there are cards for students, the elderly and the disabled (1.5 Bolivians in these cases). When transferring to another line, the cost is 2 bolivianos. The service allows transporting bicycles by paying an extra ticket except on weekends on the Green and Yellow Lines.
It is currently considered the longest, most modern and highest cable car in the world. Even if you don't need to travel to other neighborhoods it is worth doing it for the panoramic view during the day or to see the sunset.
Conventional taxis can cost from 10 bolivianos to 60, if you want to hire a taxi to the La Paz Airport. If you are in a group, a total of 5 people can travel in the taxi (including the driver). Like most taxis, the money is paid when getting off, but don't forget that the fare must be negotiated before getting on. 
Fitness and Health
In the country, the most important sport is soccer, although they also have sports infrastructures such as the Alto Obrajes Olympic Pool, where the South American Games in 1978 were held.
Other sports such as tennis, swimming, athletics, golf and horse riding are widely practiced in the city. Different international tournaments are held every year.
New sports such as mountain biking, trail running and running are being practiced on a larger scale in the city. The characteristics of La Paz topography are ideal for the first two. Several races are held a year that allow you to enjoy the landscapes and areas of the city.
Regarding gyms, The Megatlon Camacho La Paz gym, located in the Camacho Shopping Center, is undoubtedly the best in the city. There you will find modern weight training rooms, bicycles prepared to measure your heart rate, spinning classes, Zumba, Pilates, power jump and much more.
Energym (Av. Sanchez Lima 2512, Melisa building) also has the latest technology, machines of international prestige such as Life Fitness Signature, and the renowned Italian brand Technogym.
On the other hand, Guerreros Gym (Av. Tejada Sorsano 574, Clementina building) is a functional training center in martial arts, calisthenics, TRX, crossfit and Capoeira from amateur to professional. 
La Paz People
Bolivia is the most indigenous nation in Latin America. The country has around 3.5 million indigenous people who belong to 36 indigenous etnias, which corresponds to 31% of the total population, making it one of the Latin American countries with the highest percentage of indigenous. The United Nations Organization recognized this country in 2014 for protecting and preserving its culture and said that the Andean country is a "benchmark for the rest of the indigenous peoples of the world." The country's culture is so important that it was chosen as the Top Cultural Destination by the World Travel Awards in 2017, the Oscars of tourism. Due to the number of original people that the country has, in Bolivia and La Paz cultural traditions are mixed with modernity, all in the same place.
The clothing varies according to the geographical area. In the Altiplano area it is common to see multicolored dresses, mainly made with llama, alpaca, vicuña and sheep wool, dyed with natural colorants. The costumes generally include fabrics with geometric patterns and bars known as aguayos or lliqllas. The presence of these elements is common in the communities of Aymara, Quechuas, Urus, Chipayas, Tupí Guaraníes. In cities like La Paz, the indigenous descendants who migrated acquired characteristic clothing that originated in colonial times, and that over time has given rise to the word cholo and chola that are now considered derogatory. for what women are called "ladies in skirts". Women are the best representatives of this heritage with their long skirts with multiple petticoats and black hats.
Another differential custom in the area is that its people are used to eating very early. Soup, chicken, legumes, rice, are consumed both at ten in the morning and at six or seven in the afternoon. It is normal to walk through the streets of the cities and that there are stalls where they sell these foods and there are people sitting around them eating at hours that we are not used to.
When it comes to shopping, in Bolivia bargaining is widely used even when buying food and even accommodation. Always with respect and many times accepting a no as an answer from the seller.
Bolivians usually drink infusions, such as coca tea, which have different benefits for the body. They consume it for stomach problems, the gallbladder, but especially for altitude sickness, also known as soroche, since many of the cities of Bolivia are high meters above sea level. In Colombia, Peru, Argentina and Bolivia, the commercialization of coca leaves is legal.
Regarding people, at markets and shops are usually unfriendly to foreigners who do not take their time to get to know the culture and who take pictures of them as if they were a circus monkey. If they are treated with respect and spoken a little Aymara, they respond very kindly. You have to understand that many are tired of mass tourism that does not respect or believe in the same things that they do. Also, in the problem they face a loss of culture in their own land due to globalization.
La Paz Insurance and Medical Care
There are three levels of health services: those supported by the state through the Ministry of Public Health and Social Security, those provided by the social security system for its members, and private clinics.
Public health care in Bolivia is very limited, however, it is adequate although not incredible. Hospitals and medical centers are generally found in major cities like La Paz. However, if you travel outside the city, keep in mind that in rural areas, facilities become even more scarce. There are English-speaking doctors, but most are in the city and they are few.
La Paz is located high above sea level, which can cause altitude sickness and relevant symptoms that can be aggravated. Expats are advised to obtain health insurance to cover the medical expenses they may incur as there is a gap between the quality of the public and private system. You also have to be careful with dengue and malaria.
Make sure you are fully covered by reading our full Digital Nomad Travel Insurance guide.
Jobs in La Paz
The most important industries in La Paz are the manufacturing and food processing and education sectors, that also offer job opportunities as the city is home to many universities. Food and other materials come from all over Bolivia to be processed and manufactured in La Paz, including tobacco, construction materials, and textiles. In addition, you also find multinational corporations such as Nissan, Pan American Silver Corporation, Ernst & Young and Citibank.
Some employers post job openings directly on their websites, so it is a good idea to identify the different companies and apply through their web pages. LinkedIn is perhaps the best place to start. The vast majority of jobs for college-educated people are found there.
To work in La Paz, expats will need to apply for a work permit after their residence application has been approved. To obtain residency, expats will need a medical certificate, criminal record certificate, birth certificate, application form, and proof of address.
Work permits are also relatively easy to obtain if you get an employer first. To obtain a work permit, you will need to provide an application form, a recent photo without glasses, a letter of intent from the company you will work for, and a bank statement. It is also essential that you get vaccinated against yellow fever.
Check out our Digital Nomads Jobs Postings to find the best jobs available for Digital Nomads.
Nomad Friendly
Value for Money
Internet
Workspace
English
Food
Safety
Health
Transportation
Friendly
Quality of Living
Cost of Living La Paz
In Bolivia your dollars will last a long time if you buy locally. For example, a European-style meal costs 30 USD, but any local restaurant serves a 2or 3 course set menu with very few options, but for only 5 – 7 USD.
Renting a workspace in a coworking space costs at least 170 USD per month in a place with everything you need and in style. A one-bedroom apartment with a local-style living room costs around 400 USD per month while in a more modern one you can expect to pay between 600 and 900 USD per month.
The vast majority of public transport options cost no more than 3 BOB per trip, so a budget of 50 USD per month is sufficient.
To give you an idea of ​​the food prices if you prefer to cook, 500 g of chicken breast costs around 2 USD, 1 liter of whole milk 0.85 USD, 12 eggs 2 USD, 1 kg of tomatoes 1 USD, 500 gr of national cheese 3 USD, 1 kg of apples 1 USD, 1 kg of potatoes 1 USD, 0.5 liters of national beer in the supermarket 1.55 USD, 1 bottle of good quality red table wine 7 USD. Expect to spend around 200 USD a month on food for a basic but good diet. As for the night, I recommend you spend at least 140 USD per month.