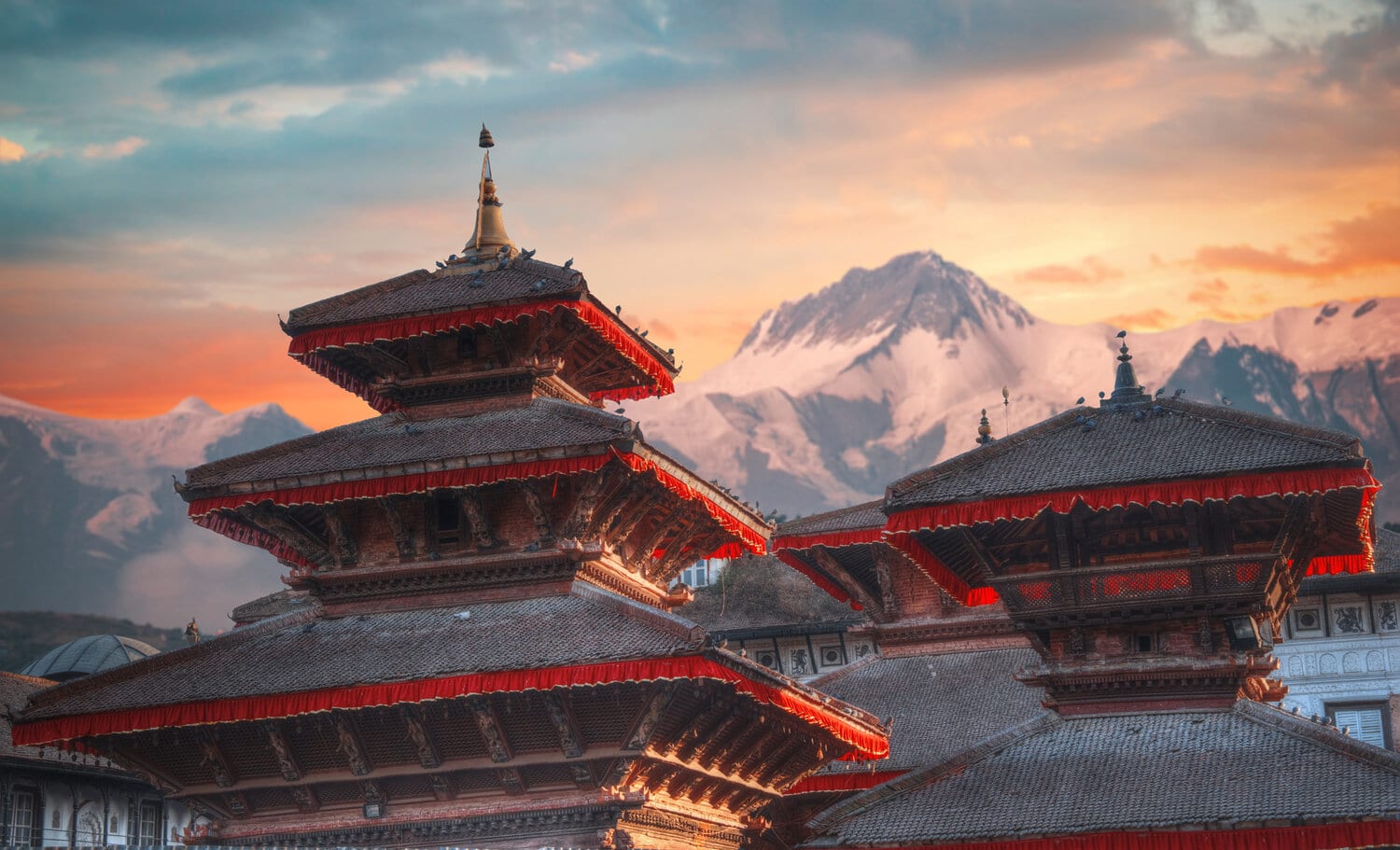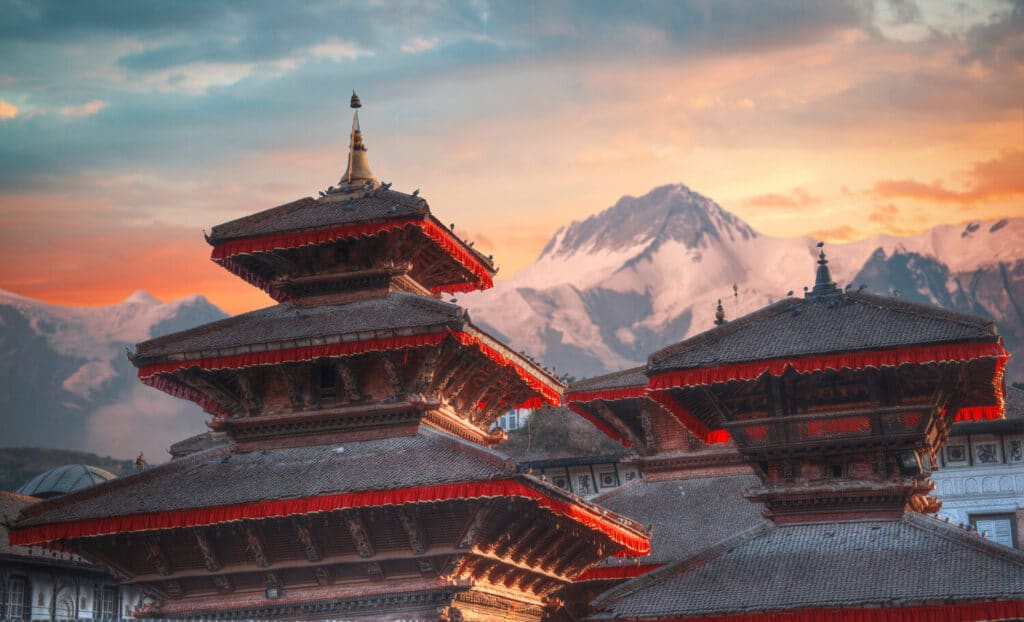 A Digital Nomad Guide to Kathmandu, Nepal
City of temples, overflowing with stupas, shrines and palaces, Kathmandu sits at the foot of the  Himalayan Mountain range. Kathmandu is a city where the old seamlessly meets the new, where the  past grandiose breathing in its architecture and street filling artisan shops, intertwines with new hipster  coffee shops, internet cafes, sport dedicated stores and quaint little hidden treasures, that notoriously  blend in.  
This incredibly diverse destination inundated with culture and history, where religions have coexisted  harmoniously for centuries, is also a popular destination for trekking lovers, mountain climbers and  backpackers alike. Its strategic location makes it the perfect trampoline for any Himalayan venture or  any peaceful wonder through the valley's trekking paths.  
However, do not be sawed. Kathmandu is much more than its hiking, nature wandering, potential.  Durbar Square is the epicenter of civic and religious life in Kathmandu and Nepal, offering plenty of  narrow routes to explore. Serpentine through the historical monuments, palaces, stupas and temples  and visit Nasal Chowk's Taleju e Jaganath temples. Go and see the Pratap Malla Statue or the great  bell, or marvel at the red bricks of Kumari Bahal. 
One of Kathmandu's iconic postcards is the Swayambhu stupa, an ancient religious complex atop a hill  in the Kathmandu Valley, some 3 kilometers west of the city. Walk there or take a not as leisurely tuk tuk ride and fell the serenity that bathes this pilgrimage sight. 
Be it your steppingstone to your Everest dreams or the perfect junction of chaos and order, tradition, and modernity, that you seek, Kathmandu is a living museum ready to make jus of its UNESCO vast  recognition. 
As a side note I should add that any information may change due to the Covid 19 pandemic and due to  the 2015 earthquake consequences.
Nomad Friendly
Value for Money
Internet
Workspace
English
Food
Safety
Health
Transportation
Friendly
Quality of Living
Living in Kathmandu Overview
| | |
| --- | --- |
|  Meal, Inexpensive Restaurant | $2.07 |
| Domestic Beer (1 pint draught) | $2.48 |
| Cappuccino (regular) | $1.57 |
| Loaf of Fresh White Bread (1 lb) | $0.48 |
| Water (1.5 liter bottle) | $0.29 |
| One-way Ticket (Local Transport) | $0.17 |
| Basic Utilities (Monthly) | $32.07 |
| Internet | $14.21 |
| Fitness Club (Monthly) | $29.71 |
| Apartment (1 bedroom) in City Centre | $135.78 |
Currency: Indonesian rupiah (Rp)
[erw_exchange_rates_widget lg="en" tz="0″ fm="IDR" to="EUR,USD,GBP,AUD,JPY,RUB" st="primary" cd="" am="15000″][/erw_exchange_rates_widget]
ATMs
Max Withdrawal: Rp 3,000,000
Withdrawal Fee: Rp 30,000 – Rp 50,000
Use of Credit Cards: Mostly Cash
Digital Nomad Personal Experience in Kathmandu
Filled with bald, orange, and red blurs, Boudha Stupa is a personal favorite. There you'll find the  essence of Kathmandu. The peaceful nature of the Buddhist sight converges with the chaos of the  surrounding storefronts, where puja essentials can be found. Prayer flags, meditation bowls, flowers  and incense are but an example of the myriad of ways one can show respect and appreciation to a  deity.  
It was in one of these storefronts where I uncovered the generosity of Nepali people and the true  welcoming force that permeates and manifests through the whole town.  
A simple story of a merchant trying to sell a meditation bowl to clueless tourists, became a history and  spiritual lesson that has lasted me to this day. Ram, was it? Or Kumar? Can't recall the name exactly, but  he was that merchant. The one who introduced me to meditation and the one who showed me the true  meaning of Kathmandu living. From inner vibrations channeled by copper to inner peace through mind 
games and necklaces, wisdom came along with a smile, and a friendly face for the rest of my stay in  Kathmandu.  
If you're ever in the city be sure to go to Boudha stupa, talk to the people … and maybe, you'll find  Kumar. Or was it Ram? One of the two. Regardless, you'll be in good hands. 
Work in Kathmandu
Despite Nepal's largely rural based tradition, global technological trends have crept into the capital.  Alongside this movement, coworking spaces and freelance trends have emerged. There aren't many  state-of-the-art options, but what exists works. Pricing being the real plus. 
Best Places to Work in Kathmandu
Innovation Hive
Innovation Hive, in the Movers and Shakers corporate tower, is among the best options. Professional,  colorful, and contemporary scenery accompany the workspace packages, alongside a myriad of other  amenities like parking, restaurant, meditation and lounge rooms, a rooftop terrace with a bar area and  24/7 access. Prices range from 76 USD to 295 USD, with good WIFI, desks, offices, conference rooms  and much more to offer.  
The Rem.Work
The Rem.Work Coworking spaces, that are scattered around the city, or Work Around, are also good  options. With good WIFI, and attractive pricing, these options are able to fulfill all your basic needs and  provide the perfect launching pad for any digital business. Reading areas, kitchen and lounging  spaces, good location, and even educational programs are provided. Work Around in particular is  extremely cheap at around 0,40USD per hour to 38 USD per month.  
Wouldn't particularly recommend Mero office. Unaesthetic design, lack of cleanliness, old furniture and  bad WIFI will deter you from productive work and go way beyond any vintage vibes you might want.  Plus, for the same price you can easily get a much better product in Rem.Work HQ, a favorite amongst  the Rem.Work options.  
Lindu café is also not the best option. The associated hostel is easily its best suit however, the place is  heavily weather dependent due to its open-air forward facet. Wind and rain are a risk, and exposed  power plugs are a safety hazard. It's a good place to grab a drink but fails in working attractiveness. Café Soma is easily one of my favorite coffee shops. Near Patan, this bohemian joint is a book worms paradise that exudes a delicious coffee smell, pulling in any passers-by. Come for morning coffee and leave  with a book.
Café Swotha
Café Swotha is a quaint and comfy restaurant. Its small menu ensures amazing food, and its quaint terrace is just delightful. Service is excellent and its staff are really nice and friendly.  For the posh amongst us, Kaiser café is your destination. Its royal-like interiors overlook the Garden of  Dreams, the place where the café sits. Good service and delicious delicacies will help you disconnect from  the commotion of the city. You have a good variety of choices ranging from traditional Nepalese to  western classics, so you'll be sure to accommodate all tastes. 
Kar.ma Café
Kar.ma Café is a wooden chic bistro for true coffee lovers. Locally sourced coffee brews a most delicious cup in this eco-friendly joint. The crème de la crème is the welcoming staff. The open kitchen, and the mini gift shop on the corner contribute its quirkiness. Enjoy their monthly Friday Gala for a totally unique  experience.  
When in doubt just do yourself a favor and take a stroll through Thamel Square and you'll be sure to find a place that suits your needs, plus the ambience is just welcoming. 
Best Places to Live in Kathmandu
Best Neighbourhoods
Thamel
Thamel is the clear touristy district that everyone loves to  dismiss. However, it's also here that trendy young locals go to hang out. Overflowing with shops, tour operator offices, restaurants, clothing and souvenir shops, hotels,  and places to buy or rent trekking gear, you can find anything there. Regardless, it also holds a lot of historical meaning and some small heritage sights and traditional  Newari buildings. In the now pedestrianized streets, visitors can stroll and easily stop,  browsing through the different stalls without having to worry too much about being hit  by a taxi. Scooters. Beware as some vehicles are still allowed. 
Lazimpat
Lazimpat Road sits just northeast of Thamel. If you follow the smaller alleyways that  lead off from Lazimpat Road, you'll find some of Kathmandu's most upmarket homes.  The British and Indian embassies are situated here as are important health clinics.  Several higher end hotels, restaurants and coffee shops, clothing and crafts boutiques 
can also be found there. Lazimpat is a convenient alternative to Thamel if you want to  stay in a central city area but prefer a less touristy vibe. It's within walking distance of  Thamel and Durbar Marg, but because of the busy, dusty road you're better off getting  a taxi or other mode of transportation. 
Boudha
Boudha is a distinct area of Kathmandu, a quasi-town in itself. Focused around the  imponent Boudhanath Stupa, the most sacred Tibetan Buddhist site outside of Tibet,  Boudha is central to Kathmandu's Tibetan population. Here you can find shops selling  Tibetan souvenirs like meditation bowls, or prayer flags, and traditional food like momos  or thukpa. Many travelers or longer-term foreign residents come here to study Tibetan  language or religion, so you'll also find some nice cosmopolitan touches like a lovely  Taiwanese teahouse overlooking the stupa and some of Kathmandu's best restaurants.  While Boudha is quite close to Pashupatinath, Nepal's holiest Hindu temple, it's a bit of a trek from other parts of town. You should plan on staying at least one night in Boudha  to properly experience the neighborhood. It's especially scenic early in the morning,  and after dark. 
Patan
Patan is the smaller old town area. Also known as Lalitpur or "City of Beauty" this southern suburb, across the Bagmati River, was once a separate kingdom, and as such  still retains a strong distinct culture and charm. The Patan Durbar Square houses, the  marvelous Patan Museum and a number of unmissable temples are all worth the visit. 
There are some boutiques like accommodation spots, lovely craft shops where you can  see, first hand, local artisans going about their work. The area breathes culture. Finally, the adjacent neighborhoods of Jawalakhel, Jhamsikhel, Sanepa, and  Kupondole offer a more modern take on Kathmandu. These are not touristy areas per  se, and in fact, there are few places to stay short-term. But a large proportion of  Kathmandu's foreign residents live in the area, partly because of the United Nations  Headquarters. Restaurants and cafes, great boutiques, art galleries, supermarkets,  nightlife venues, co-working spaces and some funky street art create a great  atmosphere. It is not a must, but it's a great option for long term travelers who want to  see another side of Kathmandu.
Find an Apartment in Kathmandu
The online renting market of Nepal is still  embryonic, so don't expect to find a good reflection of reality. You can obviously  contact several agents through the web and narrow your options based on the info they  provide to you, however, don't commit to anything until you have landed in Nepal and  have had a chance to see the properties in person.  
There is plenty of decent housing in Kathmandu. Plus, Nepali agents will usually offer flexible contracts designed as per your request. Renting is cheap and you can easily  find places for around 320 USD for a 3 bedroom, varying depending on area and size. 
Cheap Places to Stay in Kathmandu
Nepal is very cheap by nature. You are  better off just going for normal accommodation instead of trying to find the cheapest  options, which are usually not the best. Nonetheless Kantipur Temple House, Hotel  Ganesh Himal or Nepal Pavilion Inn are good cheap options that will cost you up to 20  USD per night.
Kathmandu Visa
Nepal has a Visa on Arrival scheme, which means that visas are issued by Immigration Offices  like the one in Tribhuvan International Airport. The procedure is quick and simple; however, some  queues are to be expected during peak Tourist season. There is also the possibility of getting a visa from Nepalese Diplomatic Missions stationed abroad, prior to your arrival. This avoids queues  on arrival, but you have a time span of six months to enter Nepal from the visa issued date. Your  total stay is counted starting from the day you enter Nepal. 
These are tourism visas, and they allow for reentry into the country in a number of situations. This  is the only visa for entry in Nepal, as such if you are visiting Nepal for purposes other than tourism,  you should still get a tourist visa. You then must change the category of visa, as per your purpose  and length of stay. 
Beware some nationalities are requested to acquire a Visa prior to their arrival so be sure to confirm  this. 
You can get visas for 15, 30 or 90 days, extendable from a minimum of 15 days. Prices go from  30 USD to 125 USD depending on the length of time.
Culture and Food in Kathmandu
Momos are the iconic delicacy of Nepal. While its origins stem from Tibetan culture, it has  been heavily integrated into the Nepali gastronomical identity. They vary in shape and size,  but you'll usually find leaf-shaped or round momos being sold in street-shops and individual  carts. Momos are meat and/or vegetable filled dumplings, either steamed or fried, or both.  Most places will offer a spicy, tangy tomato chutney on the side, but depending on where you  eat them, condiments may change.  
Chatamari, Nepal's take on pizza, is a traditional food of the Newari people. It resembles a  pancake made of rice flour and topped with a spicy filling, usually containing meat or eggs.  There are vegetarian versions, and even sweet ones topped with ricotta and sugar. The Tibetan comfort food, thukpa assumed its Nepali identity as it crossed the border. A thick  broth with hand-pulled noodles, vegetables, meat, and a myriad of spices make this a  delightfully heartwarming dish.  
Juju dhau is a rich, sweet custard served in clay pots. Said to represent purity it is a must in any festival or ceremony.  
Yomari was initially an offering to the Gods made during Yomari Punhi celebrations, to ensure  a good harvesting year. This delightful treat can now be found all year round. A sweetened  bun is made of rice flour, filled with a gooey paste made of sesame seeds, coconut, and  molasses, and then steamed. Recent iterations incorporate chocolate.  
Culture wise Kathmandu is a true hidden treasure showcasing all types of arts and culture.  The various temples, stupas, palaces, courtyards, and streets are the true heroes  contributing to the jaw dropping beauty of Nepal. The religious artwork is particularly prominent, where Hindus and Buddhists influenced masterpieces are sure to conquer you. Surprisingly to some, Kathmandu has a big culture in literature, music and dance that dates  back centuries. From jazz to meditation or from Sanskrit to Nepali, Kathmandu exudes  variety. 
Festivals are the carriers of tradition and cultural activities par excellence. Kathmandu itself is home to many a stand out, from which Holi, Bisket Jatra, Dashain, Diwali, or Mani  Rimdu are a must. During these festivals you'll be immersed in a deep enriching experience, filled with fun and unforgettable moments.
Kathmandu Nightlife
With the rise of the metropolitan urban scene in Nepal, Kathmandu has seen a substantial increase in  the popularity of nightclubs. Nightlife is majorly concentrated in Thamel, where a multitude of bars,  nightclubs or casinos are but a few of your options. The area is, however, usually jam-packed with  both locals and tourists dancing through the night. 
For the party animal amongst us Club Dejavu is a great option. But if you are a cultural enthusiast  Pokhara Lok Dohori Naach Ghar puts on more traditional parties filled with folk music and dancing,  complete with local food and wine.  
Finally Upstairs Jazz is a personal favorite. It introduces a taste of the small but rich jazz  appreciation in Kathmandu. Be sure to go on a Wednesday or Saturday.
Things to do in Kathmandu
Any trip to Kathmandu certainly begins in Durbar Square. The heart of the old city, Durbar exudes  history and tradition of days past and coronation ceremonies. The area is, in fact, composed of  three loosely connected squares. To the south sits Basantapur Sq, where former royal elephant  stalls are now souvenir stalls. The main Durbar Square is to the west, and to the northeast lies its  second section. This latter one was the entrance to Hanuman Dhoka and houses a myriad of  temples. Crawling out from here you can also find Makhan Tole. It used to be the main road in  Kathmandu and for this is still the most interesting path to stroll through. 
The Royal Palace of Kathmandu
The Royal Palace of Kathmandu, known as Hanuman Dhoka, dates to the Licchavi period IV to  VIII centuries AD. However, the complex was significantly expanded in the XVII century with the  influence of King Pratap Malla.  
From the outside, the palace is truly extraordinary. Hanuman, the monkey god, is believed to have  helped the noble Rama during the Ramayana and, as such, he is incorporated in many important  entrances. A statue of Hanuman draped in red and protected by an umbrella, marks the entrance to Hanuman Dhoka and baptizing the palace. The statue dates back to 1672 and the god's features  have dwindled under a coating of orange vermilion paste that has been smeared by the many  generations of devotees. Nepalese flags border the statue on either side, while brightly colored  stone lions guard the extremities of the palace gate. One has Shiva mounted while the other has  Parvati, Shiva's wife. Above the gate sits a brightly painted statue of a tantric depiction of Krishna.  The Hanuman Dhoka originally housed 35 courts or chowks, but the 1934 earthquake reduced the  palace to the present 10 chowks. 
Swapna Bagaicha, the Garden of Dreams
Swapna Bagaicha, the Garden of Dreams, is the materialized vision of Kaiser Sumsher Rana, a  field marshal of the Royal Nepalese Army, who ordered its construction on the grounds of his palatial  home in 1920. Despite being badly neglected after his death in 1964, the exquisitely manicured  landscapes and preserved fountains, pergolas and pavilions have since been restored to their  former glory. 
The garden was designed by landscape architect Kishore Narshingh to mimic the English gardens of  the Edwardian era, and totals to a whopping four acres. Most notably, the grounds are divided in  six pavilions that symbolize the "six seasons" of Nepal, notably: spring, early summer, summer  monsoon, early autumn, late autumn, and winter. In its prime, the garden was seen as a true feat  of wonder.
Today, visitors will find only three of the six pavilions, sitting on just over an acre of land. Nonetheless, the garden remains a dream-like green sight, not least because of the restoration projects undertaken by the Austrian government and Nepal Ministry of Education. Beyond the garden's  original gates, picturesque fountains and ponds emerge. An amphitheater and individual gardens  of varying sizes follow, and the Kaiser Café Restaurant & Bar completes the painting. The winding  pathways have ornate borders of hedges, plants, trees, and flowers from all corners of the globe.  Lavish stone urns and charming benches offer contemplative views. 
Despite being a public space, The Garden of Dreams is still a beacon of tranquility in the center of  Kathmandu, and a popular meeting spot for sun worshippers, walkers, residents, and tourists alike. 
Vaisha Dev, also known as the Toothache Tree, sits in a random courtyard behind Thahiti Tole.  Foreigners, however, rarely realize it is a tree stump, as locals cover it with nailed-on coins as an  offering to the god of sore teeth. It is said to be part of the legendary tree Bangemudha.  Funnily enough the coin filled wood chunk, is located inside Kathmandu's "dental district" where a  number of clinics are located and serves as a wishing well. People with toothaches or other dental  complications visit the site and nail a coin to the tree trunk as an offering to Vaishya Dev. It is  believed that it contains a tiny idol like figurine, however the coin-blanket impedes any ways of  verifying that claim, in fact, you can't even see actual wood.  
The sight is appealing to worshippers as it is to dentists. It's both a spiritual beacon of hope for  health complications and a marketing goldmine for dental businesses. 
Seto Machhendranath temple
Southwest of Asan Tole at the intersection of Kel Tole, sits the Seto Machhendranath temple dedicated to a deity common to Buddhism and Hinduism.  
The courtyard of the temple houses many small shrines and chaitya,small stupas, that are adorned  with multiple statues, including one of a mysterious female figure surrounded by candles that gazes at the temple. Some speculate that it is imported from Europe and simply added to the pantheon of  deities, due to its western resemblance. Just outside the temple, two beautiful bronze figures of  Taras, emerge sat on the pillars. It is here that one can follow tradition and feed the pigeons to 
improve karma. 
Inside the temple, you can see a flower covered statue of a God with a white face. This idol is  removed every year during the Seto Machhendranath festival in March/April and driven around the  city in a chariot.  
In the courtyard, you can usually see men with a bizarre string instrument. This is a tool used to  separate and fluff the cotton stuffing that is sold in surrounding shops. 
As you leave the temple, if you look to your left, the small Lunchun Lunbun Ajima appears. This is  a tri-roofed tantric temple in red tiles adorned with erotic carvings at the base.
Best Time to Visit Kathmandu
In Kathmandu, the wet season is warm, humid, and partly cloudy whilst the dry season is  comfortable and mostly clear. Temperatures range from 3°C to 29°C, rarely descending  below 1°C or above 32°C. The best times of year to visit Kathmandu would be early April to early  June or late September to late October. 
The warm season lasts from April to October, with an average daily high temperature above 27°C. The hottest days are in June.  
The cool season spams from December 9 to February 11, January being the coldest month.  
The chance of wet days in Kathmandu varies very significantly throughout the year, but the wetter  period is from May to September and drier from September to May. The rainy season lasts  roughly between April and October. Most of the year Kathmandu is humid.
Kathmandu for Families
Kathmandu is not a city necessarily set up for kids. There are no interactive kid-friendly museums, with  a lack of play areas, and of green spaces to run free. However, from stuffing your face with momos and  shopping in Thamel, to chasing monkeys around temples or creating your own rollercoaster in a tuk tuk, kids are bound to have fun.  
Whoopee Land is just a short 30-minute taxi ride south of the city. This is an amusement park with loads  of rides for little ones. Pirate ships, teacups, or crazy rollercoasters the park is a great day trip to ease  out of the more cultural side of Kathmandu.  
The Water Park is also a great option, with slides galore and a splash play area for kids. Water quality  is questionable though. 
School wise, Nepalese education has, for the most part, lagged in extracurricular and all-round child  development activities. Most Nepali schools only promote strictly academic learning and do not focus  on personal character and skill development. However, this is changing with the establishment of  several international schools that promote overall learning in children. A few good options would be the  Lincoln School, Malpi International Schools, the British school, amongst others. Beware fees may be  higher in these international schools.
Living in Kathmandu
Kathmandu Transportation
 Kathmandu offers a myriad of local transportation options like public buses or battery run three wheelers. Rickshaws are usually readily available, and a great option for some  quick travel or sightseeing, if you don't mind a bit of adventure in your life. Government  sponsored buses known as Sajha Bus are actually comfortable and run along the north-south  and east-west main roads of the valley. Other buses are also available. 
Taxis are easily recognized by its taxi sign on top and black license plate. Private taxis charge  higher rates but are more comfortable, plus no tip is expected. Night taxi service can also be  arranged and operated by major hotels. Renting a private car is also a possibility through a  travel agent or a car rental company. 
Mountain bikes and ordinary bicycles are cheap and the best form of transportation for any  budget tourist. They can easily be rented out in Thamel and Jhochhen. 
For longer distances, day or night bus services provide easy transportation and are available  from Kathmandu to all major cities. Out-of-valley trips by bus leave from New Bus Park at  Gongabu, Ring Road near Balaju, Kathmandu. More comfortable and smaller vehicles may also be an option. 
Fitness and Health
Given the zen ambience and culture that emanates from Kathmandu, it  comes as no surprise that many people come to Nepal for Yoga and Meditation retreats. Enjoy  a relaxing couple of days in the mountains bordering the town, experiencing, living, breathing  the Yoga lifestyle. Learn Buddhist teachings and culture, while immersing yourself in the  tranquility of the nature that surrounds you.  
For the more fitness junky amongst us, Kathmandu's gym culture is a growing market, with  more and more options on offer.  
Gymkhana Muay Thai, The Physique Workshop, Club Paradise International or The Pump are  great gym options. They are all arounders offering both a myriad of classes and all gym  amenities. You can also find more specialized modalities. Pricing is on par with their western  peers, which is to be expected as gym culture is still a niche in Kathmandu and varies from  around 15 USD to 100 USD per month depending on the club and plan you choose. 
Kathmandu People
People in Kathmandu are extremely welcoming and kind. They  welcome anyone with open arms and love to chat about their culture and country. They have  huge respect for visitors and guests.  
Offering something to a guest is largely considered akin to duty and is taken extremely seriously  by the Nepali people. This hospitality is a huge contributor to many people's passion for the  country and its attractiveness. Stop to people watch and see daily life unfold. Talk to the  local people and take an interest in them and what they do, and you'll be rewarded with a great  deal of wisdom and compassion.  
Spirituality is of the highest importance to the Nepali population, their daily life is full of ritual  and prayer, and their deities are very much present in everything representing the most  mundane manifestations of life. Nepalis are notably tolerant in terms of religion as there is  almost no religious tension in the country. They are patient and good humored, rarely hostile or  angered.  
Nonetheless, caste and status still play an important role, contributing to a strictly defined  hierarchy that plays a huge part in determining each marriage, career and human interaction.  This extends to familial life where each person has a clearly defined place in the hierarchy. It is 
still common for extended families to all live together in one house. The elderly are respected  members of the community and are well cared for as they are seen to be in a period of life  dedicated to prayer, meditation, and relaxation.
Kathmandu Insurance and Medical Care
Nepal is quite renowned for its traditional medicine, whereby  Ayurveda and herbal medicine is common practice. For this a substantial health tourism craze has developed in the country attracting many to Kathmandu. Tibetan medicines, Ayurveda,  yoga, meditation, SPA, faith healing, naturopathy, homeopathic and western medical systems  are common medical practices in Nepal. Health tourism in Kathmandu offers natural healing,  whereby different kinds of medical treatments are tailored to the needs of each person or group in preventive and wellness programs. 
There are also several Central and University Hospitals in and around Kathmandu if in any case  you need more western based medicine. 
Under the current health insurance policy, a family of 5 members must pay 3500 Nepalese  rupees per year to cover all types of health service with a maximum limit of 100,000 rupees. If  there are more than 5 members in a family, they need to pay 700 rupees per person. MetLife American Life Insurance Company Limited, Asian Life Insurance Company Limited, Citizen Life  Insurance Company Limited are all good options and will help you setting up your health  insurance. 
Make sure you are fully covered by reading our full Digital Nomad Travel Insurance guide.
Jobs in Kathmandu
The best way to find a physical job in Nepal would be following the  education route. Degrees and certificates give you the confidence and self-assurance you need  to get internships, entry level jobs, and many more opportunities.  
Nonetheless, physically putting yourself out there is an amazing way to get jobs in Nepal.  Visiting door to door of companies to see if they are hiring sounds too 90s in today's digital  world, however it works. Despite this, many content creators are now making a living via the  internet. You can find several online platforms to publish your creations, or just simply upload  resumes, portfolios and CVs and get discovered, followed, or hired.  
Further, many in the young Nepali generations created a culture of participating in skill generating  programs to increase their chances of being hired. Vocational training courses are available to  choose from, and people can always pick the one that best suits their aptitude.  In Nepal competitiveness is very much present, and though there is a slight favoritism for  international western workers, you should strive to maintain a steady work ethic and try to  maintain good relations as well as a substantial net of contacts. You never know when someone  more qualified might appear. You are expected to outdo yourself to maintain a stable job. The government of Nepal has quota benefits for women, marginalized communities, and people  of different ethnic backgrounds. This is to encourage and ensure inclusion both at the local  levels and national level. This system has succeeded in ensuring job opportunities to many, however there is still a long way to go towards full equality and overall unemployment.
Check out our Digital Nomads Jobs Postings to find the best jobs available for Digital Nomads.
Nomad Friendly
Value for Money
Internet
Workspace
English
Food
Safety
Health
Transportation
Friendly
Quality of Living
Cost of Living Kathmandu
A family of four estimated monthly costs are 1,079.48€ (152,916.28N₨)  without rent. A single person estimated monthly costs are 304.36€ (43,115.01N₨) without rent.