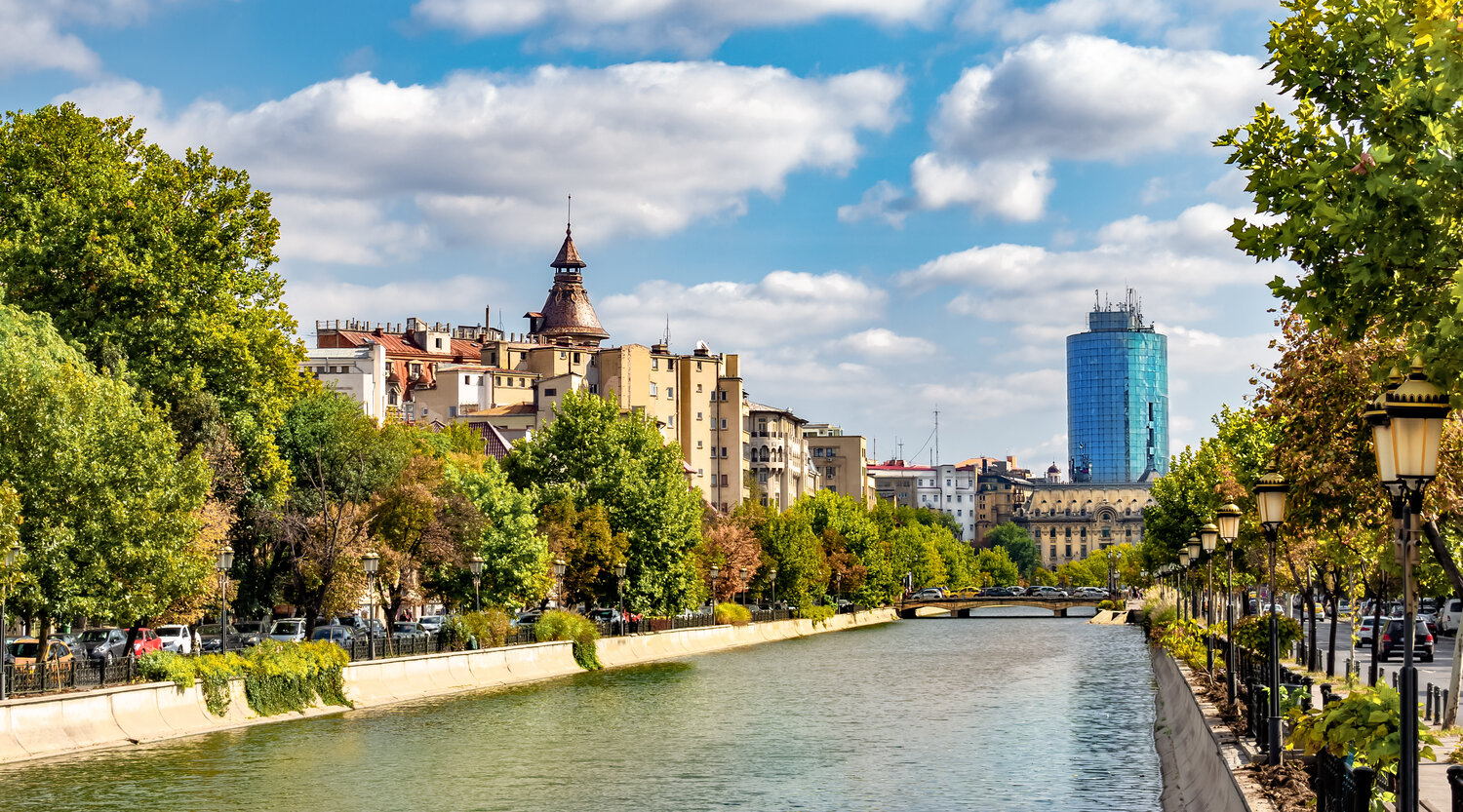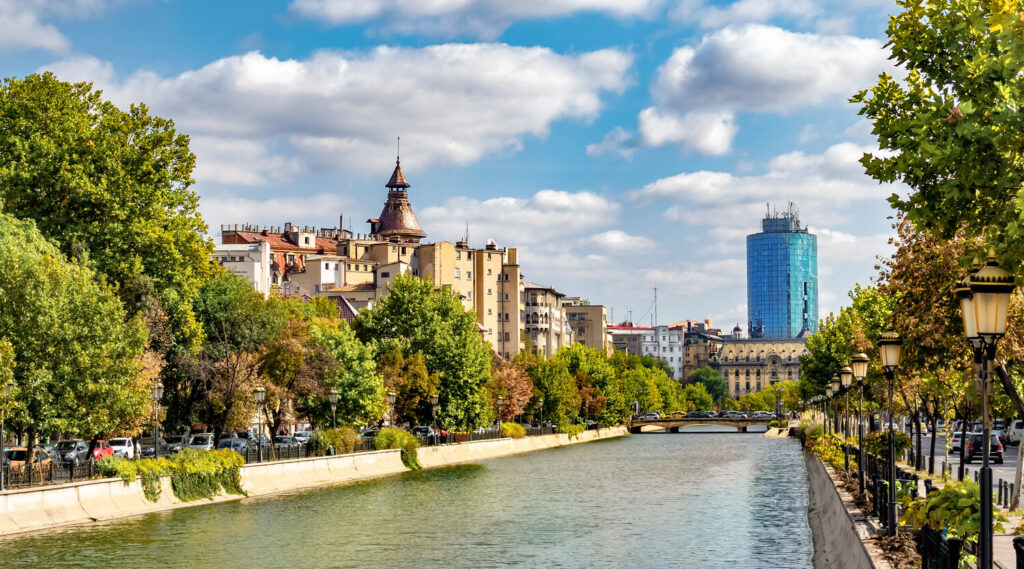 A Digital Nomad Guide to Bucharest, Romania
Bucharest is a beautiful city located in southeastern Europe and is the capital of Romania. It is rich in history and culture, and you will find a lot going on. Formerly a communist country, this beautiful corner of Europe is full of curiosities and extraordinary natural beauty, from golden beaches to epic mountains. 
Bucharest is located in the central south of the country, making it a hotspot and a great place to be located. The city was established in 1459, and the name has many origin stories. Some believe it was named after Bucur, a prince, but tales also say he was an outlaw or a fisherman, depending on the legend. It is also possible that the name came from the Romanian word "bucurie," which means "joy" or "happiness." 
The city is full of life, culture and has an energetic, youthful feel. You will see many Romanian's setting up businesses, creative spaces, and thriving in the city. Over the past few years, the city has boomed in tourism, and it is predicted to become one of the wealthiest cities in Europe. Although the city has suffered from earthquakes and is still at some risk, in 2016, the old town was listed as "endangered" by the World Monuments Watch.
You will find that many people speak English, so it is very easy to live in Bucharest. The language in Romania is Romanian, and the currency used is Lei.
Nomad Friendly
Value for Money
Internet
Workspace
English
Food
Safety
Health
Transportation
Friendly
Quality of Living
Living in Bucharest Overview
| | |
| --- | --- |
|  Meal, Inexpensive Restaurant | $8.00 |
| Domestic Beer (1 pint draught) | $2.29 |
| Cappuccino (regular) | $2.29 |
| Loaf of Fresh White Bread (1 lb) | $0.69 |
| Water (1.5 liter bottle) | $0.63 |
| One-way Ticket (Local Transport) | $0.69 |
| Basic Utilities (Monthly) | $114.31 |
| Internet | $9.65 |
| Fitness Club (Monthly) | $40.25 |
| Apartment (1 bedroom) in City Centre | $494.72 |
Currency: Indonesian rupiah (Rp)
[erw_exchange_rates_widget lg="en" tz="0″ fm="IDR" to="EUR,USD,GBP,AUD,JPY,RUB" st="primary" cd="" am="15000″][/erw_exchange_rates_widget]
ATMs
Max Withdrawal: Rp 3,000,000
Withdrawal Fee: Rp 30,000 – Rp 50,000
Use of Credit Cards: Mostly Cash
Digital Nomad Personal Experience in Bucharest
Romania as a whole is a beautiful country, but Bucharest is the heart of the country and is the life and soul. Romania feels untouched, or unspoiled, with its mountain ranges, and it is full of history and tradition, which can still be admired in the beautiful city of Bucharest. I have visited Bucharest on numerous occasions over the past five years, and I love seeing how the city changes and develops positively. It shows a creative and innovative side of Romania that is not seen elsewhere in the country. 
I was drawn to Bucharest as a friend had recommended me and I also knew some people from there who spoke highly of the city. I was not disappointed. The old cobbled streets fusion with the rugged communist-era buildings creating a curious architectural contrast that I just fell in love with. 
The city itself has a lot to offer, with pretty much everything you need on your doorstep. There are many museums, galleries, bars, and restaurants, much like other capital cities in Europe. It is also a fantastic place to be based as it is easy to access different parts of the country, either by train, public transport, or car. Within just an hour or two of leaving the city, you can quickly be immersed in nature, which I think is quite unique. 
Work in Bucharest
Bucharest is a buzzing city and is becoming a popular destination for digital nomads. Romania is recognized for having some of the fastest internet speeds in Europe, with an average of 61.08 Mbps. With that in mind, there are more coliving spaces and coworking venues popping up across the city, and there are over 20 fantastic locations. Here are some of the best places to work as a digital nomad during your stay.
Best Places to Work in Bucharest
Impact Hub
Impact Hub has two locations in Bucharest, one close to the university and the other Impact Hub called Floreasca. Both will cost around $18 USD per day for membership, or they offer a monthly membership which starts at $105 USD. This is typically for hotdesking and limited access, but there are options to add on more benefits. The Impact Hub spaces are becoming a global brand, and there is consistency in their spaces. With modern interiors and spacious desks, they have a relaxed environment which is excellent for anyone looking for a chilled space to work in. They often host events which is great for networking and being part of a community.
Hotspot Workhub
This coworking space feels more like an office, but with a funky and modern design to help stimulate the mind but not distract. This is an excellent place if you are looking for something a bit more formal, and they have a great selection of memberships on offer, but they are more expensive as they are considered more of a high-end coworking space. Their daily passes for hotdesking will cost around $35 USD a day, or $413 USD for a monthly membership. This is more than double some of the other spaces around, but you get more perks, and it is aimed at bigger businesses that may be contributing to an employee's workspace costs. 
Commons Romana
Commons offer a relaxed office environment, with chilled sofa areas mixed with a sophisticated design. This is a great place to work if you are looking for somewhere more comfortable but sophisticated. They offer a variety of memberships with day passes costing around $19 USD, weekly costing $76, and monthly membership from $210 USD. It is more beneficial in this space to sign up for their monthly membership as you get great value for your money.
Mindspace
This coworking space is a fantastic place to work from in Bucharest because it has many benefits to being part of the community. It is a chain across Europe, and you can purchase hybrid passes that work across their spaces. This is fantastic for anyone who is always on the move, as you can rock up at another of their spaces and use your pass. It is a little more expensive than the average coworking cost in Bucharest, but this added benefit may be worth it in the long run. Monthly fixed desk memberships cost around $330 USD; however, they have cheaper packages with fewer benefits; you just need to inquire to find out more. 
aSpace Floreasca
This coworking space is one of the best value places to work from in Bucharest. It costs just $12 USD a day for entry, or as little as $118 USD for a monthly membership. The space is one of the smallest in Bucharest, but it is cute and modern inside, creating a relaxed space to work from. 
More and more creative spaces are popping up around the city, so make sure to have a wander and see what you find. One of the newest creative centers is the Talent Garden which is located in a hip arty district. Other coworking spaces to check out are The Legacy, TechHub, Regus, InGenius Hub, and Urban Labs.
If you prefer to work from a coffee shop, then you have plenty of choices in Bucharest. Here are some of the best cafes for digital nomads to work from. Ted's Coffee co, Beans&Dots, Saint Roastery, Dianei 4, and A3. All have stable WIFI and a good amount of power sockets. 
Best Places to Live in Bucharest
Best Neighbourhoods
Bucharest is a large city with a lot on offer, so choosing where to stay may be a little overwhelming. Many districts are suitable for digital nomads, so here are some of the best places to stay, all offering a bit of a different vibe. 
Cișmigiu
This district is known as the creative quarter due to its small boutique shops, hip bars, and cultural hubs. It is also home to the beautiful Cișmigiu Garden, which is said to be the best in Bucharest.
Dorobanți
Dorobanți is considered to be the upmarket area of Bucharest and is located in the north of the city. It tends to be more expensive to stay in this area as the houses and villas are grand. This is an excellent area to explore on foot, and it is becoming recognized for its unique cuisine. 
Primaverii
This is another upmarket area of Bucharest where prices are a little higher, but you are away from the hustle and bustle of the city center. 
Cotroceni
Cotroceni is more of a residential area, so it is typically a bit quieter than being in the city's heart. It is one of the only areas not touched by communism, so it is great to learn about traditional Romanian culture and architecture. 
Floreasca
This is an up-and-coming district with lots of things going on and some of the best restaurants in Bucharest. There are lots of coworking spaces here, and it is becoming a hub for digital nomads. 
Tineretului and Lipscani
These districts are popular with younger crowds as they are at the heart of the nightlife in Bucharest. So, if you like to party then, this could be an excellent area for you to stay. 
Universitate
Another district that attracts the youth is Universitate. Many university buildings are located here, and it is known for its politics and activists. 
Old Town
If you are looking for a historical stay and want to be located in the heart of the old town area, you should look for somewhere to stay in Armeneasca area of the old town. This is a charming part of Bucharest that is rich in historic buildings. However, it can sometimes be a little more expensive and attracts many tourists. 
Find an Apartment in Bucharest
There is plenty of choice in Bucharest as it is such a large city, however finding an apartment that suits your needs may feel a little challenging. In some ways, because the city is so big and there are a lot of choices, choosing an area can be difficult. Once you have decided on a place, it will help narrow down your search. So perhaps find a coworking space you are drawn to and go from there. Search within walking distance and see if you find something you like. Using typical search engines will help you begin your search.
Coliving.com
A coliving space could be a great option if you are looking to living communally but still have some private room. There are two coliving spaces as of writing in Bucharest. On the coliving.com website, you will find information about all three. The first listing is a coliving and coworking space that offers private rooms for around $581 USD per month. There is another available for $622 USD per month for a private room.
Local Agencies
There are many realtors and estate agents in Bucharest that rent property to foreigners. Bucharest-home.ro and bucharestapartments.net are two popular websites for browsing rental property in the city. The only negative to renting through an agent is the added fees and the fact you will need to pay bills. Using platforms such as Airbnb and booking.com help you to avoid paying bills, as the final price includes all utilities. However, this could be an excellent option for digital nomad families or larger groups looking for long-term rentals.
Airbnb
Although using Airbnb is sometimes inefficient, it can also be a great way to find reliable accommodation. Generally, with Airbnb, all bills are included, and there are only the fees displayed when you book. You can find studio apartments across the city for around $715 USD per month, and if you are happy to be located a short distance from the old town or the city center, the price drops. Although this might seem like the best way to find an apartment, you do pay a premium as Airbnb is aimed more at tourists rather than long-term renters. 
Expat community
There is also the opportunity to connect with ex-pats in the city to find out if they know someone who is looking to rent out an apartment to you. Expat.com and expatarrivals.com are great places to search for advice and connect with people on the ground who can share their experiences and knowledge when it comes to renting.
Cheap Places to Stay in Bucharest
If you are on a lower-end budget, then there are a few options for finding alternative accommodation for your stay. There are many hostels, flatshares, and coliving venues that can cater to a lower budget, meaning that you can still have the opportunity to live and work in Bucharest.
Hostels
Hostels are a great way of finding cheap accommodation in the city. If you are happy to bunk up and share a room, this could be a great option. A lot has changed due to the COVID-19 pandemic, meaning many hostels have had to close; however, there are still many hostels in or near the center of Bucharest. One of the best value and well-located hostels is The Castel of Piata Romana, which will cost you around $270 USD for a one-month long stay. The best way to find hostels is on Hostelworld.com.
Local Websites
There are several local websites, such as OLX and wizmo, where you can find apartment listings advertised by owners. This is a great way to find something a bit cheaper as locals mainly use it. It is possible to find studio apartments near the center for around $177 USD per month and one-bedroom apartments for around $351 USD. 
Room Shares
One of the best places to search for room shares is via Facebook. Not only marketplace but private groups too; as you will find many people post looking for flatmates or others to share rent with. The best Facebook groups are "Search flat in Bucharest" and "Expats & Locals in Bucharest."
Bucharest Visa
Romania is part of the EU, so entering is relatively simple for most nationalities; however, it is not part of the Schengen area. There are various visa options depending on your nationality, and it is always advised to check with your embassy before planning a trip. 
Make sure you know how long you can stay and what you need to prepare beforehand.
If you hold a passport from an EU country, you can enter visa-free; you just need to show that your passport is valid for three months from the entry date. You will be able to stay for 90 days, and you can work and have the same rights as you do back home in your EU country. This does not count towards your 90 days stay in the Schengen zone. After 90 days, you will need to register with immigration to obtain a residency card if you plan on staying for longer than 90 days.
Several countries also get visa-free entry into Romania for 90 days, including most countries in Europe, Australia, North, Central, and part of South America. If you plan to stay longer than 90 days and are not from the EU, you may need to obtain a category D visa for an extended stay. This is usually obtained from a Romanian embassy in another or your home country before your arrival. 
All other nationalities will need to obtain a visa from the Romanian embassy in your home country before your arrival. A complete list can be found at onlinevisa.com.
Culture and Food in Bucharest
Bucharest has a great selection of places to eat and boasts some of the best cuisines in Eastern Europe. Romanians have many traditional dishes; most are seasonal, but all tend to use rich and hearty ingredients. You will find some fantastic traditional restaurants in the old town and city center as well as some more modern fusion restaurants serving some of the best food in the country. 
Romania has hot, long summers but cold, harsh winters, so their food reflects the seasons. It is generally warming and full of fats and nutrients to get through the winters. Sarmale is the national dish that is eaten throughout the winter and on national holidays.
Some of the most common specialties in Romania to try are Sarmale which are cabbage rolls, mămăligă which is a polenta, Mici, Pomana Porcului, which is a pork specialty and Jumări, which are essentially pork rinds. As for deserts, you have to try Papanași and Cozonac. 
Traditional Romanian Cuisine
You will find lots of restaurants serving traditional Romanian cuisine in Bucharest. Some are better suited to tourists, some are more commonly visited by locals. One of my favorite restaurants to try local food is Caru cu Bere. It is located in the heart of the city, and it used to be where traders would bring goods to trade in the town. The food is very affordable, and they have great offers during the week. Sometimes they have 2 for 1 on beers and food offers such as a three-course meal for around $5 USD. Other traditional Romanian restaurants are Restaurant Hanu' lui Manuc, Vatra Restaurant, Crama Domnească, Zexe and Bucatarasul cel Dibaci. 
Street Food
In the old town, there is an excellent selection of food on the go. There are the usual fast-food chains such as McDonald's, but you will also find a great selection of alternative fast food. There are many small takeaway spots in the old town serving everything from kebabs to gyros and traditional pastries. You can eat here for around $5-10 USD.
Dietary Needs
Bucharest has a great selection of restaurants that cater to dietary needs. This means that if you have allergies or prefer to eat veggie, you won't struggle for choice. Some of the best vegetarian restaurants are Sara Green, Aubergine Restaurant, Level Up, Sublimmme, Verv Kitchen, and Rawyal Brunch & Cakes.
Bucharest Nightlife
Bucharest has a buzzing nightlife, with a great selection of bars, clubs, and night tours. There are many options, some better for a more relaxed evening and some for a night of partying with the locals. The old town is the heart of the nightlife, with bars, pubs, and clubs, so you will most likely end up going out here. 
Bars
Bucharest has a great selection of bars across the city, from rooftop bars to sports bars; it really has it all. The old town has more touristy places whereas the outer locations tend to cater to locals, but you will find a good selection in both areas. The best bars in Bucharest are The Pub, which has cheap drinks and often live music, Niște Domni și Fiii, Fire Club, Abel's Wine Bar, and Bordello.
Rooftop Bars
There are several rooftop bars in Bucharest, and some are better than others. Nomad Skybar is one of the most popular, which means it can be a little touristic. If you are looking for something a little more local, you should head to Linea; Closer to the moon. It has a huge terrace on top of Bucharest's oldest and first department store called Victoria. Drinks are a little more expensive but are still good value when you consider the view. This is a popular spot for watching the sunset. 
Craft Beer
In recent years the beer scene in Bucharest has taken off, and you will find some fantastic places to sit and enjoy a craft beer or two. If you are looking for a casual bottle shop, then Beer O'clock is a great place to go as they have a great selection. Another place to check out is Csikisor, also located in the old town. This bar sells beer from a brewery located in Transylvania, so this is a great spot if you are looking to try some Romanian brews. 
Nightclubs
Due to the city's buzzing nightlife, there are many nightclubs situated in and around the Old Town. The best places to go for dancing are Control Club, Hangover Club, Kristal Glam Club, and Beluga Music and Cocktails. Many will stay open until the early hours on the weekend, some staying open as late as 6 am.
Night Tours
There is a great selection of night walking tours in Bucharest. Some are food-based, others cultural, and some focus on admiring the historic buildings lit up in the evening light. Night tours can vary in price, but for example, a hip food-related tour will cost you around $60 USD. The best way to find alternative night tours is by using Airbnb as there are many locals who offer unique themed tours around their home city.
Things to do in Bucharest
Bucharest has something for everyone; whether you want a casual afternoon in the park or you want to learn from one of the many, you will find something to keep you entertained. Bucharest is popular in Romania as it is only a 3-hour drive to the black sea coast and just a 2-hour drive to the nearest ski resort so you can enjoy the best of both. 
Walking tour

The best way to learn about Bucharest is by taking a walking tour. There are many tour operators in Bucharest offering different historical walking tours around the old town. One of the most interesting is the communist walking tour as it gives a view into the communist ways and architecture in the city.

Carol Park

If you want a break from the bustling city, then you should visit one of Bucharest's beautiful parks. One of the most famous is carol park, and it is named after King Carol I of Romania. The park has many features besides its flora and fauna, such as a mausoleum and many fountains.

Palace of Parliament Building

One of the most common things to see in Bucharest is the palace or parliament building. It is the heaviest building globally, weighing around 4,098,500,000 kilograms (9.04 billion pounds; 4.10 million tonnes). This is an impressive architectural building that is a must-see in Bucharest.

Vacaresti Park Nature Reserve

If you are looking for something a little different and escaping from the city, then the Vacaresti Park Nature Reserve is a great place to see. It was initially built as a water reserve but was never used. Since then, nature has taken the space back, and there has been a project created to turn the area into a wild nature reserve. The boardwalks take you through a peaceful wander amongst small ponds and reeds.

T5 Social

A friend of mine created this beautiful space, and it is such a zen place to hang out in the city. This comfortable teahouse is located in a residential area, in the gardens of what used to be Podstel Hostel. There is a cute canopy to sit under with a cup of well-brewed tea. This is a space to meet like-minded traveling individuals.

Therme

If you like water parks or spa days, then you need to visit Therme Bucharest. Located just a 30-minute drive from the city center is one of the largest water complexes in Europe, offering entertainment day and night. There are three zones in the water complex, each offering a different vibe. The waterslide and fun zone, the beach, offers a relaxing day at the beach feel and finally the spa zone. You can pay to enter some or all areas. I have been on multiple occasions, and I always buy the 4.5-hour long ticket for the three zones. It costs $27 USD and is enough time to enjoy each area.

Wine Tour

Romania has several wineries around the country, and they make for the perfect day out. They often vary in price depending on what you want to do, some include tastings, and some are just to visit and look around the winery. LacertA Winery is one of the most popular to visit from Bucharest, and there are many tour companies offering trips from Bucharest.

Vulcanii Noroiosi

Berca mud volcanoes are located in Vulcanii Noroiosi national park. This nature reserve is a natural wonder and a unique place to visit. The mud volcanoes are created by bubbling mounds of mud which makes for interesting photos. There is a visitor center, restaurant and some facilities located at the park. It is possible to drive yourself, but it isn't recommended due to the road quality.

Unirea Salt Mine

Located a short drive from Bucharest is the famous Unirea salt mine. This is a popular tourist attraction, and there are many tour companies offering tours from Bucharest. The salt mine is believed to have healing qualities due to the salt in the air. There are attractions in the mine, such as recreational areas, with playground equipment. Entry cost varies depending on the type of tour you take. If you drive yourself, then the entry cost is around $6 USD.

Black Sea Coast

The Black Sea Coast is only a 2–3-hour drive from Bucharest, meaning you can have a beach day and still get back to the city for the evening. There are many popular posts to visit along the coastline, such as Vama Veche and Constanța.

Dracula's Castle

Located near Brasov is the wonderful Bran castle, said to have inspired Dracula's castle. It is possible to visit on an organized tour or to drive yourself to the area. Entrance costs around $11 USD, or pre-organized tours with transport can cost around $55 USD.
Best Time to Visit Bucharest
The weather in Bucharest varies dramatically depending on the time of year you visit. The summer months have lovely long evenings and warm temperatures, but the winter months can become very cold and have shorter days. Bucharest is located in the northern hemisphere of Eastern Europe, so the winter months tend to run from November through until March. 
The coldest month of the year is January when temperatures get as low as -1.5°C (29°F). Some parts of Romania experience snow, and it can become very cold, especially in the mountainous regions. 
The summer months tend to run from June/July through August, so if you want to spend a lot of time outside, these are the best months to visit Bucharest. The hottest month is July, with temperatures averaging around 21.5°C (71°F). The wettest month is June, with an average of 90mm of rain, so it is best to avoid this month if you don't enjoy the rain.
Bucharest for Families
Bucharest is a great city for families as there are many facilitates right on the doorstep, and it has lots of entertainment that are child friendly. There is an excellent selection of places to stay, and you will find the best options using local websites such as OLX. Cotroceni is one of the best areas for families as it is a residential area in the city and is popular with young families. 
As for schooling, there are multiple international schools in Bucharest, and some of the best to check out are American International School of Bucharest, International School of Bucharest, and Cambridge School of Bucharest. There are also many options for daycares, and you will find that many local students are keen to au pair for foreign families, so this could be a great option for digital nomad families in Bucharest. Infrastructure in Bucharest is pretty good for families, with multiple English-speaking medical clinics and doctors. You may sometimes find that equipment is a little dated, and specific medical needs that may require specialist treatment may be challenging to treat in Bucharest. 
Finally, for entertainment, you have many things to enjoy as a family in Bucharest, from strolling in the parks to visiting museums. Some of the top-rated things to do with children are the Museum of Senses, Therme, Edenland Park, Orășelul copiilor theme park, Herăstrau park where you can rent a rowing boat, and The Natural History Museum.
Living in Bucharest
Bucharest Transportation
Bucharest has an excellent public transport network with many options for getting around the city. Below are some of the best options for getting around the city and getting out into the countryside. 
Metro
Bucharest's metro is one of the most popular ways to get around the city. There are four lines running across the city from 5 am through until 11 pm. The metro is relatively new, with the first line opening in 1979; however, some stations can feel a little outdated. Despite this, the trains are very modern and efficient. The metro is also very affordable, with the cheapest ticket costing around 5 lei, $1 USD for two journeys. You can also purchase a ticket for the day, around 8 lei, and a weekly ticket costing around 25 lei. Tickets can be bought from all stations.
Buses and Trams
There are multiple bus and tram services across the city, and they form the most extensive public transport network in Bucharest. While they may sound convenient, it isn't always beneficial to take the buses and trams. They are often overcrowded and often don't stick to a timetable. Having said this, they are very affordable, so for a lower-end budget, it may be an excellent way for you to get around the city. Just be vigilant of pickpocketers as the buses are often a hotspot as they are crammed full. Both the buses and trams don't operate at night. You will find most services begin around 4.30 am and stop around 11 pm or sometimes earlier. Two services run to the airport: the 780 bus from Gara de Nord and the 783 from Piata Unirii. To use the buses, you will need an Activ or Multiplu card. These can be purchased from the RATB kiosks located at major bus stops and train stations.
Train
While the Romania rail network is a little outdated, it can be a great way to get around. There are quite a few lines that run from Bucharest to various cities around Romania. Train timetables and tickets can be viewed and purchased online here cfrcalatori.ro. You can also buy tickets at the train station, but it is advised to buy them in advance. 
Taxi
There are many taxi options in Bucharest; there are local yellow cabs as well as taxi apps. The most common taxi apps are Uber, Bolt, and Taxify, but you will find that many other taxi app companies are starting to appear in the city. The average price to take a taxi is around 1.40 lei per kilometre, but it can vary. Using the taxi apps allows you to know a fixed price before you ride, which can be more beneficial than using the yellow taxis. Sometimes drivers may try to charge you more if they recognize you are foreign, so always agree on a price before taking a ride. An average ride from the Old Town to the airport should cost around 60 lei, around $15 USD.
Bicycle
A great way to get around the city is by bicycle and Bucharest is full of bicycle rental shops. L'Velo Urban is one of the best places to rent a bicycle as they have multiple stations across the city. It is essentially like London's bike-sharing scheme or another city equivalent. They have been running for five years now and, as of 2021, have a total of 17 stations where you can collect and drop bicycles. They have a variety of options for using bikes, from yearly subscriptions to hourly rates. This is a very affordable way to get around the city and can also combine as exercise too. 
E-scooters
As well as bike shares, there are several electric scooter rentals across the city too. Lime and Bolt are both common in Bucharest, and you will find a lot located around the old town.
Fitness and Health
There are many ways to keep fit in Bucharest, and there is a wide variety of gyms, clubs, and fitness classes. You will find that most gyms are located away from the old town and further out the city, so you may have a commute to the gym. Here are some of the best ways to stay fit in Bucharest.
Gyms
There are many gyms across the city, all with a different vibe. Here are some of the best places to go that have a good selection of machinery. Happy gym is one of the best to go to as they have an extensive selection of machines and flexible passes, meaning you can pay for a day's entry. Other good gyms are Phoenix Gym, Exclusive Fitness, Proud Fitness, and World-Class Bucharest. Rates vary depending on how long you want to sign up for, but most information can be found on the gym's website. 
Fitness Classes
If you prefer fitness classes, then Bucharest is a great place to be located. There are multiple yoga studios and leisure centers offering a selection of classes. The best yoga centers are Yoga Hub, Nirvana Yoga Room, Bodhi Yoga, and Studioul Universul. Single yoga classes tend to cost around $9-10 USD per session, and you can get great discounts if you book in bulk. For example, a group of 10 sessions will cost you around $82 USD.
Bucharest People
The people of Romania are passionate, hard-working, and very welcoming. Every time I have visited Romania, I have always had a wonderful time and have felt very at home. I am lucky enough to have many Romanian friends who have introduced me to their culture, love for good food, and beautiful country. 
Traditionally, Romania's population was rural dwellers; however, this became less common since the communist era from 1947-1989. As industrialization became the norm, people moved to cities, which had a significant impact on the way of life in Romania. There are still small pockets of the country that follow this traditional way of life. The largest population is ethnic Romanians, and most descend from the Daco-Romans, who were the group formed from the native Dacians and the Roman colonists. However, due to Romania's widespread industrialization and urbanization, culturally, it is more in line with the Western world. 
This impact has meant that Bucharest's people are quite different from those who still live more of a rural lifestyle. The people of Bucharest are quite commonly bi-lingual or will even speak multiple languages fluently. They are often well-educated studying at the country's best educational facilities, and many people in Bucharest will have business-type jobs. However, there is a significant tourism sector and creative side to Bucharest, attracting many young people. 
Although it may look like a beautiful up-and-coming city on the surface, a forgotten group of people often known as 'The Lost Boys' live below the city. This tragic tale shows the devastation that was caused to families during communist rule. Children were put into care homes and when the dictatorship collapsed, so did the public systems. Orphanages closed, meaning hundreds of children were forced to the streets of Bucharest. As a result, communities formed in the tunnels below the city, creating a new community, mainly consisting of the homeless of Bucharest. I have not come across any signs of this myself in Bucharest, as it appears to be well hidden. Although many are thriving in the city, many were hit hard due to the collapse of communism.
Romanians are very religious, with most of the population identifying as Eastern Orthodox Christian. The largest faith is Christianity, with around 81.9% of the people choosing to be part of the Orthodox church. Only approximately 6.4% of the population identify as Protestant Christians, and only 4.3% identify as Roman Catholics. As well as being religious, Romanians love to celebrate a special holiday of festive of the year, and many celebrations will take place in Bucharest and smaller towns in Romania. 
Overall the people of Bucharest are welcoming, accommodating, and fun to make friends with. The city is full of enthusiasm and positivity, especially from the youth who are fueling the city with creativity and energy.
Bucharest Insurance and Medical Care
Wherever you travel, it is always advised to have travel insurance for your belongings and your health. Romania is part of the EU, so their medical standards are up to a certain level, and care in Bucharest will be the best you can find in the country. There are multiple English-speaking clinics and international hospitals offering a variety of treatments. If you have an EHIC card, this will be accepted in some clinics in Bucharest, but you also have the option for private treatment. You may have to pay for treatment upfront and then get refunded by your insurance company. Always make sure to check the terms when taking out insurance. 
As for your personal belongings, make sure to have any expensive items covered on your insurance. While Bucharest is a reasonably safe city, petty crime is still existent. Busy places with crowds are popular hotspots for pickpocketers, so always be vigilant and keep your belongings close. It is also advised to avoid flaunting expensive equipment in public. There are many insurance providers for insurance of your gadgets and belongings as well as medical.
Make sure you are fully covered by reading our full Digital Nomad Travel Insurance guide.
Jobs in Bucharest
Finding a job in Bucharest can be pretty straightforward, depending on your industry and skills. One of the most significant up-and-coming job sectors in Bucharest is the tourism industry and anything concerning travel. If you already work in the industry, you may have a contact there or find a way to work through a pre-existing contact. A great way to find work is through the EU job scheme, which advertises jobs in other EU countries that accept foreign applicants and non-native language speakers. This, however, is only applicable to EU citizens. 
Another way to find a job is to approach companies before arriving in Bucharest. If you know of a company you would like to work for and have the correct skillset, email them in advance to see if they have any positions available. Another option could be getting a transfer with a company you already work for, so make sure to check if there is an office in Bucharest. Teaching English is another common form of work for foreigners in Bucharest, and this might be an excellent way for you legally work in the country.
If you can't find a job before going to Bucharest and have to obtain a visa for work, then volunteering may be a great alternative option for you. There are many volunteering projects in Romania, and the best way to find these is through workaway.com and goabroad.com.
Check out our Digital Nomads Jobs Postings to find the best jobs available for Digital Nomads.
Nomad Friendly
Value for Money
Internet
Workspace
English
Food
Safety
Health
Transportation
Friendly
Quality of Living
Cost of Living Bucharest
The expected cost of living can vary dramatically depending on your needs. It is possible to live in Bucharest on a low budget and have a great time, especially if you are happy to cook in and walk around the city. Bucharest has many options for a low and a high-budget nomad. Here is a breakdown of estimated costs based on a high-end and a low-end budget.
For a lower-end budget, you should expect to pay around $882 USD per month. That would be broken down into $177 USD on accommodation, assuming you stay in shared accommodation such as a hostel or flatshare. $450 USD on food which is a budget of around $15 USD per day, which is easily achievable if you eat street food, find restaurant deals and cook at home. As for coworking, there are many options, and depending on your needs will affect the price; however, say you go to a lower cost coworking or even work from cafes from time to time, then you should budget $105 USD. If you were to walk most places or combine using the rental bicycles as exercise and transport, you could budget around $50 USD per month for transportation and exercise. Finally, you should budget around $100 USD for leisure and fun. There are many free and low-cost entertainment options in the city.
If you have a slightly higher budget and enjoy the luxuries of life, then you should expect to pay around $1,481 USD per month. This is broken down into $581 USD on a private room in a coliving space that would also include your coworking. in a good location, around $600 USD on food which is a budget of around $20 USD per day, assuming you will mostly eat out. Budgeting the use of taxis, public transport, or bicycles daily, you should spend around $100 USD. For exercise, you should put aside around $90 USD, covering some gym time and fitness classes for one month. Finally, depending on what you want to do or see, you could budget around $200 USD, covering some excursions outside the city and visiting Therme, museums, and going on a few tours.