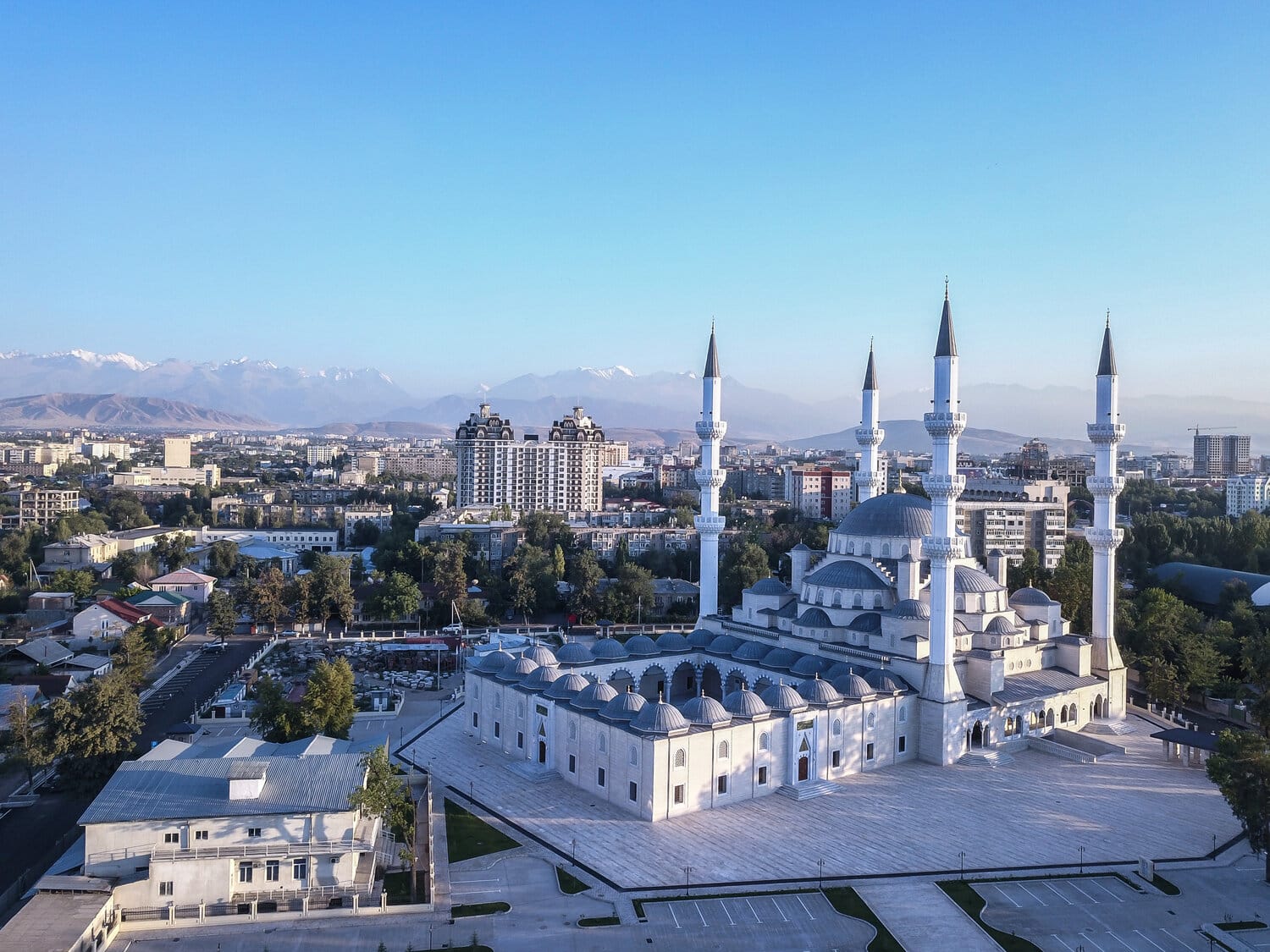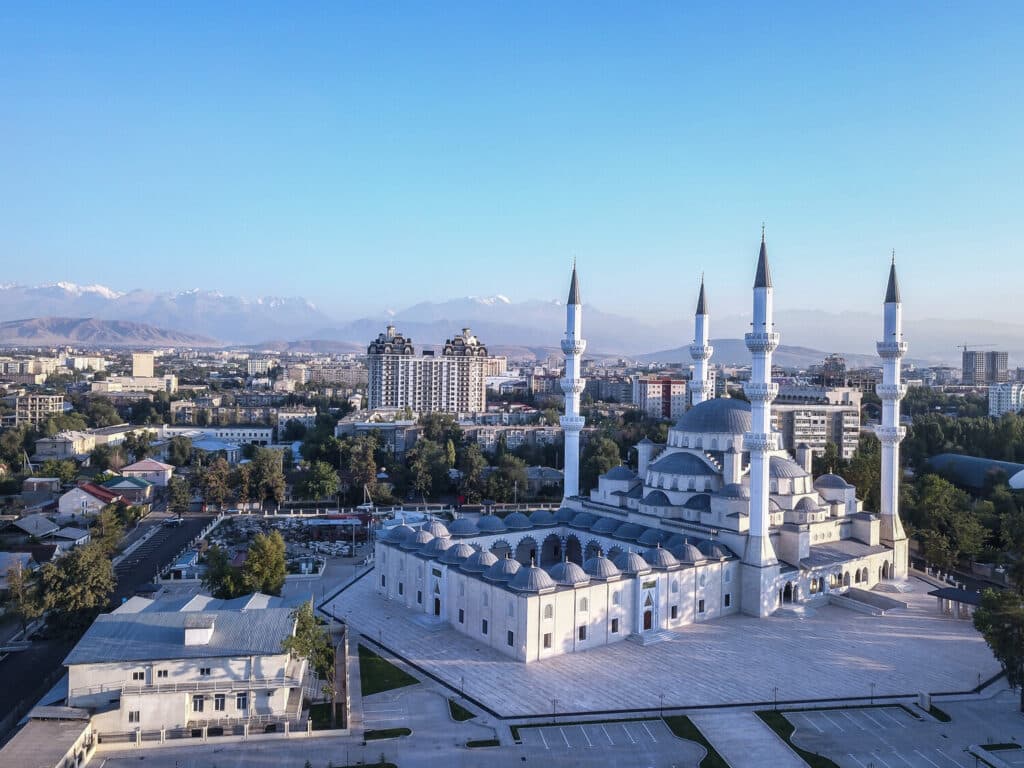 A Digital Nomad Guide to Bishkek
Bishkek is the capital city of Kyrgyzstan, a landlocked country located in central Asia. Kyrgyzstan, officially called the Kyrgyz Republic, borders China, Kazahkstan, Uzbekistan, and Tajikistan and is a very mountainous country with not much flat land. It is an outdoor enthusiasts paradise, with complex mountain ranges, high lakes, and waterfalls. Eighty percent of Kyrgyzstan is covered by the Tian Shan mountainous region. Sometimes the country is called the "Switzerland of Central Asia." Jengish Chokusu is Kyrgyzstan's highest point, reaching a peak of 7,439 m (24,406 ft). As well as being almost entirely mountainous, it is full of history and has 3 UNESCO world heritage sites.
Bishkek is located 800 meters (2,600 feet) above sea level on the fringe of the Ala-Too mountain range and is home to around 100,000 people. The city was given its name after the collapse of the Soviet Union.
The country's flag features a 40-ray sun which is based on the country name. It is thought that the word "Kyrgyz" has come from the Turkic word for "forty," and it is thought to have been chosen as the country name due to the 40 clans of the great Manas that once inhabited the land. The official currency is SOM (COM).
If you want to spend some time in central Asia, then Bishkek is a great base as it is easily accessible by train and it is possible to travel to surrounding countries, and there is so much on its doorstep. The train network can take you to Russia, other parts of Central Asia, or even to China. The vast network joins up with the Trans Siberian, meaning you can get from West to East whilst passing through some of the world's most beautiful areas.
Nomad Friendly
Value for Money
Internet
Workspace
English
Food
Safety
Health
Transportation
Friendly
Quality of Living
Living in Bishkek Overview
| | |
| --- | --- |
|  Meal, Inexpensive Restaurant | $4.72 |
| Domestic Beer (1 pint draught) | $1.24 |
| Cappuccino (regular) | $1.60 |
| Loaf of Fresh White Bread (1 lb) | $0.29 |
| Water (1.5 liter bottle) | $0.42 |
| One-way Ticket (Local Transport) | $0.12 |
| Basic Utilities (Monthly) | $39.36 |
| Internet | $16.80 |
| Fitness Club (Monthly) | $37.59 |
| Apartment (1 bedroom) in City Centre | $274.02 |
[erw_exchange_rates_widget lg="en" tz="0″ fm="EUR" to="EUR,USD,GBP,AUD,JPY,RUB" st="primary" cd="" am="1″][/erw_exchange_rates_widget]
Max Withdrawal: €400
Use of Credit Cards: Widely Accepted
Digital Nomad Personal Experience in Bishkek
I have been fortunate enough to have visited Bishkek twice over the past few years, and it is a wonderful city. Located in the North of Kyrgyzstan, Bishkek is the capital city with a vibrant atmosphere and lots going on. Both times that I have been, I have had my own vehicle with me as I drove over from Europe; however, it is possible to rent your own car or camper whilst there.
Whilst in Bishkek, I stayed in two different hostels. The first no longer exists, and the second was Apple hostel, which is a nice modern hostel where many backpackers travel to. It has a canteen and good communal spaces for guests, and it is in a good location. Within the city, there is a good amount of things to do, and one of my favorite pastimes was to visit the markets. There is a huge market that is entirely built from shipping containers. I found it fun to walk around, and people watch as trade deals happened and people went about their daily life. There is also a great market which is a little touristy which focuses more on food and handmade crafts.  
I also enjoyed going out for dinner and trying the local cuisine. It is very affordable in Bishkek, so eating out is easy to do most nights without spending too much. I also made the most of their spas as again they were very affordable, and both times I was there, I had driven from Europe, so it was nice to have a pamper after the long road trip.
As the city is fairly small, I found that I wanted to see more of the countryside to learn more about the country. I took the time to visit surrounding areas and hike in the mountains. I stayed at Lake Issykul in a yurt which I highly recommend as a beautiful and authentic experience. I also visited surrounding countries, taking a trip to Almaty in Kazakhstan and across to Uzbekistan too. Although I had my car, there are public transport options which make travel around central Asia easy.
Living in Bishkek is very affordable as it is still developing, so you can eat and live for a very small cost. However, with this comes a lack of facilities, but if you can live with that, then Bishkek is a great place to be.
Work in Bishkek
Bishkek is an up-and-coming city for digital nomads, and there are a surprising amount of coworking spaces popping up across the city. This is no surprise as Bishkek is located in the heart of central Asia and has been attracting tourists for many years. This alternative destination is becoming more tourist and digital nomad friendly as the years go on, and I have seen this change in the time between my visits. There are many business centers and corporate offices to rent, but there are also lots of Coworking spaces. 
The average internet speed in Bishkek varies across the city, with the highest upload speed of around 18.8 Mbps and the highest download speed of around 10.9 Mbps. It is not the fastest, but it is average. You will also find that phone coverage is only available in cities or large built-up areas, and much of the countryside will have zero phone service. I bought a SIM card on the border and paid around $3 USD for 20 GB of data, which is amazing value; however, it only worked in cities, and I rarely got more than LTE signal. Beeline is one of the best phone companies in Kyrgyzstan, and they work in other countries across Central Asia. 
Best Places to Work in Bishkek
Ololo City
This is probably one of the better coworking spaces in Bishkek. It is an arts center, event space, and coworking venue. They have two locations in Bishkek with a variety of conference rooms, office space, and even creative studios too for filming purposes. Their conference rooms cost around $25 USD per hour to rent out, and coworking prices are displayed on their Facebook page when they have space available. To use a hot-desking space will cost around $112 USD per month, which includes internet and use of facilitates. 
Coworking Space Sabi
Coworking Space Sabi is a smaller space but is clean, quiet, comfortable, and spread over three floors and a basement. The staff is friendly and will do their best to find solutions to any problems you may encounter. 
Coffee shops
Most Coffee shops in Bishkek are chain-like, but there are a few that make for great workspaces. Hygge Coffee is located below Ololohaus coworking, and it offers some of the best coffee in Bishkek. Other coffee shops with lots of space and nice working areas are Owl Coffee and Social Coffee. They serve delicious coffee and create an excellent workspace if you like working from a coffee shop. 
Best Places to Live in Bishkek
Best Neighbourhoods
Bishkek is a relatively small city, so choosing where to stay is quite simple. Personally I always stay where the hostels are, which can be anywhere in the city. There is no designated tourist area or local's area. Kyrgyzstan has only recently opened up to tourism, so the infrastructure is still in the making. The concept of tourism is still relatively fresh in Bishkek, so you won't find a huge amount of areas to stay where you won't be around locals. This is great because you get a true and immersive experience, which I think is what makes central Asia so great. 
Ala-Too Square
One of the most popular areas to stay in is the City Center near Ala-Too square as it is the central part of the city, and pretty much everything is within walking distance. If you want convenience and don't mind paying for it, then this is the place.
Birinchi May District
Located on the northwest of the city, this is where you will find a few hostels, and it is the more residential part of the city. This is generally where I have stayed as Apple Hostel is located on the outskirts, and it is only a short ride or 45 minutes to one hour walk into the city center. I like it because it is quieter and next to Apple Hostel is a military base, so it is very quiet.
Oktyabr District
This is located a little distance from the city center just to the southeast. It is another residential area surrounded by parks and monuments, so if you don't mind being a short ride from the center, then this is a good place to be. It is also a lot cheaper.
There are areas of the city that are better avoided, so always stay in recognized hostels or hotels unless you are there with a local. Some areas are more industrial and less pedestrian-friendly. While crime rates are very low in Bishkek, there are some areas that are more unpleasant to stay in due to their surroundings. In the East of the city is the industrial district, which can be noisy, dusty, and unpleasant to stay in. It is best to stay as close to the city center as possible as you will most likely have a better time as everything is on your doorstep.
Find an Apartment in Bishkek
Finding an apartment in Bishkek is quite challenging as it is still an up-and-coming city, so things such as Airbnb are not commonly used within the city. It isn't common for people to own multiple properties to rent out, but there are a few available. The concept of sites such as Airbnb is becoming more recognized in Bishkek, so you will notice the market is adapting to the demand. There are other ways of finding an apartment and some websites that are very popular in Bishkek, which are listed below. 
Airbnb
On Airbnb, depending on the area in the city, you can find one to two-bedroom apartments for around $433 USD per month. The prices vary dramatically whether you want to be in the city center or on the outskirts. Prices in the city center can go up to around $625 USD per month but can be as low as $350 USD further outside the city. If you are looking to book an Airbnb, then make sure to message the host before booking to find out the internet speed and facilities as the internet isn't fantastic in Bishkek, and if you plan on doing some work from home, then you want to make sure you will have good internet speed. 
Booking.com
This is a very common way of booking accommodation because you don't always have to pay until you arrive and you can cancel up until the very last minute. This is a great option if you are unsure of whether you will make your destination. You will find apartments or hotel rooms here for around $650 USD per month. 
Apartment.kg
This is a great website for finding a rental; however, the selection is minimal. They are a little cheaper on here as you can find one-bedroom apartments for just $300 USD per month, and you book directly with the owner. 
Expats in Bishkek Facebook page is a good place to look for apartments as you can directly message those who are already on the ground who can advise you. This is a great way of gauging the average cost you should expect to be paying for accommodation for one month.
Rent Berry
Rentberry.com is another rental website, and for a one-bedroom apartment, you will pay around $480 USD per month. There are also apartments further out the city for around $350 USD per month. 
Hostels
There are lots of hostels that offer private rooms, and this might be a good way of finding somewhere to live. Essentially you still have your own private space, but you have communal areas where you can meet like-minded people. Apple Hostel offers private rooms, which for a double private room will cost around $21.50 USD per night, which is $645 USD per month. A slightly cheaper option is Koisha Hostel as their private rooms are around $20 USD per night which will total around $600 USD per month.
Cheap Places to Stay in Bishkek
When I travel, I prefer to stay in Hostels because I like to be social, but it isn't for everyone. If you are on a low-end budget, then hostels are the best accommodation in Bishkek because they have great facilities and are generally really well located. Here are some of the best hostels in Bishkek.
Apple Hostel
This is where I stayed on my last visit, and I think it is a great place to stay. A bed in a dorm room will cost around $6 USD, which for one month will cost around $180 USD. I like Apple Hostel because they have free parking and good communal areas.
Koisha Hostel
Koisha Hostel has a good selection of rooms, and their dorm rooms cost around $6.40 USD per night. This is a great option if you are happy to stay in a shared room as Koisha Hostel is centrally located and has a cute garden area. If you are in Bishkek in the summer, then this is a good option for accommodation. 
Centre Hostel
This is one of the cheapest hostels in Bishkek, with a bed in a dorm costing just $4.67 per night, which works out to be around $140 USD per month. Tunduk Hostel is also another cheap hostel with a bed in a dorm room costing around $4.16 USD per night, which would be $124.80 USD per month.
Bishkek Visa
Entering Kyrgyzstan is fairly simple for most passport holders as Kyrgyzstan is trying to encourage tourism. There are 69 nations that don't need to obtain a passport to go to Kyrgyzstan. You will need to check the length of stay for your country as this varies dramatically. Some of the 69 nations can stay indefinitely; others have a maximum stay of 90 days, some 60 days, and some 30 days. Within the visa-free countries, the UK, USA, most EU countries, Australia and New Zealand are included. You will still be stamped in to mark your time in the country. 
If you are not from one of the visa-free countries, then you will need to obtain an e-visa before your arrival. This can be done online and is a simple process costing very little. Make sure to do it before your planned trip, as it can take a few days to process. It is also possible if you have a visa for Kazakhstan to visit some areas of Kyrgyzstan. Some passport holders with Kazakh visas can cross into Kyrgyzstan and visit the border districts of Issyk-Kul, Talas, and Chui regions.
If you are in Bishkek and want to extend your stay, then you can visit an immigration office in Bishkek for an extension. You may need to provide evidence of sufficient funds and a reason for your stay. 
Culture and Food in Bishkek
Kyrgyzstan has a number of traditional dishes, and cuisine is a huge part of Kyrgyz culture. Kyrgyzstan is a mountainous country with harsh winters, so many dishes are based around hearty ingredients that provide proteins and fat for survival during the subzero winters. Being from a nomadic background, the majority of traditional food is centered around meats and produce from animals. There are many places to enjoy some of the best Kyrgyz cuisines in Bishkek, as well as try something new. There is a huge interest in American culture, so this is often reflected in many of the fast-food chains or diner-type restaurants. The youth of Bishkek is also experimenting with new fusions of traditional Kyrgyz dishes and other cuisines from around the world. 
Traditional Food
Bishkek is a great place to try some of Kyrgyzstan's traditional cuisine, and some of the things you should try are Laghman, plov, and manti. My favorite restaurant for trying Kyrgyz cuisine was Navat. The food was a little more expensive here, but it was still very affordable, and it was fantastic. The restaurant has a traditional atmosphere and is welcoming with its brightly colored and funky decorations. Other great traditional restaurants include Faiza and Bukhara. 
Street Food
Some of the best street food can be found in the Osh market. In the food section, you will see many locals selling their homemade pickled vegetables as well as cooked local delights. You will see many stands selling local bread, pastries, homemade honey, and dried fruits. It is a great place to pick up a snack and to see how the locals live.
Fast Food
There are many American fast-food chains in Bishkek, such as KFC, Papa John's, and Nathans, but there are also some great local fast food places to eat too. Kheshteg Lagman was one of my favorite takeaway spots as it served great Laghman for a very affordable price. Along the street where Kheshteg Lagman is located, you will find many small local fast food places to eat, and it is a great street for picking up a quick bite to eat. 
International Cuisine
Some of the best restaurants in Bishkek serve up a selection of international-inspired cuisine, so if you are looking for something a little different, then check out Chicken Star, Vinoteka, and Taksim Café. 
Vegan and Vegetarian
Traditional Kyrgyz food is very heavily meat-based; however, as Bishkek develops and is influenced by global cuisine, there are many restaurants that are adapting their menus to suit dietary needs. Some of the best places to eat as a vegetarian or vegan in Bishkek are Baan Baan Thai Café, Host, Café Pur:Pur, Pappa Roti, Fresh Box Sushi, and La Maison. There isn't a huge selection of vegan-oriented restaurants, but you will find that there are some things on menus that can cater to vegan and vegetarian diets. One piece of advice I'd give is that in some places when you ask for no meat, you may get a confused look as this is not a very common request. You may also find that soups and other dishes may still be cooked using animal broths, and it is quite hard to escape eating meat at restaurants that are more for locals. 
Bishkek Nightlife
Bishkek is a bustling youthful city with a lively nightlife scene. There is a great selection of bars, nightclubs, karaoke venues offering a variety of nighttime experiences. Most nightclubs will add a cover charge to the bill of around 10-20%. There is a slight obsession with Western culture, in particular, American dining and drinking culture, so you will find many bars and restaurants with American themes. 
Karaoke
Karaoke is a popular evening activity in Bishkek, and there are many karaoke bars across the city. Some of the best Karaoke bars are Karaoke 40X40, LiveBar Rooms, K Channel Karaoke, Korean house Bishkek, and Talisman Karaoke. Prices can vary between venues, and they depend on whether you order food, book private rooms, and the size of your group. It is best to ask around when you get to Bishkek to find out what the prices are, as there are so many variables.
Nightclubs
Retro-Metro is probably the most popular nightclub in Bishkek, and it is one of the biggest in the city. They offer live music events from both their resident DJs and guest Dis too. On the nights when there aren't events, the venue opens as a normal bar offering karaoke and drinks at reasonable prices. Mansion Nightclub is another of Bishkek's larger nightclubs offering live music and a party atmosphere. Other night clubs in Bishkek that are highly rated are Shanson Night Club, Promzona Club, and Center Bar.
Alternative Bars
Metro Pub, and Promzona are all alternative live music venues playing mostly music from the 70s 80s and a mix of Russian rock. They are all slightly smaller venues, but they have so much life, and you can have a great night at one of these if you prefer something different. 
Bars
There is a huge bar culture in Bishkek, from casual bars to some specializing in specific drinks and cocktails. You will certainly find a bar that suits your vibe. Here are some of the top-rated and fun bars in Bishkek; Some Where Bistro, No Name Bar, Times Bar, and Harat's Pub, which is like a traditional Irish pub.
Craft Brewhouses
Save The Ales, Pinta Pub Frunze, and Brewster Craft Beer are some of the best brewhouses in Bishkek. If you enjoy craft beers, then you need to check these places out as they have a great selection of craft beers from a variety of countries.
Things to do in Bishkek
While Bishkek is a relatively small city, there is plenty to do; from eating out to visiting museums and enjoying the markets. There will always be something to keep you curious, and if you find that you have visited everything in Bishkek, then why not explore more of the countryside on an excursion or even take a trip to a neighboring country.
Osh Bazar

This was my favorite Bazar and marketplace to visit. Although it was a little touristy, it was still super authentic. Not many people speak English, so it is best to learn simple words and numbers as it really helps with haggling here. You will find food, textiles, clothes, and crafts here. It is the perfect place to shop for souvenirs and gifts, as well as produce if you want to cook. Things are very cheap in Bishkek, and it is common to haggle at markets if you are buying multiple items. Just remember to be respectful and never make a ridiculous offer that might offend. I recommend trying some of the pickled goods that are similar to the South Korean kimchee. You will see endless market stalls selling variations, and it is delicious! I also recommend checking out textiles made with camel wool and hand-crafted items. Always be vigilant at busy markets as this is a popular place for pickpocketers.

Dordoy Bazar

This is located slightly north of the city center, and you will need to take a bus out to it. This is where the locals go to buy and trade, and it is incredible. The market is built entirely with shipping containers and is around a kilometer wide. This is one of the largest trade markets in the area, and whilst it's not a tourist spot, it is really interesting to visit if you want to see a bit more of daily life in Bishkek. Always be vigilant at busy markets at this is a popular place for pickpocketers.

UAZ Buhanka Rentals

If you want to explore a bit more of Kyrgyzstan, then you should look at renting a camper van from UAZ Buhanka Rentals. Prices vary depending on the equipment you require and the length of your trip. To rent a Buhunka for 5-13 days, it will cost $100 USD a day, 14-18 days costs $90 USD a day, and for over 19 days, it will be $80 USD a day. Prices can also go up if you require additional extras in the vehicle. Prices during the winter months drop to $80 USD a day for trips longer than five days.

Museums and Monuments

If you are into history, then there are a few museums in Bishkek that might be of interest. Although there aren't too many to choose from, there are some which showcase the history of the region. They are the State History Museum, M V Frunze Museum, Geological Museum, Zoological Museum, and the Etnograficheskiy Kompleks "Manas Ayyly" museum. As for monuments, you will find many that are left from the Soviet Union as well as others that celebrate the traditions of Kyrgyz culture. Some of the best monuments to see are the statue in Victory Park, Stella of Friendship of Nation in Asanbai Park, Kozhomkul Baatyr Monument, Kilometre Zero, and Pamyatnik Voinam Batkentsam.

Galleries

The best art gallery in Bishkek is the National Museum of Fine Arts, named after Gapar Aitiev. It contains a mix of contemporary fine arts from the region and in general from the world. Another creative museum is the Kyrgyz State Literature and Art Museum of Toktogul Satylganov. If you want to admire some sculptures, then make sure to check out the Sculpture Museum Park.

Viewpoint

There is a viewpoint in Bishkek located south of the city. This is a popular place for people to go for sunset, but if you are heading up, I'd recommend you go with friends and take a taxi or friend's car as it would appear that when the sun has set, and it is turning dark there is suspicious activity there, so it is better avoided at night.

Bishkek is a great place to be based for activities and excursions further afield. The rich mountainous region allows for many activities that are perfect, either for a long weekend or for a day trip. Here are some suggestions of things just outside of Bishkek.

Burana Tower

Located a short drive outside Bishkek is the Burana Tower. This tall tower that sites alone is a marker to what was one the ancient city of Balasagun. It was originally 45 meters tall, but legend tells many tales of how the tower was reduced to 25 meters. It is most likely due to earthquakes, but legend speaks of tragedy and loss. Entrance costs around $2 USD, plus you will need a ride from the city. You can book a tour which will cost around $65 USD.

Issyk-Kul

Issyk-Kul is the world's second-largest high-altitude lake, and it is around 113 miles long and 37 miles wide. Its deepest point goes as far as 668 meters (2,192 feet). The lake has a few settlements around it, with Issyk being the largest, and it used to be a popular vacation destination during Soviet Union times. It is around a 6-hour drive from Bishkek, but there are endless amounts of hiking to do in the area, and this is the best place to rent a yurt for the night.

Horse riding

Horses are a huge part of Kyrgyz culture, so why not go on a horse trekking excursion. For centuries horses have been a valuable mode of transport in central Asia, to move nomads from place to place and for carrying goods. There are set tours where you can go on a mountains trek by horseback and even stay in a yurt or in the mountains. A day trip from Bishkek can cost as little as $30 USD, and the best place to find an official tour is on the Trekking Union of Kyrgyzstan (TUK) website. 

Ala-Archa national park

Just a 30-minute drive from Bishkek is the Ala-Archa national park. This is probably one of the best places to go hiking and climbing, and you can get a guide to take you on a hike for as little as $6 USD. Some of the popular places to hike to are Sokuluk gorge, Lake Kel-Tor, and Jylamysh gorge.

Skiing

Kashka-Suu ski resort is another attraction popular with tourists as it is close to Bishkek, beautiful, and affordable. A day ski pass costs around $12 USD, and accommodation in the area is very affordable. So if you are visiting during the winter months, then a ski weekend could be a great way to escape the city. 
A super useful resource is Caravanistan.com, and this is the best place to look for advice, tours, or to even ask questions. They have spent years building a website containing everything about central Asia. 
Best Time to Visit Bishkek
The weather in Bishkek varies dramatically depending on the time of year you visit, as the winters can be extremely harsh with subzero temperatures and the summer very hot. The times I have stayed were in September and November; both were quite cold but before the snow arrived in Bishkek. Many mountain passes across the country close in November, so it made travel quite restricted. 
The summer months run from May through to September, with temperatures reaching up to around 35/36 °C (95/97 °F), and the days are dry and sunny. July and August are the most humid months with the lowest humidity, and it averages at around 40% humidity. June is the wettest month, with around 22 days of rainfall out of 30. March and April are the months of spring, where temperatures begin to rise and the snow starts to melt. This is still quite early for those who want to hike and spend time in the mountains. 
December and January are considered the subzero cold winter months, with February being the last of the cold winter spell. Temperatures often drop as low as -8°C (17.6°F) and rarely rise above -1.3°C (29.7°F), and December sees the most snowfall during the winter, and it is the least sunny month of the year.
The best months to visit are the summer months between May and September as this is when the weather is at its best. If you want to go to Bishkek, then you are most likely going there for the outdoor qualities, so if you plan on hiking and camping, then summer is better. However, if you want to go there for the snow and the ski season, then December through to February are the best months to visit. 
Bishkek for Families
After having visited Bishkek on multiple occasions, I wouldn't think that it is a suitable city for families as facilities are limited, and sometimes of low quality, there is a lot of air pollution and dangerous traffic. Although having said that, if you were to homeschool your children and you like adventure, then maybe it is a good place for you and your family. 
The best way to find information on Bishkek is to join expat forums and ask as many questions as possible. There are a few international schools in Bishkek, but these will most likely only teach in Russian, so if your child is not bilingual, then it might be challenging for them to integrate. 
As for daycares and nurseries, it isn't very common for families to put their children in daycares as the mothers would usually stay at home with their children. Some hotels may offer a daycare service, or if you can get in contact with one of the universities, it might be a great opportunity to offer some work to a student who might be learning a foreign language. It is common for students to have part-time jobs, so it might be an opportunity for you to employ a student as an au pair. Greataupair.com is a fantastic website to help you find someone local to help.
It is also possible to find apartments to rent using some of the websites mentioned in the accommodation section, such as rentberry.com and Airbnb.com, so you will be able to find somewhere to suit your family's needs.
In summary, if you have a method of homeschooling and are willing to employ an au pair, then it could be a great city for families. There is so much to experience outside Bishkek, and there are some amazing day trips that the kids will love.
Living in Bishkek
Bishkek Transportation
Transport within Bishkek is pretty good, there are a few options for getting around the city, and it is very cheap. The main form is bus or taxi, and there are plenty running across the city. It is also fairly easy to navigate as the city has a simple grid system.
Taxi
There are a few ways of ordering a taxi in Bishkek, and taxis, in general, are a very cheap way of getting around the city. Small journeys will cost around $1-2 USD and longer journeys a little more. The best way to book a taxi is by using taxi apps such as Yandex or Uber. It is best to use these as you will have a fixed price and can choose the pick-up and drop-off locations without having to communicate with the driver. Most taxi drivers will not speak languages other than Kyrgyz or Russian, so it is best to use the app to make your journey as smooth as possible. There are also local taxis which you can hail down but make sure to know how to say where you want to go. 
Trolleybuses and Diesel Busses
The trolleybuses are buses that follow electrical lines and have set routes throughout the city, whereas the diesel buses are more of the traditional bus that makes varying journeys across and around the city. Buses tend to run from around 6 am to 10 pm at night. They usually cost around $0.10 USD per ride, and you usually get on the bus at the back.
Minibusses (Marshrutka)
These are small minibusses that run around the city and don't often have set stops. Generally, you can hail them down wherever you are, and you will pay around $0.20 USD for a ride. In Bishkek, it is generally custom to pay when you get on, whereas, in Osh, you pay when you get off. They also only accept cash; there is no system in place for card payments. 
Walking
The city is fairly pedestrian-friendly, with large roads and open spaces. The pollution can become quite bad during certain seasons, as the fumes get stuck in the city, so if you are walking, you may want to wear a mask. It takes just over an hour to walk across the main part of the city. 
Fitness and Health
There are a few gyms and fitness centers in Bishkek, however not that many will speak English. You will also find that many people choose to exercise through running, walking, hiking, and being outdoors rather than through gyms. Here are some of the top-rated gyms in Bishkek; Barbie Fitness, Fitness Pro, and Puma Gym. Many gyms use a directory website called 360, which displays business information and sometimes rates. If you are a confident gym goer and are just looking for equipment and not a personal trainer, then all the above are great options. It might be more difficult if you are looking for a personal trainer as not many trainers will speak English. Subscriptions start from around $25 USD.
The best way to find out if there are English-speaking coaches or personal trainers is via forums and Facebook expat groups in Bishkek. There are also some alternative forms of exercise, such as pole fitness which can be done at Sunrise gym for around $30 USD per session. There are also a couple of yoga studios, with the best being Yoga Dom which offers a variety of yoga classes with drop-ins costing around $4.70 USD per class. You can also buy monthly memberships or bulk buy classes to save a few dollars. It costs $13 USD if you buy the eight classes in one month package, which is a large saving. You will also find many boxing gyms and places to practice martial arts; however, these will most likely only be taught in Kyrgyz or Russian.
Finally, there is Smile sports complex, which has around 30 trampolines, a bouldering wall, and an adventure park. Their prices vary depending on how long you want to use the space, what you want to use, and if you are attending a class. 
Bishkek People
Kyrgyzstan was once home to some of the Turkic ethnic groups. The Turkic peoples were a collection of ethnic groups that lived mostly in Central Asia as well as Europe, North and West Asia, and they are thought to have migrated from the East. 
Most Kyrgyz people are religious, and they are Muslim, following the Hanafi Sunni school. Islam was first introduced to Kyrzgstan via the Silk Road. In the 7th century, Arabs that traveled and traded along the Silk Road brought Islam to Kyrgyzstan. It wasn't until around the 17th century that the Kyrgyz people started to convert to becoming Muslim, and by the 19th century, the Kyrgyz were considered devout Muslims.  
In Bishkek, you will find most of the youth of the country, as this is the best place to be for education and for jobs. It is a young city, with a vibrant nightlife scene and lots going on. The youthful vibe is shaping Bishkek into a popular place with digital nomads, as there are many events, bars, restaurants, and things to do that appeal to a younger audience. 
Many of the older generations follow tradition, and the younger are becoming more westernized. With exchange programs and opportunities to learn foreign languages, the capital is shaping into a more multicultural city. The older generations in Bishkek generally only speak Kyrgyz or Russian, whereas the younger generations speak both Kyrgyz and another foreign language such as English or German. This progression is also applicable to religion; the older generations tend to be more religious and follow the religious rule, whereas the youth are becoming more open-minded and independent. 
You will see many men wearing a "Kalpak"; this is the traditional hat which is commonly worn by the man of the house or males in a family. The kalpak symbolizes the mountains and has four sides, each representing an element. This is a common tradition that is still practiced; however, you will see in Bishkek that many of the younger males don't follow this tradition anymore, and it is more common to see when you are out in the countryside. 
Bishkek Insurance and Medical Care
It is always advised to have both insurances for medical and for your belongings, and this is a must for Kyrgyzstan. Healthcare in Kyrgyzstan is minimal and not easily available; while the doctors in Kyrgyzstan are knowledgeable, they lack equipment and modern healthcare technology. Being in Bishkek is the best place in the country as it is the capital city, so you will have access to the best care in the country; however, this care is still very basic and not to a high level when compared with Western Europe. It is highly unlikely to come across medical staff who speak English, so it is advised to always take a translator with you.
Equipment is dated or, in some cases, nonexistent, which may require you to be taken to a neighboring country for care, depending on how severe the medical issue is. This is why it is advised to have insurance because if you do get into an accident and need advanced treatment, then you may be flown to another country which can be very expensive. Medical evacuation is very common in Bishkek, and usually, you will visit a medical center where a decision will be made to fly you to either Istanbul or Western Europe. This can cost anything from $60,000 USD and can take around 48 hours to organize, so it really is best to have medical insurance for Kyrgyzstan. 
It is advised to take your own medical kit with you, containing basic items such as paracetamol or equivalent, as well as the usual basic first aid kit items. This is just because it is sometimes difficult to get hold of healthcare items in Kyrgyzstan, so it is better to be prepared, but always check customs rules to see if any medication is banned.
Make sure you are fully covered by reading our full Digital Nomad Travel Insurance guide.
Jobs in Bishkek
Finding a job in Bishkek may be challenging unless you can speak either Kyrgyz or Russian. However, there is an increasing demand for English teachers, so if you are a native English speaker, then you might be in luck. 
The best place to look for an English teaching job in Bishkek is via websites such as teachaway.com, workaway.com, and goabroad.com. On these websites, you will find many jobs advertised and many institutes in Bishkek that are looking for teachers. It is also possible to find teaching work when you are there. English teachers in Bishkek can make between $400 USD – $600 USD per month, depending on where you are teaching and your working hours. 
A common form of extra income in Bishkek is to offer private English language tuition. You can charge more for this than what you will be paid for teaching a class; however, it is a good idea to get a teaching job first to get potential clients. Another way to approach teaching is to contact schools and universities before you arrive and see if any positions are available or if they would advertise your private tuition classes. 
Other than teaching languages, it will be difficult to find work in Bishkek as the average wage is very low, and there is not much work available unless you have a unique skill. Check out our Digital Nomads Jobs Postings to find the best jobs available for Digital Nomads.
Nomad Friendly
Value for Money
Internet
Workspace
English
Food
Safety
Health
Transportation
Friendly
Quality of Living
Cost of Living Bishkek
The expected cost of living in Bishkek is quite low, but it can quickly add up if you want to take excursions outside of Bishkek. If you are happy to sleep in a dorm room in a hostel, eat from markets, street food, and cook, then it is possible to keep your costs very low. 
For a low-end budget, you should expect to be paying around $725 USD per month. That would be $180 USD on accommodation in the form of a bed in a dorm in Apple Hostel, roughly $10 USD per day on food which is $300 USD per month, around $13 USD on fitness in the form of 8 yoga classes, $112 USD on a coworking space, $20 USD on transport and then roughly $100 USD on leisure.
If you want a true Kyrgyz experience and want to take excursions, treks and enjoy weekends away staying in surrounding countries, then you should budget around $1122 USD per month. This is broken down into $450 USD on accommodation, $10 USD per day on food, which is $300 USD per month, $30 USD on fitness, $112 USD on a coworking space, $30 USD on transport, and finally, around $200 USD on leisure.