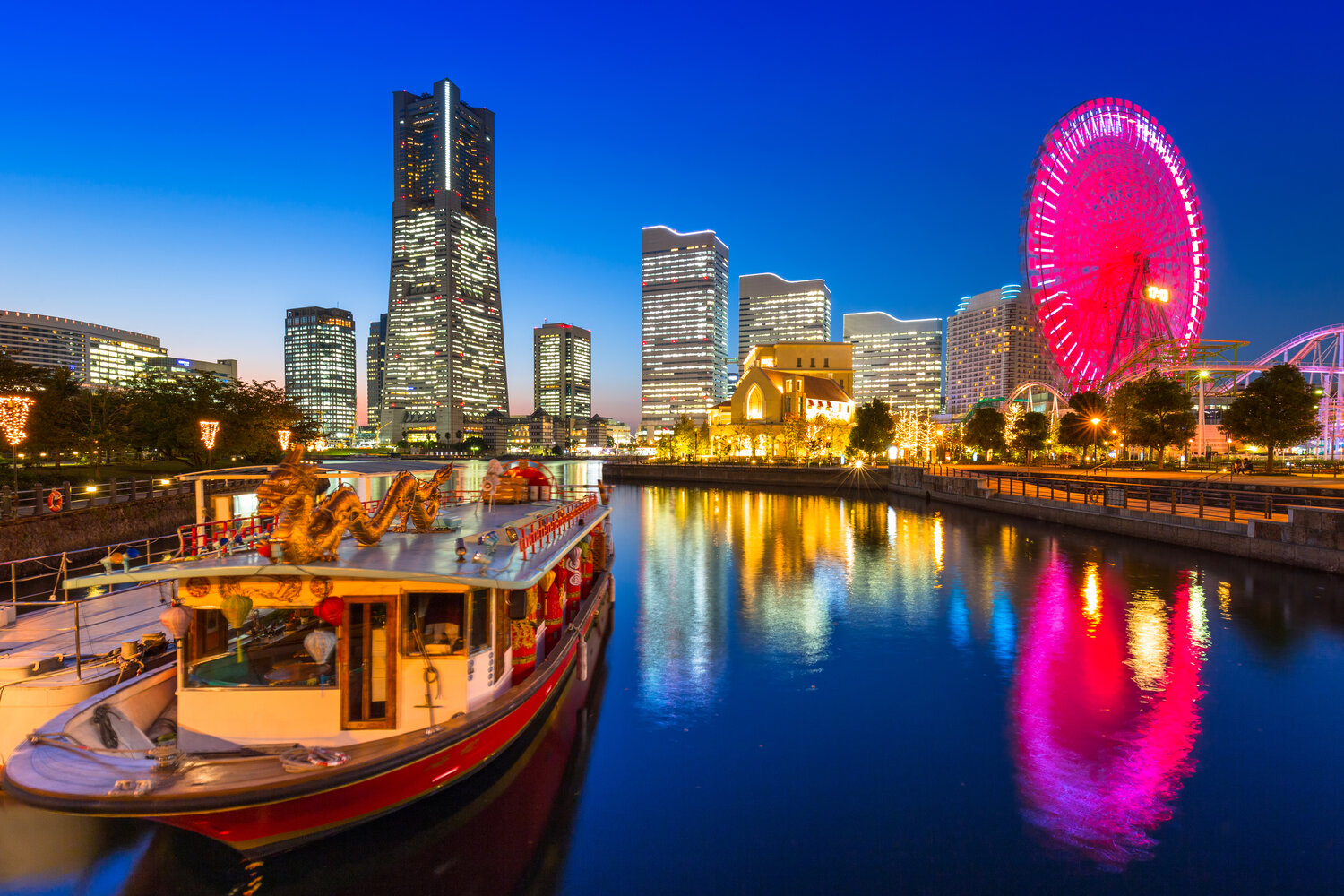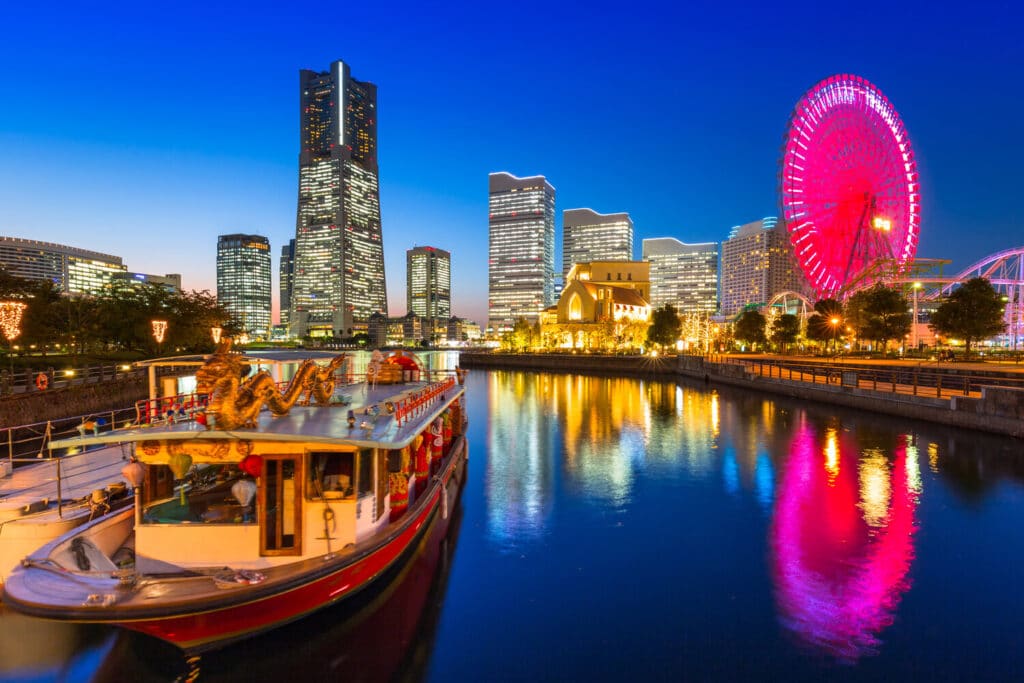 A Digital Nomad Guide to Yokohama
Unlike other Japanese cities, Yokohama is relatively new. It doesn't have the centuries-old Buddhist temples of Kyoto, the wooden houses of Kanazawa, or Osaka's ancient Shinto shrines. However, this city is eminently livable.
Often up high on livability lists, the city is the second largest in Japan (by population), and if you judge it in terms of being a municipality, the population is greater even than any of Tokyo's municipalities. It's the capital of Kanagawa Prefecture, just south of Tokyo, and is situated on Tokyo Bay. Once a fishing village, this coastal location grew up to become a booming port city once Japan was officially opened up to foreign trade in 1859.
In fact, it was here in 1853 that Commodore Matthew Perry and his "Black Ships" (warships in reality), forcing Japan to end its period of isolation and trade with the west. From that point, Yokohama became home to many Western traders and diplomats with a sizeable Chinese community also settling in the city as trade increased. Yokohama is home to one of Japan's two official Chinatowns (the other being located in Nagasaki).
Because of the influx of outside influences, many of Japan's firsts occurred in Yokohama. This includes ice cream, bread, beer, cricket, baseball, rugby, horse racing, gas powered street lamps, railway – the list goes on! Western influence was strong, and it contributed greatly to the modernization of Japan. 
Today the city retains its overseas influences and progressive development, and it has become a forward-thinking city. While old Western residences show the glamour of the past in its southern hills, the Chinatown is still alive with vibrant energy and delicious food, and in the old port area of Minatomirai (literally "Port of the Future"), a space-age cityscape looms and continues to firmly cement Yokohama into the modern day.
Nomad Friendly
Value for Money
Internet
Workspace
English
Food
Safety
Health
Transportation
Friendly
Quality of Living
Living in Yokohama Overview
| | |
| --- | --- |
|  Meal, Inexpensive Restaurant | $6.09  |
| Domestic Beer (1 pint draught) | $3.48 |
| Cappuccino (regular) | $3.48 |
| Loaf of Fresh White Bread (1 lb) | $1.26 |
| Water (1.5 liter bottle) | $0.96 |
| One-way Ticket (Local Transport) | $2.18 |
| Basic Utilities (Monthly) | $226.95 |
| Internet | $34.12 |
| Fitness Club (Monthly) | $72.36 |
| Apartment (1 bedroom) in City Centre | $1,078.45 |
Currency: Indonesian rupiah (Rp)
[erw_exchange_rates_widget lg="en" tz="0″ fm="IDR" to="EUR,USD,GBP,AUD,JPY,RUB" st="primary" cd="" am="15000″][/erw_exchange_rates_widget]
ATMs
Max Withdrawal: Rp 3,000,000
Withdrawal Fee: Rp 30,000 – Rp 50,000
Use of Credit Cards: Mostly Cash
Digital Nomad Personal Experience in Yokohama
I love Yokohama. I first came as a curious visitor on a train from Tokyo and, well, never looked back (only to clean out my Tokyo apartment, obviously). This is one city that will steal your heart, and not necessarily for being charming.
Even though it's close to Tokyo, around half an hour (and sometimes less) by train, it's got a completely different atmosphere. While Tokyo sprawls unabated – it's rushing and busy and sometimes too big to comprehend – Yokohama, or at least its center, is compact and walkable.
That's the first thing to realize: Tokyo may have 23 (or more) centers, but Yokohama pretty much has one. It's super walkable, and it has been developed into such a nice place to wander. Bridges connect up with malls, moving walkways take you to train stations over busy roads with harbor views, and the waterside promenade is lined with fashionable malls and places to stop off and take it all in.
Yokohama is a destination in itself, and because it's popular with friends and couples who like to pop by on the weekend, it gives the city an almost resort-like feeling. However, don't let that make you think the place isn't authentic – it totally is. Things are designed to give people a high quality of life, and there are so many things to see and do that I haven't been able to do even half the things on my to-do list!
One of my favorite things about Yokohama is to simply kick back in one the parks and watch the boats go by in the water. The constant development means that there are so many well-designed public spaces for people chill out in, and trust me, you will be making full use of them!
Work in Yokohama
Though I did just say that Yokohama has a resort-like atmosphere, that's just the weekends! Yokohama is still a big city with plenty of offices and people working in all sectors of life. Co-working spaces may only just be starting to take off in Japan, but you can find a very decent selection of shared workplaces across the city.
From huge international franchises to small and intimate local enterprises, the co-working scene in Yokohama boasts a selection of spaces to work in – and all of them are often much cheaper than their Tokyo equivalents.
Best Places to Work in Yokohama
Wework Yokohama
Wework Yokohama is the city's very own branch of the successful chain of co-working spaces. Polished and stylish (as you'd expect of Wework), it's fully equipped with kitchens, fast internet, and private offices. It's spacious and is located right in the middle of the city. You'll have some pretty awesome city views from your hot desk here. I definitely rate it, though it is one of the pricier options.
Bukatsudo
Situated in the futuristic city haven of Minatomirai – within one of its shiny malls, in fact – Bukatsudo is one cool customer. This industrial-chic space provides a varied array of spaces for different types of remote workers to get your work done – from a communal kitchen, to a bookshop, and even a yoga studio, there's something for everyone here. There's also a very nice cafe here that serves up tasty coffee and snacks. Staff here at this independent venture are friendly and help everything run smoothly.
Sakura Works
True to its name, this co-working space in Yokohama is themed on cherry blossoms (sakura). Those on a budget may want to consider this place – it's just ¥1000 for the day (around $10 USD) – but it's also a nice spot if you want to meet people. Sakura Works is a smaller, more intimate office space with many events scheduled too, so it's a good place to get to know fellow Yokohama creatives. You don't have to sign up to use it, and you can just drop in to take advantage of that affordable daily rate. Monthly rates are cheap too (from ¥5000!). 
G Innovation Hub Yokohama
G Innovation Hub Yokohama Situated in the Kannai area, this option is a cool co-working space that's turned a retro office block into a contemporary spot for the city's remote workers. It's easy to find space in this swish, industrial space to focus on whatever project you're working on. There's also a good chance of socializing here with its communal kitchen and various events. It's simple but modern and cool and fairly affordable, around $200 USD per month (daily rate: $16 USD).
The good thing about many of the co-working spaces in Yokohama is that you don't have to sign up for the month. Many of them allow you to simply swing by and pay a daily rate. You can even opt to register the space as your business address which is pretty cool.
However, if you're truly on a shoestring budget while you're in Yokohama, then you may want to consider other remote working options. This inevitably means cafes. However, don't worry – the sheer number of cafes in Yokohama, from Starbucks to domestic chains like Tully's and other independent stores, means that you don't have to go far to find somewhere to work.
You'll probably have to do some research though. Not all cafes have a freewheeling Wi-Fi policy, although this seems to be changing more and more in Japan as a whole. 
Another option is to use the free Wi-Fi available in public spaces such as malls and even outside new developments – there are new seating areas with tables and benches and with free Wi-Fi, just look out for stickers advertising it.
Best Places to Live in Yokohama
Best Neighbourhoods
I know I said earlier that Yokohama is compact, but it's relatively compact – compared, say, to the metropolis that is Tokyo, for example. Yokohama is still a massive city, and it's spread across over 400 square kilometers.
This coastal city is surrounded by hills, and because it's sort of this bowl shape with mountain boundaries and sea on one side, its growth has been somewhat limited. Due to that, it has one of the highest population densities in Japan – 8,500 people per square kilometer, to be precise!
With all that in mind, figuring out where best to situate yourself in Yokohama is key to getting the most out of your time here. The city has 18 different wards, some inland and some coastal, but all of them with their own pros and cons. 
Yamate
If you've got the budget, you may want to check out Yamate. This hilly area was once where the city's foreign residents historically lived, and the evidence is still there today. The land prices are some of the most expensive in Japan, but it's not hard to see why – it's a super charming area with some very nice schools to match, but it is very expensive.
Minatomirai
For something still quite pricey but much more like city living, check out Minatomirai. Another popular area for expats and families to base themselves, this district has gleaming residential blocks with spacious, multi-roomed apartments (a big deal in Japan's studio apartment market). They come with all the conveniences of being close to the city – malls, museums, parks, transport connections, and proximity to workplaces.
Hodogaya Ward
Hodogaya Ward is a little different. It's a much slower pace of life here in this primarily residential district. Centered on Hodogaya Park, the area is slightly inland and has a range of different housing options to suit various budgets. You may even be able to find yourself a small house to rent, not just an apartment. Think down to earth ramen joints and family-friendly activities. Hodogaya Park itself boasts a running track and an outdoor pool.
Isogo Ward
In the southeast corner of Yokohama is Isogo Ward. This bedroom community may have a little more of an industrial setting on its coast, but it's much more affordable than somewhere more central and leafy. That said, there are still parks (like Kuraki Park and Tomioka), golf courses, and even a decent outlet mall.
Enkaizan
In Isogo, there are many train stations – on different lines – where you can find convenient and affordable apartments to rent too. For hiking enthusiasts, you'll also find Enkaizan – the highest mountain in Yokohama (though it's only 153 meters tall)! You can get coastal views and even glimpse Mt Fuji from here, too.
Kohoku Ward
And for sheer choice, head to Kohoku Ward. Home to the largest population in the city, there is a high density of offices here, but plenty of entertainment too – Nissan Stadium for sports, gigs at Yokohama Arena, and even the Shin-Yokohama Ramen Museum. There are plenty of schools to be found in this district.
Find an Apartment in Yokohama
Finding an apartment in Japan as a whole, and in Yokohama too, can seem like a bit of a headache at first. There's a lot of confusing information out there, but I'm here to tell you that it doesn't have to be as time-consuming as it might first seem.
When you come to Japan, you'll first need to work out what you can (comfortably) budget for your monthly rent. This will have an impact on what sort of property you'll be renting. The rule of thumb in Japan is that properties closer to train stations and city centers will be more expensive. Newer properties are also more expensive.
You may also have to scale back your expectations when it comes to size. Though multi-room apartments are definitely findable, especially in Yokohama's more modern blocks, these are usually bought for entire families. The norm in Japan is for people who live in cities to live in a studio, or maybe a two-roomed apartment. That's just the way it is!
A great way to get yourself settled in Yokohama is to find yourself an Airbnb. Using an Airbnb means you won't have to worry about bills, getting the internet hooked up, or even concern yourself with having the correct visa (because to rent an apartment, you can't be on a tourist visa).
There is a range of Airbnbs on offer in Yokohama, but if you want something that's a less temporary feeling, then I would recommend going for a shared house. These are available across the city and consist of a large apartment or house where you get your own room, fully equipped with furnishings, and with shared spaces like kitchens and living rooms. Bills and internet are included in the price.
Shared houses can be a mix of local Japanese people and international students and workers. Some even come with cleaners. It's a bit of a luck of the draw situation, but you can check them out online beforehand. Some are as cheap as ¥30,000 (much cheaper than an apartment), and you don't have to deal with moving-in costs either. To secure a nice, shared house, you may want to opt for age restrictions and/or women-only spaces.
When it comes to renting an actual apartment, first of all, you'll need to have a working holiday or other long-stay visa for Japan. Next is savings. The initial costs of renting an apartment anywhere in Japan can be at least triple that of the monthly rent of the property which factors in estate agent fees, deposits, usually two months' rent (in advance), and a sort of bribe unique to Japan called 'key money' (usually a month's rent that goes to the landlord).
You can find English-speaking estate agents online – Gaijinpot, for example, is able to search for foreigner-friendly properties that suit your criteria. Another thing is that apartments almost always come unfurnished – not even with light bulbs or curtains – so that's something you should also consider budgeting for (you have some fun trips to Ikea or Nitori in your future).
Cheap Places to Stay in Yokohama
When it comes to low budget accommodation in Yokohama, shared houses do come out on top. The best shared houses are modern, nicely decorated, run professionally by a legit organization, and have a fun bunch of people you can socialize with. This is especially good to keep you from feeling isolated in the city.
Shared houses are also good for digital nomads, as they sometimes come with dedicated co-working spaces too! That means you won't have to spend a ton of money every month on office space in the city.
While shared houses are budget, I'd recommend that you really do some research and read reviews thoroughly – not all shared houses are equal in quality or service! 
Another great low budget option for you in Yokohama would be a hostel. This might not be great long term, but to get you started in the city, hostels provide clean, safe, and social spaces to stay. Hostels in Japan are notoriously nice, and usually spotless and well organized.
I already mentioned Airbnbs, but an even better low budget alternative would be to opt to find a room in a local's house. Private rooms in people's houses are a cost-effective way to stay in the city. It's much cheaper than renting an entire place, and it will also mean you get to see a local side of life.
You can search on Airbnb to find people who are renting rooms in their houses and contact them about the possibility of a long-term stay. It's also a good way to practice your Japanese and meet some really nice people as well.
Yokohama Visa
Working out the correct visa for Japan can make your head spin. There are a variety of avenues to go down in terms of visas which at first can feel like a real stumbling block to your time in the country. Entry requirements for different visas change depending on the country you're coming from, and the job you'll be doing while in Japan.
One of the main routes to obtaining a working visa for Japan is by teaching English. English teachers are employed by the JET program (among others) which is a governmental scheme that sponsors visas and places you into employment. While that sounds great, this means that a) you'll be sent somewhere outside of your control (not necessarily Yokohama); and b) you'll be stuck in your teaching job, not being a digital nomad, for usually two years.
You can get a visa to teach English through other companies, but I'd say that research is needed. Many other people enter the country with visas that are obtained through companies they work for – this could be a bank or a tech company, or whatever. 
However, if you want to come to Japan for a long(ish) period of time, start with a tourist visa. These are free of charge and worth 90 days. You can stick around in one place for three months – in this case Yokohama – and really get to grips with city life. You'll have no ties, no need to secure an official residence, and all the time in the world to enjoy life in Yokohama.
Culture and Food in Yokohama
When it comes to cuisine and culture, well, Japan is the place to be! As I said earlier, Yokohama may not be the Kyoto of your dreams, but that does not mean it's lacking in culture – in terms of cuisine? Yokohama is truly awesome. 
Culture-wise, Yokohama is a powerhouse. It may be a modern city with a relatively short history (it used to be a fishing village), but it provides you with an urban oasis to live in. Yokohama is a hotbed of creativity, fed by the various countries that found their way to its port over 150 years ago. Because of this collision of international cultures, it's even been said that the culture of modern-day Japan – a mix of traditional Japanese ideals and Western technology and style – was born in Yokohama.
Museums are rife throughout the city, with numerous spaces dedicated to everything from art to emigration. Not only that, but there's also plenty of history that's still alive today – Yokohama's historic Red Brick Warehouses are home to boutiques and eateries, while the old Western residences in Yamate are open to the curious public.
Away from art and history, sport also plays a big role in the city's identity. Baseball is big news here as is football, and during game days you can hear the crowds roar in support of Yokohama BayStars (the city's baseball team) or Yokohama FC. 
In general, the culture of Yokohama is laid-back. It's modern, city living, not dissimilar to a vibe you may find in Sydney, Australia. People meet up for drinks, hang out in water-facing parks, browse one of Yokohama's countless shopping malls, or they eat.
Eating, like in many Japanese cities, is a pastime for Yokohama's inhabitants. Wherever you look, there's somewhere to sit. Unlike in other cities in Japan, Yokohama's Western influences are very close to the surface, especially in terms of eateries. There are many Western-style restaurants with open-air terraces (unusual in Japan) running along the harbor-front at Minatomirai. These are shiny, modern affairs with international menus, where friends meet for long meals at the weekend. Elsewhere, the malls boast gargantuan food courts for a quick bowl of noodles or curry. 
More down-to-earth eateries are also on offer away from the glistening waterside. Noge is one such area. Here you'll find old school yakitori (skewered chicken) and izakaya (Japanese pubs) serving people late into the night. Jazz fans will have fun seeking out the hidden jazz bars in Noge.
For a mix of modern and traditional, Isezakicho is a long street filled with all sorts of drinking and dining establishments. It's usually busy with after-hours office workers, unwinding after a long day. You'll definitely be able to find a cheap bite to eat along here.
For street eats, go to Chinatown. This is a haven for foodies, a symbol of Yokohama's international food culture. Here you can go Taiwanese, grab some Shanghai dumplings, munch on a steamed bun, or go all in on a Hong Kong buffet.
Yokohama Nightlife
Like many cities in Japan, Yokohama does not go to sleep at sunset. In fact, this is arguably when the city comes most to life. The buildings and walkways of the city become illuminated, and its inhabitants come out to play in all manner of different establishments.

Izakaya
Izakaya are basically the small Japanese version of a pub. These form the backbone of nightlife in Japan. Compact and often seating only a few (sometimes regular) patrons, izakaya are great places to go to really get to grips with local life and culture. Similar to a tapas bar, customers usually drink alcohol accompanied by small dishes ordered throughout the evening. 
Izakaya aren't always cheap, but you can find cheaper alternatives. Some people may find the tiny interiors of izakaya a bit overwhelming, in which case you could opt for a larger chain of izakaya. These rowdy drinking halls work just like izakaya, but are less intense, more youthful, and often pretty fun (and very cheap). Examples include Torikizoku and Torimero. 
Bars
If an izakaya doesn't sound like your thing, don't worry, you're never too far from a more Westernised drinking den in Yokohama. These range from craft beer specialists to decades old dive bars, and even Irish (and British) pubs. For beer lovers, make a beeline for Spring Valley Brewery Yokohama where you can sample domestic and international craft beers on tap.
If you want something a little more special, the city's high-rise hotels have their own high-rise bars to match. These are expensive, as you'd expect, but they come with great city views and provide ambient, mature places to enjoy a cocktail or two. Try Sky Cafe in Minatomirai or the Yokohama Landmark Hotel Sky Garden for this sort of high-end place.
Nightclubs
Of course, being the big buzzing city that it is, Yokohama also has nightclubs. There are many different types, often defined by the genre of music that they play. They're good for people who enjoy live music and DJ sets. Entry to these can be pretty expensive for a club, but the cost of admission often includes a drink in the price. They may not be as spacious or as sprawling as Balearic superclubs or the clubs you're used to in your own country, but they still will tick a lot of boxes for people who like a great night out on a dancefloor.
Jazz
Yokohama's jazz scene is well known, and any fan of the genre will enjoy discovering the city's hidden gems. Yokohama is considered to be Japan's jazz capital (the city maintains that this is where jazz was introduced to Japan) and actually plays host to the annual Yokohama Jazz Festival. 
As for venues themselves, try out Jazz Cafe Chigusa. It's a long-established jazz kissa (cafe) that has played host to a number of international jazz artists throughout its decades of business (it was established in 1933). You'll find it in Noge, which I mentioned already boasts a number of jazz bars. Jazz aficionados and music lovers alike will enjoy this area.
Things to do in Yokohama
Yokohama is bursting at the seams when it comes to keeping yourself entertained. The city is jam packed with museums, arcades, malls to shop in, parks to hang around in, boat trips to take, historic houses to explore, and pretty streets to wander. From the more traditional to the modern, Yokohama pretty much has it covered. I know one thing: there's so much here that I haven't even begun to scratch the surface, but here are some of my favorite places to spend my time in Yokohama. 
Yokohama Red Brick Warehouses

The historic Aka Renga (red brick warehouses) were once customs buildings for the Port of Yokohama. Now, after damage during World War II, just two remain. They've been repurposed to host eateries, boutiques, and seasonal events. Come in Christmas, for example, for some sugoi (amazing) light shows.

Yokohama Museum of Art

Founded in 1989 and housed in a very cool building, this enormous art museum is an affordable place to spend a rainy day soaking up the array of artworks. Here you'll find an array of masters represented, from Picasso and Cezanne to important Japanese artists on display, too.

Cosmoworld

This is a landmark theme park in the heart of Minatomirai. Famous for the illuminated Cosmo Clock 21 – once the tallest Ferris wheel in the world – and its pretty cool roller coaster, it's impossible to visit Yokohama without taking a ride on one of its awesome attractions. There's also an arcade here packed with videogames and crane machines.

Shin-Yokohama Ramen Museum

One of two museums dedicated to noodles in Yokohama, this one is a food-court style museum where you can wander an old-fashioned cityscape of Yokohama circa 1958, the year instant noodles were invented. You can sample famous regional varieties of various famous ramen restaurants from across Japan.

Cup Noodle Museum

The other noodle museum in Yokohama. This one is all about instant ramen. The museum tells the story of the Japanese brand Cup Noodle – you can even make your very own flavor of Cup Noodle to take home with you (in a cool vacuum-packed bag).

Chinatown

You basically have to go to Chinatown when you're in Yokohama. I'm often here, just wandering around – this energetic slice of the city never gets old. With a long history stretching back over 160 years, Chinatown is particularly fun at Chinese New Year, when the streets are filled with lion dancing and firecrackers. There are also colorful temples to visit and countless restaurants to sample.

Osanbashi Pier

A modern development, this cool-looking pier is actually the main international ferry terminal in Yokohama. It's also the oldest, but you wouldn't know it – Osanbashi is now a marvel of modern engineering. Here couples stroll around along the angular wooden walkways, and sit on its roof with sparkling views of Minatomirai from across the city.

Nippon Maru

This 1930s sailing ship is now permanently docked in the harbor and is open to visitors as a museum. It's a cool way to see a part of the city's maritime history.

Sankai-en Garden

Dating back to 1906, these traditional Japanese-style gardens house historic structures that were rebuilt here by the landowner. Aside from the picturesque garden itself, getting to see these heritage buildings is an insight into the architecture of the nation.

Yamashita Park

Running along the water's edge, this clean, beautiful park is busy in the daytime with picnickers and joggers, families, friends, and couples. Locals sit on the benches or the grass and enjoy looking out across the sea. My advice? Join in!

Yokohama Marine Tower

The 106-meter-high Yokohama Marine Tower may have been overtaken by the Landmark Tower observation deck, but this slightly more retro destination for getting some great views of the city is still well worth your time. Best visited when the sun starts to set. It's got awesome views of almost all of Yokohama and sometimes even Mt Fuji.

Landmark Tower

For views of Yokohama from even higher, head to the Landmark Tower. At 296 meters, it's the fourth tallest structure in all of Japan. The observatory on the 69th floor (273 meters) offers up some amazing views – especially of Minatomirai. I'd recommend visiting after dark for the ultimate city-up experience.

The Bluff

Yamate was historically known by the city's foreign inhabitants as "The Bluff". Here you can still find some amazing Western style mansions that have been lovingly kept throughout the years. There's the former British Consulate Residence, with its Rose Garden, alongside a host of charming historic buildings. The best part? They're all free to enter.

Gundam Factory

Fan of Gundam? Then you should head to the Gundam Factory on Yokohama Pier. Opened in December 2020 to celebrate the 40th anniversary of the giant robot franchise itself, the crowning glory of this attraction is a life-size statue of a Gundam itself, which moves at certain times throughout the day. Definitely one for all the manga and anime fans out there.

Yokohama Air Cabin

Opening up in 2021, this ropeway connects Sakuragicho Station with Cosmoworld. Though that's a fairly short distance, just think: it's the first ever city-based ropeway of its kind in Japan. That's pretty cool in itself. The views of the city from here are amazing.

Take a day trip to Kamakura

If you feel like a day at the beach, just jump on the train and ride it all the way to Kamakura. Once the capital of Japan centuries ago, Kamakura is known for its Zen Buddhist temples, but is today popular as a beach destination. Enjoy a laid-back pace of life, chill on the sand, and watch the surfers catch a wave.
Best Time to Visit Yokohama
Japan has four distinct seasons and, being in the northern hemisphere, chances are, you'll be used to all of them. Yokohama, not being overly northern or in Japan's southern tropical parts, sees a fairly mild climate throughout the year. It does get warm in summer – notoriously hot, in fact – but Yokohama being coastal, you can often count on a nice sea breeze to keep you cool.
Days in Yokohama are sunny throughout most of the year. More sunny, apparently, than in the popular resort destinations of southern Spain. It's fairly mild in Yokohama; even winter you can expect clear blue skies and sunny days. The coldest month is December, with average temperatures hovering around 12.5 degrees Celsius.
In spring, the weather in Yokohama starts to warm fairly quickly, the average temperature for spring being around 19 degrees Celsius. The early summer months (June and July) can be wet because of Japan's rainy season which usually lasts a few weeks and is typified by cloudy skies, heavy downpours and humidity.
August is the hottest month of the year, with high humidity making things feel pretty uncomfortable. The average temperature is 27 degrees Celsius, though it easily reaches into the mid-30s. Then when September/October arrives, typhoons can hit bringing with them strong winds and heavy downpours.
Yokohama for Families
I'm just going to start by saying that I don't have children myself, but what I do know is that I see a lot of children and families in Yokohama – and I mean a lot. It's a super family-friendly city, more than Osaka or Tokyo is. Yokohama just seems to have it all wrapped up for children.
It seems pretty idyllic. Weekends are spent with families enjoying the numerous attractions of the city, many of which are specifically geared towards families. One of the most famous of these is Children's Land: a theme park totally prepped for kids to have a blast. It's 240 acres of fun, basically. Think ice skating rinks, pony rides, green spaces, biking courses, boating pond, and even a little train that runs around the whole thing.
Elsewhere there are lots of fun museums and attractions for kids. Anpanman Museum is dedicated to Anpanman, a national treasure and much loved by young children – the museum has a huge play zone. In one mall, there's even a branch of Hamley's – the iconic British toy store.
Speaking of malls, you'll often find an arcade or two around these. These are always fun for winning toys in crane machines, playing some Mario Kart, or shooting some dinosaurs (or zombies). Malls are also pretty great places for family-friendly food. Restaurants tend to be more adult-oriented, while food courts in malls have plenty of options for children and changing facilities nearby. Everything is at your fingertips.
In terms of schools, there are plenty in Yokohama. You can find small independent international schools, fancy private schools, and fantastic government schools. There's no shortage of places for daycare for small children, too, with a ton of nurseries tucked away in residential neighborhoods. You shouldn't have much trouble finding somewhere to care for your children, but it may not be cheap.
Living in Yokohama
Yokohama Transportation
When it comes to getting around Yokohama, I can safely say that I haven't yet met a more walkable city in Japan. The city has been planned for pedestrians to easily get from A to B, but the public transport itself makes life even easier. It may be a large city, but it's pretty simple to get around Yokohama.
Trains
As with pretty much all large Japanese cities, the train is king in Yokohama. Not only are there suburban overground lines that whisk you from Yokohama to Tokyo and to the beaches of Kamakura to the south, but there's a comprehensive metro network too. 
The main station is Yokohama Station, which is a total nexus of conjoining train lines, while the bullet train stops at Shin-Yokohama Station in the north of the city. It's safe to say that Yokohama is a hub for the region.
The Minatomirai Line runs from Yokohama all the way to Motomachi Chukagai Station in the south (where you'll find Chinatown) – the Yokohama Subway Line connects up yet more destinations in the city. 
You can easily get to Tokyo from Yokohama. Take the Tokyu Line from Yokohama Station and you'll be in Shibuya Station in Tokyo in 25 minutes, costing just ¥280. Another bonus of being in Yokohama is being so close to Haneda Airport, which is also connected to the city by train. 
Bus
Yokohama has a good bus network, made up of municipal and private companies. There are some pretty useful bus lines for those who don't want to walk for long distances. For example, the Bayside Blue Bus runs between Yokohama Station and Minatomirai and other central sites (a day pass is ¥500). There's also the Akaikutsu Loop Bus, which connects Sakuragicho Station and other areas of the central city.
Intercity highway buses from Yokohama are a cheap (really cheap compared to the bullet train) way to get between Yokohama and other destinations in Japan. You can get to Osaka, for example, for as little as ¥2,000. There are many different companies and many different routes, so just do your research.
Boats
Being a port city, boats also play a part in getting around Yokohama. While there are tourist boats, one option is to use the Sea Bass boat. This connects the Yokohama Bay Area (close to Yokohama Station) with Yamashita Park, the Red Brick Warehouses and Minatomirai, costing ¥400. It makes for a fun way to travel – it may be a bit touristy, but I like it.
Taxis
Taxis are easy to find in Yokohama and a good way to get around the city quickly. Costing ¥730 for the first 2,000 meters and ¥90 for every 293 meters afterwards, the price can add up quickly. However, if you're traveling with more than one person, it's pretty cost effective since you can split the fare. Taxis are clean, drivers are honest and professional, and you can pay on card or cashless if you like, too.
Fitness and Health
Being active is a very normal outdoors activity in Japan, and that's no different in Yokohama. You'll find city dwellers jogging up and down the promenade at Yamashita Park, people running around Rinko Park, and cyclists making use of the roads. Being a very walkable city, most people get around by the power of two feet.
There are plenty of parks to enjoy being active in, away from the central locations. It's not unusual to see friends or family playing sports together in these green spaces – kicking a football, playing badminton, throwing a baseball or frisbee around. Some parks even have outdoor pools.
Safety-wise, you shouldn't be concerned about running by yourself in Yokohama. Even at night, there are plenty of other joggers out and about, and parks are well illuminated, so there shouldn't be anything to worry about.
Elsewhere, sports centers and gyms are easily found across Yokohama. From basic, low-cost city gyms to more specialist venues, there's pretty much something for everyone.
In terms of healthcare in Yokohama, facilities here are world-class. There's a wide choice of clinics, doctors surgeries, and hospitals that will be able to treat your ailments. Being the international city that it is, you'll find a pretty large selection of English-speaking facilities. Healthcare is affordable – if you have a work or working holiday visa, you'll be enrolled in the national health insurance program, meaning you only have to pay a fraction of the cost of your treatment. Those on tourist visas should have adequate insurance,  just in case!
Yokohama People
For a city in Japan, Yokohama can sometimes feel surprisingly multicultural. With a population of around three-and-a-half million people, Yokohama has historically been home to a mix of residents from across the globe. Yokohama actually takes pride in being this international powerhouse with its port and heritage of modernizing Japan still very much in the psyche.
People in Yokohama are used to welcoming in visitors from overseas, whether they're tourists or go on to become long-time residents. Among the majority Japanese population of Yokohama, there are Koreans, Vietnamese, Chinese, and Filipino people – all making their mark on the city and adding to its dynamic.
Are people friendly in Yokohama? Being so close to Tokyo, you'd expect that Yokohama would be identical, or have the same airs and graces. While people are still polite and respectful – it's still Japan, after all – Yokohama has a more chilled atmosphere to it. Tokyoites are famed for being rushed off their feet, but it doesn't feel like that in Yokohama.
Still, Japan being Japan, it can still be quite hard to fit in – especially if you are arriving solo to Yokohama. Families, however, would find a nice expat community to belong to, very good schools, and a wide range of things to do. It's generally a great place to be, I'd say, but in order to make friends or slot into society, you sometimes have to do some hard work to get connected with likeminded people.
Yokohama Insurance and Medical Care
Japan's standards of medical care are world-class. Yokohama is probably one of the best places to be in the country when it comes to having access to the best of the best. Here you'll find numerous university hospitals, countless clinics, dental surgeries, and other medical specialists. Not only that, but being on the doorstep of Tokyo gives you that much more choice.
One thing you may be worried about (which I was worried about) is the language barrier. No matter how good your Japanese is, the likelihood is that you won't know many medical terms. With that in mind, you'll probably be looking to utilize the services of an English-speaking clinic or hospital.
Don't worry though, there are plenty of those. In fact, there's a long list of English-speaking medical facilities in Yokohama. I recommend joining expat communities and Facebook groups to learn more about the best ones. Your local government office will also have information in English, and they will provide a list of foreigner-friendly medical facilities.
In terms of paying for it all, well, it's fairly affordable. There's mandatory health insurance for Japanese residents, which pays 70% (or more) of medical treatment and cost of prescription drugs – the rest of the fee is paid for by the patient. You'll sign up to this service when you first register your address in Japan (if you're on a working holiday visa or other working visa). If you're on a tourist visa, however, you'll have to rely on your own travel insurance to cover the costs of any medical care.
Make sure you are fully covered by reading our full Digital Nomad Travel Insurance guide.
Jobs in Yokohama
Finding a job in Yokohama could seem daunting, but it doesn't need to be difficult. For one thing, it's practically on the doorstep of Tokyo, so you also have the option of employment in the Japanese capital and commuting to work. That's a big plus, I think.
A lot of people start off, and continue, by teaching English. You don't have to do the whole JET program thing and get sent to a mountain village in the middle of nowhere. English conversation schools are always looking for teachers as are business English teachers. However, you will need some kind of level of TEFL (Teaching English as a Foreign Language) accreditation. You'll also need to not be on a tourist visa; but you can be on a working holiday visa.
If you're a digital nomad, then you may not have time to spare for something involved like teaching. However, you could get a part time job somewhere like a cafe. You'll need some level of Japanese to start with, but it's a good way to hone your language skills. Again, you'll need a working holiday visa.
Cleaning in hotels or hostels or working in the kitchen of a restaurant may also be a good way to make a bit of money on the side in Yokohama. It'll definitely be interesting. Just make sure that the visa you're on fits the job you want to do.
Check out our Digital Nomads Jobs Postings to find the best jobs available for Digital Nomads.
Nomad Friendly
Value for Money
Internet
Workspace
English
Food
Safety
Health
Transportation
Friendly
Quality of Living
Cost of Living Yokohama
Japan is often touted as one of the most expensive countries in the world for expats to live, but that's not necessarily true. Take it from me – things aren't exactly super cheap in Yokohama, but it's more affordable than living in London, say, or New York.
At the very basic level, a studio apartment that's centrally located can cost you around $600 to $1500, but that depends on where you base yourself. Groceries will cost around $100 per week, with roundabout another $100 or so on entertainment (but of course, you don't have to spend that much). Transport can add up, but I get almost everywhere by walking and cycling, so any public transport I take doesn't really eat into my budget.
Bills aren't huge: set aside between $150-200 for those (gas, electricity, health insurance, cellphone, internet).
All in all, I'd say roughly $1500, but if you opt maybe for a shared house, this could be as low as $1200.