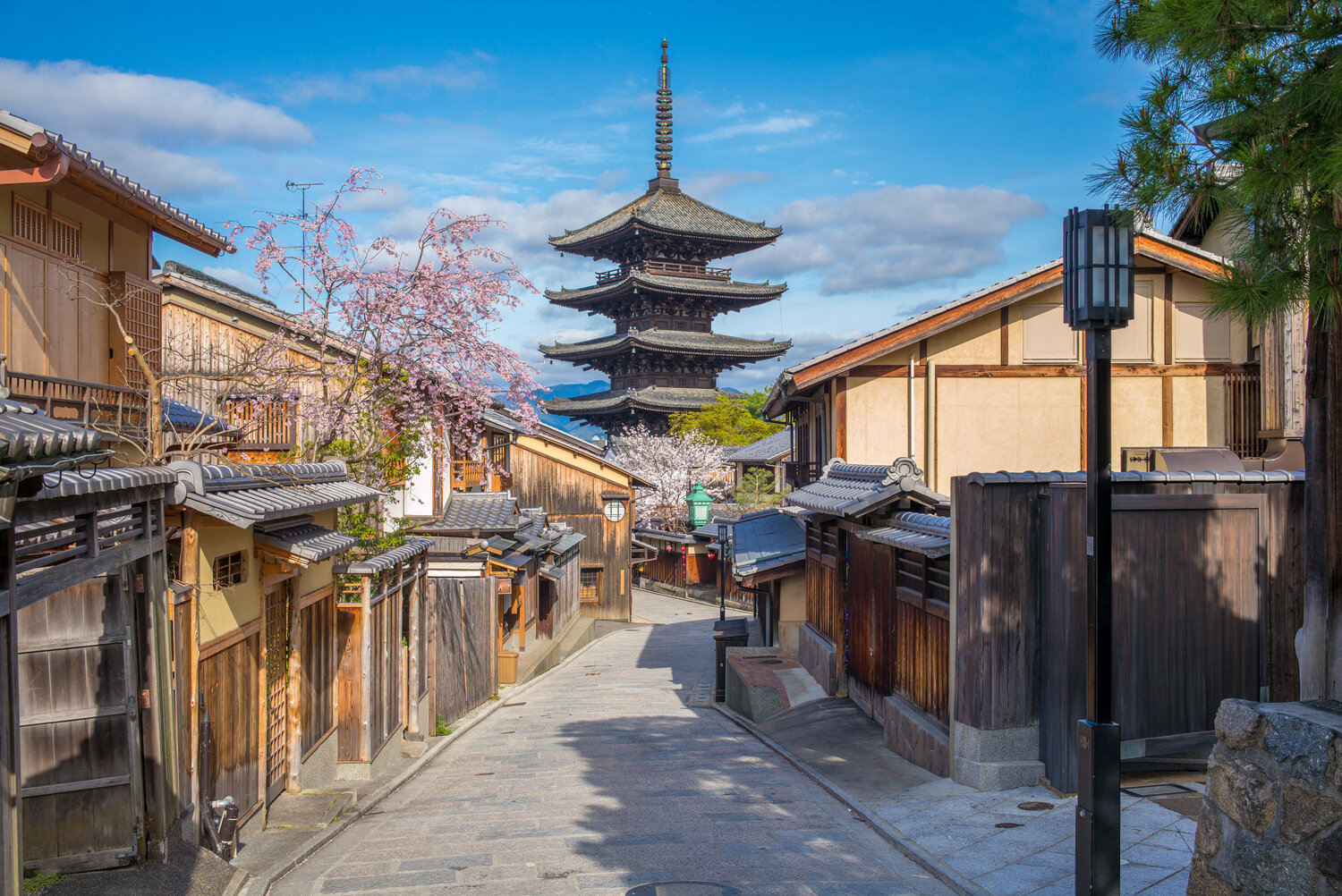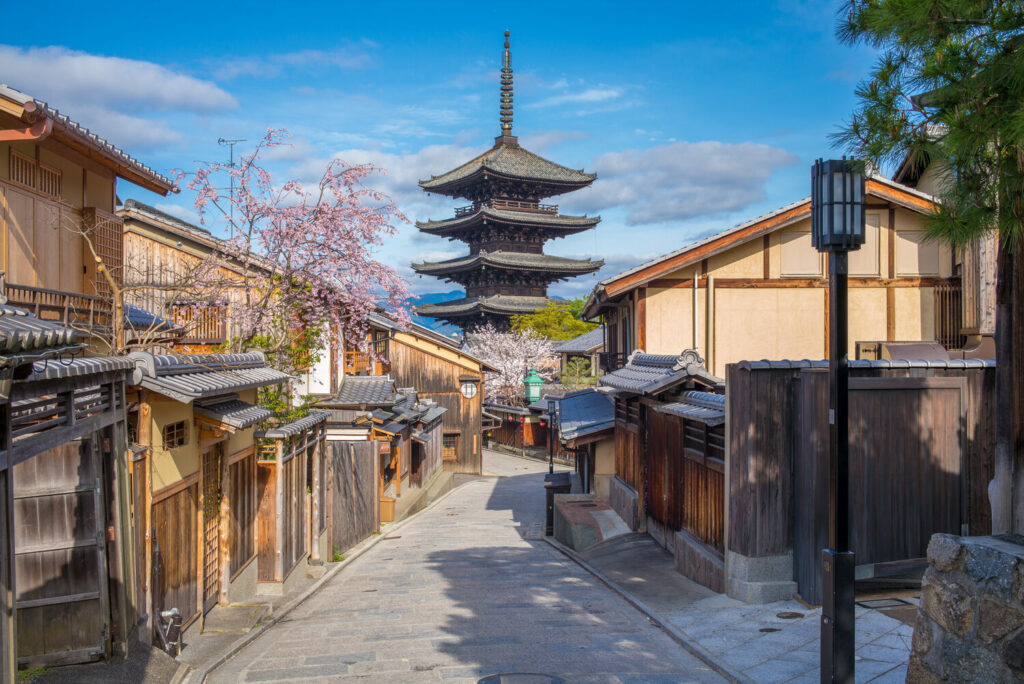 A Digital Nomad Guide to Kyoto
Everyone knows Kyoto. It's a world-famous tourist hub, steeped in history, often cited as the cultural capital of Japan and packed with UNESCO World Heritage Sites. The city is definitely a charming one, and has been important for a long time.
Situated in the Kansai region on Japan's main island of Honshu, Kyoto is part of the sprawling metropolitan Kaikeihanshin region – a massive conglomeration of big cities including Osaka and Kobe. Despite being amongst all of this, Kyoto certainly stands out, situated in a valley and surrounded by mountains.
Kyoto actually means "capital city", which may seem a bit odd given that Tokyo is the capital. But that points back to its history. For over 1,000 years, from 794 to 1868, Kyoto served as the capital city of Japan. 
It originated in the form Heian-kyo (literally "peaceful capital") that was centered around the Imperial Palace. It was from here that Japan's emperors ruled for centuries. It's no surprise that Kyoto remains so woven with palaces, gardens, temples and shrines. There's an endless amount of fascinating things to see, making Kyoto almost like a museum.
Kyoto has its own unique charm and atmosphere, attracting millions of tourists each year from Japan and overseas. Historic traditions have been maintained in this cultural capital that may not be elsewhere in Japan – like its geisha district, for example.
But don't think that Kyoto is simply a bunch of wooden buildings and historic sites. There's a definitively modern side to the city: it has its own metro system, clusters of tall buildings, multi-lane streets and apartment blocks.
Even though tourism plays a big part in the city, surprisingly it is information technology that is its main industry. Even Nintendo has its headquarters in Kyoto, along with a whole host of other big companies.
Nomad Friendly
Value for Money
Internet
Workspace
English
Food
Safety
Health
Transportation
Friendly
Quality of Living
Living in Kyoto Overview
| | |
| --- | --- |
|  Meal, Inexpensive Restaurant | $8.06 |
| Domestic Beer (1 pint draught) | $3.70 |
| Cappuccino (regular) | $3.99  |
| Loaf of Fresh White Bread (1 lb) | $1.76 |
| Water (1.5 liter bottle) | $1.00 |
| One-way Ticket (Local Transport) | $2.00 |
| Basic Utilities (Monthly) | $153.92 |
| Internet | $39.22 |
| Fitness Club (Monthly) | $70.49 |
| Apartment (1 bedroom) in City Centre | $775.12 |
Currency: Indonesian rupiah (Rp)
[erw_exchange_rates_widget lg="en" tz="0″ fm="IDR" to="EUR,USD,GBP,AUD,JPY,RUB" st="primary" cd="" am="15000″][/erw_exchange_rates_widget]
ATMs
Max Withdrawal: Rp 3,000,000
Withdrawal Fee: Rp 30,000 – Rp 50,000
Use of Credit Cards: Mostly Cash
Digital Nomad Personal Experience in Kyoto
I first visited Kyoto, like most people do, as a tourist myself. I was traveling in the country and Kyoto was on my itinerary – of course it was. At first it's very easy to be overwhelmed by how much there is to see, but on arrival I soon learned an important lesson: it's impossible to be able to see everything that Kyoto has to offer. The list of sites to see here is endless.
Another thing I noticed was that Kyoto is not a small place at all. Many of the main sites and things to do are spread out over a wide area, with multiple urban hubs connected by a multitude of train lines. You won't step off the train here and be greeted by graceful geishas and winding alleyways: you have to find those.
Kyoto is a Japanese city, much like any other. There's traffic, there are business workers, chain restaurants, and crowds. That's because Kyoto offers up a mix of history and modernity. 
You can get a modern apartment surrounded by all of the conveniences of city living, but still be walking distance from centuries-old temples. I found it to be a pretty cool place to base myself for a while. And it's definitely not a boring place to live; my wanderings had me discovering new things daily.
Living in Kyoto is also pretty good for getting around, too. From here you can easily get to a number of cool places: Osaka is really close, Nara's on the doorstep, Kobe is also pretty close, and even Nagoya is easy to get to. That means if you want to experience more of what Japan has to offer, like I did, then Kyoto is the perfect base.
Work in Kyoto
Kyoto may be this historic, cultural city, but like I said, it's also very modern, too. And if you're a digital nomad in Kyoto, you'll be happy with the amount of co-working spaces and other venues to get your remote work done.
However, this is not Tokyo or Osaka; compared to those cities, Kyoto doesn't have the same variation or choice in co-working spaces. But then again, those cities aren't Kyoto. 
Even though the remote working options aren't endless, what's on offer is pretty up to date and convenient for those who want to find somewhere to work during your time in the city.
Best Places to Work in Kyoto
Oinai Karasuma
Oinai Karasuma is a friendly and helpful space to get your work done. It's easy to drop by here, find a spot to work and enjoy the working environment. Part workplace, part cafe, it's fairly easy to meet other people here and make new friends, as there are often events going on.

Think shabby-chic aesthetics, dotted with houseplants; they've got a library, and meeting rooms, alongside that little on-site cafe, too. It's not that expensive either, starting from ¥7000 per month.
.andwork kyoto
This is a cool and trendy co-working space used by local creatives and business travelers. It's actually situated in a hotel, which means you can expect a mix of international workers to be using the space at .andwork kyoto.

The location, in Kyoto's Kawaramachi downtown district, makes it a convenient spot to access from across the city. Services include showers, kitchen and superfast WiFi. Prices here start at ¥15,000 per month.
Impact Hub Kyoto
This creative co-working space aims to create an environment where people who use it can learn from each other. They actually call themselves a type of "dojo" where you can be your best self. There are often events at Impact Hub Kyoto, with a wide range of facilities – including a library, chill-out spaces and a coffee shop.

The space itself is large and bright, with plenty of room to find somewhere to work for the day. For a month, Impact Hub Kyoto's prices start at ¥25,000 – expensive, but there are hourly rates, too.
Space Kante Kyoto
If you're looking for a space in Kyoto that's been set up and designed to optimise the world of remote co-working, then Space Kante Kyoto is the one for you. It's all very professional and mature in aesthetics – it's also huge. 
There's a large main room with big windows and comfortable seats; a cafe, where you can buy snacks and coffee (but you can also bring in your own food, which is a bonus). There are also multiple meeting rooms and private offices, making it perfect for a base of operations for remote workers and local professionals alike. Do be aware that the music played within the space can be quite loud at times. 
You may not always want to work in a co-working space in Kyoto. For one thing, you may not have the budget – as you can see from the handful of good options above, they tend to be pretty expensive. 
Luckily, there are other places in the city for digital nomads to use that make working remotely convenient and easy.
For starters, there are some very cool independent cafes strewn in every corner of Kyoto for you to use. Many of them will be fine with you taking in your laptop for a few hours (as long as you don't nurse the cheapest item on the menu all day). Often these have big, shared tables where people do just that, giving them the feel of a co-working space, but for much cheaper. 
Chain cafes also offer the same sort of experience, but with less of a chilled atmosphere – depending on which one you go for. A Starbucks right near a major train station, for example, will not be a fun place to be all day long.
Best Places to Live in Kyoto
Best Neighbourhoods
As I said before, Kyoto is not just a small city of UNESCO World Heritage Sites. In fact, it's made up of 11 different wards – almost like mini cities in themselves. These different hubs all have their own personality, as well as pros and cons for living in them.
Let's start with Kitayama. Kitayama is a laid-back enclave in the relatively quiet Sakyo Ward. Located on the subway about five stops from downtown Kyoto, this residential neighborhood is far from the tourist crowds of Gion. 
Kitayama is something of an upscale area. Here you'll find boutiques, pastry shops and retro cafes – far from the typical tourist sights of the ancient city. It's also home to a few interesting sights itself, which includes the Kyoto Botanical Gardens, and Takaragaike Park, which is focused around an 18th-century man-made lake.
It's a peaceful place for nomads who want some old-school charm in Kyoto away from the crowds. Rents can also be fairly affordable here, as it's further out from the center. 
Karasuma Oike
For those who don't want a quiet life, Karasuma Oike would be a better option. This district – in the central Nakagyo Ward – has a large subway station with two lines that run through it, which is probably one of the reasons that people want to base themselves here. 
But it's not just about public transport. The surrounding area is also packed with things to see and do. Being situated in the traditional center of Kyoto, there are no skyscrapers here, but there are still a lot of shops, cafes and restaurants.
There are also sites: here you'll find Nijo Castle, Nishiki Market, Gion (fairly nearby), the malls of Kawaramachi, and the busy Sanjogi Shopping Street – an 800-meter-long arcade with around 180 shops to browse. Karasuma Oike is a fun place to live, in short, and you won't have to travel far for sights. The only downside is: crowds.
For real convenience mixed with fun local life, there's the area around Karasuma Station in Shimogyo Ward. The station is one of the busiest to be found on the Hankyu Kyoto line, which connects to Osaka Umeda station.
This makes it really easy to get around (great for those who want to do some exploring). Naturally, it's crowded, but the pay-off is convenient transport and plentiful shopping. The station itself is surrounded by busy streets, like Shijo Street, and Karasuma Street, where you'll find banks, department stores and dining options.
Katsura
Katsura, on the other hand, is one of the most popular districts for expats to live in. Located in Nishikyo Ward, in the west of the city, the area is primarily residential, with a mix of families and single people calling it home.
Also great for public transport, Katsura station is also on the Hankyu Kyoto line, for easy access to Osaka (and beyond). In the neighborhood you'll find quiet sights to visit outside peak tourist hours: there's Katsura Imperial Villa and its surrounding gardens, there's Saihoji temple (the "moss temple") and also nearby is Arashiyama, with its bamboo groves.
Find an Apartment in Kyoto
It's not necessarily the easiest thing in the world to find an apartment in Japan – and that goes for Kyoto too. Unlike other places where digital nomads may lay their hats, Japan has many, many hoops to jump through if you want to secure yourself an actual apartment. 
There's also the problem of the language barrier, and a lack of foreigner-friendly landlords, that can make the search for somewhere to live a bit daunting.
First things first: work out how much you have to spend on your accommodation per month. This will dictate the type of apartment or house you live in, as well as the location you go for, too. Usually, the rule of thumb is – the older the property, the cheaper the rent will be; the closer it is to a train station, the higher the rent will be.
Another important thing to remember: Kyoto is not Tokyo, or even Osaka for that matter. But apartments are still on the small side, compared to what you might be used to in other countries. It's not uncommon for a single person, or even a couple, to live in a small studio apartment. These cost upwards of ¥50,000, but can be as high as ¥130,000.
The best way to find yourself a place to live for a couple of months is to head online and use websites such as Airbnb or VRBO. Here you'll be able to find a range of properties that are located around the city, and narrow the criteria to suit your search. But since Kyoto is so geared towards tourists, prices on Airbnb may be a little more expensive than what you'd be willing to pay on rent. Take into account the time of year: during cherry blossom season (late March), for example, prices rise significantly.
My tip is to look for an Airbnb in a residential area away from tourist hubs and the city center. This way you'll be more likely to find somewhere available for your dates, and which also doesn't cost the world to rent. Don't be afraid to message owners and ask them questions, for example, if you could have a cheaper rate for a longer stay.
If you have a residence visa, however, you'll be eligible to rent a property in your own name. While apartments can be relatively hard to come by, using foreign-run sites and services such as GaijinPot will help the process run much more smoothly. Savings are a must, as often three months' rent are required in initial fees before you move in! 
For an even simpler way to find yourself a base in Kyoto, there are companies who can set you up with an already furnished apartment and do all the legwork for you. But, of course, this comes with a price tag – expect to pay at least ¥100,000 for the privilege.
Then there are shared houses. These multi-room apartments or houses are run by companies who provide you a room with shared kitchen and social spaces, and don't come with the same baggage or costs of renting long-term. You can even renew your lease from month to month.
Cheap Places to Stay in Kyoto
One of the easiest and most affordable ways to find somewhere to live when you first arrive in Kyoto is by staying in a shared house. You can't rent a long-term apartment in Japan if you're on a tourist visa, so if that's you, a shared house could be a good option.
These are inexpensive. While apartments come with a bunch of upfront fees, shared houses don't, and they're much cheaper than Airbnbs, too. Usually what will happen is you'll pay a month's rent upfront, then you can move in the next day. Simple!
What's more, utilities are often included in the rent as well, so you don't have to worry about internet or heating. They're also fully furnished, which is a plus. Prices are upwards of ¥30,000 per month, making them a great budget-friendly option for a base in Kyoto.
If you are on a tourist visa, maybe a hostel would be better for you than an Airbnb – especially if you've just landed. Kyoto has some pretty nice hostels: they're immaculate, they're cool, often come with nice coffee shops or bars attached to them, and they're social. Prices per night start around USD $10-20 (season and location depending).
Otherwise, there's the notorious business hotel. These basic staples of any Japanese city come with compact rooms and private bathrooms, and can work for a couple of weeks while you look for somewhere more permanent to stay. Prices are from around ¥5000 per night.
Kyoto Visa
Apart from language and finding a place to live, visas are going to be your first hurdle when moving to Japan. There's a lot of confusing information out there, that's for sure – when I first tried to work it all out, I spent hours scrolling through websites and getting myself more confused.
One good thing, though: for most countries, Japan's tourist visa is very simple. It's usually given on arrival and gives you a basic 90-day period to enjoy the country. You could also leave and come back to "reset" the visa for another 90 days, but this has some restrictions and needs more research if you plan on going down this route (some people do; I didn't).
For work visas in Japan, things get a little more complicated. For one thing, most people enter Japan on a sponsored visa through their employer. If you're working as a digital nomad, chances are you're working for yourself or for a company not based in Japan. If you're under 30, you may be eligible for a working holiday visa. This allows you to stay in Japan for a year as a resident – you can work, rent property, and pay health insurance. Like a real citizen (almost).
There are other ways to get a visa in Japan. Many people choose to work as an English teacher during their time here; it's a good idea to contact English schools if you are planning to find someone who will give you employment in Japan. They then may be able to help out with your visa.
Culture and Food in Kyoto
Kyoto is blessed with an abundance of both cuisine and culture. I've said it already, but Kyoto's often regarded as Japan's cultural capital. Being the heart of the country for just over a millennium, Kyoto has fostered its own identity, with many traditional arts and customs practised within the city itself. And that's without mentioning the countless Buddhist temples and Shinto shrines, historic villas and houses tucked away along Kyoto's streets.
Kyoto was a candidate location for dropping the atomic bomb on Japan, but was saved by the American secretary of war at the time due to it being such a cultural heavyweight.
There are numerous places where you can experience traditional Japanese culture, and learn about facets of Japan that have made the country what it is today. The tea ceremony, flower arranging, and various other dignified, aristocratic arts and skills were first practised in Kyoto. 
The city, famously, is said to be a place that "never changes" – but things definitely have changed in this city over the years. With Kyoto there's a chance to experience this old way of life while still very much living in modern Japan.
Most famous of all are its geisha. Kyoto's geisha still live and work in the district of Gion, which is an attractive area of low wooden houses linked by a warren of cobbled alleyways.
Kyoto is also a good place to learn more about Japan's religious and spiritual history. There are over 2,000 religious buildings, and 17 UNESCO World Heritage Sites, including the famous gold-leafed Kinkakuji and the soaring Kiyomizu-dera. 
It also contains 20% of Japan's National Treasures, and 14% of the country's Important Cultural Properties are situated in the city. There are a wealth of museums and galleries to spend time exploring and learning more about what makes the city so special.
It's no surprise, then, that food also plays a big role in Kyoto. Like everywhere in Japan, food is important, but in Kyoto it's another level of traditional cuisine, referred to as Kyo-ryori ("capital cuisine"). Due to its close links with the Imperial family, as well as priests and high-ranking samurai, cuisine in Kyoto became refined. The area is also surrounded by fertile farmland, meaning fresh ingredients.
Many vegetable dishes are utilised, due to the influence of Buddhism. Because of the reliance on vegetables, novel recipes were created and a wide variety of produce was cultivated. This resulted in kyo-yasai ("capital vegetables"), a sort of heirloom vegetable served in upscale restaurants to this day and an important part of Kyoto's heritage.
Some famous things to come out of Kyoto are its high-quality green tea, and the wagashi (Japanese confectionery) to go with it, as well as refined sake. But don't go to Kyoto expecting to find tea ceremonies and tiny plates of Zen-friendly food. It's a big, modern city with all different types of food on offer, from yakitori (grilled skewered chicken) to okonomiyaki (savoury Japanese pancakes), as well as Western favourites and chain noodle joints, too.
Kyoto Nightlife
Kyoto may be the cultural capital of Japan, but just because some parts of the city are like a living museum, that doesn't mean that other parts aren't lively after dark. True: it's not got the same sort of options that you'd find in neighboring Osaka, but there are still options for nightlife lovers in Kyoto.
Restaurants
In Japan, restaurants tend to stay open late and have a big focus on drinking. Obviously, it depends on the type of restaurant you're in as to whether it's going to be lively until the wee hours. In Japan, there's a particular word that describes these sorts of establishments: izakaya.
Loosely, these can be defined as Japanese pubs. The more traditional types of izakaya are compact, seating no more than five or six people, but over the years many companies have established well-loved chains throughout the country and Kyoto plays host to some of them. The larger chains are cheap and vibrant with loud tables of revelers enjoying their time off work. Popular ones are Torimero and Torikizoku.
But there are literally thousands of izakaya in Kyoto. You can find these mainly around train stations. They don't always have to cost an arm and a leg to enjoy. It's best to do your research before you go, and often they don't have English menus, so be prepared to point and smile a lot.
Bars
Separate from izakaya in that they're much more focused on the alcohol side of things, bars in Kyoto are numerous. If  you want to enjoy a nice atmosphere and a few drinks, then the Kamo River area is the place to go. This lively spot has special decks erected in summer for outdoor seating in the humid Kyoto climate.
These are called Kawadoko – literally "place at the river". This concept of eating on or over rivers is popular in the summer months because of the natural air conditioning that the breeze on the river creates.
But for something more modern, you can find cool bars that run along various themes throughout Kyoto. One of them is a sake bar run by a monk, others include jazz bars, whiskey bars, shisha bars – if there's a thing, then there's a bar to go with it!
Nightclubs
Just because Kyoto is a thousand years old, that doesn't mean its citizens don't know how to party. There are a fair few nightclubs to be found in the city. Everyone knows what a club is like, so I'll just list a few of the better ones in Kyoto: 
Kitsune, which is spread over two themed floors (land and sea, apparently); 

the large World Kyoto, hosting international DJs (open till 5 a.m.); 

Club Metro, one of the originals, is an intimate club that opened its doors in 1990.
The list doesn't stop there though – there are a lot of nightclubs, often based on different genres of music, so you can find one to suit what style you're into. Some host bands and live music, too. 
Karaoke
You can't really mention nightlife in Japan without mentioning karaoke – and Kyoto has no shortage of places where you can sing the night away. Perfect if you're with a group of friends or if you just want to have a sing-song by yourself, there are all sorts of types of karaoke places to be found in the city.
Some karaoke bars, the traditional type, are bars where you sing in front of everyone on a small stage, or while sitting at the bar itself (make sure you have a drink or two before you go!). Everyone's usually welcoming and the atmosphere is fun, though. One is Karaoke Studios Doredoredo.
Then there is the type where you have your own booth, complete with sofas and room service (think drinks and snacks) and a whole list of even English-language songs to sing. These are often chains; look out for Big Echo.
Things to do in Kyoto
Take it from me: you'll never tire of things to do in Kyoto. This is a bucket list destination for many travelers, and living here means you'll have all the top attractions, as well as lesser seen sights and sounds of local life in the city. 
Not only that, but with Kyoto being so close to Osaka, Nara, Kobe and beyond, it's not just about things to do in Kyoto, but what else you can see – so easily, might I add – on a quick train ride from the city. Here are just a few of my favourites: 
Nijo Castle

Established by the first Tokugawa shogun of Japan in 1603, the UNESCO-recognized Nijo Castle covers a massive area. It's particularly beautiful in cherry blossom season.

Kinkakuji

Officially named Rokuon-ji, this is the iconic golden Zen Buddhist temple in Kyoto. It attracts thousands of visitors every year and is – yes, you guessed it – another UNESCO World Heritage Site in Kyoto. The way it reflects in the water is incredible.

Fushimi Inari Taisha

Situated in the southern area of Fushimi, this sprawling Shinto shrine to Inari – the god of rice and agriculture – takes up most of the 233-meter-tall Mount Inari. Here you'll find thousands upon thousands of red torii gates that line the pathways weaving up the slopes of the mountain. A must.

Arashiyama

Another famous spot in Kyoto, Arashiyama is renowned for its bright green bamboo groves. It's a historic sight and place of scenic beauty, this is a favourite for photographers. My tip? Come early!

Nishiki Market

This is a historic marketplace in downtown Kyoto that's been serving the populace for centuries. Today it's more famed as a spot to go and pick up produce and crafts that Kyoto is famous for. Fish has been on sale here since as early as 782AD!

Kiyomizu-dera

This Buddhist temple in the east of the city is yet another UNESCO World Heritage Site. Surrounded by historic streets, the temple sits high up on a hillside atop its iconic wooden framework, and offers up some amazing views of Kyoto down below. Work finished on this icon in 778.

Kyoto Railway Museum

Away from the ancient temples, this magnet for train lovers is where you can find original steam trains and bullet trains alongside each other. It's all laid out in a modern, informative setting, where you can get up close to the engines themselves.

Kyoto Tower

Situated to the north of Kyoto Station, this 131-meter-tall  landmark steel tower is the tallest structure in the city. It features a hotel, a restaurant, several stores and – of course – an observation deck at 100 meters.

Tetsugaku no Michi (Philosopher's Walk)

This famed pathway runs between Ginkakuji and Nanzenji, following the course of a small stream overhung with cherry trees and greenery. It passes by many shrines and temples along the way, making for a nice stroll stopping off at various heritage spots.

Kyoto Imperial Palace

Once the home of the Japanese Imperial family, this sprawling palace was the center of the country for centuries until the Meiji Restoration in 1868, which saw the capital move to Tokyo. The palace is now open to the public; you can take a tour of the grounds and a handful of the buildings.

Sannenzaka

This is a charming pedestrian road that has retained its historic wooden aesthetics throughout the ages. The sloping streets are lined with traditional wooden buildings, with small lanes running off of them. It's a great place to purchase locally made crafts and grab a snack.

Shimogamo Shrine

Shimogamo is a sacred Shinto sanctuary and, at an alleged 2,000 years old, it's thought to be one of the oldest in Japan. The red and white colours and the minimalist architecture makes this a visually fascinating sight, let alone being a historic UNESCO World Heritage Site.

National Museum of Modern Art

In stark contrast to the history of Kyoto, this modern, blocky building is also known by the acronym MoMAK. It focuses on artists and art movements from Kyoto and the wider Kansai region, from the early 20th century to the modern day.

Honnen-in

Located in Sakyo Ward, this beautiful Buddhist temple is set along the Philosopher's Walk and is a peaceful spot to take a break from the city. It's particularly stunning during autumn when the trees turn shades of reds and browns.

Saiho-ji

Informally known as Koke-dera ("Moss Temple"), Saiho-ji is a Zen Buddhist temple famed for its garden, which boasts a thick growth of bright green moss. In fact, over 120 types of moss carpet the two-tiered garden here. Legend says it was constructed in the Nara Period (710-94). Reservations must be made in advance to visit. And yes: it's UNESCO-inscribed, too.
Best Time to Visit Kyoto
Kyoto is located further south than Tokyo, so it enjoys a generally milder climate all year round. Like most of Japan, however, Kyoto still witnesses all four seasons as you most likely know them. But since it's surrounded by mountains, seasonal extremes can be quite notable.
For example, in summer, temperatures in Kyoto are high. It's really hot and humid in August, with an average high of 33.7 degrees celsius! Days can be sweltering and can really affect how you live. Thankfully, most houses and apartments come complete with air conditioning.
In September and October typhoons can affect Kyoto, but being slightly inland, it doesn't get quite as badly battered as Osaka and other more coastal regions.
In autumn, things start to cool off, but it's not until October that things get anywhere near mild, when the average daily temperature drops to around 18 degrees celsius. The autumn leaves in Kyoto, usually around November, makes it a lovely time of year for getting out and about.
Once it's cold, it's really cold, and winters can be very chilly in Kyoto. Average temperatures in winter may not seem that cold (around 7.2 degrees celsius), but snow is not uncommon and falls – on average – three times a year.
And then it's spring. February brings plum blossoms and mild weather, March brings cherry blossoms, and before you know it, it's warm. Then the rainy season arrives in mid-June, with frequent, seemingly endless rain and downpours to be expected.
Kyoto for Families
Disclaimer: I don't have children. I thought I'd be clear about that first. However, Kyoto is a family-friendly city. Lacking the (relative) grittiness that can be found in larger cities like Osaka, Nagoya and Tokyo, Kyoto is squeaky clean by comparison.
It sometimes seems Japan is an idyllic place for children to grow up. So if you're a digital nomad who's thinking of making the move to Kyoto with your family, then you'll be in good hands. Not only is the city itself packed with things to do with children, family-friendly restaurants and plenty of green spaces for your children to play in – it's also got a pretty well established expat community.
This isn't a single-person expat community, but one centered around families who live and work in Kyoto. That means you'll have a good support group around you in case you need help, but even if you don't make friends with everyone straight away, various online forums and sites are packed with information for families.
Finding a school for your child shouldn't be too difficult. There are multiple international schools in Kyoto, as well as a number of kindergartens and daycare options for smaller children. 
Entertaining your children also shouldn't be a problem. Though the city is known for its many temples, there is also a long list of family-friendly activities to keep you all busy on your days off. This includes Kyoto City Zoo and Kyoto Botanic Garden, as well as a multitude of variously sized local parks with playgrounds, splash pools and picnic areas.
When it comes to food, there's not much to worry about, either. Many of Kyoto's eateries offer lunch and dinner options for children, with smaller portions and fun-themed plates and toys to go with them; there are a number of dedicated "family restaurants", too, including Cafe Gusto and Jonathan's.
Living in Kyoto
Kyoto Transportation
On my first visit, I was taken aback at just how sprawling Kyoto was. I had been expecting a compact city, but no: it's spread out all over the length of a valley. Though there is public transport to help out, it hasn't got the best network for a city of its size. Still – it's better than nothing!
Trains
Kyoto has two subway lines: the Karasuma Line and the Tozai Line. Karasuma (green) runs north to south, and the Tozai (purple) runs east to west, cutting through the downtown area as it goes. Since there are only two subway lines (as opposed to nine in Tokyo, for example), it's easy to navigate. You won't even have difficulty with language, as there's English signage everywhere.
However, simple though it may be, there are still only two lines. That means there's a limited reach around the city, but they're good for quick journeys around the city's bigger hubs – Kyoto Station to downtown, for example.
The overground is great in Kyoto. There are six train lines connecting the suburbs with the center, as well as with nearby cities like Osaka and Kobe (that's the Hankyu Kyoto line I talked about earlier). They're a little less easy to navigate than the subway, with express, limited express and local trains to contend with. What's more: the bullet train also stops here!
Buses
Buses in Kyoto might seem a little confusing at first, especially for visitors. But they can provide a simple and cheap way to get around the city, as they connect up with many places that the subway simply does not connect. 
These have a flat fare of ¥220. You enter at the back of the bus, put your money (or scan an IC card) and exit at the front when you want to get off. The timetables are written in both Japanese and English, making them fairly easy to navigate. 
The only problem with buses is that they can get quite busy in peak times, and as they're quite small, it can on occasion be an uncomfortable ride.
Taxis
To get between places quickly, there's always taxis. These are plentiful and easy to find. Taxis are good for when you want to get to places like Arashiyama, that's a bit complicated to get to using public transport. 
The drivers are professional and polite, the cars are immaculate and in good condition, but the fares tend to get very expensive very quickly.
Fitness and Health
If you're concerned about staying fit and healthy in Kyoto, don't worry: fitness is a national pastime all over Japan and this city is no different. From early morning calisthenics clubs for seniors all the way to serious running clubs, and everything in between, there truly is something for everyone to get involved with in Kyoto.
Maybe joining a club isn't your thing. If that's the case, then perhaps you'd be more interested in joining a gym. There are all types of different gyms in the city, and major chains like Golds and Anytime Fitness are on offer, too. 
You may want to consider finding a place to live in the first place that has good access to gyms. You won't find them in the most residential areas; they're mostly situated in the proximity of train stations. So if you want to be able to walk to your local gym, bear that in mind.
Costs of gyms vary. You could pay per day, from around ¥600, or you could go for a monthly pass which ranges from ¥6000-10,000. Many of the gyms also offer free sessions and introductions.
Municipal fitness centers are also available. These are usually around half the price (around ¥300 for a day), and come with gym equipment, swimming pools and ball courts. They may not be the most high-end or well equipped, but they're a good, cheap option in Kyoto.
Kyoto People
People in Kyoto have a bit of a reputation in Japan. Being the so-called cultural capital of the country and home of all things traditional, the etiquette here is also very traditional. And that means, in a way, to treat all those who are not from Kyoto as outsiders – even fellow Japanese people.
It's said that Kyoto people are a bit snobby, but it might just be a case that Kyotoites are proud of being from a place with such rich history and culture. My friends in Tokyo said the same thing, and that people from Kyoto can be difficult to understand: for example, if someone says "Would you like to stay for dinner?" What this really means is "I think you've stayed long enough already." 
In all seriousness though, Kyoto is more conservative than Tokyo. That probably comes with the Buddhist influences and the historic proximity to the Imperial Palace. It's important to be respectful of this traditional mindset and not just shrug it off as something from the past.
It's crazy that Kyoto people are so different from Osaka people, as it's only around 40 minutes away by train. 
It can be hard to make new Japanese friends in Kyoto. However, like-minded expats will more than likely be on hand to help you navigate the cultural landscape of day to day living in this very traditional city.
Kyoto Insurance and Medical Care
Japan has a high standard of medical care. Kyoto is no different. There are multiple medical centers here, from university hospitals, all the way to local specialist clinics. The quality of care on offer is very good and you should be able to find treatment for most complaints, wherever you are in the city.
On the most basic level, there are pharmacies and drug stores. Here you can pick up medication and painkillers, and ask for over the counter advice (basic Japanese definitely helps here).
There are clinics where you can visit a doctor for minor ailments, or health screenings. 
Large hospitals take care of everything else. One example is Kyoto University Hospital; head to its ground floor information counter to find out where you should go. Another is Kyoto Prefectural University Hospital, which has English-speaking staff on hand to help.
You have to pay for medical services in Japan. If you have a resident/work visa in Japan, you'll be signed up to the country's healthcare system. You only have to pay around 30% of the price of the procedure. For those on tourist visas, you may want to consider having adequate medical insurance (otherwise you'll have to pay a lot of money).
Depending on how long you're in the country, you may want to bring any medication you need with you – that's because not all pharmacies in Kyoto stock foreign medications.
Make sure you are fully covered by reading our full Digital Nomad Travel Insurance guide.
Jobs in Kyoto
As a big tourist draw, Kyoto has many opportunities for people to work in the realm of tourism. That's just one way you could earn money here. With all the hotels, restaurants, tour guides and other tourist services on offer, there are a variety of places you can find jobs. If you're a "native" English speaker, then chances are higher you'll be able to find something – even working in a kitchen is possible.
However, for many jobs in Japan (Kyoto is no exception), there is one caveat: you must have a decent level of Japanese language skill. Obviously, the level required will vary depending on the sort of job you're applying for.
One good thing is that if you have a skill, like you're an IT professional, you may be able to be hired by one of the IT companies here. You'll have an even higher chance if the company is multinational.
At the other end of the scale, you could always apply to work in a hostel. This is a great way to get to know people who work in the hostel, but also meet new people from all over the world.
And then there's teaching. English teaching is a very popular job for foreigners in Japan. It ranges from working in nurseries or assisting in lessons in junior high schools, to teaching conversational English in more informal private lessons. You may need evidence of TEFL (Teaching English as a Foreign Language) qualifications though.
Check out our Digital Nomads Jobs Postings to find the best jobs available for Digital Nomads.
Nomad Friendly
Value for Money
Internet
Workspace
English
Food
Safety
Health
Transportation
Friendly
Quality of Living
Cost of Living Kyoto
Ok, so, elephant in the room: Japan is quite expensive. This is not living in Thailand or Mexico. You will need to have your living expenses in check in order to make sure you don't run out of money. That said, it's not the crazy expensive nation that everyone would expect it to be.
In fact, I find it cheaper than London or New York. The thing that will set you back most every month is your rent. If you opt for a shared house, however, I'd say you'll be looking at spending around $300+ on rent. If you have a studio apartment, that is upwards of $500. 
Groceries should cost you around $100 a week – depending on where you shop (prices vary depending on the supermarket, and the area of the city you live in). Entertainment will vary. If you're eating out all the time at good restaurants, you'll burn through your budget very quickly. During my stay in Kyoto, I budgeted around $100 per week for fun stuff.
Then there's bills. For gas, electricity, internet, phone and health insurance, it's about $100-200 per month.
So in total, your monthly costs could hover around $1,200 – at the very basic level anyway.