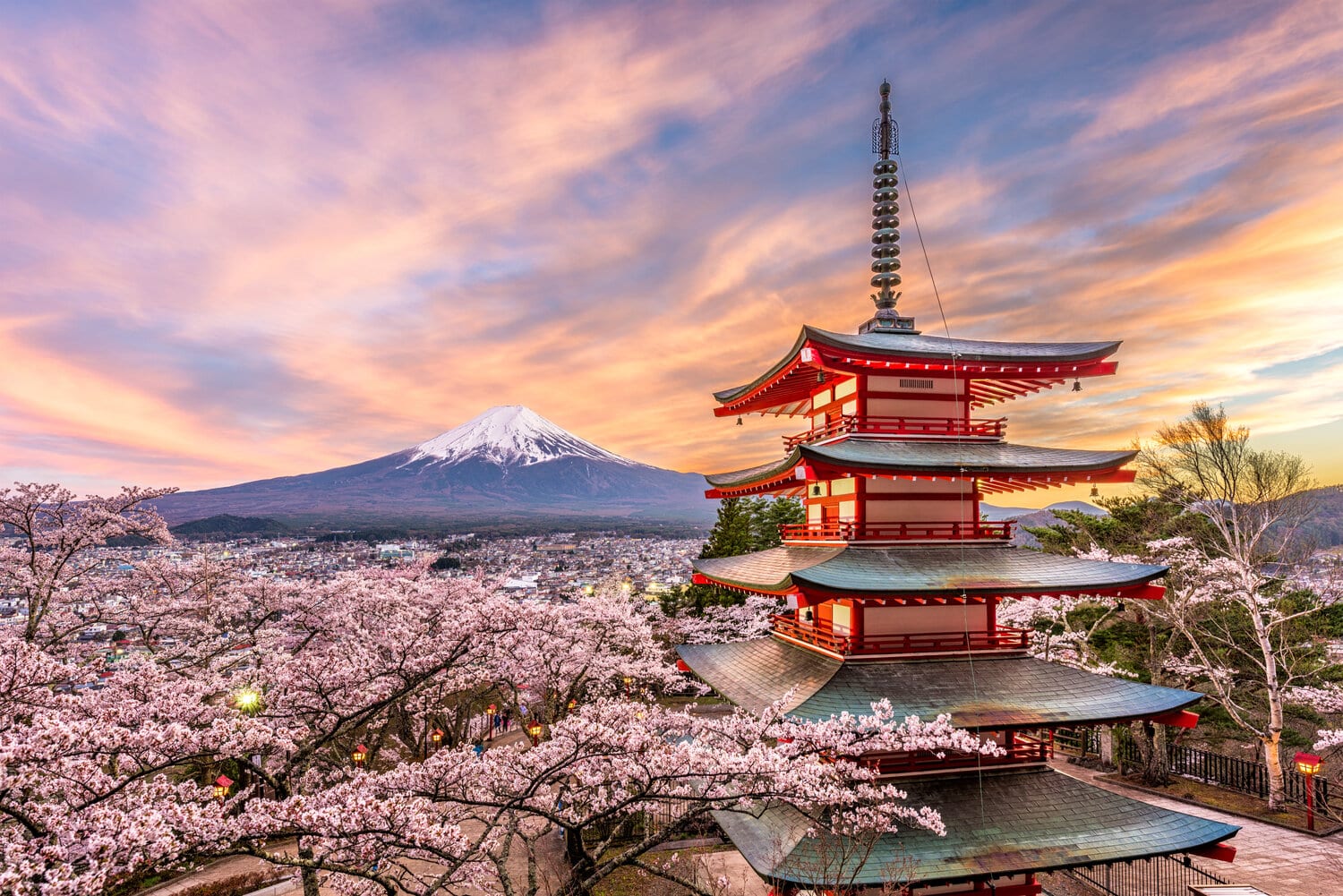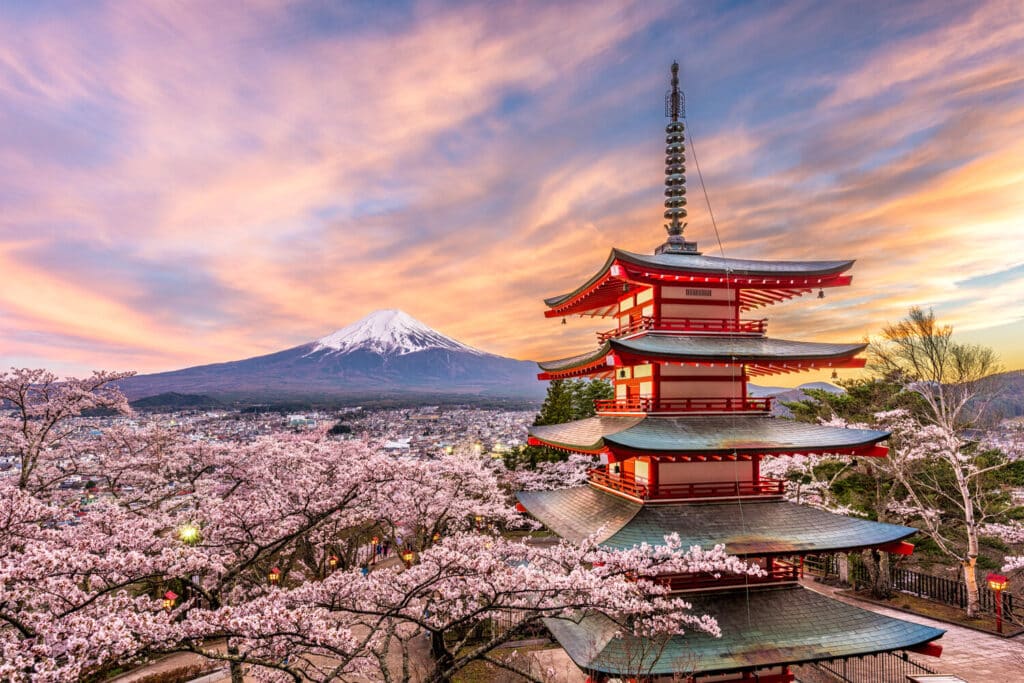 A Digital Nomad Guide to Tokyo, Japan
Japan is home to beautiful countryside, ancient temples and some of the world's freshest food. It is the fourth largest island country in the world and is surrounded by many smaller inhabited islands. Japan is a unique place with a lot to share and is one of the most technologically advanced countries in the world.
Tokyo is the futuristic and energetic capital of Japan. With a population of just over 9 million, and around 90,000 restaurants, Tokyo is the place to be for the curious digital nomad. Tokyo became the capital in 1868, after being moved from the city of Kyōto, which was the former capital for over 1,000 years. It is a coincidence that Tokyo is an anagram of Kyōto and there is no intentional link between the two capitol names. 
The modern and built up skyline of Tokyo attracts tourists from all over the world. Tokyo will give you an experience like no other with its fusion of old and new. One minute you will find yourself on a busy street like in other cities, but around the corner you will find sanctuary in an ancient temple. The city has been developing as the capitol for over 100 years and is home to some of the biggest Japanese brands.
Tokyo is made up of 14 districts or hubs and each one is entirely different. Tokyo is so big that each district feels like a completely different city. You will find that different districts are better suited towards tourism and some are more focused on the locals; however you will be welcomed everywhere. 
This city is really fantastic for anyone who wants to experience something new and exciting as there is something intriguing on every corner. From fresh sushi and food markets, to the arts and karaoke, Tokyo has it all.
Nomad Friendly
Value for Money
Internet
Workspace
English
Food
Safety
Health
Transportation
Friendly
Quality of Living
Living in Tokyo Overview
| | |
| --- | --- |
|  Meal, Inexpensive Restaurant | $8.85 |
| Domestic Beer (1 pint draught) | $4.42 |
| Cappuccino (regular) | $3.77 |
| Loaf of Fresh White Bread (1 lb) | $2.11 |
| Water (1.5 liter bottle) | $1.23 |
| One-way Ticket (Local Transport) | $1.81 |
| Basic Utilities (Monthly) | $215.04 |
| Internet | $39.24 |
| Fitness Club (Monthly) | $83.62 |
| Apartment (1 bedroom) in City Centre | $1,303.30 |
Currency: Indonesian rupiah (Rp)
[erw_exchange_rates_widget lg="en" tz="0″ fm="IDR" to="EUR,USD,GBP,AUD,JPY,RUB" st="primary" cd="" am="15000″][/erw_exchange_rates_widget]
ATMs
Max Withdrawal: Rp 3,000,000
Withdrawal Fee: Rp 30,000 – Rp 50,000
Use of Credit Cards: Mostly Cash
Digital Nomad Personal Experience in Tokyo
The time I spent in Tokyo and Japan as a whole was incredible. The country is so warm and welcoming and highly accommodating to tourists and digital nomads. Tokyo is a buzzing city that is overflowing with history, entertainment and some of the world's best food. I was in Tokyo for the month of October and whilst it was still quite warm in Tokyo we occasionally get caught in the rain.
Although I was on a low budget, Tokyo is very affordable and is comparable to Western Europe; however I found I received higher quality services than in Europe. I stayed in the Wasabi Hostel, which has multiple locations across Japan and it was the best value for money. I was able to connect with a community of like minded travellers through the hostel network, as well as enjoy the traditional in Japanese culture. 
I visited a bathhouse too, however be aware that tattoos in Japan are still quite a taboo, so a lot of bathhouses won't let you in with tattoos. Although I found this an issue, I also found bathhouses that were more accepting. The reason for this is that the "Yakuza" of Japan used to be the only people with tattoos, so there is still sometimes an association with this and tattoos, however many places recognize that tattoos are popular with some foreigners. 
I spent most of my days working from the hostel common areas and then exploring the city in the evenings and on weekends. The hostel I stayed at had bikes to use for free so often I would cycle around the city to see all the different suburbs. Some of my best memories are from visiting the temples, eating fresh sushi and going out to some of the Izakayas and karaoke bars in the evening. I found that the locals love to party and hang out, so it is a great place to be to feel really welcome. It is one of the safest places I have ever been. 
I had the chance to visit Osaka, Kyoto, Hiroshima, Miyajima and Fukuoka, where I visited temples, went camping and ate delicious food. 
Work in Tokyo
Tokyo is such a large city that you will find a workspace that is perfect for you. You will find endless co-working spaces, cafés and bars that you can work in.
There are over 40 different co-working spaces to choose from, all in different parts of the city and each offering different packages. Once you have decided the area you want to be in then it is best to see which ones are local. It is best to look online and search around first to get an idea of what to expect in terms of facilities and cost. You will find that a lot of co-working spaces in Tokyo are very expensive when compared with other countries in Asia. A lot of co-working spaces offer a free trial day, so if you are unsure  or want to try out more than one space, then make sure to sign up for a free trial day. If you are happy being on the go and your work is somewhat flexible, then why not try out a few and save yourself a weeks' worth of co-working fees and find the perfect space for you.
Best Places to Work in Tokyo
If you search on wework.com for co-working spaces in Tokyo you will see they have over 20 recognized co-working spaces in the city. However a lot of these spaces are very expensive as they are aimed at the higher end remote workers. Some of the spaces are almost 3 times the cost of others in the city, as they average at around $600 USD per month for membership.
Impact Hub
The Impact Hub is a great place for digital nomads as it is full of like minded entrepreneurs that are both foreigners and locals. Their basic package is around $260 USD per month for hot desking. 
BLINK Smart Workspace
BLINK Smart Workspace is a trendy international co-working space offers memberships starting at around $200 USD per month. With the basic packages you will get free Wi-Fi, hot desking and discounts on meeting rooms.
ninetytwo 13 by Tokyo Chapter
ninetytwo 13 is a co-working and co-living community, which offers packages that include both co-working and accommodation. Prices for co-living and co-working are upon request from their website. They also offer day passes to the co-working area which are around $19 USD. 
Other co-working spaces include Co-ba Shibuya and Creative Lounge MOV.
Internet cafes
As well as co-working spaces there are lots of internet cafés in Tokyo which can be another form of workspace and a lot of these provide memberships and are often 24/7 and some even have beds too! These are best found by walking around your district as they are very common in Tokyo. Originally they were designed for gamers and they have showers, kitchens for you to prepare food and desk areas, so they are great for digital nomads if you want somewhere to get your head down to work. 
Many cafés will advertise free Wi-Fi and some are great spaces to work in, however there are some things to be aware of. Some will advertise Wi-Fi, but surprisingly for a city of its advanced technology, some cafes do not provide Wi-Fi. A lot of "free Wi-Fi" signs are for existing phone plan payers as the internet is provided by the phone network, a bit like a cloud exclusively for customers. Another consideration is that in Japan it is forbidden to smoke outside and only smoking inside is permitted. This is due to the concept that smoking inside means the smoke will be filtered in the air system before it goes back outside and hence creating less pollution, so you might find some cafés to be smokey as it is a popular place to smoke.
Here are some cafés that actually have free Wi-Fi, have power and some are even part co-working areas; Timeout Café, Shimokitazawa Tag Café, Cafe Stay Happy, Alpha Beta Coffee Club, Bookshelf Café, Tsutaya Daikanyama, Paper Back Café, and Cafe Asan.
Best Places to Live in Tokyo
Best Neighbourhoods
Tokyo as a whole is a very safe city. When I was there a local explained to me: "If you were to go surfing and leave a $50 note weighed down on the beach with a stone, when you come back it would still be there." Japan is a very honest country and its citizens are extremely respectful of other people's things. Obviously wherever you go there will always be crime so don't put yourself in any unnecessary situations. 
As for Tokyo, the best district really depends on your taste, as Tokyo is categorized into 14 different districts, each with different vibes. 
Ueno, Asakusa and Ryogoku
If you are looking to be in the center but with a low budget then Ueno, Asakusa, Ryogoku and the SkyTree areas are best for you as this is where you will find cheaper accommodation as well as being close to many shrines and temples. 
Shibuya, Roppongi and Akasaka
Shibuya, Roppongi and Akasaka are two districts to go to for nightlife and dining and they are the trendy areas to be in. Shibuya is where you will find most of the fashionable youth of Tokyo.
Shinjuku
If you are looking for an area with it all, then Shinjuku is the place to be. It is full of bars, restaurants, hotels and there is lots of shopping in this hip district. 
Akihabara, Kanda and Jimbocho
Akihabara, Kanda and Jimbocho are known as the "geeky" and pop culture areas so if you are a gamer then you will really enjoy being close to these areas.
Find an Apartment in Tokyo
The best way to find accommodation in Tokyo is to firstly decide what your budget is. Tokyo can be a very expensive city, but if done right it will be very similar to costs in Europe. Many people say that Japan is expensive, and it is when compared to other countries in Asia, however in comparison with other places in the world, it can be great value for money. The main thing to be aware of in Tokyo is that almost every form of accommodation will be immaculate as there is such a high standard in Japan; however you will find that size is everything. Due to the dense population in the city, you will find that the size of your accommodation affects the price dramatically. 
The best way to find accommodation is to use websites such as booking.com and Airbnb as this will allow you to compare prices with different parts of the city.
On Airbnb it is possible to find studio apartments in good central locations for around $25 USD per night. The great thing about using Airbnb is that you get weekly and monthly discounts too. So for a really modern studio apartment with Wi-Fi, you are looking at prices starting at around $780 USD for one month. That includes all Airbnb fees too.
There is also a fantastic website called coliving.com which operates in Japan. This is a great way to find co-living opportunities in Tokyo and it is a great resource for finding a co-working space too and by booking with them you know you will be arriving in Japan with a community of like minded entrepreneurs on your doorstep. The website works a bit like Airbnb but offers shared accommodation options.
There is also the option of using websites or estate agencies specifically aimed at foreigners. Some of the best are able.co.jp and E-heya.net which has an English written Facebook page to help foreigners find apartments in Japan. When you arrive in Japan, you will find estate agencies often located nearby train stations. These will advertise rentals in their windows and some are multilingual. Remember that most of these will charge handling fees on top of the rent price.
Be aware that rentals in Tokyo can go up to as high as around $2,000 USD per month depending on size and location. So it is always best to have a look online first, and maybe even book a hotel or hostel for your first week so you can get to know the city and see what areas you like.
Cheap Places to Stay in Tokyo
Many say that Japan is not the best place to be on a low budget, but from my experience it is still enjoyable. It is best to find a hostel that you are comfortable in, that offers good facilities and that is in a good location. I found that I met everyone through my hostel, whether they were foreigners or locals and having a community at your accommodation was something I found important to have. 
It is possible to find hostels in Tokyo for as little as $12 USD per night for a bed in a dorm and some offer private rooms from as little as $34 USD per night. Most hostels offer Wi-Fi, a kitchen area and some will offer bathhouse facilities, rooftop terraces and entertainment such as dinner evenings and board games. So you can really get great value for your money through the hostels in Tokyo. It is also very common to have separate male and female dorms as well as mixed dorms, so there is something to suit everyone's preference. 
Some of the top rated hostels are Focus Kuramae, Khaosan Tokyo Samurai, Nui. Hostel & Bar Lounge and Hostel Chapter Two Tokyo. There is also a chain of hostels under the name Grids and these are great modern hostels with lots on offer and they have multiple locations across the city. Other multiple location hostels are Anne, Plat and Wasabi.
Tokyo Visa
Tokyo is quite strict on visas and entering the country. I remember when I went, the airport was very rigid and fingerprints were taken on arrival of everyone entering the country. There are four main types of visa; tourist visa, working visa, non-working visa and family related visas. 
Japan requires most countries to obtain or apply for a tourist visa before entry, however there are some exceptions. Most European countries, the USA, Australia and Argentina are exempt from applying for a tourist visa and will be stamped in on arrival with a maximum stay of 30 days within a 90 days period. This visa exemption is to encourage tourism from specified countries. 
The purpose of the tourist visa is for sightseeing, attending conferences or seeing family and will not allow you to work. If you want to get a job in Japan like teaching English, then it is best to apply beforehand so the employers can make sure you have the correct visa in place.
As always it is advised to check with your embassy before going somewhere if you are unsure of the visa situation.
Culture and Food in Tokyo
Japan has a very high standard of food quality and presentation and you will not be disappointed with a meal in this country. So much love and passion is put into food in Japan and this is always reflected through taste and appearance. 
There are some regional specialties that are recommended to try when in Tokyo, as well as general traditional Japanese dishes such as sushi, ramen, soba, tempura and katsu curry.
Tokyo has over 60,000 restaurants as well as a huge selection of cafés, bars, fast food and street food stalls. Whatever your budget is you will find something that suits you and sometimes it is cheaper to eat out than it is to buy ingredients to cook. 
Food culture in Japan is very unique and there are some things to get used to. Most bars will not serve alcohol without a food plate, so you will find it may be difficult to find somewhere to just have a beer. This is where the Izakaya has developed and many places in Japan like to combine drinking with eating.
You will also notice that many ramen bars have separate tables or individual booths for eating. There are many restaurants in Tokyo that serve as a fast food venue. This is because many business men and women are always on the go, so when work is done they will stop by a ramen bar, have dinner for one and then return home. Many restaurants are adapted to this efficient way of eating alone and you may find it hard to get tables for more than 2 to 4 people in these types of places. This is why many prefer to go to the Izakayas as they tend to be more social.
Places to Eat
I would say that the best place to try sushi is at one of the restaurants near to the Tsukiji Fish Market as you can't get fresher than this. However it does come with a high price tag, so I'd recommend trying it here once as an experience but you may want to head to more budget friendly areas on a daily basis. 
Some of the top restaurants in Tokyo that sell a variety of local dishes at affordable prices are Menchirashi, Tajima, Oreryu Shio Ramen, Fuku Soba and Ebisoba Ichigen.
The street food in Tokyo is just incredible and is a great way to immerse in the rich culture. Yakitori is very popular and is essentially barbequed chicken on skewers. You will also find other grilled meats and items such as tempura too.
On a low end budget you will also find good food at any of the chain restaurants and small markets like Family Mart or 7 Eleven. Surprisingly supermarket sushi tastes pretty good, but again it goes down to the freshness of ingredients and the standard of food in Japan. There are also many chain restaurants which offer great meals at affordable prices. Some of these are; Karayama, Aona, Genchan, Nakau and Obondegohan. You can eat at these for as little as $6 USD.
You will also find that there are many places popping up that cater to vegan, vegetarian and special dietary needs too. Some of the best vegetarian and vegan places that serve Japanese inspired food are T's Tan Tan which has a second restaurant called T's in Jiyugaoka and Nagi Shokudo.
All of these serve great vegan Japanese style food. Other vegetarian and vegan eateries include Ballon, Restaurant 8ablish, Hemp Café, and Falafel Brothers. You will find many vegetarian options as there are common elements of the Japanese diet that follow a vegetarian lifestyle.  
Tokyo Nightlife
Tokyo has some of the world's best nightlife, from clubs and bars to karaoke and Izakayas, you will find something to suit your ideal night out.
Karaoke
Karaoke bars in Japan are like no other and it must be experienced at least once. In Tokyo you will find some of the best karaoke bars that are popular with both locals and tourists. Karaoke bars function a little differently to how you may have experienced them before.
In Tokyo you will get a private booth or room from which you can sing your heart out. Some of the biggest karaoke chains are KaraokeKan, Shidax, Big Echo and Uta Hiroba. The Uta Hiroba chain is known for its budget prices and they have multiple locations in Shibuya. The average price here is around $19 USD per person for 2 hours of singing and unlimited drinks, but the prices vary slightly between each venue.
Tokyo is known as a city that never sleeps and there is a huge selection of nightclubs that stay open until 6am! Shibuya is the heart of Tokyo and it really has a buzzing nightlife with some of the best nightclubs in Tokyo. Contact is very popular with those who enjoy techno and dance music however to get in you must register online and sign up for their membership.
Other places in Shibuya include Oath and Bar Bridge, which plays hits from the 80s. Quite often clubs like these will have an entrance fee which can range anywhere from $19 USD to $48 USD. However there are often special deals, reductions and sometimes free entrance for women and some men who are foreigners. The Roppongi area is also recognized for its nightlife and the best place in this area is A-Life nightclub.
LGBTQ Friendly
Shinjuku Ni-chōme is known as the LGBTQ area of Tokyo and you will find some of the best LGBTQ nightclubs here. Arty Farty is the club to be at as it has great vibes and the entrance fee also gets you into their sister club The Annex, so you really get good value for money here.
Bars
If you are looking for a relaxed evening with jazz and RnB vibes then there are a few lounges across Tokyo to suit your needs. The Room in Shibuya is very popular with this vibe. 
Things to do in Tokyo
There are many things to do in Tokyo and it really depends on your interests and the time you have in the city. Tokyo is a great city for just exploring, so if you are on a low budget but want to get to know the city, then either by walking, taking the train or a bicycle you can see the city without spending any money. However there are so many things to do that aren't huge costs and here are some of the top things to do in Tokyo. 
Themed Cafés

Japan is known for its over the top themed cafés and this is something to experience whilst in Tokyo. From cat cafés to Pokémon, you will find a café with a unique twist to suit you. There are many animal themed cafés where cats, dogs, rabbits etc. are let loose around you whilst you sip on a coffee. Other cafés are themed around some of the best anime characters or gaming icons and when you enter it is as if you have entered an alternate universe. They are decorated head to toe with a specific theme, from the wallpaper, to the servers and even the food.

Arcades and Gaming

For the gamers, Tokyo is heaven on earth as on every street you will find an arcade or gaming facility. Tokyo is home to some of the biggest names in gaming such as Mario, Sony and Pokémon. Akihabara district is where you will find all the gaming merch, gaming stores and gaming cafés where you can play with your friends to your heart's content and eat themed foods in specialized cafés. There are also many arcades across Tokyo, and these are called Pachinko Slot Centers and due to gambling laws in Japan you won't win cash, but you will win prizes! 

Skytree

Tokyo Skytree is great for seeing a 360 view of the city and is one of the most popular things to do in Tokyo. The incredible structure is 634 meters tall and was built in 2008. At the bottom there is a shopping center that is free to visit, and here you can purchase tickets to go up the Skytree. Ticket prices start at around $10 USD to go up the tower and it really is worth it for the views. Just make sure to go on a clear day or at sunset if you want to admire all the city lights coming on. You can also see Mount Fuji from here.

Izakaya

A special type of restaurant in Japan is an Izakaya and you have to try it at least once. It is essentially a bar with tapas style snacks and quite often they will advertise packages as "all you can drink". You will find some have a set price upon entry with a time limit. Some even have karaoke and private booths, whilst others are more casual and provide a laid back setting to enjoy some drinks and food with friends. Some of the best Izakayas in Tokyo are found in Omoide Yokocho in Shinjuku, Ameyoko in Ueno and Nonbei Yokocho in Shibuya. 

Temples

Although Tokyo is a modern city, there are many temples that were built hundreds of years ago. Often you will find them located next to or in parks so these are great places to go if you want a bit of peace, tranquility and nature. You may find some charge an entrance fee and some aren't always open to the public, but nonetheless, just being able to look at the beautiful architecture makes it worth a visit.

The most famous temple is the Sensoji Temple which is centrally located but is a beautiful site to see and is free to walk around. Meiji Jingu is another temple site that has a park next to it and it is located near to Harajuku. This is a beautiful place to spend an afternoon. Other historical temples include Zojoji Temple, Sengakuji Temple, Gōtokuji Temple, Gokokuji Temple, Seishō-ji Temple and Kaneiji.

Museums and Galleries

If you love museums then Tokyo is the place for you as it is rich is culture, history and technology. These combined make for some of the world's best museums. Two of the top natural history museums are Tokyo National Museum and Edo-Tokyo Museum. You will also find that some districts have their own history museum which showcases specific historical events and changes to that area.

For the arts, the National Museum of Modern Art is a good place to start. Other art galleries include Nezu Museum, The National Art Center Tokyo, Tokyo Metropolitan Art Museum and the Yayoi Kusama Museum. There are also interactive museums like the teamLab Borderless and the National Museum of Emerging Science and Innovation.

Walking tours

There are various walking tours around Tokyo and this is a great way to explore the city. There are haunted tours and temple tours that share the country's rich history of its famous samurais and oldest temples. But then you also have food related tours such as the Tsukiji Fish market tour which takes you through Japan's most famous fish market and you can learn about local specialties as well as having some tasters too. For the partygoers there are bar hopping tours, nightlife tours where guides take you to some of the best clubs in Tokyo as well night walking tours to admire the lights.

Day Trips

There are many day trips that you can go on from Tokyo and a lot of tour companies offer packages including transport, entertainment and sometimes food. The most popular day trip is to Mount Fuji and Fuji Hakone Izu National Park. It is very easy to visit neighboring towns, villages and national parks from Tokyo due to the excellent train network in Japan.

Japan has beautiful national parks with incredible hikes, hot springs and unique wildlife, whilst having beautiful towns and villages showcasing a rich history,  so if you want to escape Tokyo for a day or two, here are some of the most popular places to visit; Kamakura, Kawagoe, Atami, Nikko, Kusatsu Onsen, Northern Nagano, Nomizo Falls, Mt Takao, Yamanashi and Shizuoka Green Tea Farm.
Best Time to Visit Tokyo
Tokyo is great to visit at any time of year however there are some months that are better than others. June and July are the rainy season so unless you plan on spending every day indoors or venturing out in the rain, then it is best to avoid these months. 
Japan is situated in the northern hemisphere so winter tends to be from December to February, with temperatures in Tokyo dropping as low as 35°F-37°F. It rarely snows in Tokyo, however it does experience light snow for a day or two but it rarely settles. 
The best months to visit Tokyo are between March to April and from September to November. If you visit in the spring you will be welcomed with endless cherry blossoms, which cover the country in a light pink glow. If you visit in the autumn you will see the beautiful array of autumnal colors produced by the vast landscapes of Japan. 
Tokyo for Families
Tokyo is a very busy and lively city, so you will find lots of facilities and activities for families on almost every corner. As a whole Tokyo is very accommodating to children but here are some of the best child friendly hotels; Four Seasons Hotel at Marunouchi, Grand Hyatt Tokyo, Hilton Tokyo Bay, Mimaru Tokyo Ueno East and Sadachiyo. 
There are so many fun things to do with kids in Tokyo and a wide variety to suit every budget. From visiting the Tsukiji Fish Market to taking a street food tour, there are many cultural activities that you can do with your kids to give them a true Japanese experience. There are many museums and galleries like the Ghibli Museum, Museum of Emerging Science and Innovation, the Fire Museum and Ueno Zoo. For tired feet there are also bus and boat tours around the city too!
For the higher end budgets there is also Disney Tokyo which is a unique but familiar experience for the ultimate Disney fan. In terms of entertainment parks there is also Tokyo Dome City, Sunshine City Aquarium and Joypolis entertainment Center. 
As for schools and daycares, Tokyo is a well-equipped city with over 30 international schools all teaching in a range of languages and qualifications. It is best to ask expats who are there for advice when it comes to choosing the right school for your child. This also goes for daycares too; there are many international day care centers across Tokyo. One of the best daycares is kspacetokyo.org as they offer international services as well as pre-school and after school activities. 
Living in Tokyo
Tokyo Transportation
The best way to get around Tokyo is through the train and subway system. The subway interconnects the city and it is very affordable. Although they are a little confusing at times, they become easier to navigate, the more you use them. A day pass will cost you around $6 USD for the subway so that would be $180 USD to use the subway every day for one month. You can get single tickets with journeys being as little as $1.60 USD and up to $3 USD. Be aware that trains do stop running at night, with the last one being around 1am.
If you want to take the train to other parts of Japan then it might be worth investing in a Japan Rail pass. Japan Rail, who run all the train networks across Japan offer great deals for tourists who want to take the train to see Japan. It will cost around $300 USD for a one week rail pass, which might seem like a lot but if you are planning on visiting multiple places then this is a really good valued way to get around.
There are also coach companies such as Willer Express that run bus services between cities with prices starting as low as $30 USD one way, however these do take a lot longer than the train and generally run overnight.
Taxis
Taxis in Tokyo are very easy to spot and there are plenty of them. Taxis are quite an expensive way to get around the city, as public transport is so well connected and cheap. However if you get caught out late at night when public transport stops, then taking a taxi might be easier than a long walk home. Taxi apps such as Uber, JapanTaxi, DiDi, Grab and MOV are frequently used in Tokyo however there are still many taxis that operate independently. 
Cycling
Cycling around Tokyo is a wonderful way to combine seeing some of the city sights, getting some exercise and saving a little on travel. There are many hire companies such as Community Cycle, which is essentially like London's Boris Bikes. You need to register online to use them and you will be given a code when you choose how long you want to use a bike for. Other companies such as Cogi Cogi, allow you to book bikes using their app. 
There are many rental shops across the city such as Mujirushi Ryohin, Taito-ku Rent a Bicycle and Tokyo Bike Rentals Yanaka. Prices vary but you can rent bikes for as little as $2 USD for 4 hours or $11.50 USD for one week. So it really is a sustainable way of getting around the city.
Fitness and Health
Keeping fit and healthy in Tokyo can be relatively easy if you enjoy walking and cycling around cities. Gym memberships in Tokyo are very expensive and quite often only offer personal training options as most gyms are privately owned. There are public gyms which offer day passes for as little as $4 USD per day or $70 USD per month, however you will most likely have to prove you are living in the area to be able to use these. If you decide to rent with a local estate agent, then ask them if you would qualify for using these public leisure centers. There are also many Yoga studios and fitness centers but again they are all private and classes can cost around $25 USD per session.
The best way to keep fit in Tokyo is to hire a bicycle, walk or run around the city. Although this might not be up to the same level as using a gym, it will help you to keep fit in a more affordable way. The best way to keep fit in Japan is by combining sightseeing with exercise. There are many hikes and areas close to Tokyo that are accessible by train, so why not take a day trip out to see a new place and exercise at the same time by hiking or walking. Another consideration is when booking your accommodation, you should ask if the building has gym facilities or if it is a hostel, find out if they run fitness classes.
Tokyo People
The people of Tokyo are extremely welcoming and friendly. Not only do they welcome tourists with opening arms, but they are over accommodating and will help as much as possible to make sure you have a wonderful time. 
You will find that many locals want to hang out with you for a drink and especially if they can speak English, it is seen as a great opportunity for them to practice. However this can turn into multiple drinks and you will find yourself strolling down the streets in the early hours of the morning. 
There is sometimes a sense of loneliness amongst locals, as they are so dedicated to their work, that sometimes life gets pushed to one side. There is very much a work hard play hard vibe in Tokyo.
Sadly it is quite common in Tokyo to see a heavy drinking culture amongst businessmen and whilst it is not that common, you may find they end up passed out in the street. Oddly this is quite normal and most people will just leave them be unless they look to be in danger. The drinking culture in Tokyo is very different to anywhere else in the world and unfortunately many businessmen use it as an outlet. However on a positive note this is quite rare and you will find many locals enjoying an evening at a karaoke bar or having drinks with friends.
The only thing that can get in the way is the language barrier. Less than 8% of the Japanese population can speak English and although it is being introduced in education across Japan, it is only just becoming of interest. So it is always advised to carry a translator app with you. Despite this difficulty in communication you will always be warmly welcomed. 
The two main religions in Japan are Buddhism and Shinto and you will see this when visiting temples and religious sites. 
Tokyo Insurance and Medical Care
It is always advised to take out insurance when you are travelling anywhere as you never know what is going to happen, whether it is medical related or accidental damage or loss of your belongings. Japan has a high level of healthcare and it is free for all citizens and expats. Some services are also free to tourists too but some might come at a cost. Health care is quite expensive in Japan so it is better to have insurance just in case. You can use the Japan Tourism Board website to find English speaking and international doctors and hospitals in the country. 
From my personal experience Japan was one of the safest places I have been and I never worried about my belongings being stolen or damaged. There is a very trusting sense in Japan and whilst you may not feel the need to insure your belongings, it is always good to have for unforeseen circumstances. Just because it is safe and your items are not at risk of being taken, doesn't mean there won't be other risks such as extreme weathers and accidents. So it is worth insuring any expensive items you have for peace of mind.
Make sure you are fully covered by reading our full Digital Nomad Travel Insurance guide.
Jobs in Tokyo
Finding work in Japan is quite difficult as the country is very strict on working visas. It will be very hard for you to find a job on the ground so it is advised to line one up before you head out there. This is so you can make sure you have the correct visa in place. Another common requirement is the ability to speak Japanese, however this isn't always needed.
The most common and easiest form of work in Japan is through teaching, especially teaching English. This is because of the growing demand for learning English and you will find not only children are learning, but adults too in business settings. There is a very high standard of education in Japan, so you will most likely need to have a university degree as well as other relevant qualifications if you want to teach English. There are all kinds of teaching positions available but most will be for teaching assistants, with different experience needed and the best place to look is online.
Some websites that advertise jobs or hire teachers include teachaway.com, govoerseas.com, interacnetwork.com and the Japan Exchange and Teaching Program (JET) which you can read more about at jetprogramme.org.
Another way of getting a job in Tokyo is through a company you already work for. Some of the larger corporations that have remote positions may be willing to transfer you to one of their offices in Japan or in Tokyo. This is a great way to find work in the tech industry and is the easiest way to deal with visas and employment. 
Check out our Digital Nomads Jobs Postings to find the best jobs available for Digital Nomads.
Nomad Friendly
Value for Money
Internet
Workspace
English
Food
Safety
Health
Transportation
Friendly
Quality of Living
Cost of Living Tokyo
The expected cost of living in Tokyo can vary dramatically depending on your needs. If you are frugal and sensible with your money then you should budget $1610 USD for one month. You should expect to be paying around $360 USD on low end accommodation, which will most likely be a bed or "pod" in a dorm. You should budget at least $750 USD for one month of food in Tokyo. That's $25 USD per day for food, however if you eat from markets and street food then you will find your budget goes further. If you were to walk around, use bicycles and use the subway every other day, then a budget of $150 USD should be sufficient for one month.
Assuming that you would not be paying for a co-working space and you were working from your hostel, various cafes and using some of the co-working trial days, then you should budget around $150 USD for coffees and one off days at co-working spaces. Finally you should budget some extra for sightseeing and tourism, but this can range anywhere from $200+ USD depending on what you want to see.
On a higher end budget you should expect to be paying $2450 USD. Broken down that would be around $750 USD for a private apartment, $200 USD for a co-working space, $200 USD for transport, $900 USD for food with a daily budget of $30 USD and then around $400 USD for luxury items and tourist activities.