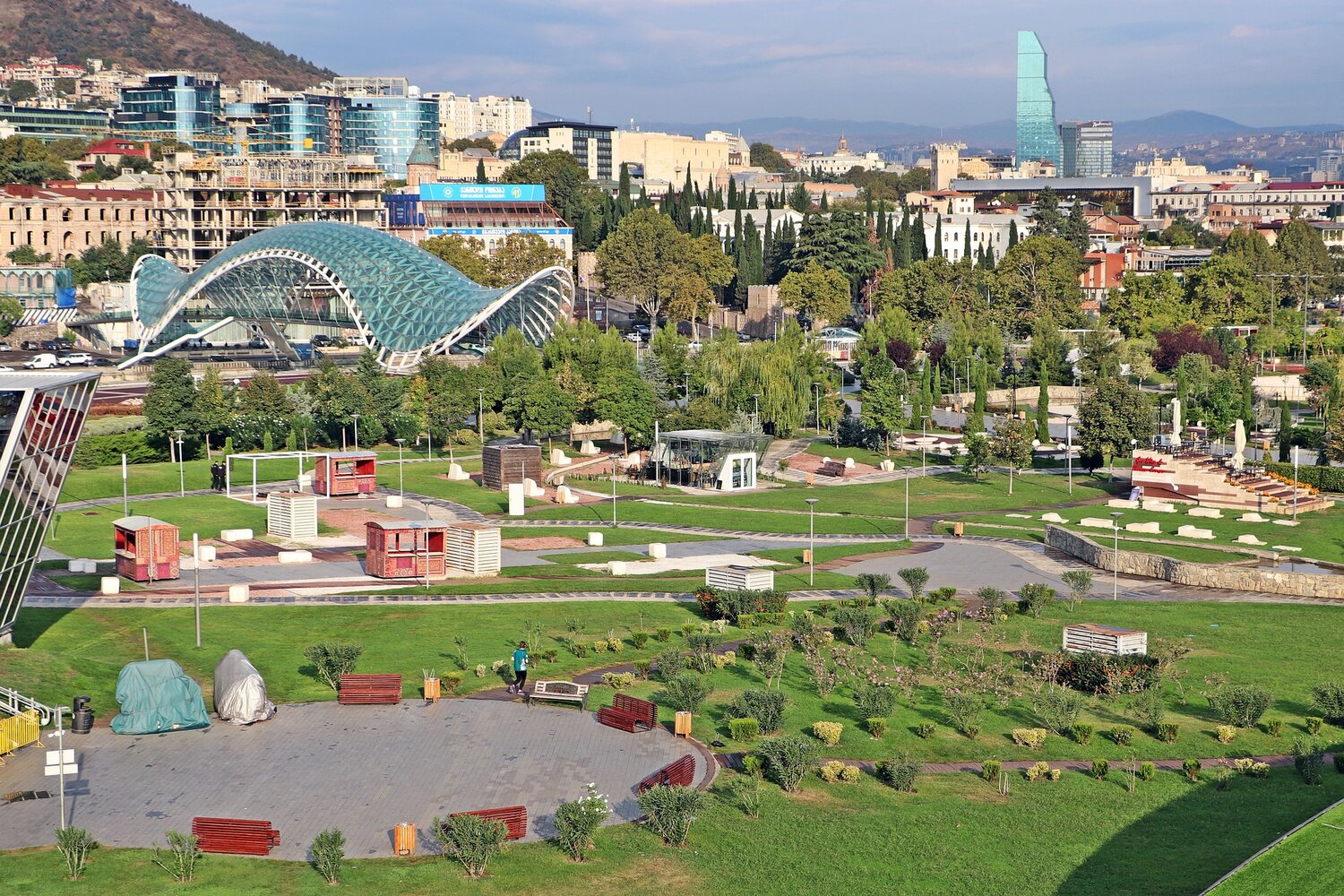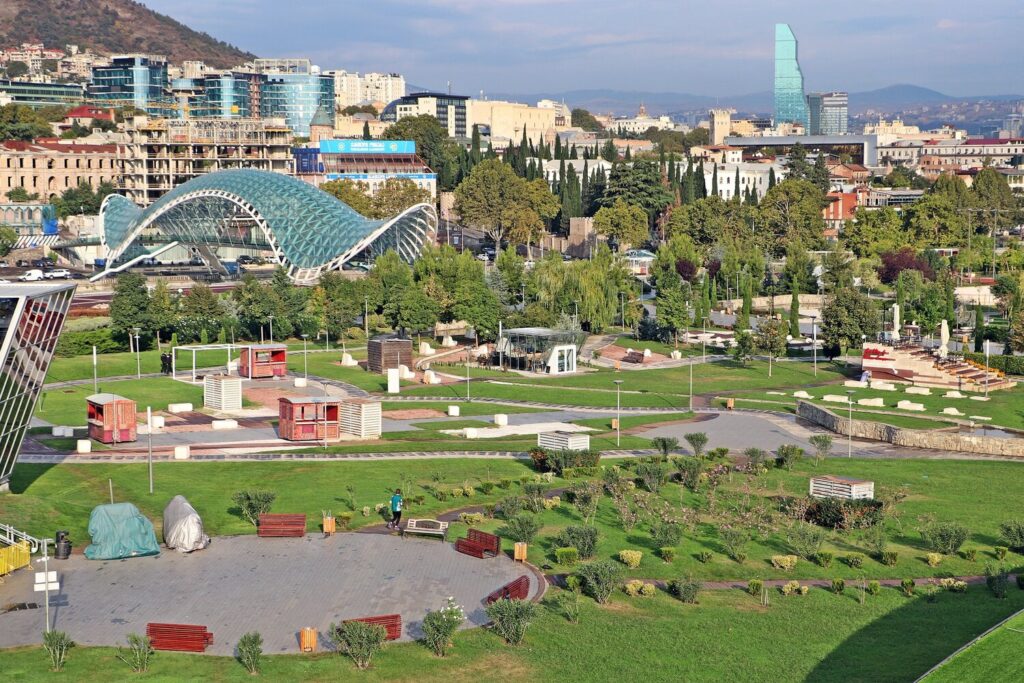 Best Coworking Spaces in Tbilisi
Tbilisi, the capital of Georgia and one of the oldest cities in the world. It is a promising digital nomad destination with a low cost of living and extended visas where citizens from 90 countries can stay in Georgia visa-free for a year. However, when moving to a new place like this we are always faced with the decision of where to work from. It is agreed that we cannot focus working from our new home and that in a coffee shop we suffer due to the low quality of Wi-Fi or the bustle of people. For this reason, every day more digital nomads and entrepreneurs opt for coworking spaces where they can work comfortably in silence, with air conditioning or heating, and with the contribution of third parties when they need it. Here we will recommend to you some of the best coworking spaces in Tbilisi.
7 Best

Tbilisi Coworking Spaces
KD4US Coworking
Private Office – 792 USD / Month
Dedicated Desk – 190 USD / Month
Hot Desk – 127 USD / Month
KD4US Coworking (12 Merab Aleksidze str. 0171 Tbilisi) is a luxury contemporary coworking office space with around 110 individual workplaces, four dedicated offices with four workstations each. There are also lockers, different meeting rooms depending on the number of attendees, four conference rooms for up to 120 people, leisure areas, kitchen and wheelchair access. It is located inside the King David business center, in the city center of Tbilisi.
Its members will also have 24/7 access, high speed wireless internet, 24 hours reception, IT support team, heating, air conditioning, standing desks, free parking, a food dispenser and coffee. In addition, it offers a professional work environment that aims to increase a person's motivation to develop their potential. Prices for a private office start at 792 USD, dedicated desks at 190 USD, and hot desks at 127 USD per month.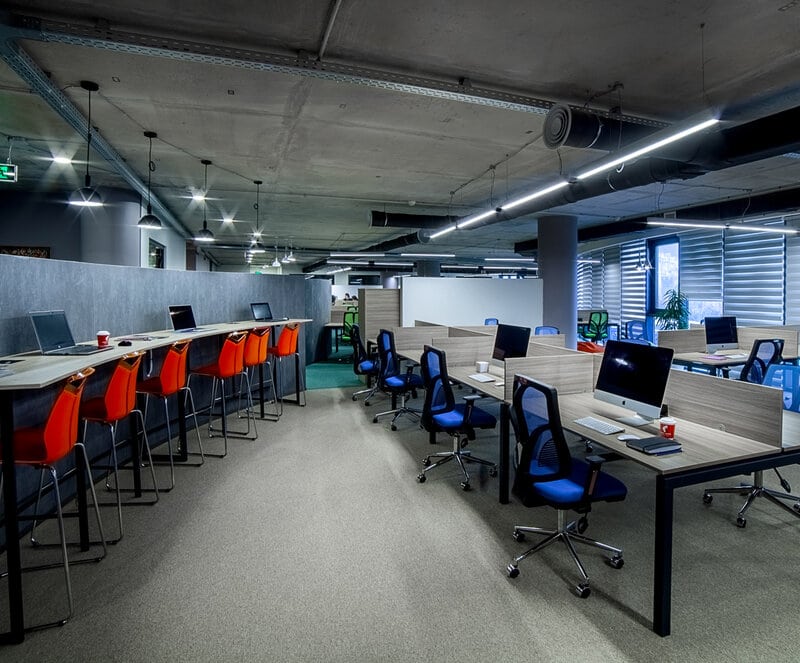 Regus
Regus is an international chain that offers offices with 24/7 access and full range of services, co-working spaces, business lounges and conference facilities. With coworking spaces in almost every city in the world, they have professional and inspiring work environments.
One of their options in Tbilisi is Regus Tabidze (Tabidze street 1). Located in a lively and exclusive area of the city, the popular Class A Tabidze 1 building features a spacious and ultra-modern interior, colorful furnishings, lots of eye-catching artwork, all the usual amenities, elevator and parking. Additionally, the area has access to means of transport and a wide variety of shops, bars and restaurants within walking distance.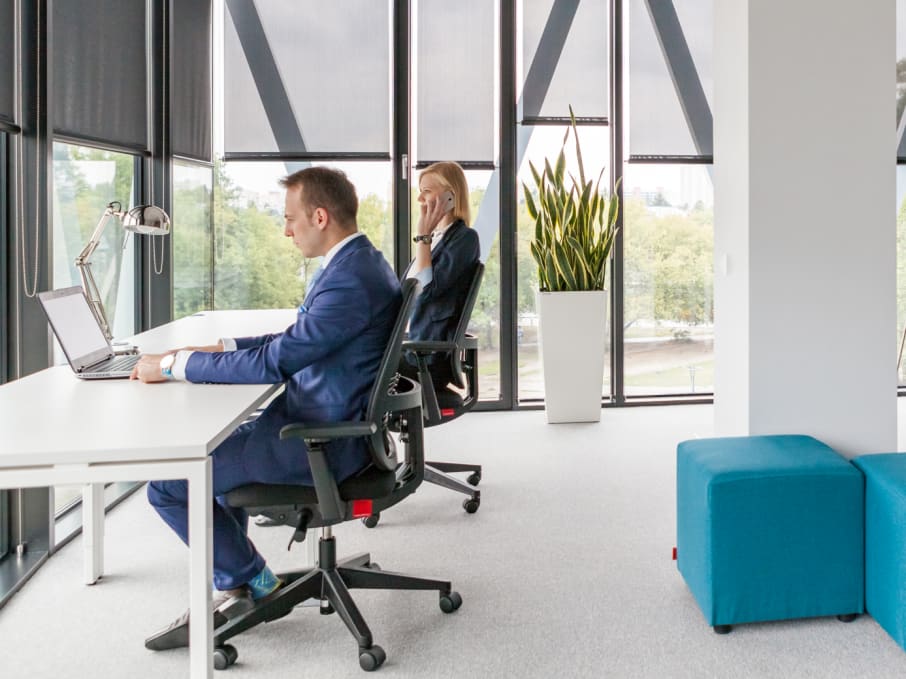 Regus Vazha-Pshavela
Private Office – 300 USD / Month
Coworking Space – 178 USD / Month
Virtual Office – 61 USD / Month
Meeting Room – 12 USD / Hour
Prices for office spaces start at 300 USD per month, coworking spaces at 178 USD per month, virtual offices at 61 USD per month, and meeting rooms for 12 USD per hour. Their second headquarters is Regus Vazha-Pshavela (BCV, 71 Vazha-Pshavela Ave.) where you can work alongside ambitious startups. Located in the bustling business district, this modern office space is an ideal base to search for new opportunities. They have a spacious and bright workspace with elegant modern furniture, rest areas, fully equipped offices of all sizes, elevator, meeting rooms, secure underground parking and bicycle storage. You can also find an on-site lunch restaurant and gym and fitness room so you can relax with an exercise routine after a busy day.
With the membership you will also have access to answering service, mail handling and forwarding, and customizable plans. Prices for office spaces start at 180 USD per month, coworking spaces at 112 USD per month, virtual offices at 61 USD per month, and meeting rooms for 12 USD per hour.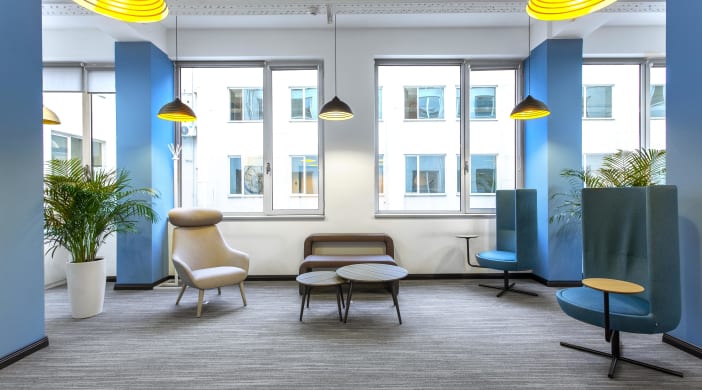 Lokal
Daily Hot Desks – 8.26 USD
Monthly Hot Desks– 141.60 USD
10-Pack Hot Desk – 70.21 USD
Lokal is a coworking space in Barrio de Vera where its community of digital nomads, expats and locals come to work and learn together. The atmosphere is informal, with no dress code and no office rules. The idea is that you feel the comfort of working at home while experiencing the benefits of having a community around you. It also has all the services you could want in a shared office space: outlets at each desk, meeting and call rooms, high-speed Wi-Fi (100 MBPS), spaces to work sitting or standing, sofas and poufs, a spacious patio, a garden, a cafe, a bar and free high-quality coffee and tea.
They also host events like game nights, movie screenings, and group tours. Additionally, it is a Co-living with furnished private rooms, balconies and a communal kitchen. Here you can reserve a room, a personal desk or a shared desk. Prices per hour start at 8,26 USD and monthly at 141,60 USD.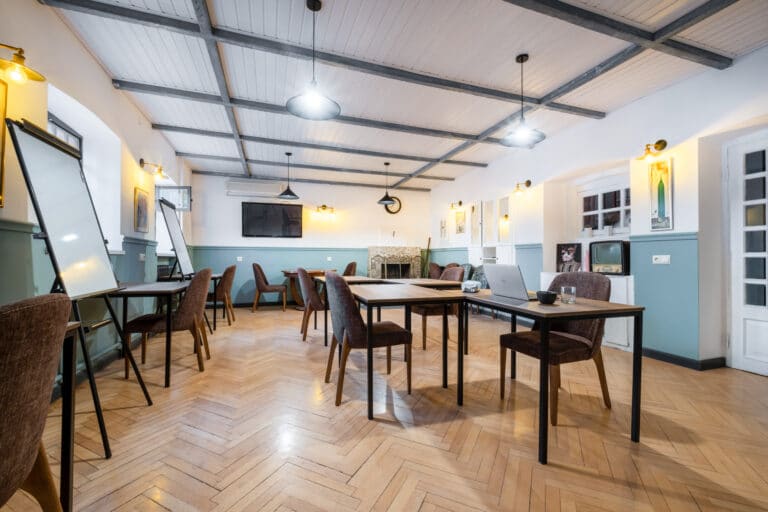 Hub Tbilisi
Day Pass –

9,51

USD
Unlimited Pass– From

114

USD
The owners of Hub Tbilisi (Fabrika, 8 Egnate Ninoshvili St.) describe it as a place where entrepreneurs, civil activists, professionals and other community members combine their efforts for a better tomorrow. Located within a courtyard of Fabrika Tbilisi, it has a large space filled with light, comfortable desks, several glazed meeting rooms, office spaces available for rent by hour and by month with 24/7 access. They also offer a fridge, microwave, private lockers and projectors.
Impact Hub is also a great place to meet freelancers, local entrepreneurs, and fellow nomads. The day pass costs 9,51 USD and the unlimited pass from 114 USD.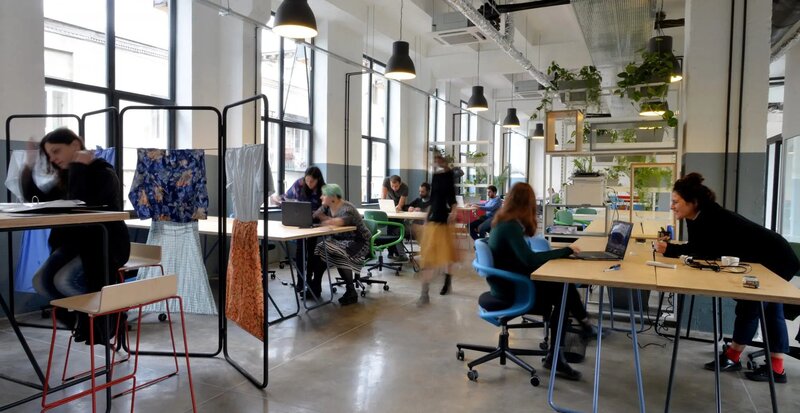 UG Startup Factory
Day Pass – 6.5 USD
Monthly Membership –

38.3

USD
Meeting Room – 6.5 USD / Hour
UG Startup Factory (The University of Georgia, IV, Merab Kostava St) is an innovation center of the University of Georgia with a Startup Accelerator. Here you can reserve coworking spaces, meeting rooms and a conference hall. It is intended for anyone who wants to develop their own innovations or create their own startup but also accepts digital nomads and remote workers. The center also operates a Technology Transfer Center, which provides startup innovations in local and international markets. This 24/7 budget-friendly and modern coworking space, can place up to 40 people and offers tables with chairs, a meeting room, conference room for up to 100 people, electronic laboratory, programming laboratory, high speed wifi, heating, air conditioning, a kitchen with coffee and tea, microwave and a GYM with a special price for members.
In addition, for start-ups it offers different training and consultations, access to mentors, access to innovative infrastructure and access to different financing programs such as university funds and different resources.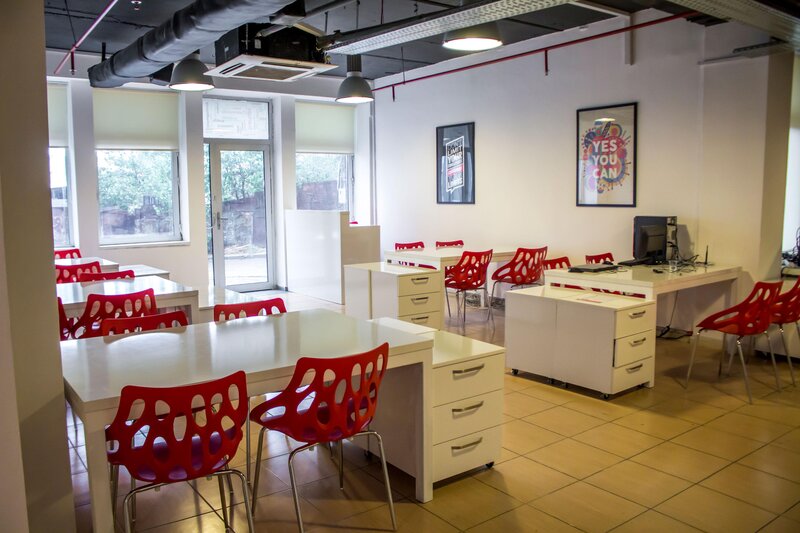 Terminal-Abashidze
Monthly Membership –

135

USD
Terminal-Abashidze (34-36, 0179 Irakli Abashidze Street) is part of a coworking branch with different options. Terminal aims to create and improve the innovations ecosystem in the region. It does so by providing a comfortable, innovative, and well-designed environment so that its residents and guests can benefit the most. This multifunctional space offers dedicated desks, flex desks, private offices and fully equipped conference rooms. as well as meeting rooms for up to 12 people, virtual offices, lounge and relax zone, bar/café area, terrace, high-speed wireless internet, 24/7 access, heating, air conditioning and much more. Terminal doors are open to any person regardless of race, gender or nationality.
People come with specific plans and goals, and hurry to achieve them. You can become a Terminal member starting at 135 USD per month. Terminal Khorava (3 Akaki Khorava St.), located in the former co-working space Vere Loft, is another branch of the company chain Terminal. The other four are located in Vake, Saburtalo, an Marjanishvili neighborhoods. Its amenities, services and prices are similar to the other ones and its design is also modern and comfortable.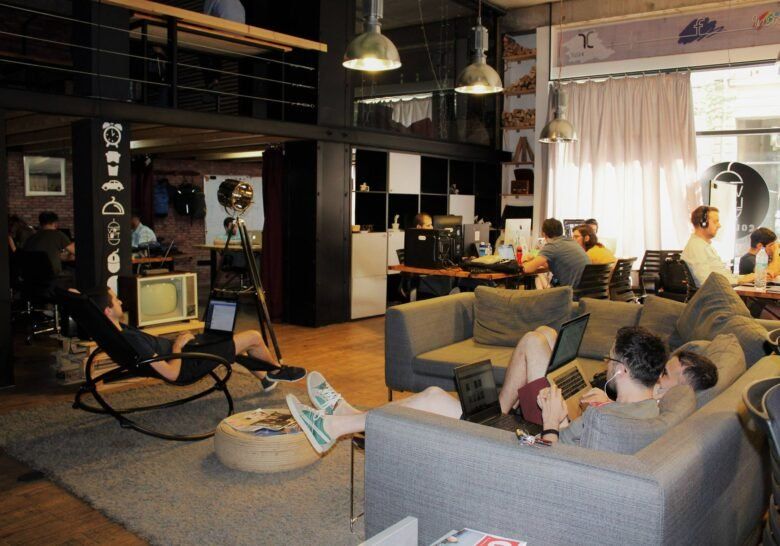 Do you know any other coworking space in Tbilisi? We are all ears.