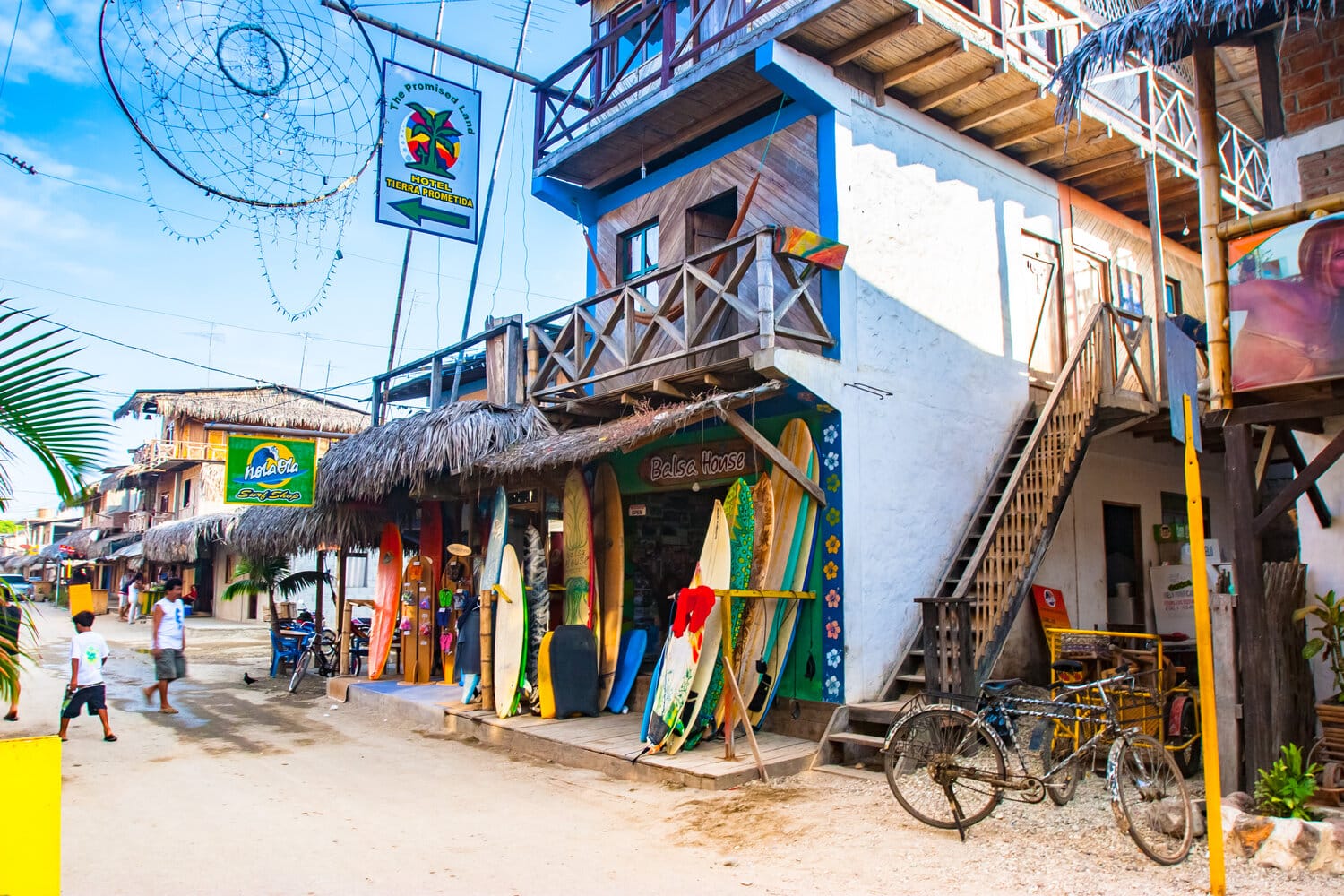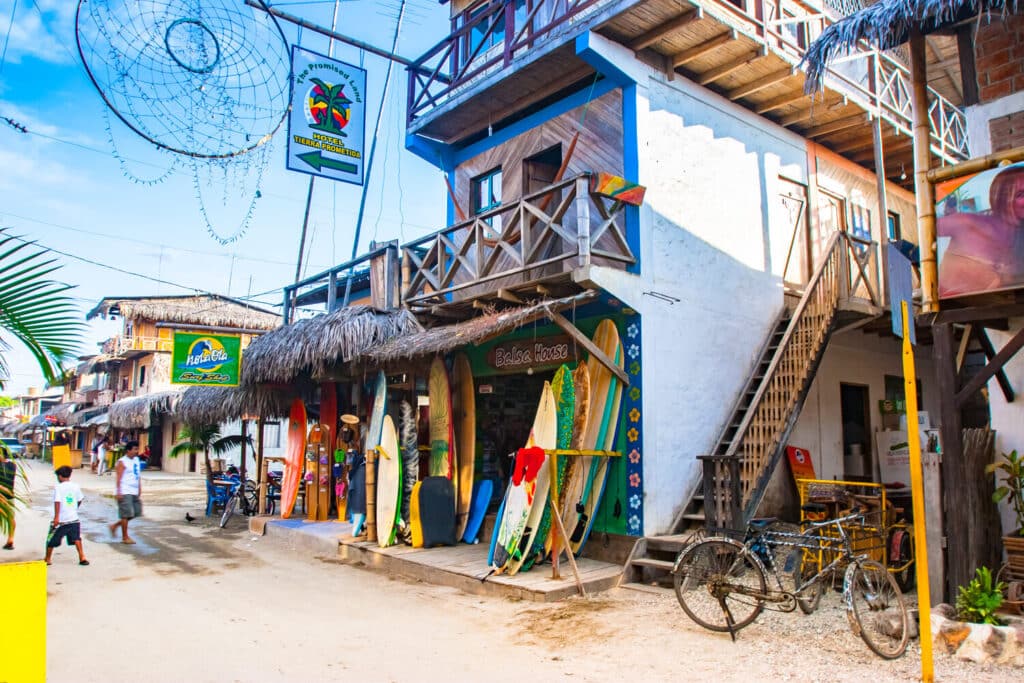 A Digital Nomad Guide to Montañita, Ecuador
Ecuador is located in South America and sits between Colombia and Peru, and it is the fourth-smallest nation in South America. Ecuador is home to an abundance of wildlife, nature, and culture, with the Galapagos archipelago located just off the coastline of Ecuador. It is a nature lover's paradise and will keep surfers and divers entertained for hours. The equator runs across Ecuador, dividing the country between the northern and the southern hemisphere. 
The official language in Ecuador is Spanish, although there are 20 recognized indigenous languages in the country. In the more remote and mountainous regions, many native languages are still spoken. It is also home to one of the oldest civilizations in South America, the Las Vegas tribe, who lived around 10,000 years ago on the pacific coast. The currency in Ecuador is surprisingly the United States Dollar. Ecuador had its own currency, the 'Sucre,' up until 2000 when they started using the USD.
Montañita is one of the most popular coastal destinations, with its golden beaches and hippy vibes. Montañita, meaning 'Little Hill,' is located in the southern hemisphere, and it is known as the place to go for a beach vacation, with a vibrant party atmosphere crossed with endless surf. 
In the 1960s, Montañita became a popular destination with surfers and hippies; many settled and helped shape the town into what it is now. This tiny fishing village has transformed into a chilled-out surfers paradise, and the two very different cultures live harmoniously alongside each other in this multicultural town.
Nomad Friendly
Value for Money
Internet
Workspace
English
Food
Safety
Health
Transportation
Friendly
Quality of Living
Living in Montañita Overview
| | |
| --- | --- |
|  Meal, Inexpensive Restaurant | $3.75 |
| Domestic Beer (1 pint draught) | $2.00 |
| Cappuccino (regular) | $1.75 |
| Loaf of Fresh White Bread (1 lb) | $0.85 |
| Water (1.5 liter bottle) | $1.03 |
| One-way Ticket (Local Transport) | $0.85 |
| Basic Utilities (Monthly) | $42.65 |
| Internet | $38.80 |
| Fitness Club (Monthly) | $31.05 |
| Apartment (1 bedroom) in City Centre | $580.00 |
[erw_exchange_rates_widget lg="en" tz="0″ fm="EUR" to="EUR,USD,GBP,AUD,JPY,RUB" st="primary" cd="" am="1″][/erw_exchange_rates_widget]
Max Withdrawal: €400
Use of Credit Cards: Widely Accepted
Digital Nomad Personal Experience in Montañita
I was fortunate to visit Ecuador back in 2017, and I had a wonderful time staying in the small beach town of Montañita. This was a surfer's paradise and a great hub for backpackers and digital nomads. I stayed just outside the town at a hostel called Kamala, as I was working on a promotional project for them, creating some content and film for them to use to promote the hostel. It was nice being located just outside the town as it was only a short walk away, and it was a little more tranquil as the beaches were quieter. 
Although Montañita was small, it was a great place for any beach lover, as you can wake up every day and swim or surf in the beautiful water. I was lucky to be staying there with a group of ten friends, so I never got bored; however, I could see that perhaps over time, it might become a little repetitive. But if you are looking for a relaxing, chilled time, then this is a great place, and if you have the perfect community around you, then I think you could stay happily for a long time.
I spent most of my afternoons working in little bars in the center of town and then would eat from local street food vendors and have a casual walk along the beach back home as the sun would set. As I was on a very tight budget, I didn't take up surf lessons nor visit any of the islands, but for me, that was fine as it had been a busy month, and it was nice to take a break and enjoy the small things.
My favorite thing to eat was the ceviche, and although we had been eating it for a while now as it is a specialty of Central and South America, I never got bored of it. The fresh seafood mixed with the crunch and zing of the fresh vegetables was the perfect lunch for me.
Work in Montañita
Places to Work in Montañita (For writers: Where can A digital nomad work from in the city? Coffee shops, co-working spaces, restaurants, internet speed, etc.)
Montañita is a small beach town, popular with surfers and divers, and the co-working community is still developing in the town. As of 2021, there is one main co-working space that is part of the global chain Selina, which offers working spaces around the world. When I visited back in 2017, there were no co-working spaces but plenty of cafés and hostels that had suitable places to work from. So if you are a keen surfer looking for paradise, then this is the town for you. If you are more of a city goer and need certain elements for work, then Montañita might not be the best place for you. 
The average internet speed in Montañita is 17 Mbps, but please remember that as it is a subtropical climate, it is common to have power outages. This is when getting a phone plan might be beneficial, as you can keep working by tethering from your phone. Claro and Movistar are the two top-rated phone network providers in Ecuador. Movistar offers cheaper rates; however, their coverage isn't as good as Claro. Both offer data plans for around $25 USD for 2GB of data. 
Best Places to Work in Montañita
Selina
This is pretty much the only co-working space in Montañita, but it is a great place to work from. Selina has become a global brand of co-working and co-living communities, so you can count on this space being a great place to work from. Their prices are very reasonable, with daily use of the co-working area starting at $13 USD per day, weekly memberships at $59 USD, and monthly memberships costing $100 USD. One thing that is great about Selina is that they run events, health and fitness classes, and have fantastic facilitates. You can live, work and play all under one roof, which makes things very simple for someone who just wants a package that covers everything. 
CocoHub
CocoHub is an ever-growing community of remote workers, and they offer access to communities as well as workspaces. To find out more information, you need to create an account or contact them directly for more information. If Selina doesn't tick your boxes, then it might be worth enquiring and finding out more about CocoHub, which is becoming a global brand for digital nomads. 
Cafés
There are many cafés in the main town, and some are better suited to digital nomads than others as they have better facilities and there are a couple of internet cafés. Internet cafés are known as Cyber cafés, so if you see a shop with cyber written above, then it generally means internet café. Although these are convenient, they can sometimes be a little uninspiring to work from, so here are some of the best cafés in Montañita; Rústica, The Wave Surf Resto Café, and Olon Espresso, which is located in the village just north of Montañita. You will notice more tucked away as you wander the quaint streets and will find one to suit your vibe.
Hostels
There are many hostels located in the main center of Montañita, many of which have great chilled hangout spaces, which might be a great option for you to work from. Not all digital nomads need a quiet space; some need a motivating buzzing space to work in, and working from a hostel might be great if you fit into this category. You will see that many hostels that I mention in the accommodation section have communal areas, some of which act as cafés for the public, so it might be worth approaching one when you arrive to see if you can pay to use their space or make a deal with them for co-working. 
Best Places to Live in Montañita
Best Neighbourhoods
Montañita is a relatively small town, so your selection of neighborhoods is quite limited. Most people tend to stay along the main strip, close to the center, or along the coast. However, as Montañita is a bit of a party town, it can get quite noisy and disruptive in these areas, so some people prefer to stay a little distance out of the main town.
It is hard to define the town's neighborhoods as it isn't so well divided, so it is best to stay either along the coastline or on the main strip. These two areas are where the majority of hostels and hotels are located, and these are the safest, best-lit, and most convenient places to stay. 
Most people choose to stay on the west side of the main highway (E15) as most places within the radius are very easy to walk to. Anything to the east of the highway tends to be more housing for locals or hotels that are less popular with backpackers and digital nomads. 
There are many hostels that are located a short walk along the beach, which is also not a bad location to be staying; however, you must be cautious at night. It is common to be robbed at night, especially in not-so-well-lit areas or on the beach. So if you do find your accommodation is a short distance from the main strip, then make sure to walk back in groups or perhaps take a taxi and avoid walking along the beach alone.
The locals live in and around the city, so there is no designated area that is just for tourists or just for locals, but staying in the center is safer and better for most tourists. It is also most convenient as this is where all the shops, bars and restaurants are allocated, so it means you will have only a short walk between your accommodation, work, and leisure. It also means that you are living in the heart and soul of Montañita, which means you get to see the life of the town while staying outside the city can be quieter, it isn't as interesting. 
Find an Apartment in Montañita
The best way to find an apartment in Montañita is via websites such as Airbnb, Hostelworld, or surf schools that offer packages.
Co-Living
As of 2021, the only co-living venue in Montañita is Selina. Selina is a global chain of co-living, co-working spaces, and their spot in Montañita is a good option for accommodation. Not only do they combine living and working, but they run events and have a fantastic community. The micro room is the best option for a digital nomad as you get a private room with a fair amount of space and a shared bathroom for $640 USD per person per month. If you feel like you need more space or want a private bathroom, then Selina also offers their standard room, which costs $1080 USD per month, and some rooms have private bathrooms too. The great thing about Selina is that you can book a package and move between their locations, so if you are interested in staying with them, visit their website and get a personalized quote for your planned trip. It is nice to know you can move from one Selina location to another, free of charge.
Airbnb
Airbnb is always an option for finding accommodation; however, it isn't always the most reliable. In places like Montañita, which are well suited to tourists, you will find accommodation is already very affordable and offers unbeatable facilities, so finding an Airbnb for the equivalent price with similar facilities can be challenging. It is possible to find rooms in homes or small studio apartments in the heart of Montañita for as little as $295 USD per month. Many will offer private bathrooms, Wi-Fi, and access to a communal kitchen, which is great, but it is advised to always message the host before booking to get the internet speed and check that it has everything you will need for your stay. Having Wi-Fi doesn't always mean having 'good' Wi-Fi.
Hostels
Some hostels offer fantastic facilities and private rooms, so here is a selection of the best deals for a private space. Hidden House Hostel offers private double bedrooms with an ensuite for around $610 USD per month. This also includes access to a shared kitchen, hangout areas, and events. As it is so cheap to eat out, this may be a great alternative to renting an apartment with a full kitchen. Other hostels that offer great facilities and private rooms are Iguana Beach House, Hotel Casa del Sol, and Hidden House Hostel.
Cheap Places to Stay in Montañita
There is a good selection of accommodation options in Montañita for low budgets, and this is mostly in the form of hostels or guest houses. The best option for someone on a low budget is to find a hostel that offers some other facilities or activities as this will then help reduce your other costs. For example, some hostels have great hangout areas, so this could double as a co-working space and save you on that aspect, and some offer breakfast, so this will help reduce your food costs.
Low-budget hostels that are suitable for couples and single nomads with great facilities are Sapa Inka Hostel, where you can have a private double room with ensuite for $484 USD per month. ESPERANTO B&B Surf & Backpacker hostel offers beds in dorm rooms for $210 USD per month, and breakfast is included. My Little House Surf & backpacker Hostel offers a bed in a dorm for $214 USD per month, and they run regular events and offer deals on surfing lessons. This is more of a party spot, so if you are looking for somewhere social, then this is a great place to stay.
The best low-budget option for a digital nomad couple is Hostel Kundalini, as co-working is included with the hostel price, as well as breakfast served every morning. For a private double room with its own bathroom, it will cost around $33 USD per night total. This may seem a little high, but when you consider that co-working is included in this and breakfast, your only costs on top of this will be lunch, dinner, and entertainment. It will cost you around $1109 USD per month, which, when split between a couple or two friends, is $555 USD per person per month for your own space and private bathroom. 
Selina coliving also offers beds in dorm rooms for around $324 USD per month, which is a great option for someone who wants to be part of a coliving community and doesn't mind sleeping in a shared space.
Montañita Visa
The majority of passport holders will not need to obtain a visa before entering Ecuador and will simply be stamped in upon arrival. If you are from one of these countries, then as long as you have a minimum of six months left on your passport, then you can stay for up to 90 days. Bear in mind that this does not reset every time to exit and reenter; this is a 90 day total within a year. If you want to extend your 90-day visa, then you will need to show proof of sufficient funds in your bank account, and you will need to visit the nearest Migrations office. If you plan on staying longer before you head to Ecuador, then you can visit an Ecuadorian embassy in the country you are in to obtain a long-stay visa. 
Most neighboring countries in South America can enter Ecuador with just an ID card as there is an agreement between neighboring countries to allow citizens to roam freely between them. 
If you are not from one of the visa-free countries, then you will need to apply for and obtain a visa before your arrival. This is one for a small number of countries, and to find out if you need to obtain a visa before entry, please ask your embassy. It is different for every country, so if you are unsure, it is always better to ask before planning a trip. 
Culture and Food in Montañita
Ecuador has some of the best cuisines in South America, and a particular specialty of Montañita is ceviche. Montañita is one of the best places in the country for seafood, and you will notice that along the coastline of Ecuador, many street food vendors and restaurants serve a variety of barbeque fish and seafood. 
Ceviche
If you haven't heard of it, ceviche is a popular cold seafood dish that is served as far north as Mexico and is popular along coastlines of Central and South America going down to Peru. Many countries claim it to be their specialty and each place has its own twist on this delicious dish. Ceviche is essentially small diced raw fish or seafood that is left in citric juices such as lime and lemon. The acidity effectively cooks the fish so that it is no longer raw. It is always served cold and usually consists of fresh seafood and local vegetables and fruits such as tomatoes, onion, mango, and cilantro. The best restaurant for ceviche and seafood is Tambo Sabores Peruanos. However, there are many other good ones to choose from, and you will find lots of street food vendors sell it too. Just be careful as at the end of the day it is raw fish, so if you are getting it from a street food vendor that has had it sitting in the sun all day, then there is a chance you may get sick as bacteria has a chance to grow. I never personally got sick from it, but it is something to consider. 
Street Food
Many people choose not to eat street food out of the risk of getting sick, which is totally fine, but I absolutely love eating from the street food vendors. Some of the most common things you will find are ceviche; however, please bear in mind the time of year you are there and whether the food stand has refrigeration as you could get very sick from raw fish that has not been stored properly. Other common street food items include empanadas, and I don't think you can go wrong with these. Empanadas are small pastries often filled with meats or vegetables, and they are the perfect snack! Sometimes you can find them for a cheap as $1-2 USD each.
Fast Food
If you have been on the road for a while, then you might be craving a familiar taste, or perhaps a typical burger or pizza; in other words, for what is some people, comfort food. Montañita has a great selection of fast-food-style places to eat, such as Ezzio's Pizza, where you can get a small pizza for as little as $3 USD. Other fast food places include Rastapan, Tiki Grill, 
Vegetarian and Dietary Requirements
Although Montañita is relatively small for a coastal town, it caters well to tourists, especially those with dietary needs. You will not find as many options as being in a major city, but for a town of its size, there is a good selection. Guadalajara Tacos & Grill, Pigro, Ahimsa Tienda y Cafeteria, Omkar Authentic Indian Food, Buena Onda Cafe Bar, Coco Jungle and Carmita's Pancake House Restaurant are all highly rated places to eat at. As for cooking, you may struggle to find certain ingredients in the shops as there are no major supermarkets in Montañita.
Montañita Nightlife
Montañita is known as one of the most popular beach resorts that parties all night long. Many backpackers come to Montañita to party, and you will find some of the best parties in Ecuador happen here. There are many bars to choose from that serve up a great selection of strong cocktails and have all-night parties. There is so much going on in Montañita, so you will definitely find something to suit your vibe. 
Cocktail Alley
Many people will begin the night in what is known as 'cocktail alley.' Here you will find multiple street vendors with pop-up bars serving generous drinks for very little prices. Most common cocktails and drinks cost around $3 USD here, and they are often quite strong. Some of the cabanas have tables and chairs with cozy seating areas, and many people come to cocktail alley for pre-drinks.
Montañita Brewery
If you are looking for a few casual drinks in the evening, then Montañita brewery is the place to be. For any beer lover, this is the spot in town to try out the local craft brews. From fruity tropical ciders to hearty ales, this is the place for a relaxed evening with friends. They also serve up sushi and fish tacos, so this is a great place to drink and eat! 
Lost Beach Club
This is the place to be for a night of dancing across three different dance floors. Lost Beach Club is the best place for electronic music, with top-quality speakers, live DJs, and it is very popular with both locals and tourists. Nativa Bambu is also another great place for a club-like vibe and an evening filled with lots of dancing. 
Hola Ola
Famous for its ladies' night on Thursdays, this is a great place to spend an evening with friends. Free drinks and entrance are offered to the first 50 ladies, and if you aren't lucky enough to be one of the first 50, you can still enter for a small fee of $10 USD for unlimited drinks until 12.30 pm.
El Otro Lado
El Otro Lado is known as the best gay bar in Montañita, and it is located literally on the beach. It is a great place to watch the sunset with a few drinks, and it is a very welcoming and safe place for the LGBTQ+ community.
Bier Haus
For those who prefer an alternative music choice and want to drink in a bar that only plays rock and roll, then Bier Haus is the place for you. This classic rock bar attracts both locals and tourists to its stand-out bar, and it is the place for an alternative evening.
Tiki Limbo and Caña Grill
These are both great places that are recognized for their food rather than their drinks. However, they both offer great evening entertainment with live bands and music, so if you want to treat yourself to dinner accompanied by live music, then these two are the best in town.
Things to do in Montañita
Some might think that Montañita is just a small relaxed beach town with not much to offer other than surfing; however, you will find endless actives in and around Montañita that will keep you entertained for hours. 
Surfing

Most people come to Montañita to surf as this is the sport that put this small fishing village on the map. Montañita's surf is some of the best in South America, and the waves are known for being consistent pretty much all year round. The cost of board rental can vary, depending on what you want and your haggling skills. To rent a surfboard for a day generally costs around $8-10 USD. If you are looking for lessons, then Montañita Surf Aloha, Tres Palmas Surf, and Guest House Balsa Surf Camp are the best places for package deals for lessons and boards.  

Water Sports

As well as surfing, there is a variety of watersports activities available in Montañita, such as stand-up paddleboarding, snorkeling, and diving. There are many companies located along the seafront offering a variety of lessons, tours, and rental equipment. Not many have functional websites, so it is best to ask around when you get there or see if your accommodation has any deals, partnerships, or recommendations with some of the tour companies. You will find a great selection as this is one of the main forms of tourism in the area. 

Souvenir Shopping

Montañita is a great place for someone who loves trinkets and shopping for local handmade crafts. Being a hippy-type town, it is full of quaint souvenir shops selling some beautifully handmade goods, from handmade jewelry, local textiles and wooden crafts. The village of Valdivia has a great selection of pre-Colombian artisanal souvenirs, so this is a great place to visit for authentic and unique gifts.

Valdivia Village

Just south along the coast is the small village of Valdivia. Most visitors go to see the Pre-Columbian history museum and the aquarium: Marino Valdivia Park. However, as mentioned above, it is also popular for local crafts and souvenirs, so if you are looking to get out of Montañita for an afternoon, then this is a cute village to visit. 

Beach Sunsets

Montañita is on the west coast of South America, so it gets some of the world's best sunsets. The golden beaches and blue sea, crossed with the orange and pink sky, make a breathtaking view. Whether you are sipping a cocktail from a bar or simply sitting on the beach, this is a spectacle worth admiring, and it is completely free.

Whale Watching

Just off the coast of Montañita, depending on the time of year you visit, it is possible to whale watch. Between July and November, humpback whales can be seen from about a 10-15 minute boat ride from the coast, and there are many boat trips that take you out to spectate. Tours cost around $15 USD per person, so if you are visiting during this time, it is worth seeing this beautiful act of nature.

Galapagos Islands

When some people visit Montañita, they often book tours to the Galapagos Islands. However, this isn't within everyone's budget, and it does require a fair bit of planning beforehand. There are multiple tour companies in Montañita that will organize guided trips for you, but the best thing to do is visit the official Galapagos Islands website here, galapagosislands.com/travel/ to find out more before you go. I personally didn't take a trip to the Galapagos Islands because it was out of my budget, and I found that there was plenty to do in the area and surrounding villages.

Isla de la Plata

Also known as 'the poor man Galapagos,' this is an alternative archipelago of beautiful islands to snorkel and swim around. Isla de la Plata, which translates to 'Silver Island,' has become a popular excursion from Montañita as it is affordable and beautiful. Most boat tours and trips go to Isla de la Plata as it is not too far from Montañita. Prices vary depending on the time of year you visit and can be haggled when you are in Montañita.

Los Frailes

If you are looking for a change of beach or for a different scene, then you need to visit Los Frailes beach. Located just a couple of hours north of Montañita, this beach is one of the top-rated beaches in Ecuador, and when you see photos, you will understand why. Surrounded with unique rock formations, the beach is very different from Montañita as the white sand is pleasantly complemented by the high cliffs and natural rock formations that line the beach. This is the place any Instagramer wants to go!

Agua Blanca

Located just over an hour's drive away from Montañita deep in the Machalillia National Park are the mud baths at Agua Blanca. This community-run project brings tourists from all over Ecuador to hike and eventually bathe in the sulfur mud baths. For around $82 USD, you can take a tour from Montañita via Los Frailes in a day, or you can enjoy an adventurous bike tour to the beautiful mountains too. Have a look on Tripadvisor for different tours that are on offer, and then when you arrive in Montañita, you can visit a local tour guide to book a tour.

Dos Mangas Waterfalls

Only a short ride from Montañita is the secluded waterfalls of Dos Mangas. It is common to take a taxi to the village of Dos Mangas and then trek to the waterfalls by horse or by foot. It is possible to rent a horse for around $10 USD and a local guide for around $20 USD, and you can even book some prepackaged tours that include your transport to the village from Montañita and lunch. 
Best Time to Visit Montañita
The temperature in Montañita often remains hot throughout the year as it is located just south of the equator. Its sub-tropical coastal climate makes it the perfect place to visit at almost any time of year. Located in the southern hemisphere, Montañita's winter months are from June until October, November time, with the coldest temperatures. 
January, February, March, and April are the months with the most rainfall, so if you want to spend your days sunbathing on the beaches, then it is better to avoid visiting during these months, and March is the wettest. Despite being the wettest months, they are also the warmest, with January reaching temperatures hovering around 31°C (87°F). August is the driest month and has the least rainfall. May is the sunniest month, and September is the coldest month with an average maximum temperature of 28°C (82°F). 
Water temperatures range from 13-20°C (56-68°F). The warm weather attracts surfers with perfect ride-able waves all year round. During the calmer months, waves can reach up to one meter (over 3 feet) and will get as high as 2 meters (6 ½ feet) from January to March. Montañita is famous for its famous consistent waves.
Montañita for Families
Montañita is not particularly well suited to families and is not highly recommended as it is a party place that is popular with young backpackers. Having said this, at the end of the day, it is completely down to your personal decision, and perhaps as a young family or a family with teens, this might be a place that you enjoy. It is circumstantial; however, it doesn't appeal to most families due to the lack of facilities and the party atmosphere. 
Quito, the capital city of Ecuador, is better suited to families as it has better facilities on offer. However, if you do find yourself in Montañita, then don't worry as there are still some elements that suit family life, and you will find many ex-pat families in the town.
The best accommodation would be to find a hotel that has a family room. This will offer the best setting for you and your family and will be the safest option with facilities on your doorstep. Montañablu Hotel is recommended as being one of the best hotels for families as it has great facilities, is safe, and is in a good location. Prices start at around $170 USD per night for a family, so although this seems like a lot if you are staying for one month, it is better to pay to have facilities and entertainment for the kids in a safe environment. Check out ex-pat websites and Facebook forums to find out what other families do when visiting Montañita. 
There are many things for families to do in Montañita; the most popular is getting surf lessons or visiting the aquarium in the nearby town of Valdivia. Montañita is a party town, so it may not be well suited to children, but there are still some activities in surrounding towns that are good for families. 
Living in Montañita
Montañita Transportation
Montañita is small enough for you to be able to walk almost everywhere. The pedestrian-friendly town offers taxis too, and this is pretty much all you will need to use whilst there. If you prefer to combine your exercise with travel, then there are many bike rental shops in the area.
Bus
There are public buses that run between the coastal towns, which will cost around $0.50 USD for a single journey. This is a great way to get to Olon, the town just north of Montañita. These can sometimes be a little uncomfortable for long journeys as they can become overcrowded.
Intercity Coaches
There are also buses that travel further distances to some of the larger cities. Ecuador Hop is essentially like a Megabus-type service, running coaches between major cities. It acts as a hop-on-hop-off service, so you can book a trip around Ecuador, stop off in a city for a day or two and hop back on again. This is great for a weekend trip away, or if you want to just take a longer single journey. Single trips with one-stop tend to cost around $50 USD, but it all depends on the time of day and route.
Taxis
Taxis are very cheap in Ecuador; for example, a journey to Olon, the town 2.4 miles (3.8km) north of Montañita, will cost you around $2-4 USD each way. Make sure to agree on a price before you take a taxi and expect to be charged a 'tourist tax.' This is not an official tax; however, taxi drivers and other locals may try to take advantage of you being a foreigner and will charge you higher rates than they do for locals. There are no taxi apps that work in Montañita; however, Uber has just started to be used in major cities.
Bicycle Rental
You can rent a bicycle in Montañita for around $7-10 USD per day, depending on how many days you want it for and what type of bicycle. Many hostels and tour operators will rent them out for longer periods of time, too, so you might get a discount if you book one for a week or for a month. 
Fitness and Health
The best ways to keep fit in Montañita involve the ocean or nature in some respect. Watersports such as surfing, paddleboarding, kayaking, and swimming are the most common forms of fitness in Montañita; however, there is a small handful of gyms for those who are interested; however, none have websites, pricelist or appear to speak English. Muscle Beach Montañita and Brinko club Montañita look to be the best in the area. 
Yoga Montañita was the first yoga studio set up in the town, and not only do they have weekly classes, but they also run retreats too. Drop-in classes cost $8 USD, and they run a variety of yoga classes from Hatha to Vinyasa, so you will find a class that suits you. 
If you are interested in getting into watersports, then ecuadorkitesurf.com is a good place to start as they offer lessons in kite surfing, paddle boarding, and surfing. This might be the best place to go for advice about combing exercise and learning a new skill. Another option would be hiking as there are many coastal walks in the area.
Montañita People
The people in Montañita come from a variety of backgrounds and generations. Back in the 1960s, many hippies from North America came for the surf and discovered Montañita when it was a small fishing village. Before foreigners arrived, the locals were mostly native Ecuadorians, and the population of the small village was nothing like it is today. 
As the hippy movement grew, more thrill-seekers were coming to Montañita for the consistent and perfect surf conditions. After setting up tents, gradually, the village began to grow to accommodate those moving to the area for surfing. Decades later, Montañita is now one of the most popular tourist destinations on the coast of Ecuador.
As well as U.S. ex-pats in the area and natives, the residents of Montañita come from a variety of backgrounds, and it is considered one of the most multicultural places in Ecuador. Other foreigners who have settled in the area include Argentinians, Jamaicans, Australians, Canadians, and many from European countries too.
Naturally, due to the type of person who seeks the surf, the town has a very relaxed and laid-back vibe. Unlike other parts of Ecuador, Montañita is extremely laid back, even to the point where many things are seen as normal behavior. This is both in terms of people's mindset as well as activity. Although drugs are illegal in Ecuador, consumption, and possession will get you in trouble across the country, but maybe not in Montañita. It isn't a lawless town; however, there are many illegal acts that are ignored and considered part of the way of life in the town. Things such as selling and taking drugs are tolerated in Montañita but remember it is still illegal, so getting caught could get you into trouble. 
Alongside this mindset of relaxing rules also comes a more open mindset; while other parts of Ecuador do not approve of same-sex relations, it is widely accepted in Montañita. You will also notice a lot of peace symbols spray-painted around, and you will find that the people in Montañita are perhaps somewhat rebellious in some aspects when compared with other locals in Ecuador. The town has a reputation for almost being in its own bubble, where people live freely.
The relaxed vibe, party scene, and multicultural population have turned Montañita into a popular place with young travelers and surf seekers. There is a unique atmosphere in Montañita, and many people end up extending their stay as they feel very welcomed. 
Montañita Insurance and Medical Care
Health care in Montañita is almost nonexistent as it is a very small town on the coast. The nearest hospitals to Montañita are located in the city of Guayaquil, which is around a two-hour drive away. There are a few private doctors in the town of Olon, about ten minutes north of Montañita, and remember to take a translator if you don't speak Spanish as not all doctors will speak English. It is advised to have medical insurance for Ecuador as although the cost of treatment might be affordable, it isn't always available, so this might mean that you need to be flown or driven to another city or even country to receive relevant care.
It is also advised to have insurance for your belongings too, as although I didn't personally have any problems with missing items, Montañita is a tourist hotspot where there are pick-pocketers in crowded places. Always make sure to bring a padlock to use on safes in hostels, and always keep an eye on your belongings. Accidents happen wherever you travel, so it is good to be covered wherever you go.
Make sure you are fully covered by reading our full Digital Nomad Travel Insurance guide.
Jobs in Montañita
Finding a job in Montañita will be quite difficult as it is not a very big town and the industries there are limited. It is a place for water sports lovers to go, so perhaps you might find work opportunities with the surf school if you are an instructor. All the tech companies and most businesses have their headquarters in the capital city, Quito, so if you are looking for a transfer with an existing job, then it is unlikely that you will be placed in Montañita.
It is best to contact hostels, surf schools, or bars before you go to see if they have any positions available, and if they do, then they can help you to obtain the relevant work visa needed. 
Whilst finding paid work might prove difficult in Montañita, you are likely to find volunteering opportunities or work-away style opportunities. Montañita Spanish School offers language exchanges; world packers have a selection of conservation projects that visitors can take part in, and there is a great choice of volunteer projects on workaway.com. 
There are many volunteering opportunities in hostels. Tasks such as cleaning and taking care of the building, as well as art projects helping communities improve communal spaces. A popular area of volunteering is in ecofriendly and sustainable projects that are being set up in the area of Montañita by both foreigners and locals, and many of these can be found online before you get there.
Check out our Digital Nomads Jobs Postings to find the best jobs available for Digital Nomads.
Nomad Friendly
Value for Money
Internet
Workspace
English
Food
Safety
Health
Transportation
Friendly
Quality of Living
Cost of Living Montañita
The expected cost of living in Montañita can vary depending on your wants and needs, so here is a breakdown of costs for a low-end budget compared with a higher-end budget.
A low-end budget should expect to pay around $800 USD per month. This would be $210 USD on a bed in a dorm room of a hostel that includes breakfast and if you were to spend $100 USD on the Selina monthly co-working membership. $10 USD per day on food, so $300 USD per month; if you were to swim daily, run and hike, then you could save on exercise. Finally, if you were to allocate $40 USD for transport and $150 USD for leisure activities, then you can still have a bit of freedom and fun.
This being said, it is possible to live for less if you want to eat street food daily, then you can eat for around $3-4 USD per meal, and if you are happy working from your hostel space, then you can save in that aspect. The most expensive costs are food and accommodation, and this comes down to personal comfort and needs.
For a higher-end budget, for someone who wants to surf most days or possibly pay for lessons, as well as having a private accommodation space, they should expect to budget around $1430 USD. This would be $550 USD for private accommodation, based on an average of having a private room with a private bathroom. Another $450 USD on food which would be $15 USD per day, $100 USD on the Selina co-working space, $80 USD on exercise, either in the form of 10 yoga classes or surf/bicycle hires. $50 USD on transport in the form of buses and taxis to nearby towns and $200 USD on leisure; however, this could very easily go higher if you wanted to visit the Galapagos islands or plan on taking part in lots of watersports activities.