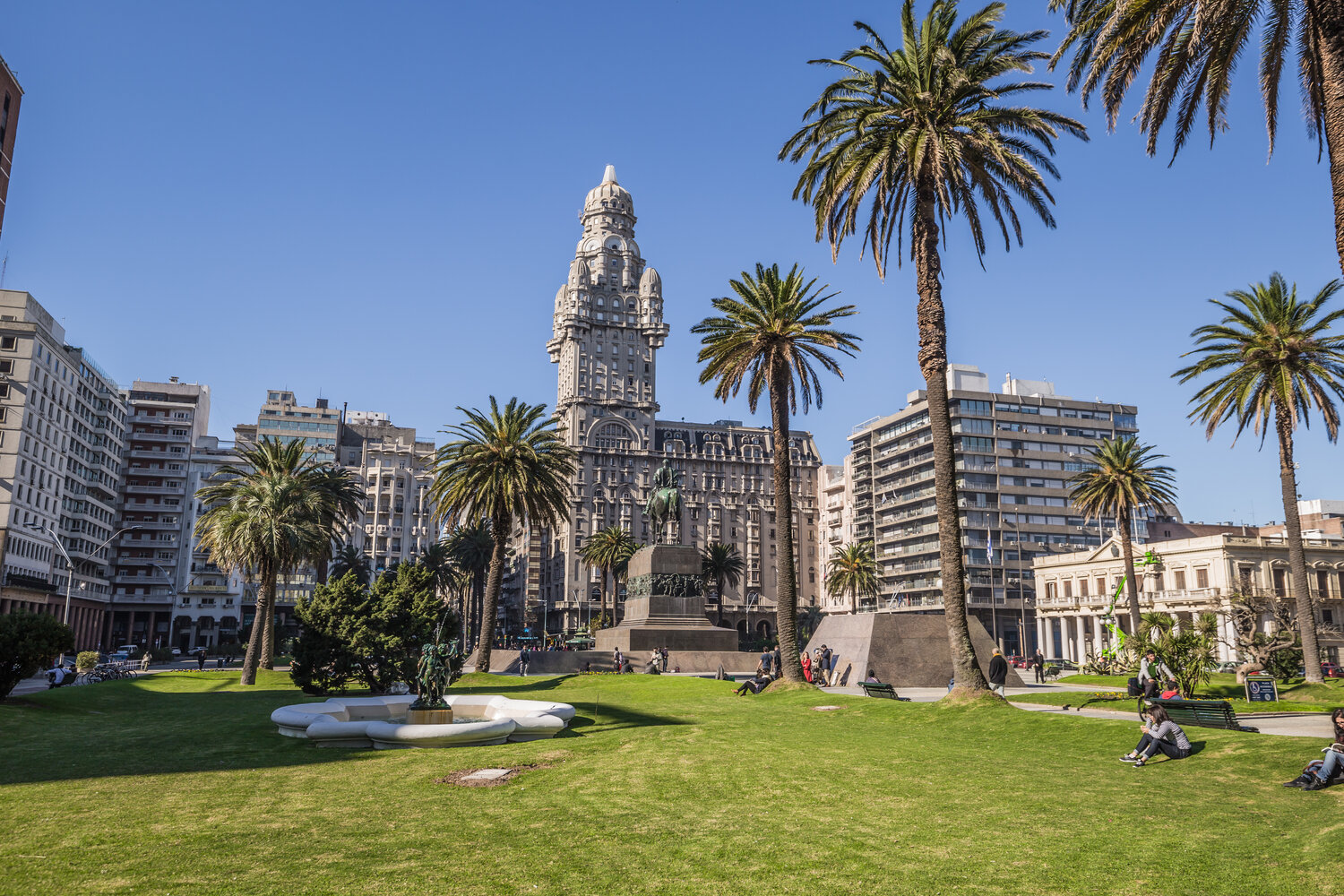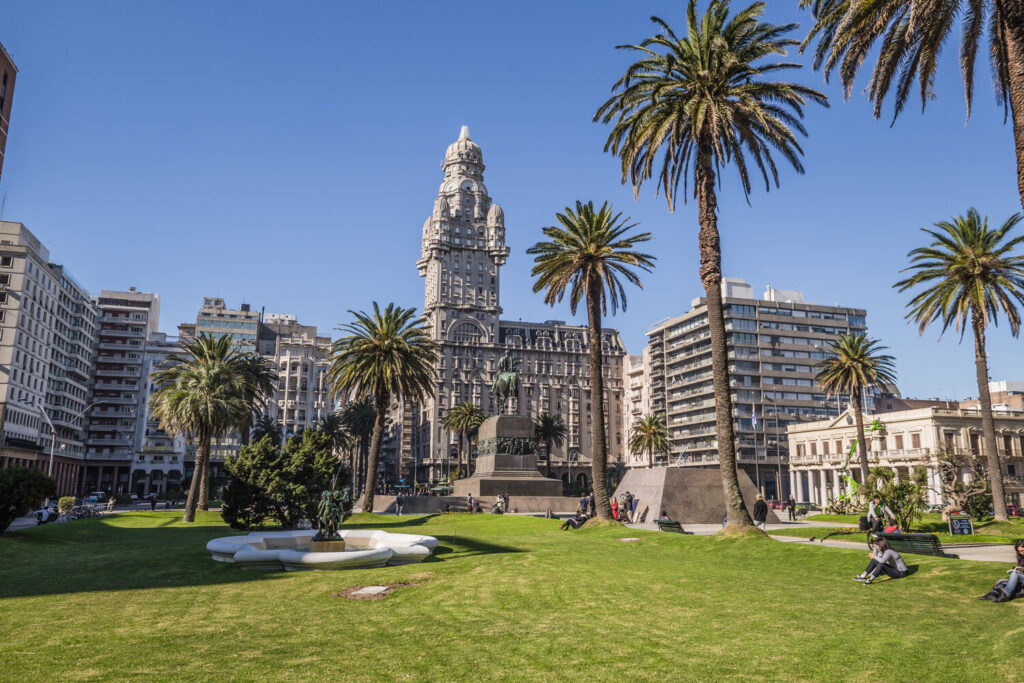 A Digital Nomad Guide to Montevideo
Montevideo is the Capital of the Oriental Republic of Uruguay, political and economic center of the country and administrative headquarters of MERCOSUR. It sits on the Río de la Plata, where the Montevideo bay and the main port of the region are located. It is the nineteenth largest metropolis in Latin America and the ninth in terms of purchasing power per inhabitant.
With 1.325.968 inhabitants, it was classified as the city with the best quality of life in Latin America in 2018. In addition, it is among the first 10 most visited cities in Latin America by foreigners.
Montevideo is full of culture and history. Its founding process is located between 1724 and 1730. The Old City of Montevideo is an area of ​​8 by 12 blocks where you will find buildings that were witnesses of its 300 years of colonial history. Among its art deco buildings and colonial houses is the Mercado del Puerto with many restaurants that exhibit their gastronomic culture around beef and wine.
Its memories, music, aromas, architecture, cultural expressions and cosmopolitan tradition are reflected in its streets but also in the musical traditions that include the candombe, tango and the local variant of murga; all of which developed in the Río de la Plata basin and are now Montevideo's favorites.
The city is known for its many parks, tree-lined streets, sandy beaches, and wide avenues. Also, for its people of walking and talking slowly and wide smiles.
Nomad Friendly
Value for Money
Internet
Workspace
English
Food
Safety
Health
Transportation
Friendly
Quality of Living
Living in Montevideo Overview
| | |
| --- | --- |
|  Meal, Inexpensive Restaurant | $9.82 |
| Domestic Beer (1 pint draught) | $2.69 |
| Cappuccino (regular) | $2.80 |
| Loaf of Fresh White Bread (1 lb) | $1.85 |
| Water (1.5 liter bottle) | $1.21 |
| One-way Ticket (Local Transport) | $0.92 |
| Basic Utilities (Monthly) | $127.76 |
| Internet | $33.47 |
| Fitness Club (Monthly) | $43.64 |
| Apartment (1 bedroom) in City Centre | $454.13 |
Currency: Indonesian rupiah (Rp)
[erw_exchange_rates_widget lg="en" tz="0″ fm="IDR" to="EUR,USD,GBP,AUD,JPY,RUB" st="primary" cd="" am="15000″][/erw_exchange_rates_widget]
ATMs
Max Withdrawal: Rp 3,000,000
Withdrawal Fee: Rp 30,000 – Rp 50,000
Use of Credit Cards: Mostly Cash
Digital Nomad Personal Experience in Montevideo
In Montevideo I had an incredible time. Although it is not as cheap as Buenos Aires or other Latin American capitals, it has a high cost-to-life ratio, a stable government, good hospitality, good roads, a slower pace of life, meat and local organic agricultural products, friendly flora and fauna, beaches, tranquility and warm and honest people oriented towards family and friends. It is like being in a little town but in a big city.
Montevideo has an excellent urban infrastructure, made up of well-paved streets, sidewalks and good public lighting. The vegetation in the parks, meadows and squares of the city is very well cared for and pruned. In addition, it has perfect spaces to walk with green paths and botanical varieties. People walk instead of getting into a car, and spend a lot of time outdoors. The air here is clean and the is drinking water throughout the country so I did not have asthma and my body felt healthy and energetic.
From the city it is easy to travel from the city to the countryside, to mountainous areas, enjoy the beach and return home on the same day so my weekends used to be outside of Montevideo enjoying nature.
An interesting mix of old buildings and modern styles can be seen in the streets of the Uruguayan capital. So, there are homes for all kinds of people. You also find restaurants with gastronomy from different countries. Even being a vegetarian, I had no problems finding stores and products according to my diet.
Uruguayans are like Argentines but calmer, as if they knew that life is in the details and in the moment. Everything is slower than in other cities and people do not get angry about it but rather enjoy it. Slower until the music begins and there the steps accelerate to the rhythm of the drums, because the candome is their tradition.
I would return to Montevideo without hesitation for its people, its tranquility, its musical tradition and its beaches. It is a city that has almost everything you need.
Work in Montevideo
Best Places to Work in Montevideo
Montevideo has modern coworking and coliving spaces that solve all the needs of an office for a monthly payment.
Sinergia UY
Sinergia UY, for example, is focused on the creative world with clients that are designers, social media managers, journalists and advertising creators. All its rooms have air conditioning, blackboards, high-speed Wi-Fi connection, network cable and some of them even have a terrace. Sinergia UY has coworking offices in the Palermo neighborhood (Av. Gonzalo Ramírez 1676), Carrasco (Divina Comedia 1651), in the World Trade Center complex (Av. Dr. Luis Alberto de Herrera 1248) and in Design (Victor Haedo 2240). The WTC coworking space is dedicated to Fintech developments and the Design one is designed for artists, photographers and fashion designers. Prices for a flexible workplace start at 80 USD per month plus tax.
YouHub
YouHub Carrasco (Costa Rica 1589) is located in a house converted into individual offices and desks, two blocks from the sea. It has a small kitchen, a wood stove with armchairs to meet with partners or potential clients and a patio with tables and chairs for lunch. In this coworking space it is possible to rent desks, private and shared offices, event and conference room, meeting room and an office for health-related ventures, since there are people who do reiki or massage therapists, among others. Its second branch has just opened at the Aloft hotel in Punta Carretas (Victor Soliño 350) and is located on the first floor of the hotel. In addition to the internet service, they offer a front desk with secretarial attention, gastronomic and cafeteria service, common kitchen, lockers space and free bicycle service. Pricing starts at 160 USD per month plus tax.
Co-Work Latam
Co-Work Latam, located in Tiburcio Gómez 1330 a few meters from the Montevideo Shopping Center, has glazed meeting rooms, fish tank type, with colored chairs where silence is respected. Here you will find developers, advertisers, designers and accountants, among other profiles. They have community tables, meeting rooms, printing service and after office. They open every day which is important information for those who do not want limitations or those who work on Sundays. Pricing starts at 125 USD per month plus tax.
Molino CoWork
Molino CoWork is located in Punta Gorda, in the tranquility of Parque Baroffio. This coworking space first opened in 2017 and targets a freelance audience. Its capacity is limited which brings order and silence. The maximum occupancy is 18 people. They have closed offices, community table, meeting room for 12 people, living room, TV ready to project, coffee services and printing services. They also offer business breakfasts, after-office proposals and work days on weekends. The plans are per day and for one, four, six months or annually. They are open from Monday to Sunday from 7 AM to 11 PM.
In addition to these workspaces, you can explore many coworking options that the city offers.
Best Places to Live in Montevideo
Best Neighbourhoods
Pocitos
Among the best neighborhoods to live in Montevideo is Pocitos with a great commercial activity. Here you can get everything from a few kilometers from your home. Pocito is the upper-middle-class affluent area where residential buildings are combined with old houses and a wide commercial network of available goods and services. It is a quiet and very safe place with a beach, so you can enjoy the sea just by walking a few meters. In addition, it is known as the neighborhood in Montevideo with the most nightlife, without becoming a nuisance for those who prefer to rest after a long day at the beach. For all these reasons, it is a relatively expensive neighborhood.
Malvin
Many also prefer to live in Malvin because it is a quiet and residential area, ideal for families as it has schools and recreational places. In this neighborhood you can go out at night without worries, but as with Pocitos, the rent is not cheap compared to other areas. It is also close to Punta Gorda and Malvín beaches, both with fine sand and calm waters.
Prado
The Prado neighborhood retains a European air. It has no nightlife at all and its streets are silent and empty at night. Children have various spaces to play and have fun, which also makes it an area for families. It has various parks and museums and offers a very quiet environment. Those who live here are lucky to have its extensive park close by, which has green trails and an exotic botanical garden. The Prado Park has an area of ​​106 hectares of beautiful nature. The charming Miguelete stream is the pearl of the park, where residents and tourists flock daily to seek peace and serenity.
Cordón
If you are looking for a cheaper area, try looking for a home in Cordón neighborhood. Here the rental prices begin to decrease since it is a university area. It is also a central zone, with great nightlife, good restaurants and quite safe streets. Here you can find the National Library and the famous University of the Republic, the largest in Uruguay.
La Comercial
La Comercial is another excellent option for college students. In La Comercial rent is much cheaper without sacrificing security levels. It is also very close to the Aguada university neighborhood.
Ciudad Vieja
If you plan to visit the city for a short time, then the best neighborhood is Ciudad Vieja with a unique mix of its colonial past and its modern present. It is one of the favorite areas among tourists to stay in the city. Decades ago it was a purely residential area, but now it is full of buildings with offices of ministries and banks, as well as places with cultural galleries, shops, discos and restaurants. This neighborhood is ideal for visiting Montevideo's historical sites such as the Puerta de la Ciudadela, the Matriz Church, the Montevideo Cabildo, the Metropolitan Cathedral and the Museum of Pre-Columbian Indigenous Art. It has a mix of architectural works of Italian Baroque style and luxurious and metallic towers of 20 or more floors. Besides, the neighborhood has a security system made up of more than three thousand video surveillance cameras, installed in the streets and squares with the highest attendance.
Montevideo Centro is another good option for tourists or those who want to be close to everything. Here you will find museums and historical buildings and Avenida 18 de Julio full of restaurants, cafes, bars, artistic exhibitions, banks and supermarkets. However, the neighborhood is not very safe, after 9:00 pm it is advisable not to walk through its streets and move by car.
Find an Apartment in Montevideo
Although the vast majority of apartments in Montevideo are unfurnished, you can still find fully furnished apartments, as long as you are willing to pay a lot more because they are generally for people on vacation that looks for short rental contracts.
To rent an unfurnished apartment the tenant must present a salary receipt or income certificate for the last 3 months. In the case of agreeing to present the income certificate, it should be noted that it must be issued or stamped by a notary public. In addition, the person must not be entered in the clearing of reports as a debtor. There is the historical financial base of a person where the defaults in the payment of credit or card fees are settled. Also, the tenant must present a real guarantee, that is another department in the country. For those who do not have a guarantee, there is the Rental Guarantee Fund which is a document that allows access to a guarantee certificate backed by the State for all those who do not have other supporting property. The guarantee is provided by the MVOT in agreement with the General Accounting Office of the Nation (CGN) and the National Housing Agency (ANV). In Montevideo and Canelones it is requested at the offices of the Ministry and in the rest of the country at the ANV offices. Both the tenant and the owner must pay a monthly commission to the CGN of 3% of the rental value.
At the time of signing a rental, the real estate's fees must be considered (generally they are equivalent to one month's rent) and the VAT corresponding to the contract. Finally, if you have chosen a property, it must give them an amount equivalent to half a month's rent in order to book it.
A studio in the center can cost 400 USD and an apartment with 3 bedrooms around 700 USD per month, while in the outskirts of the city the price drops to 300 and 600 USD per month. If instead you want a furnished apartment, the prices vary according to the time of year and the amenities between 500 and 2000 USD.
Be sure to include common building costs among the expenses to be accounted for, also known as "gastos comunes." These are basically the maintenance costs of the building. In some cases, communal costs can also cover other expenses, such as water utilities. Most community costs don't seem to go above 75 USD per month for a one-bedroom, one-living room apartment.
You can often find some hidden gems if you dig through the classifieds and real estate agent listings. You can also check in: https://alqudamientos.com.uy/, https://www.buscandocasa.com/, https://inmuebles.mercadolibre.com.uy/, https://www.gallito.com.uy. For renting a furnished apartment check Airbnb and https://www.vrbo.com.
Cheap Places to Stay in Montevideo
If your budget is limited and you don't prefer to go to another cheaper city on the continent, your best option is to share an apartment or rent a room. 
In https://inmuebles.mercadolibre.com.uy/, you can find options for renting shared houses. You can also check on Facebook, in "country of origin" in Uruguay, enter the group and ask people directly if they know any room for rent. Facebook groups also work well, and Uruguayans tend to be very friendly with foreigners. For example, the group " Compartir alquiler Montevideo" seeks to connect people who are looking for a room with those who have a free room.
For temporary rentals on Airbnb you can find very basic rooms for 200 USD per month.
Montevideo Visa
Some people, according to their nationality, must request a prior visa to enter Uruguay. If you are a foreigner and want to know if you need a visa to enter Uruguay, the website of the National Directorate of Migration maintains an updated list of the visa regime by the country of your passport. In the event that you need a visa, the Consulates of the Republic of Uruguay abroad are in charge of receiving visa applications and will inform you of the requirements that you must complete in order to apply. The visa authorization is granted by the National Directorate of Migration and usually takes at least 20 business days from the moment of application. Once the Consulate receives this authorization in writing, it is in a position to issue the visa, stamping it in the passport of the holder.
In addition, all people require a passport to enter Uruguay, except citizens of Argentina, Bolivia, Brazil, Chile, Colombia, Costa Rica, the Dominican Republic, Ecuador, Guatemala, Honduras, Paraguay, Peru and the United States. with valid identity document, traveling as tourists and from their country of origin.
To be able to work legally in Uruguay, it is necessary to have a work visa that you can also request at any of the country's consulates abroad.
Contact the local Embassy or the Consular Services Department of the Uruguayan Embassy for more information regarding your particular case.
Culture and Food in Montevideo
In Montevideo you can find one of the best meat on the continent. Because livestock is one of the most important items in the country, barbecue is a specialty of this country.
You can enjoy exquisite cuts of meat in almost any restaurant, although it is mandatory to go to Mercado del Puerto, one of the most touristic places in the capital that is full of stalls that serve grilled meat. Be sure to try the Uruguayan-cut gizzards and empanadas from Empanadas Carolina (local 20), which are a typical Latin American dish of baked dough stuffed with seasoned meat. This family business serves the most delicious empanadas in town.
Outside of the market, La Pulperia (Lagunillas 448 esq. J. Núñez, Punta Carretas) has the best barbecue in Montevideo. The restaurant has a simple menu and is only open during dinner.
La Silenciosa (Ituzaingo 1426) is a restaurant with centuries-old stone walls and marble floors. It was formerly an 18th century Jesuit convent and, before becoming a restaurant, it became a prestigious fashion house. Here you can enjoy homemade pasta, meat and fish dishes with a French touch.
Bistro Sucré Salé (Boulevard Artigas 1271 corner Charrua), in the beautiful historic Alliance Francaise building with a fountain and an iron gazebo in the courtyard, offers a menu based on French dishes. It's open for breakfast, lunch, and brunch on the weekends and offers a completely different experience from all the other restaurants in town.
La Cocina de Pedro (Av Gonzalo Ramírez 1483) is a gourmet restaurant with minimalist chic decor and an open-plan kitchen. The menu has an incredible variety of sophisticated flavors. Here you can taste typical Uruguayan dishes or pastas, risottos, fish, salads and gourmet sandwiches.
Es Mercat (Colon 1550), located in the old town, is the best seafood restaurant in the city. The menu is written solely on blackboards and it change every day. They exclusively use fresh products. Es Mercat offers excellent food, meticulous presentation and a wonderful atmosphere.
Finally, Bouza Bodega Boutique (Camino La Redención Camino de la Redención 7658), just 20 minutes from Montevideo, is one of the best wineries in Uruguay. In the country, not only beef is an essential dish in the daily life of its inhabitants, but so it is the wine that accompanies it. The experience at Bouza Bodega Boutique begins with a tour of the family's classic car collection. The tour continues with a walk through the vineyard, the fermentation rooms and the cellars, and ends in the dining room where you can taste a selection of fine wines paired with cheeses and cold cuts.
Montevideo Nightlife
As in Buenos Aires, the Montevideo night starts quite late. People gather in bars to have a drink with their friends between 11 PM and 2 AM and only go to the clubs to dance around 3 AM. The party runs until 6 or 8 AM!
The nightlife options are very varied and are aimed at audiences of different ages and different musical tastes. The offer ranges from high-level restaurants, bars to start drinking and pubs with live music, to sophisticated nightclubs and underground clubs.
A few years ago, the Montevideo nightlife had moved to the Old City, where there was a large concentration of locals. Today most of the pubs, discos and restaurants are concentrated in the area of ​​Pocitos, Parque Rodó and Punta Carretas.
The border between the Cordón and Parque Rodó neighborhoods is home to several bars such as the Irish pub Brickell (Blanes 1175) where you can listen to rock. In front of it you will find Después te Explico (Blanes 1188) that mixes pop and commercial cumbia. Also, here you will find Bakers (Pablo de María 1198 esq. Charrúa) and Monroe (Constituent 1885), hidden in a bookstore without signs alluding to the era of alcohol prohibition in the United States. Almost all of these places function as a bar until 1 AM and then they transform into a dance floor.
FunFun (Soriano 922) is a place where you will find more tourists than Uruguayans, but it is still worth the visit since it offers live music and a decoration that combines sports and cultural elements of Uruguay. Here you can eat pizza and empanadas while drinking a liquor made with wine that is originally from that bar.
El Milongón (Gaboto 1810) is one of the few places in the city where you can dine watching tango and folklore shows, and then start dancing.
Barón (Santiago de Chile 1270) is a barbershop that hides a bar and a restaurant in the background. A few blocks away is Candy Bar (Durazno 1402 esq. Ejido), an old neighborhood store turned into a bar that offers exquisite potato tortillas.
On the other hand, if we talk about haute cocktails, one of the most innovative bars is Negroni (Guipúzcoa 352), and in a similar vein, Moderno Bar at the Hyatt Centric Montevideo (Rambla Perú 1479).
The most original bar in the city is BocaNegra wines & tapas (Ellauri esq. García Cortinas) where they provide you with a magnetic card to go with your glass to try different varieties from electronic dispensers that indicate the price per measure. Uruguay is famous for its tannat wine.
If you want to continue partying until late, in Plaza Mateo complex (Rambla esq. Sarmiento, Parque Rodó) there are several clubs, pubs and restaurants. Among them you will find Volvé mi Negra, where you can dance pop, cumbia-pop and other styles of music until sunrise. Another option is Lotus Club (Luis A. de Herrera 1248, World Trade Center). People here really dress up and they don't let you in with shorts or sports shoes.
Things to do in Montevideo
Montevideo ranges from the harsh industrial port to the exclusive neighborhoods along the beach. In the historic downtown business district, art deco and neoclassical buildings compete for space with skyscrapers. To the southeast, the city mixes shopping malls with spas and tall, modern buildings. From the Mirador de la Intendencia you can have a panoramic view of the city and see the differences between many of its neighborhoods. The viewpoint is on the 22nd floor, it is free and is open from 10 AM to 3:45 PM. Access is inside a gallery, next to the Montevideo Tourist Information point.
In Uruguay, the promenade is called "rambla". The Rambla of Montevideo is a wide promenade, 20 kilometers long, that runs along the coast from Ciudad Vieja to the Carrasco neighborhood. It can be crossed early in the morning or towards sunset, when the inhabitants flock to walk and drink mate, a famous South American infusion. 
The Old City (Ciudad Vieja), which runs from the Mercado del Puerto to the Puerta del Sol, is the historic center of the city. Here you will find colonial, baroque and classic buildings of great architectural and historical value. Originally the site was residential, but over the years it has been occupied with offices, shops, clubs and restaurants. Here is the Mercado del Puerto with restaurants and markets. It is a lively place, especially on weekends, and one of the most spectacular places to eat Uruguayan meat. There are also several museums that show Uruguayan history, such as the Museum of Pre-Columbian and Indigenous Art, the Carnival Museum, and the Tango Museum.
The Independence Square is the main square of Montevideo, and it marks the limit between the Old City and the downtown area, formerly known as the New City. The main attraction is the monument to José Gervasio Artigas, a statue dedicated to the Uruguayan national hero, below which, in a mausoleum, an urn containing his remains is preserved. Around the square are some of the most important buildings in the city: Salvo Palace, Estévez Palace, Ciudadela Building and Solís Theater, which is the largest in the Uruguayan capital and the second largest theater in South America. Finally, there is Puerta de la Ciudadela, which was the entrance to the old city of Montevideo.
Palacio Salvo, the emblem of Montevideo, is the 95-meter structure crowned by a dome on one side of the square. Today, much of the palace is apartments. Visiting hours begin at 10:30 AM, and last until 1 PM on Tuesdays, Thursdays, and Saturdays.
It is also worth visiting the Legislative Palace of Montevideo, which is the building that houses the Legislative Power of Uruguay. It was inaugurated on August 25th 1925 in homage to the centenary of the declaration of independence. It host inside the House of Representatives, the Senate and the General Assembly. The style is neoclassical, while the interior is divided into three main naves. The ideal is to visit it at 7 PM, when the Uruguayan flag is lowered. In addition, there is the possibility of guided tours to see the parliament inside.
El Prado is a residential neighborhood located in the central part of Montevideo that is known for being the "lung of the city". Here you can enjoy the Prado Park, the largest of the 6 public parks in Montevideo. The park covers an area of ​​106 hectares and is currently also used as a venue for exhibitions and events. Nearby is the Juan Manuel Blanes Municipal Museum of Fine Arts, which houses the paintings of Juan Manuel Blanes and Pedro Figari, two Uruguayan important artists.
You can also admire the Botanical Garden, which houses more than a thousand plant species and is located near the majestic Prado Hotel and the presidential residence.
History lovers can visit the Obelisk of Montevideo and the La Careta monument, the work of the sculptor José Belloni that consists of a cart pulled by oxen and a gaucho on horseback, which is located inside a pond.
Nearby is the Estadio del Centenario, which hosted the final of the first World Cup won by the Uruguayan team in Argentina in 1930. The importance for the history of football of the Estadio del Centenario was recognized by FIFA which proclaimed it a World Football Monument in 1983. Here you can learn everything you need to know about the history of Uruguay and the football awards. There is a wide variety of displays, including trophies, designer shirts and the soccer ball used during the first World Cup final.
Another neighborhood to discover is Pocitos, one of the oldest neighborhoods in Montevideo. In this area, old renovated houses coexist with the tallest towers in the city. The neighborhood's promenade is always full of people during the summer and its beach is one of the most popular.
In addition to Pocitos beach, there are many others that you can visit. From Ciudad Vieja to the Carrasco neighborhood you also find Playa Ramírez, Playa Buceo, Playa Malvin, Playa Brava, Playa Honda, Playa de los Ingleses, Playa Verde, Playa la Mulata and Playa Carrasco. Montevideo has a total of 10 beaches, all with brown water due to the fact that the city is near the mouth of the Río de la Plata, which brings a lot of land. However, bathing is allowed as the water is clean.
Best Time to Visit Montevideo
Montevideo has a humid subtropical climate with precipitation patterns typical of the oceanic climate and an annual average of 16,7 °C. The lowest temperature recorded is -5,6 °C while the highest is 42,8 °C.
Winter, from June to September, is cool, humid, windy and cloudy. Strong southerly winds, sometimes triggered by extratropical cyclones, are quite common at this time, as are rainy days and fogs. The temperature sometimes drops below 0 °C. However, periods of higher than normal temperatures can occur in the dead of winter, raising temperatures above 20 °C.
Summer, which runs from December to March, is hot and humid, with little wind. While temperatures rarely rise above 33 °C, humidity, lack of wind, and high ultraviolet indices cause the wind chill to be high. Brief storms and showers are common, although they can be quite strong at times. In the afternoon the breeze tends to lower the temperature. This breeze and its beaches make summer the best month to visit Montevideo.
Spring (from September to December) and autumn (from March to June) are characterized by mild temperatures during the day, decreasing considerably at night. The temperature in these seasons varies according to the year, there may be warmer or colder springs and autumns. Sudden changes in temperature due to the advancement of cold and warm air masses are normal.
Montevideo for Families
In Uruguay the family nucleus is very important and they tend to meet as a family very often either with the excuse of a barbecue, a birthday or a Sunday visit. Here your children will learn to have strong ties with their relatives.
Life is not a race and you will see that, despite being a city, people in Montevideo take their time to enjoy the day. In addition, you will have access to unprocessed and chemical-free food, fresh air and clean water in a place where you can find all the comforts for your family that you are used to.
Uruguay is a Spanish-speaking country and although in Montevideo many people speak English, many others don't. And outside of Montevideo very few speak a language other than Spanish, so it will be easier for you and your family to integrate if you speak the local language.
Classes in state schools are in Spanish, however there are private schools with other languages ​​and a higher quality of education. Uruguayan American School is a private pre-k to 12th school in the Carrasco area of ​​the city. It is an expensive option, but the school has many international students. Another option is The British Schools, which welcomes students from 4 to 18 years old. It is located in Carrasco and has a mix of international students and diplomats. St. Brendan's School  is a bilingual school with an IB program. Stella Maris College  is a Catholic language school that welcomes students from 3 to 18 years old.
Some parents who move abroad choose to educate their children at home but in Uruguay it is not legal if you want a residency. It is only allowed if the child has a significant disability that makes regular school attendance difficult.
Living in Montevideo
Montevideo Transportation
Not only is it easy to travel to any part of the country from Montevideo, but also within the same city mobility is very simple. However, it is much more comfortable to have a bicycle if the distances to travel are not long. The viability, the good condition of the streets and the light traffic make the city a perfect field for cyclists. If you do not have a bicycle, you can access the Movete public bicycle system in Montevideo.
You will find buses that run throughout the city connecting Carrasco with the area of ​​Pocitos, Downtown and Ciudad Vieja, although the people of Carrasco have much more of a car culture.
Most of the people who live in downtown do not have a car. When they need to go beyond their own neighborhood, they take the bus or a taxi. The people of Pocitos regularly go to the Centro and Ciudad Vieja for business, professional appointments, shopping and theater, music and culture events. People who live in Ciudad Vieja and Centro regularly go to the Pocitos area to go to the shopping center and the beach during the summer.
The buses are in good condition, cheap and safe. However, they are slow and usually full. Also, depending on the area, metropolitan transport tends to take time. A common ticket will cost you around a dollar, although you can find cheaper options depending on the time you are going to use it or if you are a student. You need to pay through a smart card called the STM Card. This card is prepaid so any amount of money can be loaded onto it at one of the many recharge points.
Besides the bus service, you will find many taxis and remises. A remise is a private car and driver service that costs slightly more than a taxi and only accepts reservations over the phone.
Taxi is the best option to go from the airport to the center of any city or if you have a lot of luggage. A long journey in Montevideo shouldn't cost you more than 8 USD. Keep in mind that rates increase between 25% and 50% at night and on weekends. The vehicles have a glass inside to protect the drivers from theft and attacks. But don't worry, it is usually safe to travel by taxi.
To leave Montevideo you have intercity buses that connect the city with almost all parts of the country, the Carrasco International Airport in Montevideo, the Laguna del Sauce International Airport and the ferry. By ferry you can cross to Argentina, from Montevideo and Colonia del Sacramento, or move between different Uruguayan cities. One of the companies that operate, although not the only one, is Buquebus.
Fitness and Health
In Uruguay soccer is the most important sport. All the matches of the 1930 Soccer World Cup were played in Montevideo, the first World Cup in history. The city is home to the main soccer clubs of the First Professional Division of Uruguay, since in its neighborhoods are the headquarters of the two main teams in the country, Nacional and Peñarol. Also, the Uruguayan Basketball League and the Rugby League have their headquarters in the city.
Sports sailing enthusiasts have an ideal place to moor their yachts in Puerto del Buceo; Since 1906 the Uruguayan Yacht Club has a significant presence in this sporting discipline.
In addition to the clubs for these sports, the city also has a large number of well-equipped gyms for bodybuilding or classes of different disciplines. Profile gym pocitos (Alejandro Chucarro 1031) has a complete weight room. Tres Cruces Gym (Acevedo Díaz 1870) has 2 weight training rooms, 100% guided systems, fitness room, cardio and aesthetic medicine. Montevideo fit (José Enrique Rodó 1833) offers more than 400 square meters with a mixed bodybuilding room, functional training, personal training and Strong Man Training. Wellness Gym (Maldonado 965) offers a weight room, pilates, kick boxing, aerobics and zumba, among other classes. Open Gym (Av. Italia 4460) is a boxing, physical conditioning, kick boxing and Jiu Jitsu gym located in Malvin that offers mixed classes. In addition to these gyms you will find in Montevideo one for each type of activity you want to do.
Montevideo People
While many cities are fast-paced and impersonal, Montevideo is more commonly described as warm and laid-back. It is a culture where relationships are generally more important than schedules, so it feels quite slow. 
In Montevideo you find the largest per capita middle-class society in Latin America. All primary and secondary students in Uruguay's public-school system receive a free laptop. And anyone who can meet the academic requirements can attend the state university for a small fee. Montevideo's main theaters schedule free and low-cost periodic events. So that everyone, regardless of budget, can enjoy the symphony. In addition, the city of Montevideo offers free Wi-Fi points in most squares, parks and beach areas. Thanks to all this, in general its inhabitants have access to a good education and a high cultural level.
The people here will go out of their way to help you and, unlike other tourist cities, they won't try to charge you wrong prices just because you are a foreigner. The Uruguayan is generally friendly, supportive and takes his time for everything. Even here in the city you will see people with a thermos of hot water under one arm and a bowl of yerba mate in the other (their national tea-like drink). They drink mate in the office, in buses, taxis, the beach … everywhere. This natural drink serves as an energizer and diuretic but it is also part of the daily culture of Uruguayans.
Uruguayans come in a wide range of skin tones and hair textures. Mixed race couples are everywhere and no one is surprised thanks to the great racial diversity of the country.
The main religion is Catholicism; however, they are not as traditional or religious as other countries on the continent.
The musical traditions of the city and the country include the candombe, the tango and the local variant of the murga; all of which developed in the Río de la Plata basin and are now Montevideo's favorites.
Candombe is a cultural manifestation of Afro-Uruguayan origin. It has a significant role in the culture of Uruguay in the last two hundred years, being recognized by UNESCO as Intangible Cultural Heritage of Humanity. Although the candombe is played throughout the year in the neighborhoods of Montevideo, in February a parade is held in the Sur and Palermo neighborhoods. This competition involves dozens of "comparsas". Each one is made up of at least fifty percussionists, who are complemented by a corps of dancers. It is undoubtedly an unmissable event and one of the most important in the city.
Based on a presidential decree, since March 1st 2006, smoking is prohibited in any roofed place for public use. The sale of alcohol is also prohibited in certain establishments from midnight to nine in the morning, which greatly changed the culture of the youth and the safety of the neighborhoods because it prevents people from drinking alcohol on the street. Although the Uruguayan in itself is not a society that drinks too much alcohol and they have a strong wine culture.נ
Montevideo Insurance and Medical Care
Medical care in Uruguay consists of two main systems: private hospitals run by private companies and public hospitals run by government organizations.
When choosing their healthcare provider, many Uruguayans opt for one of Mutualista's private plans, which function like a private hospital membership. With the Mutualista plans, a person could pay a small amount per month to have access to the services of a private hospital.
 The Mutualista health system in Uruguay differs from many health systems in other countries because it does not operate as health insurance, but rather as a hospital membership plan that has no deductibles or lifetime limits.
Uruguay also has a public health system, which is often referred to as the Administration of State Health Services, or ASSE. ASSE health plans work in a similar way to Mutualista plans, but with one crucial difference: For poor and low-income patients, healthcare is free.
Uruguay's public health system provides broad access to the elderly and those with pre-existing conditions. As long as a person has a Uruguayan identity card, they can access the public health system in Uruguay.
Uruguay's health system is considered by many to be among the best because it employs 5,08 physicians for every 1.000 people, making it one of the best-staffed systems in the world. In addition to this, the doctors are excellent and the Uruguayan health system even offers mobile medical services to provide care for those who may find it difficult to leave home.
On the other hand, in Uruguay the health system does not provide free care for those who are not residents (a fee must be paid) or those who do not have a public health card, so it is recommended to hire a private insurance.
Make sure you are fully covered by reading our full Digital Nomad Travel Insurance guide.
Jobs in Montevideo
Finding a job in Uruguay as a foreigner is not easy, but it is possible. Salaries are lower here and you will be competing with locals who know the language and customs much better than you. Also, if you're not fluent in Spanish, your options will likely be limited to English teaching (which is generally poorly paid) or working in a call center. So, learn Spanish properly before you come!
However, there are many international companies in the country that seek the help of foreigners who speak English well and can help their employers eliminate red tape. I recommend you search the pages of international companies based in Uruguay in the telecommunications sector, agricultural machinery, fuels, wind turbines and fertilizers. You can also check Uruguayan companies that export such as security and telecommunications equipment, renewable energy equipment, chemical products, agricultural equipment, meat products, leather and oil.
If you prefer to try your luck directly in the country, some of the recommended websites are: Linkedin, OpcionEmpleo and Busco Jobs.
Teaching English will be your easiest option if you are a native English speaker with no professional experience in other sectors orif you don't speak Spanish. All of the sites below are quite similar and have a host of job options for teaching English: ESL Employment, Total ESL (a busy interface with a lot of job postings for teaching jobs abroad), ESL Cafe and Tesall.
Check out our Digital Nomads Jobs Postings to find the best jobs available for Digital Nomads.
Nomad Friendly
Value for Money
Internet
Workspace
English
Food
Safety
Health
Transportation
Friendly
Quality of Living
Cost of Living Montevideo
A studio in the center can cost 400 USD and an apartment with 3 bedrooms around 700 USD per month, while in the outskirts of the city the price drops to 300 and 600 USD per month. If instead you want a furnished apartment, the prices vary between 500 and 2000 USD according to the time of the year and the amenities. Most community building costs don't seem to go above 75 USD per month for a one-bedroom, one-living room apartment. You will also need to pay for a guarantee, the real estate's fees that are generally equivalent to one month's rent and the VAT corresponding to the contract.
For basic services like electricity, heating, cooling, water, garbage, Internet, and transportation, you can expect to pay roughly 200 to 300 USD per month.
Regarding transportation, a common ticket will cost you around a dollar and a long taxi journey in Montevideo shouldn't cost you more than 8 USD.
Regarding food, the Disco supermarket chain is one of the most popular to buy in Uruguay, and its prices compete with those of the Uruguayan mini-markets. For example, while in Multiahorro Express you find a kilogram of rice at 1,18 USD, in Disco you get it at 0,99 USD. However, dairy products tend to be more expensive in the latter. Expect to pay 3,50 USD for 400 grams of mozzarella cheese, 1,20 USD for 12 eggs, 8 USD for 800 grams of veal schnitzel, 3,45 USD for a kilo of chicken, and 0,95 USD for half a kilo of tomatoes.
As for the restaurants, a breakfast in a mid-range restaurant has a minimum value of 5 USD per person with a drink included. Also, an executive menu (with drink, bread, coffee and dessert) can cost a minimum of 10 USD.
Medical care if you are under 55 will cost you about 100 USD per month.
While the cost of living will depend on your lifestyle and exact location, you should probably plan a monthly budget of approximately 2.500 USD to live comfortably.