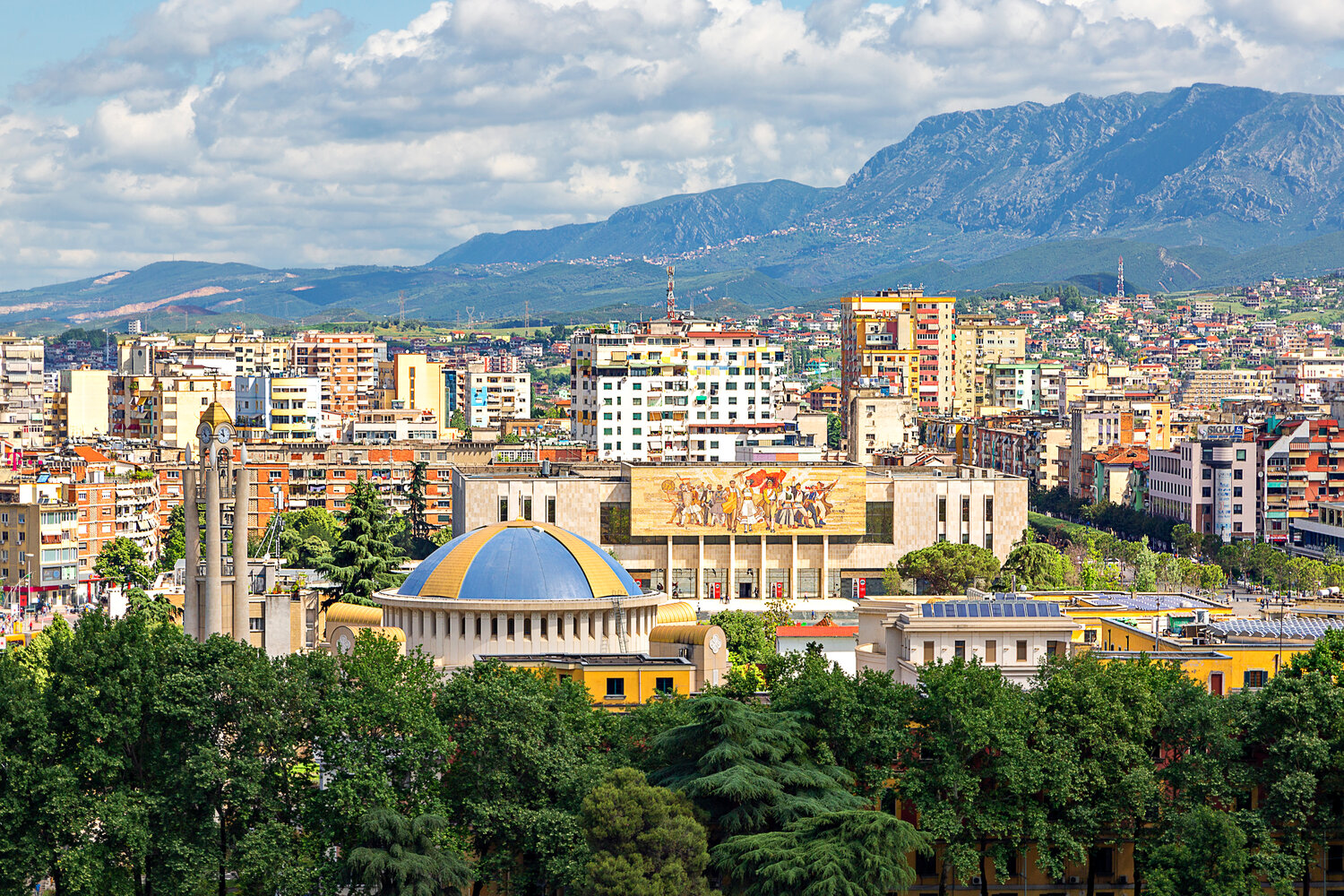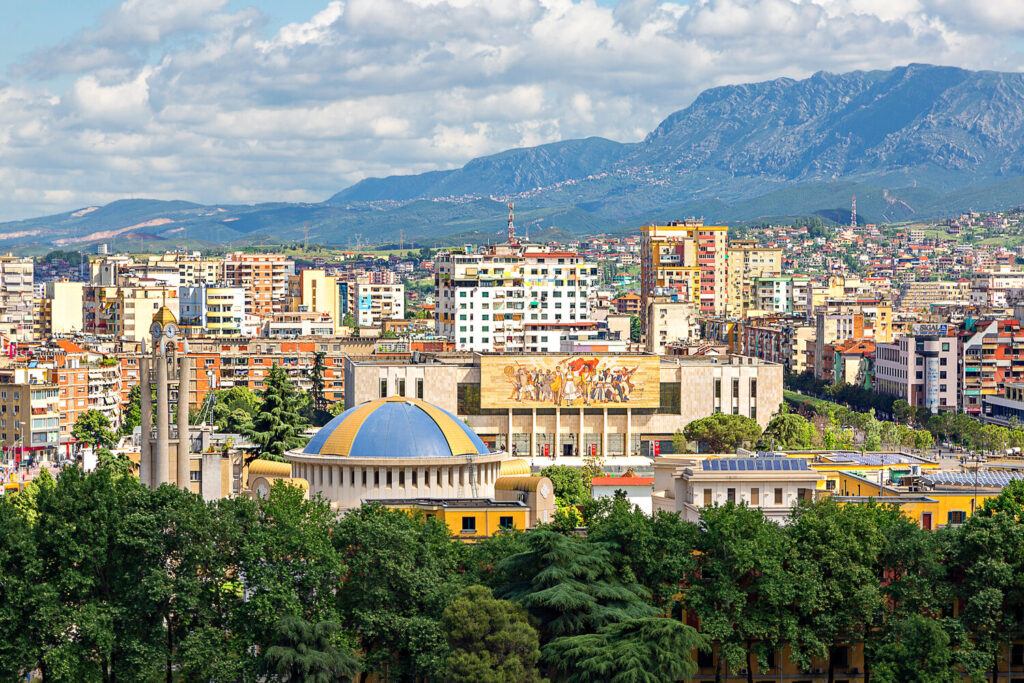 A Digital Nomad Guide to Tirana, Albania
Tirana is the capital city of Albania, located in the Balkans, Southeast Europe. Albania is situated between Montenegro, Kosovo, North Macedonia, and Greece. This beautiful country boasts some of Europe's most unique natural wonders, and it is not often spoken about as a destination to visit. The country and region of Europe has a complex history that has had significant impacts on the infrastructure and development of the country. Yet, it still is a very welcoming and upcoming place to be. 
As the largest city in the country, some might say it is the cultural hub, as it is in the heart of the country and surrounded by mountains. The city was founded in 1614 by an Ottoman-Albanian General and it is unclear where the city obtained its name from, but there are many theories. The most common theory for where the name Tirana derives from is linked to the ancient Greek language. Tirana is said to have come from the Greek word "Theranda" which is recorded in documents from the area as "Te ranat" meaning fallen material. Another theory is that it could have come from "Tirkan," which was the name of a castle on the Dajti's Mountainside. The ruins of a castle of the 1st century A.D. were discovered at the foot of the mountain, close to Tirana.
The city has a Mediterranean climate, with lots of sun throughout the year. It is a great place to visit as a digital nomad due to its warm climate and its fantastic location for taking day trips to other parts of the country or even surrounding countries. The country's local language is Albanian although older generations may speak Russian and younger English, and the currency is leke (ALL).
Nomad Friendly
Value for Money
Internet
Workspace
English
Food
Safety
Health
Transportation
Friendly
Quality of Living
Living in Tirana Overview
| | |
| --- | --- |
|  Meal, Inexpensive Restaurant | $5.58 |
| Domestic Beer (1 pint draught) | $1.86 |
| Cappuccino (regular) | $1.36 |
| Loaf of Fresh White Bread (1 lb) | $0.58 |
| Water (1.5 liter bottle) | $0.49 |
| One-way Ticket (Local Transport) | $0.37 |
| Basic Utilities (Monthly) | $81.96 |
| Internet | $19.46 |
| Fitness Club (Monthly) | $34.68 |
| Apartment (1 bedroom) in City Centre | $390.23 |
Currency: Indonesian rupiah (Rp)
[erw_exchange_rates_widget lg="en" tz="0″ fm="IDR" to="EUR,USD,GBP,AUD,JPY,RUB" st="primary" cd="" am="15000″][/erw_exchange_rates_widget]
ATMs
Max Withdrawal: Rp 3,000,000
Withdrawal Fee: Rp 30,000 – Rp 50,000
Use of Credit Cards: Mostly Cash
Digital Nomad Personal Experience in Tirana
I have visited Albania on three occasions, all for different lengths of time, but something about this wonderful country keeps bringing me back. The first time I visited was back in 2016, and it was for a few days as I was transiting through the country on a road trip. The second was in 2018 again for a few days, but in 2019 I spent a little over one month in Albania.
Tirana is a fantastic and quirky city, surrounded by mountains and filled with many curiosities. I love the city because of its complex history and intriguing architecture. Albania was once under communist rule, so there are some historically intriguing monuments and infrastructure.
Something that captivated me about Tirana is the contrast between old and new; the city encompasses its history with the new life of the country. The youth have been working hard to modernize Tirana, using their creativity to repurpose what is there. This fusion of old meets new makes it a fascinating place, and there is something new on every corner.
Albania as a whole is, in my opinion, a hidden gem in the Balkans. It is a country of golden beaches, with its riviera and dramatic mountain ranges that are home to some unexpected natural wonders. Although Albania may not be perfect in terms of infrastructure, it is a mysterious country that captivates the curious heart.
Work in Tirana
Tirana has a great selection of places to work from, such as coworking spaces, cafés, and hostels. Although there aren't as many options as some neighboring countries such as Bulgaria, it has a good choice for the area. There are around 5-10 coworking spaces in Tirana, and as the city is becoming more popular with digital nomads, there have been a few new spaces opening in recent years. The average internet speed in the city is around 23Mbps in most places, however be careful of some cafés offering free wifi as the speed isn't always great.
Best Places to Work in Tirana
Coolab
Coolab is one of the top-rated coworking spaces in Tirana, and it is very popular with those who want a convenient location and a friendly, chill vibe. They have a range of memberships starting at $9.50 USD for a day pass, and for longer-term members, there is a monthly membership without a fixed desk for around $142 USD a month. This coworking space has been praised for its events and the social aspect as it has fantastic facilities and great common spaces. 
My Office Al
This is another highly rated coworking space located in the city center, right next to the central station. My Office Al has a calm environment and is well suited to entrepreneurs and start-ups. It has a very modern interior with high-end facilities on offer. They are very flexible with memberships; for example, you can get a membership that allows you to use the space as and when you want in the form of hot-desking, or you can even rent out a private office space. Prices start from around $166 USD per month, which is a little higher than some other coworking spaces, but you are guaranteed some of the best facilities in the city. For exact pricing, you must enquire via email.
Dutch Hub
Dutch Hub has been open in Tirana since 2018 and is one of the biggest in the city. They welcome both foreigners and locals to work, which makes a fantastic community hub. The coworking space aims to offer opportunities for professionals as well as both local and foreign companies. They are very flexible with their plans; they offer hourly rates, day rates, and more long-term plans. Monthly hot desking plans start at around $154 USD per month, daily passes are about $12 USD, and hourly passes start from as little as $2.40 USD per hour. The space is praised for its community vibe and support for start-up businesses.
InnoSpace Tirana
This is a great coworking space that values happiness in the workspace. They genuinely believe that a happier environment and a positive mindset will improve your work and business, which is at the heart of their values. As part of this, there are many "creative" working spaces, inspiring coworkers and keeping an upbeat vibe. They have some of the lowest coworking prices, with it costing just $8.30 USD for a day pass, $41.50 USD for a weekly pass and around $148 USD for a month. You can also rent out meeting rooms and host events at the space for an added cost. 
Destil
Destil is one of Tirana's only coworking and coliving spaces. It is a hub for creativity, and the multi-functional center focuses on the social aspects of coliving by hosting regular events. Destil is designed for creative entrepreneurs and acts as a workplace and exhibition space for international artists.
If you are on a lower budget or are unsure how long you need access to a coworking space, there is always the option of cafés and restaurants. Cafe culture is big in Albania so you will find many that offer wifi and have comfortable seating.
Best Places to Live in Tirana
Best Neighbourhoods
Tirana is the capital city of Albania, and it has a great selection of neighborhoods, which means you can choose the perfect place to live. Whether you want to be located in the city center, or a little outside, there are plenty of options and most are very affordable.
Zone 1
This is essentially the center of the city, and this is the place to be if you want to be immersed in the heart and soul of Tirana.
Blloku
It is one of the most famous districts in Tirana as it once was closed off to anyone who was not part of the Albanian communist party. It is considered an up-market area with a great selection of shops, restaurants, and nightclubs. It is a calm and friendly area to be based, and everything is on your doorstep or within walking distance.
 21 Dhjetori
If you like delicious coffee and cafe culture, then 21 Dhjetori is the place to be based. It has a reputation for being the coffee lover's paradise and has a great selection of chilled coffee shops on the doorstep. Although many city areas have coffee shops, this area is known for its luxurious Turkish cafes with great atmospheres.
 Komuna e Parisit
Komuna e Parisit is a large neighborhood located just outside the city center to the southwest. This area is excellent for families or those looking to be based just outside the city while still having excellent access to most essentials. It is also just a short walk from the artificial Lake of Tirana.
Tregu Çam
This area is known as the cultural center of the city. If you love museums and galleries, then you are in the right place, as Tregu Çam is home to Albania's most famous museums and landmarks.
Ali Demi
Ali Demi is one of the oldest neighborhoods in Tirana, and it is full of character and history. It is located a fair distance from city center, so rental prices tend to be a lot cheaper here.
Find an Apartment in Tirana
Finding an apartment in Tirana can be a little challenging, but there are many platforms and ways of finding the perfect place for your stay. There are a few options for finding accommodation; there are the usual websites such as Airbnb, booking.com, and using forums on platforms such as Facebook. There aren't currently, as of 2021, any coliving places in Tirana, but as the city is becoming more digital nomad friendly, it is possible that coliving hubs will open in the near future.
Airbnb
Airbnb is a great place to find reliable accommodation, and although it tends to be a little more expensive than some other options, it can be the most reliable. Finding an apartment in Albania can be challenging as it isn't as popular as some more mainstream destinations. Airbnb offers a variety of accommodation options, and you can find a one-bedroom apartment for as little as $808 USD per month. It is also possible to find apartments with a few more amenities that are anywhere up to $1,040 USD per month.
Facebook Forums
A great way to find accommodation is to search on Facebook for local groups, where landlords may advertise accommodation. This is a great way to get around paying agency fees and will allow you to get directly in contact with the landlord. A good group to look at is ex-pats in Tirana and try searching Facebook for housing or apartments in Tirana. These are great places to start as you can get a rough idea of what is available, and it is often a more relaxed way of finding a rental.
Hometogo
If you are looking for somewhere a little bigger for a family or group, then hometogo is a great place to start. You can find apartments on here for around $1,000 USD in the city center, but there are also some cheaper rentals if you are willing to have a room in someone's home. You can find small studios or rooms for around $600 USD per month.
Cheap Places to Stay in Tirana
For a lower budget, your best bet might be staying in a hostel or shared accommodation. There are many options on Airbnb for rooms in homes and options for room shares on Facebook groups. You will also find that accommodation further from the city center can be just as nice but a lot better value for your money. Here are some of the best cheap accommodation options for Tirana.
Dorms in Hostels
Finding a bed in a dorm room for as little as $211 USD per month is possible. BUFF Hostel Tirana, The Golden Rooster, Homestel Albania, Milingona City Centre are around $9.40 USD per night for a bed in a dorm, which will cost around $282 USD per month. For a slightly higher-rated hostel such as Trip'n Hostel, Condesa, and Vanilla Sky Boutique Hostel, you can expect to pay around $17.50 USD per night, which would be around $529 USD per month.
Privates in Hostels
Hostels are a great option if you are happy to compromise on your living space and share communal kitchens and hangout areas but still want your own room. Not all hostels offer privates, but there is a good selection of hostels in Tirana that do. BUFF Hostel Tirana provides private rooms for around $41 USD per night, Condesa offers them for $52 USD per night, and All Stars Hostel for $22.50 USD per night. There are more options, and they can vary widely in price, so have a look through websites such as Hostelworld to better understand the average price in the city.
Tirana Visa
Although Albania is located in Europe, it is not part of the EU or the Schengen area; therefore, it has its own entry policies. There is a list of visa-exempt countries, and if you hold a passport from one of these, then you can enter Albania without a visa for up to 90 days. The full list of all 88 visafree countries can be found online, but it mainly consists of EU countries, the USA, Central and South America, Australia, and more. Generally, Albania has a reciprocal visa-free relation with most countries that allow Albanian citizens to enter visa-free.
If you are not from one of the visa-free countries, you must apply for a visa before entry. The best way to do this is to visit your nearest Albanian embassy or consulate to enquire. There are some rules where Albania will grant entry to tourists for up to 30 days without applying for a visa from the embassy, but this is only for a limited number of nationalities.
As well as needing a visa for tourism you also need a working visa if you plan on finding paid work in the country. Again this has to be applied for before entering from the embassy. If you find a job before you go, your employer should make sure to apply for you and help with the application before your arrival.
Culture and Food in Tirana
Albania is known for its traditional Balkan cuisine, and it can vary dramatically from region to region. Along the coastline, you will find a lot of seafood, and high in the mountains, the food becomes more hearty and meat-based.
When you visit Albania, you have to try some traditional dishes, and here are some of the best. Byrek is one of the most popular pastries sold in Albania, and it is often stuffed with spinach, but you can sometimes find some with just cheese or meat. It is a staple in the country, and you can buy them from most corner shops or bakeries for less than $1 USD. Other traditional dishes include Tavë Kosi, which is like a quiche, grilled meats, Speça me gjize, which are stuffed peppers, and kaçkavall, which is a special cheese of the Balkans which can be fried.
If you are looking to try some sweet treats, then make sure to get some Baklava, a popular dessert in the region. Trilece is another typical dessert that translates to mean "three milk" and is a cake-like delight.
Traditional Restaurants
The traditional restaurants in Tirana tend to be grill houses or small cafes. Depending on what you want to eat, you will find a variety of hearty meals in both types of venues. Some of the best restaurants in Tirana selling traditional food are Nona, Oda, Kalaja e Tiranës, which is more of a tourist restaurant, and Tek Zgara Tirones, to name a few. You will see many dotted around the city, so it is best to wander around first to find somewhere that looks inviting to you. 
Street Food
Tirana has some of the best street food in the country, from take-out kebab spots to small bakeries. As well as street food, Tirana is home to some popular fast-food chains such as KFC and Burger King, but the choice is limited. This means you are more likely to experience local fast food rather than popular chain-based food. There is a direct link in Albania between fast food and street food, and they have some great local specialties to try.  Some highly-rated local fast-food restaurants are FAST FOOD PICERI HALLALL KABA, Mr. Chicken, Fast Food Gustoso, GJIRO KAMARA FAST FOOD, and Fast Food Albania.
Vegetarian in Tirana
There is an excellent selection of vegetarian and vegan restaurants in Tirana, so having dietary needs shouldn't be too difficult. Although traditional local cuisine can contain a lot of meat and dairy products, being in the capital city will give you more flexibility with your diet, but you may find it more challenging when visiting rural or surrounding areas.
Some of the best vegetarian restaurants are Veggies, Happy Belly, Almont Bar & Lounger, ejona, The Rooms Restaurant, MORSI Tirana, Falafel House, Chakra Jone, Çoko, Era, Gjelber and Green, and Protein. The best way to find vegan options is by using the "Happy Cow" app, which has many tags for Tirana.
Tirana Nightlife
If you are looking for a night out, then Tirana is the place to be in Albania; with a great selection of bars and nightclubs, you will find some fantastic and unique entertainment in this Balkan city. Albanians love to party and enjoy smoking shisha, so you are likely to find good energies in most bars.
Night Clubs
Tirana has some fantastic nightclubs, so if you want to dance the night away, you have to try out some of the following; Discobox is known for its underground music scene and is a popular nightclub; Folie Terrace, De Charme Club, and Lollipop Club are also popular places to dance.
 Bars
There are several bars in Tirana, so you have plenty to choose from. Some offer more casual vibes and a chill atmosphere, while others have more of an upbeat vibe with live music. Te Drejtoria, Tribeca Bar Tirana, Hemingway Bar, IIIyrian Saloon, Radio Bar, and Tiki bar are some of the best in town offering a fun but sophisticated vibe.
Shisha Room Bar & Lounge is a great place to hang out if you are looking for shisha or more of a bar or club style. Another bar that gives this party vibe is Oping's Cocktails&Beer. For an alternative bar, then The Holy Grail Bar-Tattoo is a unique place to visit. With its sophisticated vibes, you can get tattooed while sipping on cocktails. The Sky Tower bar is also stunning at night as you get 360 views of the city lights.
Finally if you are looking for a bar that has an element of history then you have to visit Bunker 1944. You guessed it, Bunker 1944 is a bar located in a refuge bunker left over from the communist era. 
Evening Tours
If you are looking for a unique evening experience, Tirana has many tours and organized events, such as cooking classes, live music, and more. There are many cookery classes across the city, and they will cost you around $50 USD for an evening of learning to cook and trying some local specialities. Tours are usually hosted in English and can be booked via the tourist information center. Other evening activities include walking tours. Due to the mysterious nature of the countries past, you can go on a walking tour to explore the once "forbidden" areas of the city. Walking tours can cost anywhere from $45 USD upwards.
Outside Tirana
If you are staying near the artificial lake, there are a few bars and restaurants in the area. The Sunset by The Lake bar is a great place to spend an evening watching the sunset over the water.
Things to do in Tirana
Tirana is the perfect place to be based as you have access to many conveniences while being close to nature. Mountains surround the city, so it is easy to take a day trip away from the center or to visit one of the nearest beaches. Here are some of the many things to do in and around Tirana.
Bunk Art 2

This is a very emotional museum giving a window into life when Albania was under communist rule. The museum is set in an old bunker, which adds an eerie feel when walking through the underground tunnels. It costs around $5 USD to enter, and it is a must-see for those interested in history and the countries past. There is also Bunk Art (1), an old bunker left from communist times, which you can wander around to see the preparations that were made in case of an attack.

Piramida

Piramida is an abandoned building in the center of Tirana. It is an attraction in the city because of its intriguing architectural shape. The building was constructed in the 1980s and was built to be used as a museum. But not just any museum, specifically a museum honoring the country's dictator Enver Hoxha who ruled the country from 1944-85. After the fall of communism in the early 1990s, the building was just left, and now it stands as a memory of an isolated past. The building is interesting to look at, but it is often closed off, so it is difficult to enter. It was used as a concert venue, but due to its decay it has been closed.

Art Galleries

There are many museums and galleries in Tirana, and one of my favorite art museums was the National Arts Gallery, located in the city's heart. Most galleries charge an entrance fee, but they are very affordable. Entry costs around $2 USD, so if you are looking for entertainment that teaches a little about culture and history, this is a very affordable option. Other art galleries include Gallery 43, ZETA contemporary art center, and Gallery 70.

Tanners Bridge

Tanners Bridge is a small historical site to see and is left over from the countries Ottoman past. Built-in the 1700s, this little bridge was part of the main route for farmers to bring their cattle into the butchery. It was also the leatherworking district, so this bridge was crucial for getting cattle in and out of the city.

Skanderbeg Square

This is where most statues are in the city, located next to the national history museum. You will find monuments such as the Clock Tower and the Et'hem Bey Mosque.

Rruga Murat Toptani

This cobbled street is a great place to take a wander in the afternoon. It is lined with beautiful trees, making it an excellent place for shade in the summer. It is located between the Parliament Building and the National Art Gallery.

Museums

The Museum of National History, the Opera House, and the Culture Palace are the most famous museums to visit in Tirana. These are fantastic places to see collections of historical artifacts from the area. Most museums cost between $2-5 USD for entry, which is an excellent price for visiting and learning so much.

Hiking

Albania is full of dramatic mountain ranges, which have created a hikers paradise. There are many options for day hikes near Tirana or multiple day hikes and excursions. It is always best to go with a guide as there are some dangers when hiking in unfamiliar places, such as quick weather changes and challenges with altitude. Many tour operators organize hiking trips, so make sure to check out the tourist information center for more details.

Dajti Ekspres

A cable car runs from just outside the city up to the top of Dajti Mountain called the Dajti Ekspres. The service is a fantastic way to see the city and to get to the top of the mountain. Tickets can be purchased from the lower station for around $7 USD.

Day excursions

Albania is a nature-rich country with golden beaches and mysterious mountains, creating the perfect paradise for anyone who wants to be outside. It is possible to book day tours as well as navigate the country yourself by bus or train.

Lake Shkoder

A short drive from the city is the beautiful Lake Shkoder which sits between the border of Albania and Montenegro. This natural wonder is a great place to visit and is full of mysteries. From remote monasteries on islands in the lake to swimming snakes, it is a unique place. You can take organized tours from Tirana for around $80 USD, including transportation, but there are various tours on offer. Some include boat trips on the lake. Others are more hiking-based, so it is easy to shop online and ask in the tourist information center when you get to Albania. There is also the Rozafa Fortress which gives stunning views of the lake.

Blue Eye

The blue eye is a fascinating natural wonder that is located in the south of the country. It is a natural water spring over 50 meters deep, creating beautiful deep blue and green colors in the water. It is located in the Finiq municipality, and you must pay an entrance fee to the national park, which when I visited in 2019 cost around $5 USD for a car and three passengers.

Berat (The City of 1000 Windows)

Berat is a unique city in the heart of the mountains. It is famous for its thousands of windows. The city was built into the side of the mountain so when you look up at the old town you see a sea of windows. Berat is the ninth-largest city in Albania, so most people take a trip and spend a night or two in the old town.

Durres

Durres is a beach town not too far from Tirana, and it is a great place to visit for the day. As well as visiting the beach you can enjoy the archeological museum there.
Best Time to Visit Tirana
Albania's weather can vary dramatically depending on the time of year you choose to visit. As it is located in southern-eastern Europe, it is mostly nice all year round. The best months to visit Albania tend to be the summer months. Due to the mountainous landscape, weather can change between regions dramatically.
In Tirana, July is often the hottest month, generally with an average temperature of around 24°C (75°F). The summers are dry, hot, and mostly clear, but they only last for a short while.
The coldest month in Tirana is January, when temperatures can be as low as 7°C (45°F). In February, in some parts of the country, it even snows! The winter months tend to be longer when the weather is mostly cold, wet, and sometimes cloudy.
The best time to visit Albania is between June and August as you are almost guaranteed to have great weather most of the time. It is also the best time to visit for watersports and swimming in the sea. I have visited both in May and August, and you can really feel a difference in heat during the summer months. In May, we had rain and heavy thunderstorms most days, whereas August was continuous sunshine.
Tirana for Families
In some ways, Tirana may be great for families as there is a lot going on and there are many convenient facilities in the areas. However, I found it a little chaotic, and I am not sure it is well suited to young children. That being said, there are many ex-pat families living in the city, so the best option is to find an ex-pat group such as internations.org or use Facebook to find a local community and ask how they find it.
Many people in the city speak English, so as far as integration goes, Albanian is not necessary. If you can home school your child, I think Tirana would be a great place to be based as there are many outdoor and cultural activities to keep them entertained. As well as museums and hiking, there are also some more fun activities such as visiting the nearby water park and practicing watersports at the beach.
As for accommodation finding housing for a family may prove problematic in the city center, but just outside, close to the artificial lake, you will find a great selection of better-suited apartments and houses. For around $1,400 USD a month, you can have a private apartment in a nice quiet area of the city close to the park and lake for a family of four. You will also find that many students studying foreign languages are very keen on au pair work with international families.
There is an international school in the city, which may take foreign students, so if you can't home school, this could be a suitable option. As far as hospital facilities, there are medical centers, but the level of care and outdated equipment mean that standards aren't as high as you might need for your child, of course, depending on their situation and needs.
Living in Tirana
Tirana Transportation
Public transport in Tirana and Albania as a whole is somewhat limited. As the country becomes more of a tourist hotspot, there have been improvements, bus services introduced, and funding into building and maintaining roads.
Bus
There are a few bus services in Albania, and as Tirana is the capital, it has the most extensive network. Bus journeys cost around $0.40 USD for a single ride. Timetables are often nonexistent, but you can ask in the tourist information center for an idea of times. They aren't always reliable and sometimes due to heavy traffic can end up being a no show. There are also municipal buses that operate in other cities in Albania, such as Durrës, Shkodra, Korça, and Vlora.
Furgon
As well as buses, there are smaller private minibus services called "furgons." These are a great way to get from city to city or even out into the countryside. Again it is best to ask in the tourist information center as they rarely have systems in place to book online. Always bring cash as many only take cash payments.
Train
Albania has a small train network; however, it isn't commonly used due to its lack of action. There is a station in Tirana, and trains run from there to a few cities. The trains are known for being very cheap, but they are also very slow. Taking the train could be a fun way of seeing the countryside. Timetables can be found at the station, and you can also purchase your ticket here, up to around 10 minutes before departure.
Bicycle
Renting a bicycle in the city is a great way to get from a to b as you can skip through traffic, and it is an excellent form of exercise. The only cautions are road condition, level of driving and pollution. These might put you off as it isn't always a pleasant ride. However, if you are thinking about renting a bicycle, there are a few shops in town. Most provide mountain bikes to take out in the surrounding national park areas, but it is possible to rent road bikes too. Bike point Albania, Cycle Albania, Evergreen bicycle rental, and Tirana cycle are some of the best places to check out for rentals. To get a quote drop them an email or pop in when you get there. 
Rental Car
Renting a car in Albania is one of the best ways to get around the country and see some of the more remote attractions. However, the road quality is pretty bad, and the driving isn't always the best, so be cautious and prepared if you decide to rent a car. I have taken my own car through and been fine, but it does require a lot of vigilance when on the roads and can be stressful. The roads are improving, but they can still be in bad shape in some more remote areas. Renting a car can be pretty expensive, but sometimes it is an excellent option if you are with a group. You will find rental cars from most major providers for around $40 USD per day, sometimes less if you book for a more extended time. If you do get a rental car, I would advise against using it in the city for getting around as traffic can be really bad especially during rush hour.
Fitness and Health
Keeping fit in Tirana is simple as there is a good selection of gyms in the city; however, if you don't like going to the gym, there are few other options. Yoga studios have not yet become popular in the city, so finding alternative exercising methods may be difficult.
Gyms
Depending on what you are after, there are several fantastic gyms in Tirana. The top-rated are Evolve Gym, My Gym, Fitness Forma, Ladies Gym, Angels Fitness Gym, and Fit Express Tirana. Most gyms offer a variety of plans, and you must contact them for a quote. Prices are not displayed as monthly fees, and many don't have websites. So it is easier once you arrive to find one in your area and go in and chat with them about membership options.
Hiking
Mountains surround Tirana, so it is possible to get your exercise in from nature. There are many mountain biking tours and hikes, so it could be that you stay fit by visiting the mountains a few days a week.
Free Exercise
If you are on a budget and just don't enjoy going to the gym, you can also run or cycle in the city. There are many parks and even a small running track that you can use to keep fit. So why not take your yoga mat to the park and do some yoga yourself, or find a group from your coworking and see if they will host a class or workshop. Just bear in mind that the pollution in the city can be pretty bad at some times of the year, which may affect exercising outdoors.
Tirana People
Albania is located in the Balkans, in southeastern Europe, and has had a mixed past, influencing the local traditions and culture. It is a warm country with hard-working and caring people. Tirana is becoming one of Europe's creative hubs and is attracting youth from across Europe.
In recent years, Albania has struggled with losing its youth to Western Europe, as there is more opportunity for work and business. This has significantly impacted small villages and towns that don't have more modern lines of work on offer. Naturally, if you were able to learn a foreign language at school, then it became common in Albania to go to Western Europe to find work, and most would not return as there was a vision of the lack of opportunity. 
However, it is starting to take a turn, and more are heading back to their homeland to open businesses or learn old crafts. This shift is becoming visible in Tirana and it is turning into this buzzing youthful hub. It still has a way to go, but it is on the up and could become a hotspot for digital nomads in years to come.
The people of Albania are very traditional and religious, although there is no official religion of Albania. Due to its varied past of being part of the Ottoman empire with Muslim influence and its history of Christian orthodox, there is a diverse mix in the country, with mosques and monasteries dotted around. In the capital, religion is less of an importance in daily life when compared to smaller towns and villages.
Although Albanians are open to other religions, they can sometimes be less welcoming of change, particularly in the older generations. There are still occasionally anti-gay and anti LGBTQ+ vibes, especially when there is the annual pride festival in Tirana. I have noticed that the younger generation is a little more open-minded and accepting when compared with the older. More rural regions are stricter as they can sometimes be less affected by the fast pace of Tirana. The communist rule has shaped many older generations' points of view, and this is still visible.
As a whole, Albanians are very welcoming and hospitable; they welcome anyone into their homes and villages and are very pleasant. I had a wonderful time meeting locals of all ages, they and I felt very accepted and welcome. They also love to party and are very social.
Tirana Insurance and Medical Care
Wherever you travel, it is always recommended to have relevant travel insurance in place as accidents do happen, and it is best to be prepared for unforeseen circumstances. There are many levels of cover, some just for medical, some for personal items too, and it is recommended to have both in place for Albania. It is also recommended to make sure all vaccinations against common travel diseases are up to date. 
It is essential to have health insurance as there are always unforeseen circumstances, and it is best to be prepared. The level of medical care in Albania is quite low as it is still, in some cases, considered to be developing its infrastructure. Most hospital equipment is outdated, and access to medical supplies may be limited; however, being based in Tirana means you have access to the best in the country.
On the positive side, there are private clinics, and many doctors can speak English in Tirana at these clinics. You may even find this in some surrounding cities, so communicating an issue should not always need a translator. Sometimes with private care, you are expected to pay upfront before receiving treatment or a diagnosis, so be prepared that you may have to do this and then claim from your insurance if you are visiting a private clinic.
The cost of health and medical care is very low in public hospitals in Albania. This might discourage you from taking out insurance; however, if you have a severe issue, you may need to be flown to a neighboring country with more services.
As for personal belongings, it is a good idea to have your expensive items covered as pick-pocketing and petty crime does happen in Albania. I never personally had any issues, but it is still existent.
Make sure you are fully covered by reading our full Digital Nomad Travel Insurance guide.
Jobs in Tirana
Finding a job in Tirana may prove difficult if you don't speak Albanian. Most casual jobs such as bar work will most likely require you to speak the local language as not every generation has had the opportunity to learn English. Your best option for finding work may be through teaching English as a foreign language. Teachaway.com has some great opportunities in Albania for English teachers, so this could be a reliable way of finding paid work in Tirana. 
LinkedIn and visahunter.com are also other ways to find work as they will advertise jobs specifically for foreigners. Other than using online search engines, you can see if your company has an office in Tirana that you can transfer to. As Tirana is the capital city, it is home to many global business branches. If you don't already have a connection or relevant skills, you can always ask when you get to Tirana; however, it may be more challenging to obtain appropriate visas for working. 
Finally, the most straightforward option in terms of a work visa is to volunteer. There are a few voluntary projects across the country and in Tirana, and this could be a great opportunity. Although it won't be a paid position, you may get other benefits such as free accommodation and meals in exchange for work, which will help reduce your outgoings. Things such as workaway.com are great for finding unique opportunities.
Check out our Digital Nomads Jobs Postings to find the best jobs available for Digital Nomads.
Nomad Friendly
Value for Money
Internet
Workspace
English
Food
Safety
Health
Transportation
Friendly
Quality of Living
Cost of Living Tirana
The expected cost of living can vary dramatically depending on your personal needs and wants. Below is an average low cost of living, living frugally and on basics, and another estimate based on a more luxurious lifestyle. 
On a low-end budget, you should expect to be paying around $874 USD per month. That is broken down into food, accommodation, coworking, and leisure. So you should expect to pay around $282 USD on accommodation for one month in the form of a bed in a dorm room. Food can be cheap if you are happy with street food and eating from markets, so a budget of around $10 USD per day, which is $300 USD per month, should be enough. Then if you were to walk around the city or rent a bike and combine exercise with transport, you can budget around $50 USD for the month, which includes renting a bicycle for a few days, a few bus rides, and walking most of the time. For a good coworking space, it will cost around $142 USD per month, and finally, you should allocate approximately $100 USD for entertainment.
On a higher-end budget with more luxuries, you should expect to be paying around $1864 USD per month. This is broken down into $810 USD per month on accommodation in the form of a private apartment, $20 USD per day on food, which is $600 USD a month, which means eating out most days at cafes and restaurants most evenings. You should expect to pay around $154 USD on a coworking space, $100 USD on transport, $70 USD should cover some forms of exercise combined with running and hiking, which can be free. Finally, you should allocate around $200 USD for leisure, which would include some day excursions.