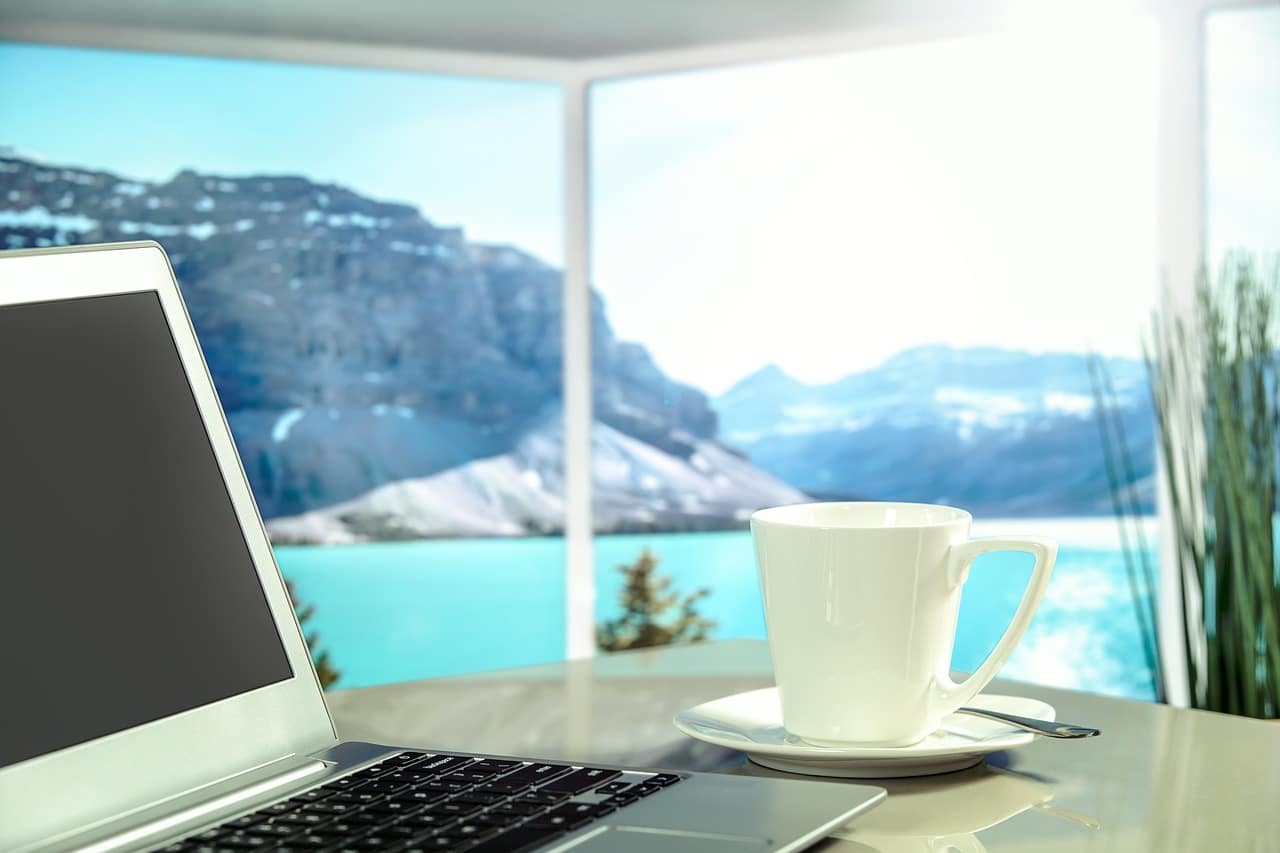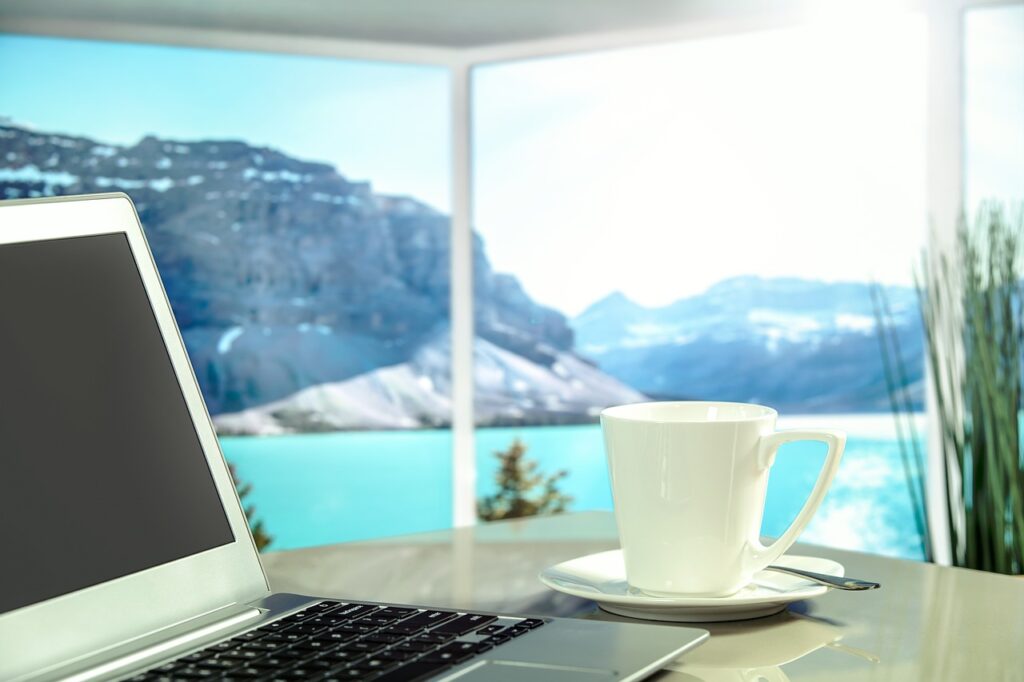 10 Best Laptops for Working from Home & Remote Work
What is the first thing you associate with remote work? A laptop, of course! 
Be it recording your voice, editing videos or music, drawing visualizations of buildings, coding or creating an outstanding presentation – almost any digital work can be done on a laptop. However, a laptop is often an expensive purchase decision and should match your individual and professional needs since it will be the foundation of the work you take on. 
To help you make an informed decision, we collected our knowledge and poured it into this list of the best work laptops for remote work which, from our point of view, fulfils all requirements of remote work. Whether you are a Windows or Apple fan, this article has got you covered and gives an overview over the possible price range. 
Things to consider before buying your Work from Home Laptop
Size matters!
Have you ever wondered how many hours it will take until your shoulder will fall off from caring around your notes, food, drinks, chargers, speakers and a completely unnecessary big laptop? Me neither! But it can cost a lot of nerves when you are constantly struggling over such a preventable issue.  
The size of your business laptop is incredibly important if you are moving around in your everyday life or chose to live a nomadic lifestyle! Check first whether your laptop can fit into your backpack or carry on bag and is light enough to protect your back from lifting harder than necessary. 
Battery
If you do not want to be tied to a plug at all times, it is best to consider battery life when purchasing a laptop for remote work. Further below you will notice that battery life varies tremendously among laptops and is worthy of your consideration.
Purpose and Abilities

of the Laptop
Find your why! What is the purpose of your laptop and what do you need in order to execute your work flawlessly? 
If you are writing a lot, then it might be advantageous to find out if the laptop's keyboard is comfortable for you when typing away on that blog post you are working on. Video editors, on the other hand, will most likely be more interested in whether the laptop can handle their preferred software or if the battery dies quicker with several applications running at the same time.
Price
The price together with the abilities of the computer is one of the most important factors to consider when purchasing a laptop. Further below, this list will provide you with more specific information on this topic. 
Mac or no Mac for the best work laptop, that is the question?
This article would not be complete without addressing the debate between Mac and PC computers. It seems like consumers have split into two tribes. The ones who religiously only purchase Apple products, including a Mac computer and the other group swears on PCs. 
Traditionally, Mac computers are in most cases more expensive than PCs and are usually preferred by remote workers who are working with visuals, such as designers, architects and people who want to move between their Apple devices effortlessly. Airdropping is a perfect example for how different devices can interact seamlessly with one another and makes it so easy to send documents to a different device. 
Another benefit that comes with Mac computers is that they are much less likely to get a virus or fall victim to a malware attack, whereas PC computers tend to be more receptive and less protected from malicious software. 
PC computers are usually more affordable and budget-friendly in comparison to Mac computers. While they are often used for video gaming, they often last longer than Mac computers by at least a few years. So, if you are planning on using your laptop for a long time, a PC computer might be the safer option. 
In the end, it is up to you whether you would rather buy a Mac or PC. What is more important is that the laptop you chose, meets your professional needs, your budget and personal preferences. 
Now, let us have a look at the
10 best laptops for remote work this year
1. Macbook Pro
16-inch screen

 

256 GB or 512 GB of storage
8 GB of memory

 

3 pounds (1.4 kg)

 

Two thunderbolt ports (no USB)
Touchscreen bar ability

 

20-hour battery life
Price point from $2,499 USD
If you work in design, the Macbook Pro is hands-down the best laptop you can get. It is able to run all Adobe programs easily without further complications or shutting down the system. It is also not that heavy at only 3 pounds (1.4 kg) and comes with a 16-inch screen. The storage capacity is 256 GB or 512 GB and has 8 GB of memory in addition. 
The 20-hour battery life allows you to say goodbye to the never-ending search for a plug in your reach when working on the go. Of course, running several design applications at the same time might reduce battery capacity a bit faster.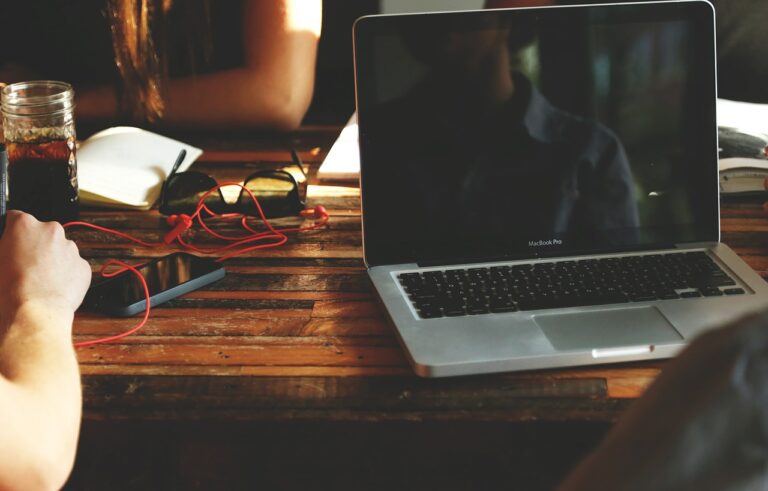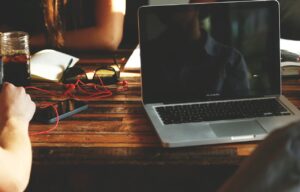 On average, a Macbook Pro tends to last about three to five years, depending on how well you take care of it. The Macbook Pro also comes with two thunderbolt ports and has a touchscreen bar that saves several keys on your keyboard making it look neat and minimalistic.
This laptop is highly recommended for anyone working in the design space because of its abilities, and for digital nomads who will not have to worry about charging their computer all the time while they are on the go. 
If you are looking for one of the best laptops for remote work and you are open to or even a fan of Apple products, look no further than the Macbook Pro.

2. Macbook Air
13.3-inch screen

 

256 or 512 GB of storage
8 GB of memory

 

2.8 pounds (1.29kg)

 

Two thunderbolt ports (no USB)

 

18 hours of battery life

 

Price point from $949.99 USD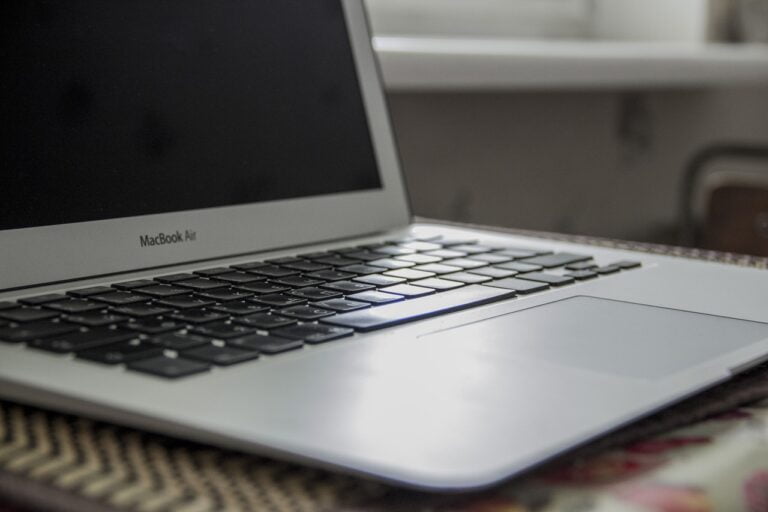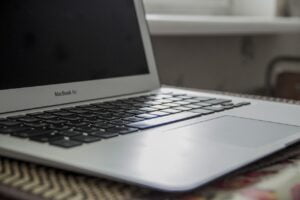 This incredibly lightweight features a processor that is often used inside of smartphones. Nevertheless, it can still be a great laptop no matter what your job is. The Macbook Air is fast and can run a great variety of programs that you may need in your day to day working life. 
This laptop is suitable for anyone who does not have a design-heavy job. If you are visually creative and want to keep the option of expanding into the design space open, you might want a laptop with a stronger processor. Other than that, the Macbook Air is a great choice!

3. Google Pixelbook Go
13.3-inch screen

 

64 GB of storage

 

8 GB of memory

 

2.33 pounds (1.06 kg)

 

No USB port

 

12 hours of battery life

 

Touchscreen

 

Price point from $585 USD
Work from home Writers, bloggers and virtual assistants, listen up! The Google Pixelbook Go is an excellent fit for you. 
Even if you are not the biggest fan of Chromebooks, this masterpiece stands out with its fun and engaging features. One of these is the so-called "hash keys". This means that Google used its technology to enhance the keyboard and made typing a lot quieter. How lucky are your roommates when you are typing away and they do not even notice you working during their siesta time! 
Besides the quiet typing feature, this laptop comes at a pretty affordable price and in a variety of colors, so you will for sure be able to express yourself through your laptop choice. Battery life is pretty average with a total of 12 hours, but weighing in at only 2.33 pounds this laptop is definitely on the lighter side of the computers mentioned in this list. 
All in all, a good and solid choice at a budget-friendly price!

4.

Acer Aspire
The Acer Aspire 5 is a great laptop if you're looking for something cheap and cheerful. Acer are known for their budget-friendly laptops – with the Aspire range acting as the jewel in their crown. Whilst the Aspire 5 isn't their newest model (they are currently on the 7th iteration) it is a reliable laptop that you can find for a good price.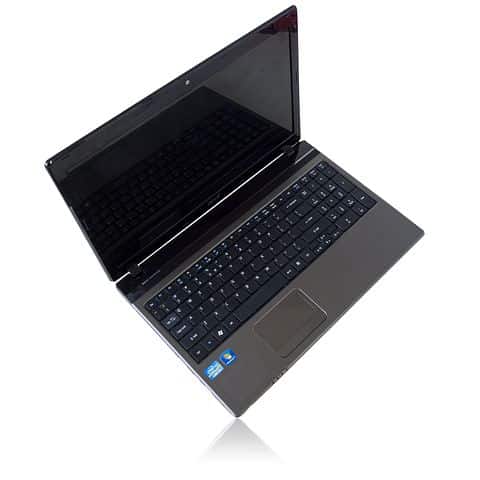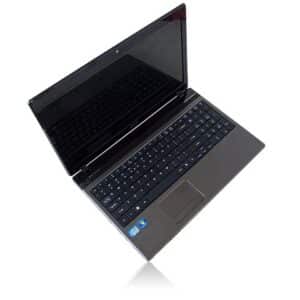 Of course – ultimately you get what you pay for. The Acer Aspire 5 is pretty good in terms of processing power and will even support basic photo editing. That being said, the plastic casings are cheap and not the most durable. You'll need to take extra care to protect the laptop when you are out and about. It's also not the best for battery life – so make sure you'll have access to coffee shops and coworking spaces on the road.
All that said, if you just need something cheap to do work on then you can't go wrong with the Acer Aspire 5. We're not denying that you'll probably need to replace it in a couple of years – but if you're only just starting out with remote working it's a good piece of kit. If you can, we recommend opting for one with an AMD processor as these supposedly perform faster.

5.

Acer Aspire 7
15.6-inch screen

 

512 GB of storage

 

8 GB of memory

 

4.85 pounds (2.2 kg)

 

7 hours of battery life

 

Price point from $1644.99 USD
The Acer Aspire 7 is rated as one of the best laptops for remote work if you are not planning on working less frequently in multiple places. Amazon recognized this fact by listing it in the recommended category called "Amazon's Choice". 
Weighing 4.85 pounds, this laptop is a bit bulkier than most other computers suggested for remote workers and this might be a knock-out criterion for you. However, this laptop has proven to be a reliable device that will last you quite a while. 
The price is excellent for its capabilities and many reviewers have said that the computer is high-speed and boots up quicker than other laptops that they were using before. If you think your time is valuable, this could be an excellent device for you while working from home. 
One last thing to keep in mind about this computer is that it does not have an SD slot. This might be a downfall for photographers and videographers aiming to find a laptop which will allow them to transfer their photographs directly from the camera through an SD card to the computer. 
Even though the Acer Aspire 7 has many capabilities, it has a relatively short battery life clocking in at 7 hours.

6. Dell XPS 13
13.4-inch screen

 

512 GB of storage

 

16 GB of memory

 

2.8 pounds (1.3 kg)

 

12 hours of battery life

 

Price point from $1597 USD
Despite the bad reputation Dell computers are getting sometimes, this laptop is a great device for location independent workers.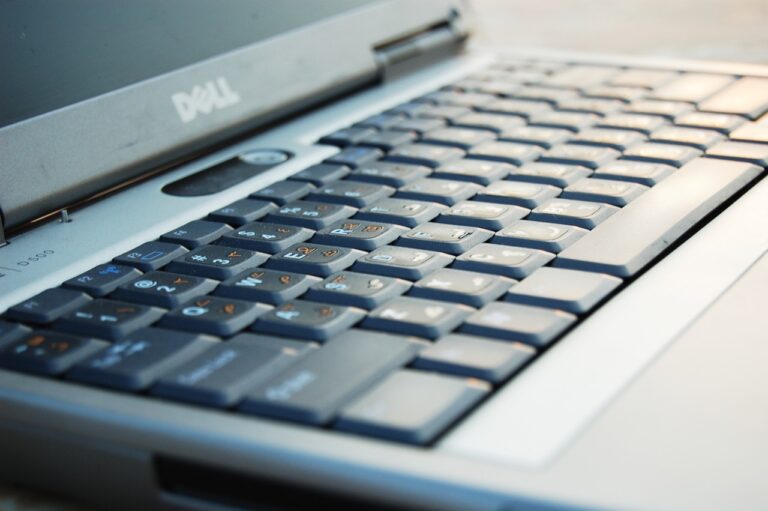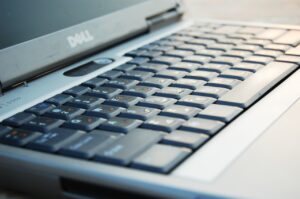 Windows lovers can stick to their favorite interface since Dell is compatible with it and surprises with more memory storage than other computers on this list. This means that workers who usually have a lot of tabs open simultaneously or if you are using several applications at once on your computer, the Dell XPS 13 will be able to handle it seamlessly. 
Regarding the screen size and battery life, this computer is not much different than the other laptops on this list and fulfills most common needs of the remote working lifestyle. Remarkable, from a designer's perspective, is the 4K display, which shows colors vibrantly. Designers will appreciate this feature while editing videos. 
Ultimately, if you need more storage on your hard drive, you can get an upgrade and top up your storage to an impressive 1 TB! Overall, The Dell XPS 13 is an impressive option for remote workers handling a big amount of data.

7. Microsoft Surface Book 3

 
13.5-inch screen

 

512 GB of storage

 

32 GB storage

 

3.62 pounds (1.64 kg)

 

15 hours of battery life

 

Price point from $2400 USD
Laptop or tablet? Why not both! 
The Microsoft Surface Book 3 is a pretty powerful computer with 15 solid hours of battery life, and it also doubles as a tablet. In one word: a transformer!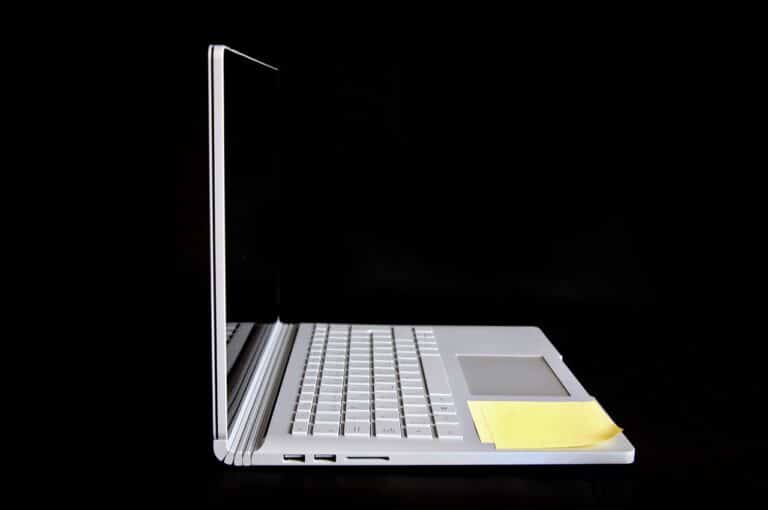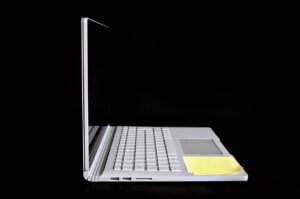 Weighing 3.62 pounds, it is for sure not the lightest computer around, but it is still a good fit for travelers who prefer using a tablet during long-distance flights or train rides. In addition, if you are an artist and video editing is part of your career, this tablet's conversion allows editing videos and pictures and can be paired with a Surface Pen, which disappointingly is not included. 
As a tablet for Digital Nomads, there are certainly areas for improvement. You will only get around two hours of use when using the Surface Book 3 as a tablet, which is a fraction of what you would get in an iPad Pro. At 13.5-inches, it is too big to comfortably be used anywhere at any time – a problem far more pronounced in the 15-inch model. But once you get used to the size and shape, you start noticing how exceptional the screen is while reading your morning news and replying to your colleagues.
For those who like stability, this laptop is a good fit, because Microsoft has retained the same design language since 2015.  Still, as good as it is, this laptop is prohibitively expensive for those of you who are simply looking for a laptop to send emails, create spreadsheets and watch Netflix on.
But if you are after a 13-inch laptop with power typically reserved for machines 15-inches and up, or if you are a fan of the OG Surface Book and its successors and have a specific need for the extra power offered here, the Surface Book 3 is a delight.

8. ASUS Zenbook 15
15.6-inch screen

 

512 GB of storage

 

16 GB of memory

 

3.6 pounds (1.6 kg)

 

10 hours of battery life

 

Price point from $1195 USD
Say hi to the thinnest computer on this list! 
The ASUS Zenbook 15 is perfectly suitable for dynamic travelers and comparable in its features to higher-price laptops on this list. This computer has fast storage and also works with Alexa, similar to how Apple products interact with Siri. 
ASUS computers are in general known for being reliable, which is good to know if you plan on traveling to areas where a computer repair shop is not on each corner. Plus, it can handle almost any task that you might need to accomplish. 
However, this computer is not suitable for anyone working in the design space since the resolution is not the best compared to some of the other laptops on this list.

9. Samsung Galaxy Book S
13.3-inch screen

 

256 GB of storage

 

8 GB of memory

 

2.09 pounds (0.95 kg)

 

17 hours of battery life

 

Price point from $899
Another top lightweight computer for remote workers is the Samsung Galaxy Book S with an impressive battery life of 17 hours, which is close to the longest battery life among laptops.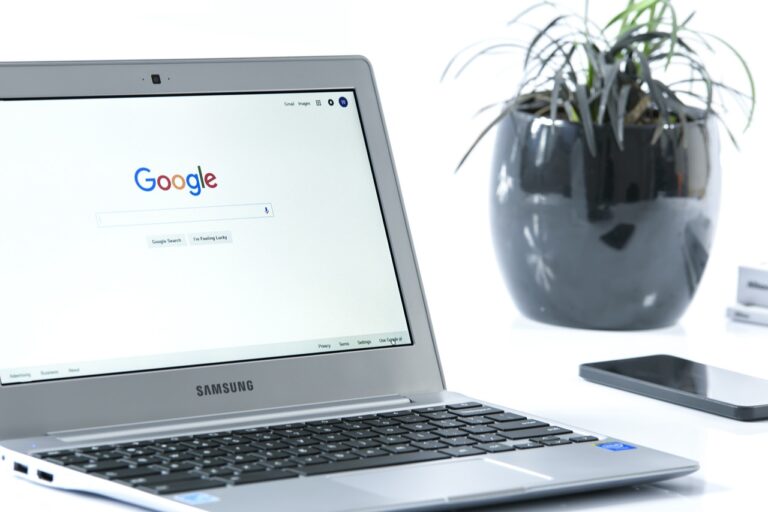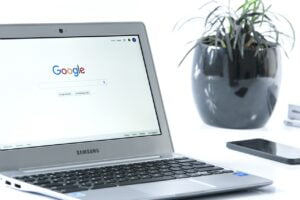 Like the Macbook Air, this computer features a processor that is often used inside smartphones. Having said this, it is still able to run a variety of programs that you may need in your working day. 
Weighing just two pounds, this computer barely weighs anything at all. As a traveler or remote worker, you will not have any issues fitting this laptop into your carry-on bag or backpack which is why this computer is a great choice for anyone on the move.

10. Lenovo Ideapad Flex
Looking for something cheap and cheerful that can help you with your low processing power tasks? Look no further than the Lenovo Ideapad Flex 5. Lenovo are known for their high quality laptops with high speeds and lightweight bodies. The Lenovo Ideapad Flex 5 is best for copywriters and social media professionals – though might not be enough for heavier tasks.
Whilst Lenovo are known for their fast computers, the Ideapad is a little bit lacking in this department. It's great for internet browsing – but even something as quick as editing a photo will take an excruciating amount of time. The build quality also isn't their best. If you get a decent case for it then it'll last a while, but the hinge is known to break with overuse. The webcam is also a little bit lacking.
All that said, Lenovo Ideapad Flex 5 is a great starter computer if you're first heading out on the road. Most digital nomad jobs that don't require massive processing power and this will certainly see you through. The battery life is pretty good too – lasting up to eight hours. This makes it one of the longest-lasting batteries on the market.

Best Laptops for Remote Work & Working From Home Conclusion

 
The variety of suitable laptops for remote workers is vast! From a little power player like a Macbook Pro to a transformable Microsoft Surface Book 3 which is both, laptop and tablet – the choice is yours! 
Now that you know what is out there, take your time to think of all the features your laptop should have and for which purpose you are most likely to use it in the long-term. As anything else that forms the base of your income, a computer is an important financial and professional decision that can make your life easier or harder. 
Luckily, many of the laptops on this list also last quite a few years and offer warranty options, so you will not have to shop every year for a new computer. 
I wish you the best of luck with finding the best business laptop of your dreams to reach your remote working goals! 
Digital Nomad World get commissions for purchases made through links in this post.