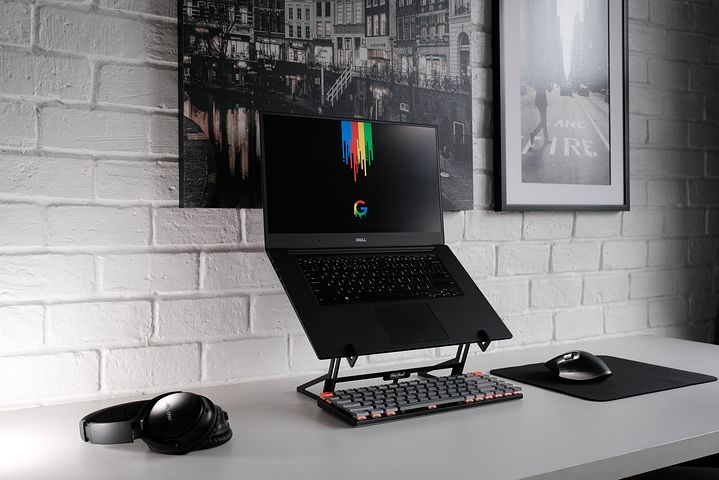 As remote work and working from home becomes the new norm, a subtle adjustment to setup has also become more essential than ever! We all know it can be a literal pain in the neck, not to mention back and shoulders, typing away on a laptop every day. Specially curated stands raise, angle, and support your laptop for a simple solution that can make a world of difference in the way we all work. 
You can quickly improve the physical part and subsequent efficiency using elegant ergonomics. There are options for every budget and use. Specific styles and designs provide stands just as unique as your needs. From sitting to standing, stationary to portable, sleek to sturdy, find that perfect pick to make yourself as comfortable as possible for the ultimate workflow upgrade.
10 Best Portable Laptop Stands
Rain Design mStand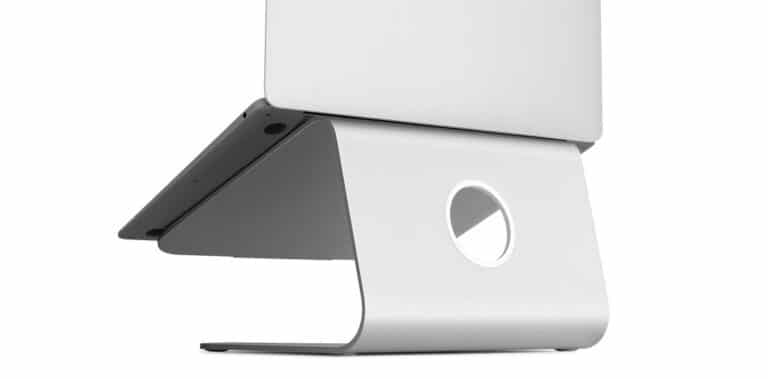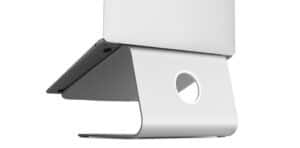 The Rain Design mStand is a must for any minimalists out there. It boasts a sweet design created out of a single piece of aluminum. If you opt for the 360, it can even swivel around for screen sharing. It combines practical and pretty for an easy pick. It comes at a mid-range price, but isn't foldable, so it's best in a single desk scenario.
The circle in the back is ideal for keeping all those pesky cords organized and out of sight. It can hold up to seven pounds and fit 15 inches, meaning it's compatible with almost any laptop. It will elevate your screen 5.9 inches, and the slight tilt is fantastic for airflow. The mStand is a great get for a simple streamlined laptop riser stand. 
Roost Laptop Stand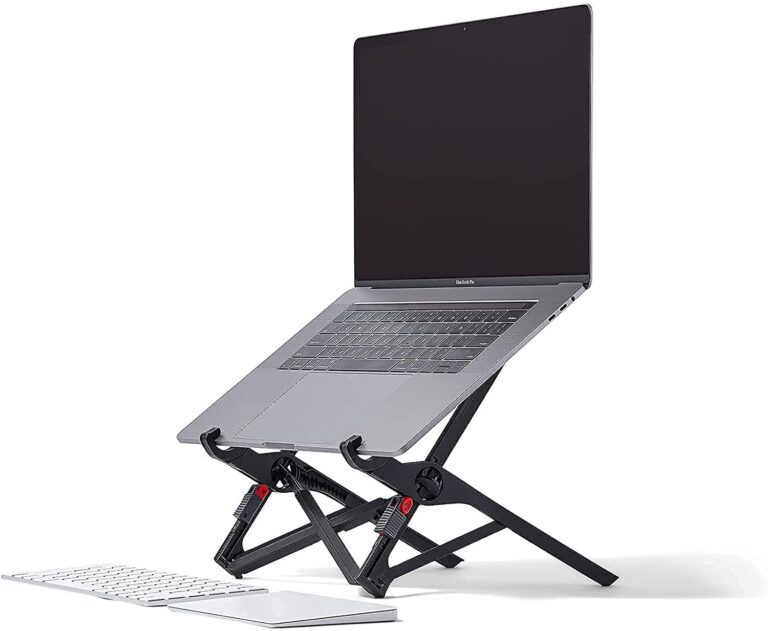 This stand is not your typical design and even began as a crowdfunding project. The result is a unique and very portable option on the higher end of stand prices. If you're a full time traveler always working on the go, Roost is a fully folding dream. It holds any computer up to 17 inches at an easily adjustable height of between six to 11 inches.
At its smallest, it's 13 inches long and is made of seriously lightweight plastic. Surprisingly solid due to its pivot clips, it offers plenty of angles for positioning. If your laptop is on the thin side, definitely consider a Roost, nothing over a .75 inches wide will fit.
Lifelong Upryze Ergonomic Laptop Stand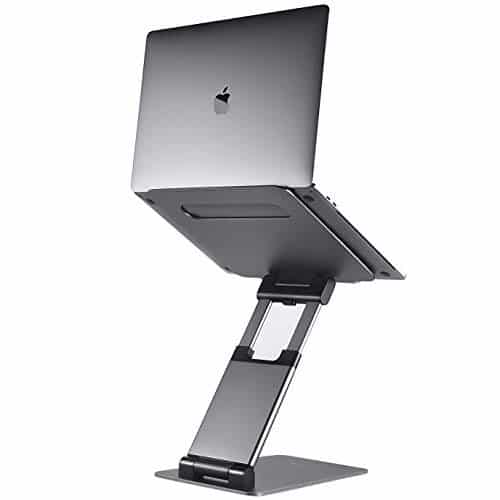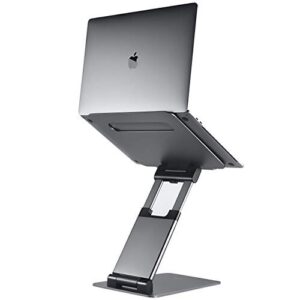 The Lifelong Upryze is a super selection for those digital nomads among us who like to work sitting, standing, or alternate in between. It reaches impressive heights at a maximum of 17 inches, helpful for any tall tech users as well.
It can hold computers that are up to seven pounds, and its funkier finish helps it stand out from the typical silver. We do recommend using it with an external keyboard for the best possible ergonomics. It's surprisingly transportable and storable, perfectly primed for table needs on the go. 
ObVus Solutions Laptop Tower Stand
This is one of our top picks for an all-around amazing laptop stand. Sure, it's a bit pricey but worth every penny for a state-of-the-art stand. Blown away by its versatility, you'll enjoy raising and adjusting this baby to any number of heights and positions. You can go from sitting to standing easily, whether you have a desk or not.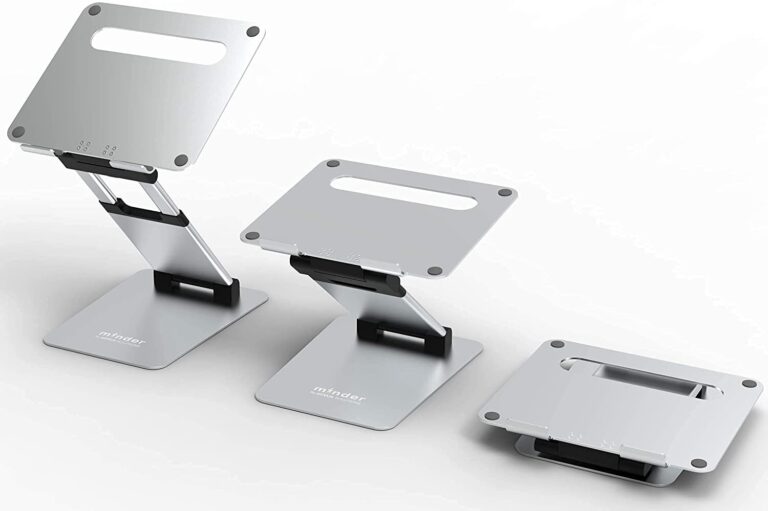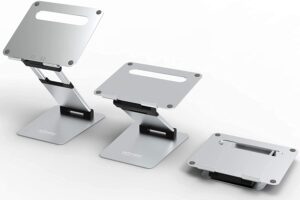 It's made of aluminum for a sleek style while maintaining stability. It can take a bit of muscle to move, but this seems to only add to the sturdy factor. Built to last, this laptop stand is in it for the long work from home haul. It fits laptops from 10 to 17 inches and is easily foldable and storable. If you love to mix it up as you work, ObVus is the obvious choice. 
Vivo Single
Vivo Single is the best clamping desk mount stand around. The height range goes from zero to 17 inches and locks in where desired. The angle can be adjusted to anything, giving us the organizational options we love. The main draw is that it allows you to keep your desk completely clear for any neat freaks out there. 
It's a steel pole with a rigid clamp that attaches to an arm with a tray. The tray is large to accommodate any size laptop and is very well ventilated. The pole itself clamps seamlessly to any desk scratch free, so you can skip all that messy assembly. It's the ultimate declutter tool for table tech. 
Grovemade Walnut Laptop Stand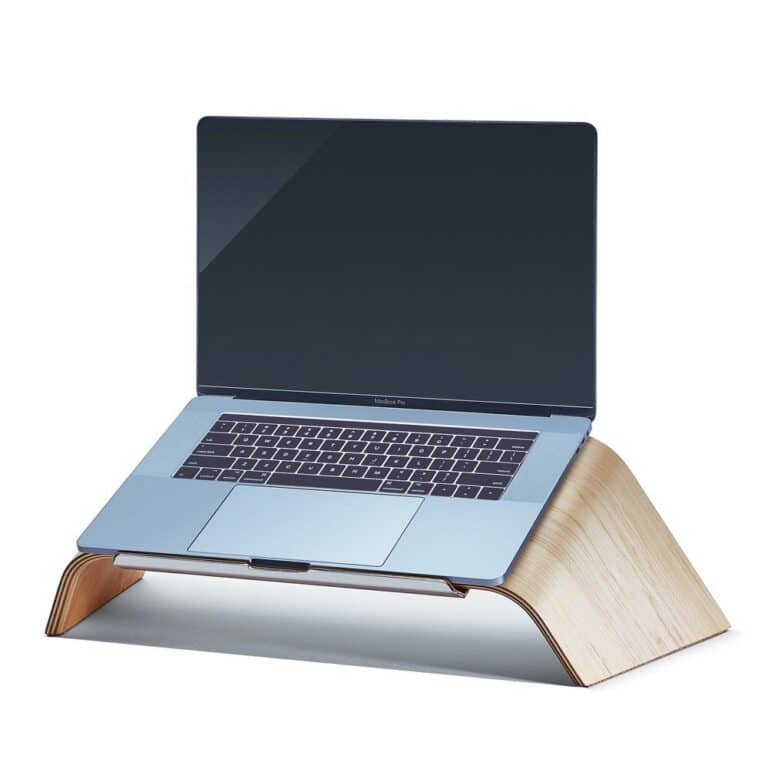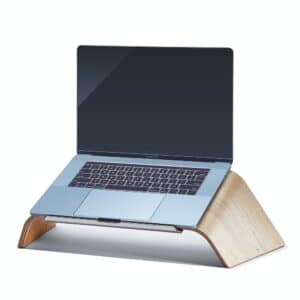 For all the style gurus, this stand is the epitome of aesthetic. It'll even look nice on the #WFH insta feed. The modern design screams cool decor, made from American black walnut and carved into a crescent. It can be used seamlessly on a desk or a couch, an extra perk when those comfy work from home hours hit.
The stainless-steel stop keeps the laptop in place, and the corked feet keep the stand from moving. It's one of the most expensive stands, but they do offer a laptop riser for slightly less. It provides excellent ergonomics despite favoring fashion over flexibility. 
G.flow Stone Portable Laptop Stand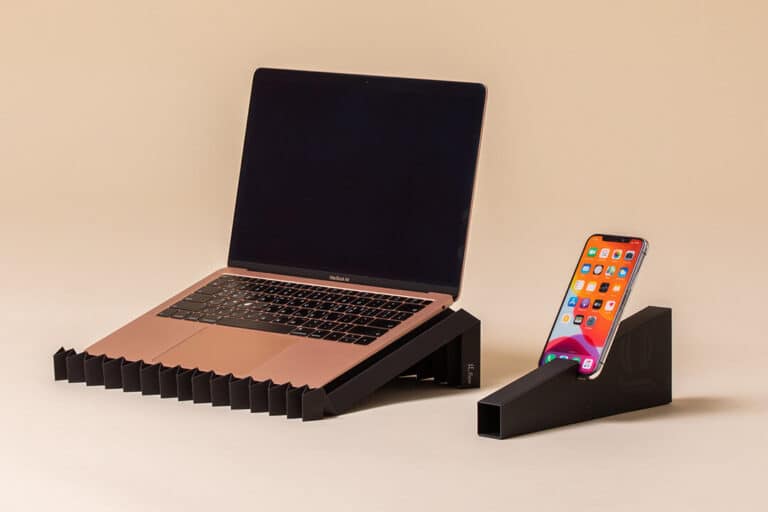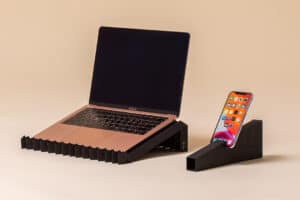 This is one of the most sustainable options out there. Saving the earth one laptop stand at a time, it's made from one sheet of recycled stone paper that's created out of mining industry waste. It looks as cool as it sounds with an adeptly folded and unique accordion design. This, of course, makes it pleasantly foldable for carrying it anywhere.
It's surprisingly sturdy, and though not adjustable, and sits at a nice angle for comfortable usage. It's even waterproof and a great budget pick that won't break the bank. If searching for a laptop riser that's something special, G.flow is the way to go. 
Awavo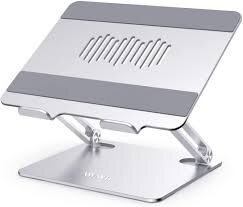 Both durable and adaptable, Awavo is a flexible favorite of many. Every aspect can be freely adjusted to fit specific needs on the aluminum alloy frame. It can hold up to 22 pounds of weight as well. One of its highlights is the large grill on the back, ideal for computer ventilation.
This open design is excellent for preventing overheating and crashes. It technically provides universal compatibility, but realistically we would recommend it for laptops between 10 and 15 inches. We love that the folding feature makes it extremely compact and light when not in use. 
Nnewvante Laptop Stand
This bamboo table is best suited for maybe the best work environment, your bed! It's an always approved indulgence and sometimes a necessity. The base can be raised to offer a suitable angle for however you wish to work, and there's a built-in stopper to keep everything steady.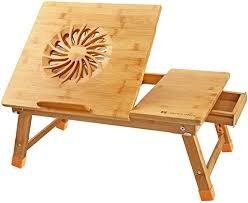 The bamboo gives it a stylish appearance while being sustainable and lightweight. The legs fold up for easy storage. There is a flat table on the side for beverages and even a small drawer for snacks, or we guess you could use them for papers and office supplies if you really want. It's a great deal for a multipurpose workspace best used on our inevitable lazy days. 
Razer Laptop Stand Chroma V2
If you're into lots of gizmos and gadgets, it may be best to splurge on a stand like the Razer Chroma V2. It's a highly capable hub with everything you need for a sweet setup. The RGB lights are a fun and flashy fixture at the front base of the stand.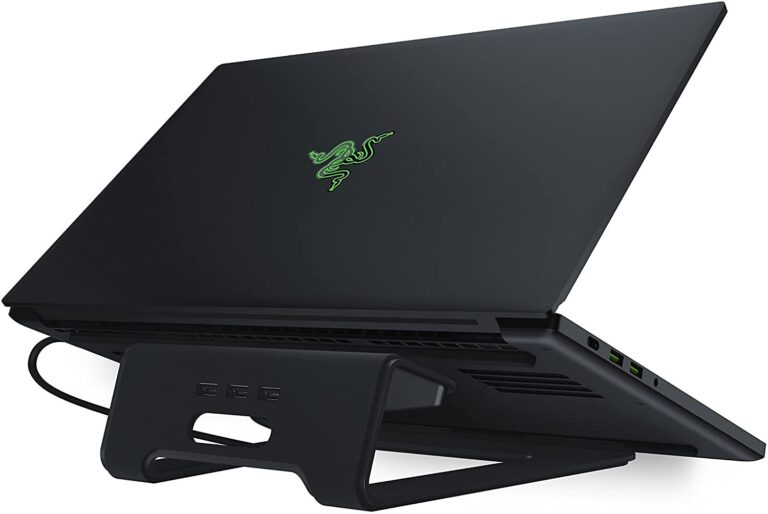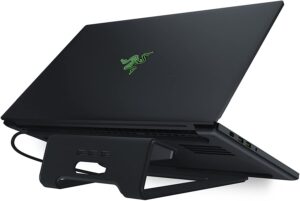 It offers an 18-degree angle for a higher display and extra air flow. With 80-watt power delivery, USB data connections, video outputs over HDMI and USB, it acts as a one stop tech stand. It's made of aluminum and is sturdy for even the heaviest laptops up to 15 inches. 
Laptop Stand Conclusion
When picking the laptop stand that's right for you, it's best to consider a few essential elements. Ultimately, these stands are designed to improve the ergonomics of your workflow. Decide what angle and height is ideal first. Our general advice is to aim for the top of the screen to be at eye level, which can alleviate computer caused aches and pains. 
Many are adjustable if you often decide to change your position throughout the day or are working in different locations. The sturdy factor is always key, to keep your laptop safe and secure. If you want something portable, look for a lightweight and folding style. 
While a lot of laptop stands for work can accommodate a variety of sizes, be sure to check that your computer will fit comfortably. Try a riser that offers ventilation so the fan can flow easily from the bottom of the device, an important part of taking care of our technology that's easy to overlook. 
For more relaxed days grab a stand that's made for productivity while laying down. There's a wide range of price points, from $30 to $200. Of course, enjoyable aesthetics are always a plus, so decide if sleek, stylish, or both is best for your space.