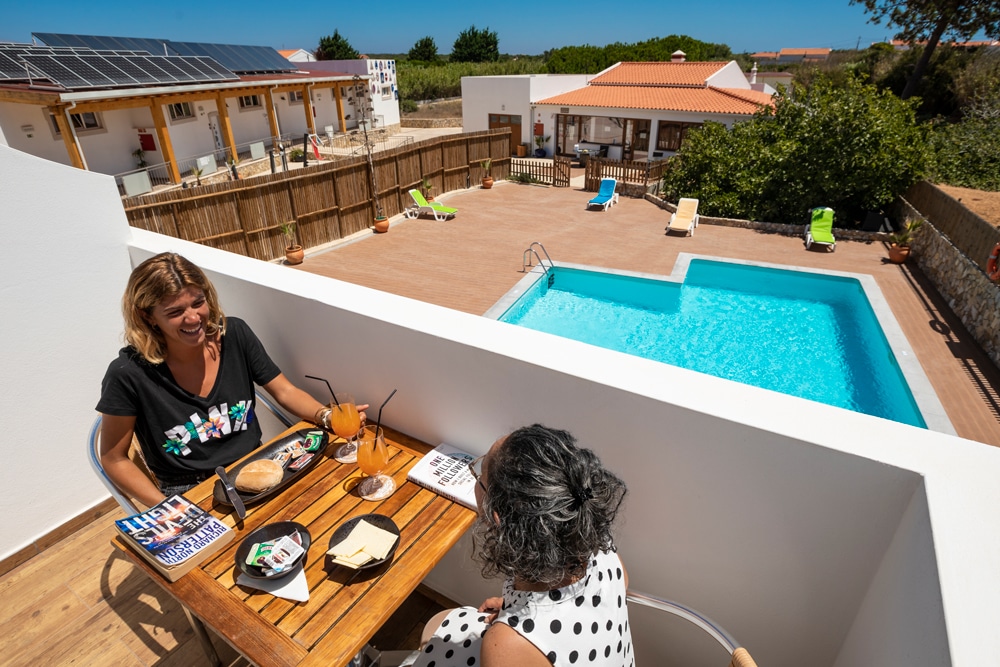 As a Surf Camp, we are open to all groups, from beginners to advanced surfers; as a Hostel, we receive people from all ages and walks of life.
We have 99 beds in different kinds of typologies: dorms, twin and triple rooms, and two studios located right in front of the beach.
We offer very complete facilities, such as a fully equipped communitary kitchen, a salt-water swimming pool & outdoors gym, free surf board lockers for guests' boards, a co-working space for digital nomads, and of course free, fast Wi-fi all around the Hostel.
Our private rooms (twin/triple) have a private bathroom, mini-fridge, TV and a view over the swimming pool.
Our dorm beds are each fitted with their own curtain, power outlet, lamp and shelf, as well as a big locker for keeping personal belongings.
We have our own surf school, but we also offer surfing equipment rentals, as well as bicycle rentals.
We strive to be as eco-friendly as possible, so we have solar panels providing us with 90% of the energy we use.
We've adopted all the necessary health safety and hygiene measures to face the Covid-19 pandemic, and we're the only Surf Camp in our region with the Clean & Safe seal, which is attributed by governmental entities to the hotels that meet the strictest requirements.
Sagres, Portugal