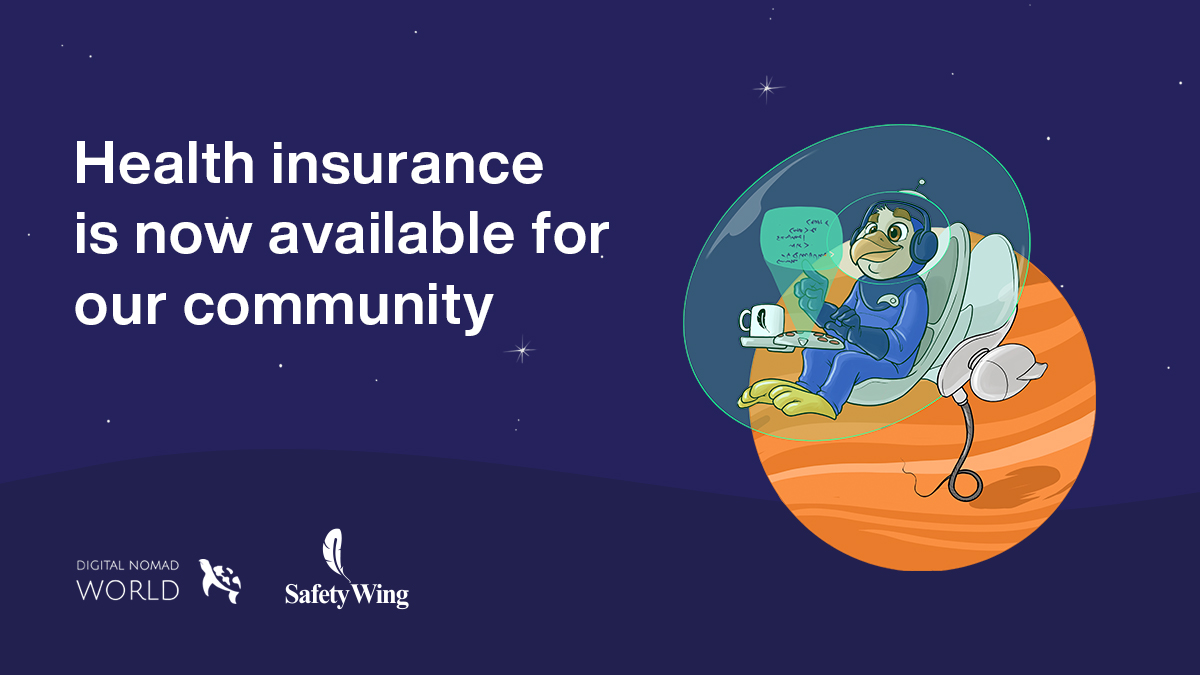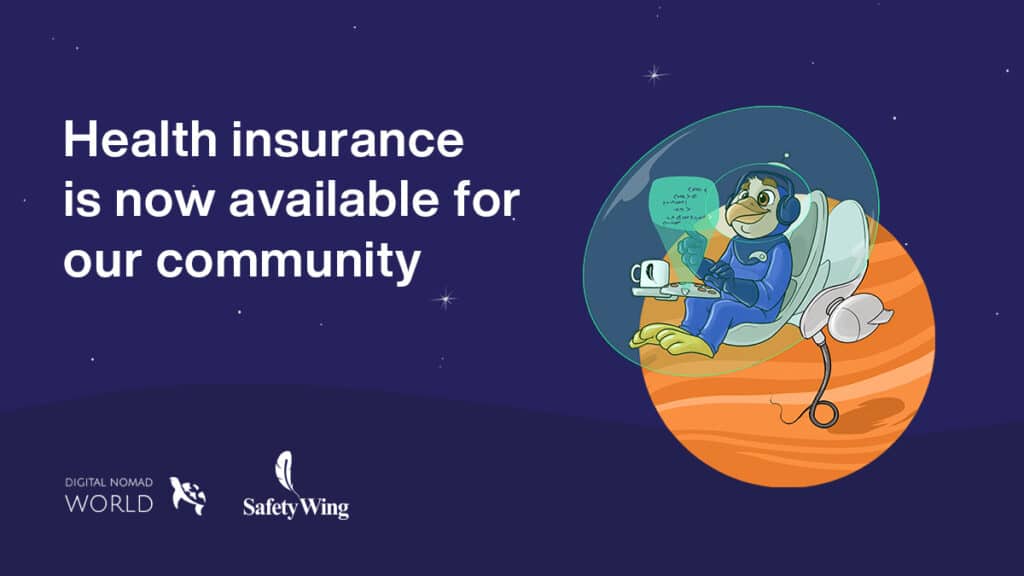 SafetyWing – Remote Health Insurance 
What you get
Get up to 30% off global health coverage for yourself and your family.
How to collect
Collect discount by clicking link
SafetyWing Remote Health Insurance
SafetyWing Remote Health: affordable, high-quality global health insurance for the Digital Nomad World community
Get up to 30% off global health coverage for yourself and your family.
✓ Comprehensive health coverage at a reduced rate through Digital Nomad World
✓ Support for hospitalizations, emergencies, and cancer treatment
✓ Premium plans offer dental, vision, and routine screenings
✓ You're covered in your home country and wherever you travel
✓ From $85/month, per member
Through Digital Nomad World, you get up to a 30% discount off individual rates for health insurance.
We cover 175+ countries of residence. You can enroll yourself and your family for Remote Health by entering your information here. You will then receive an activation email from us to create your policy.
If you have any questions, our friendly customer care team is less than a minute away through our website chat, available 24/7.
About SafetyWing
Launched in 2018, SafetyWing's vision is to build a global social safety net, to create equal opportunities and freedom for everyone worldwide.
With Remote Health, SafetyWing is making it easy for remote teams and independent workers to access high-quality health benefits at an affordable price. Founded by CTO Sarah Sandnes, COO Hans Nyvold Kjellby, and CEO Sondre Rasch, SafetyWing is headquartered in San Francisco, California and has a 180-strong team of fully remote workers based all over the world.
Advantages
Coverage for members residing in 175 countries. All policyholders are also covered during short and long-term trips to almost every country in the world.
Free and 24/7 customer support via chat or phone. Reach out to our team on chat regarding claims, questions, or concerns, or give us a call to arrange a hospital visit.
Add dependents like your spouse, domestic partner, or children.
Find out more details about our policy & benefits here: