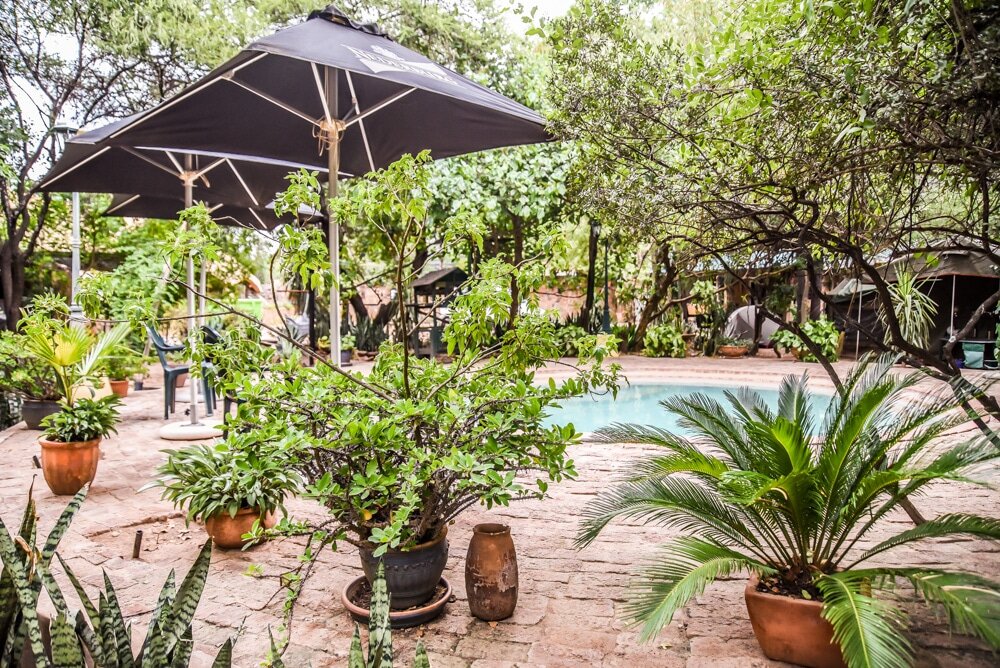 Enjoy the wide open spaces, where nature and backpacking form a unity. Take pleasure in the hospitality of the Botswana people, infinite blue skies and sunsets to soothe the soul.
For most of the year Botswana is warm and dry. Spring explodes into wonderful flora as far as the eye can see. Come and experience the beauty of the African bush and its abundance of wildlife. We offer helpful advice on your planned travels throughout Botswana. Traditional African meals are available at a number of local restaurants in Gaborone.
Accommodation Available:
Our accommodation consists of two-sleeper thatched cottages with two single beds in each, two-sleeper wooden units and four-sleeper wooden units with bunk beds. Our accommodation is self-catering and has access to a communal kitchen and communal bathroom facilities. Linen and towels are also supplied. Facilities are very secure, clean and well maintained. Secure parking and sound location are part of the package.
Camping space is available at the backpackers, with 220 V power nearby. It is self-catering and campers have access to a communal kitchen and communal bathroom facilities with showers and hot water.
Where is Mokolodi Backpackers?
We are located 10kms south of Gaborone, just off the main Lobatse – Gaborone highway. The turning is marked with signage for the Mokolodi Nature Reserve.
The bus from Gaborone to Ramotswa departs every 30 minutes and you should get off at Mokolodi 2 (15km). Pick-ups to and from town/airport can be arranged
Address: Plot 86, Mokolodi, Gaborone, Botswana
GPS co-ordinates: Latitude D M S: -24° 44' 26.13" Longitude D M S: 25° 49' 41.41"
Web: www.backpackers.co.bw – fb: www.facebook.com/mokolodibackpackers
In order to receive the benefit you must show your valid membership card