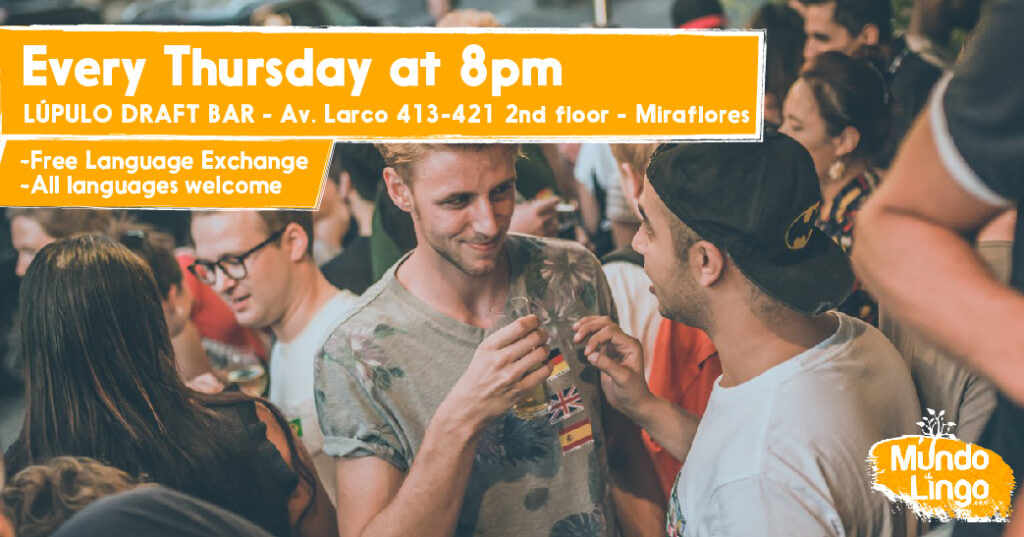 Mundo Lingo Lima (Miraflores #105)
When
Start: Thu, Nov 17, 2022 8:00 pm
End: Fri, Nov 18, 2022 1:00 am
Who
What
We make community hubs for locals and foreigners in cities around the 
Every Thursday 8pm at Av. Larco 413 - Miraflores
· · · How it Works · · · Around 150 people from around the world that meet weekly to chat, meet new people, and practice speaking other languages. It's pretty chilled and lots of fun 
 → Feels like this
Place flags on your chest from top to bottom according to fluency. We offer flag from over 200 regions. Stand to mingle, sit to dwindle!
 Talk about anything you like. You don't have to be an advanced speaker - it's open to everyone! · · · Reception 8 - 9pm · · · Not mandatory but recommended, especially for newbies. We give out flags until 11 pm.
All ages (18+) It's Free Same place every Week Connect 
→ On Telegram: 
https://t.me/mundolingo_lobby
→ Instagram: 
https://www.instagram.com/mundolingo/
→ FB Group: 
https://www.facebook.com/groups/ML.Lima
→ Twitter: 
https://twitter.com/MundoLingoDAO
BTW... 
→ Please do not BYOB. Support us, buy a drink! → We're in a public place, members should take care of their things → We take photography in all of our events.
Which
Shhh… Please enter respectfully.
This is a safe place free of judgement and sarcasm.
Here you could post anonymously your deep […]

Buy and Sell Anything!
Looking to sell the furniture in your old apartment? Want to buy a cheap second hand laptop?
Post here all your […]

Announcements, news, and everything that does not fit in the other groups.
Join the conversation, ask a question – express yourself

Each week we will be hosting a special speaker with knowledge of a specific field or other interesting stories to share. They will talk […]

Voice your concerns and advice for health related issues while traveling and living remotely.
Find recommendations of medical insurance […]

Digital Nomads currently living or planning on traveling anywhere in Estonia. The group focuses on broader information about the country […]

Digital Nomads currently living or planning on traveling anywhere in Portugal. The group focuses on broader information about the country […]

Digital Nomads currently living or planning on traveling anywhere in Mexico. The group focuses on broader information about the country […]

The land of fire and ice, plummeting waterfalls gushing from all seems, barren mountains painted with striking color patterns and […]

For anyone traveling in or with a family – this is the place to share information, stories, challenges, and unexpected moments! And also – […]

Looking to buy or sell a house? Interested in investing in real estate? or maybe just searching for long or short term rent options? This […]