Desygner´s Global Hackathon 2022 in Bali – Suksma Mewali to Our Workation!
When
Start: Thu, Nov 3, 2022 5:00 pm
End: Thu, Nov 3, 2022 8:00 pm
Where
Jl. Nelayan No.78f, Canggu, Kec. Kuta Utara, Kabupaten Badung, Bali, Indonesia
Get Directions
What
You are experts in your field, come and say hi for a beer, a bite and maybe get an invite to join us on our hackathon event in Bali #hiring
November 3, 2022 5PM to 8PM ZIN Cafe 78F Jalan Nelayan Kec. Kuta Utara, Bali Indonesia It's open to digital nomads and talented Developers, DevOps, QA professionals, marketers, designers, and sales professionals. Apply for roles in Bali, London, and Desygner's headquarters in Gold Coast, Australia at this event (sponsoring remote applicants).
Click here to register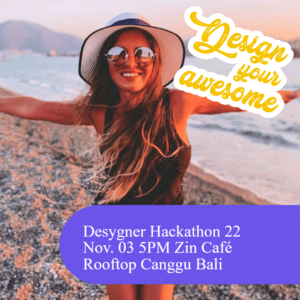 Which
Buy and Sell Anything!
Looking to sell the furniture in your old apartment? Want to buy a cheap second hand laptop?
Post here all your […]

Shhh… Please enter respectfully.
This is a safe place free of judgement and sarcasm.
Here you could post anonymously your deep […]

Each week we will be hosting a special speaker with knowledge of a specific field or other interesting stories to share. They will talk […]

Voice your concerns and advice for health related issues while traveling and living remotely.
Find recommendations of medical insurance […]

Announcements, news, and everything that does not fit in the other groups.
Join the conversation, ask a question – express yourself

A group for all Software Development related content. Here you can share all your questions / insights / job opportunities / tips for […]

This group is for nomadic dogs and their pet humans to share useful information and help each other travel the planet, doggy style

Hi I'm creating this group as somewhere to support each other spiritually. Recommend church services in other countries or share online […]

Looking for volunteers to help out? Looking to volunteer and give back to society?
This is the place to be!

Let's use this group to advance a more environmental way of living, work with each other to discover new sustainable energy technologies […]

A group to share all things about coliving; from your favourite places to stay to your own experiences as well as coliving events and latest news!

Dedicated workshops by experts in a variety of professions.
The workshops will include practical applications for everyone to use in […]

A space for members to share their experiences, struggles, and successes with others who understand the unique challenges of living a […]