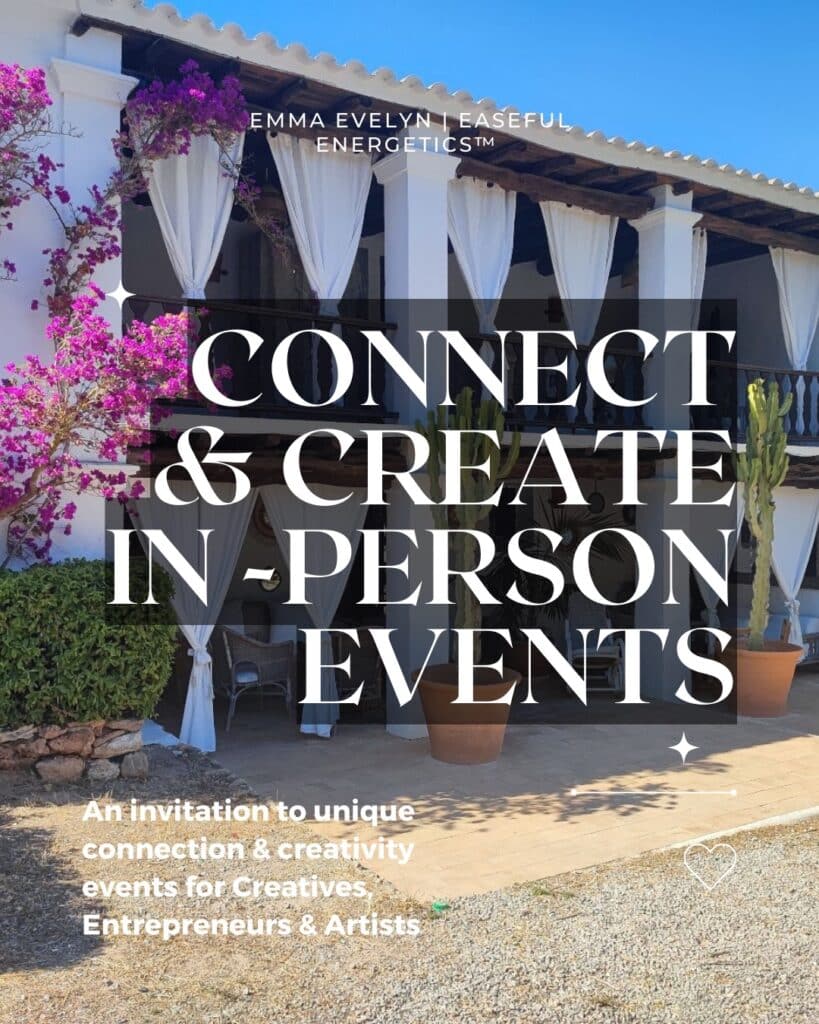 When
Start: Sat, Feb 18, 2023 11:00 am
End: Sat, Feb 18, 2023 2:00 pm
What

We believe that creation is an inside-out process, so, we've designed these events to provide Creatives, Entrepreneurs and Artists, a safe space to connect with your inner-guidance through meditation and intention setting, facilitated by Emma, a Connection & Creativity Coach. We also recognise the importance of grounding our creations through both intuitive action and collaboration. This is why our events are also focused on taking actionable steps and coming together with a like-minded community to network and collaborate. Emma's background also serves to facilitate and guide you through any resistance you may be experiencing in your creative journey.

We offer an in-person event (max 16 people), held in beautiful and intentional homes, situated in the stunning nature of Ibiza. These events are all about honouring the creative journey and tapping into your unique process, allowing it to be expressed through you and into your creations, life and business. This event is about knowing and experiencing the unique ideas, gifts and wisdom that we all have within us, and connecting with this in a safe, supportive environment.

This space for 3 hours includes…

After an introductory hot-tea and treats, Emma will lead a 20-minute guided group meditation to connect deeply to your intuition. Following that, Emma will open a guided Reflect, Reset & Intend Journalling Session. This will allow you to set personalised intentions for the duration of the event. The space will then be opened for you to be in-flow and create for 1 hour. Emma will also facilitate throughout this phase, and be there as a guide for anyone who's experiencing challenging emotions and resistance, to support you with integration and release.

We'll then re-group for a Grounding & Closing Session, to begin the integration and intentional action phase of the creative journey. This will be an opportunity for you to ground any ideas into actionable steps that you'd like to begin to take after Connect, Integrate & Create, or as a space to reflect on what came up for you during the event.

Finally, we'll come together to connect and network with one another to sew the seeds of collaboration and opportunities through authentic, conscious connections and a beautiful, nourishing, plant-based lunch and desert by chef Ilse Samuelsz.

Investment: €44 per ticket (Ibiza residents can receive 15% off by requesting a discount code from me)

I can't wait to see you there.

➣ To book onto our event in Ibiza on the 18th of February 11AM-2PM, please use the links below, You can book on and pay using the scheduling link

In all of my offerings, there's no judgement or shame for what may surface, we embrace exactly what wants to come up, be expressed, felt and said. 𝗧𝗵𝗶𝘀 𝗶𝘀 𝗮 𝘀𝗮𝗳𝗲, 𝗰𝗼𝗻𝗳𝗶𝗱𝗲𝗻𝘁𝗶𝗮𝗹 𝗮𝗻𝗱 𝘀𝘂𝗽𝗽𝗼𝗿𝘁𝗶𝘃𝗲 𝗲𝗻𝘃𝗶𝗿𝗼𝗻𝗺𝗲𝗻𝘁 𝗳𝗼𝗿 𝘆𝗼𝘂 𝘁𝗼 𝗲𝘅𝗽𝗹𝗼𝗿𝗲 𝘆𝗼𝘂𝗿 𝗶𝗻𝗻𝗲𝗿-𝘄𝗼𝗿𝗹𝗱.
Which
Announcements, news, and everything that does not fit in the other groups.
Join the conversation, ask a question – express yourself

Each week we will be hosting a special speaker with knowledge of a specific field or other interesting stories to share. They will talk […]

Buy and Sell Anything!
Looking to sell the furniture in your old apartment? Want to buy a cheap second hand laptop?
Post here all your […]

Shhh… Please enter respectfully.
This is a safe place free of judgement and sarcasm.
Here you could post anonymously your deep […]

Voice your concerns and advice for health related issues while traveling and living remotely.
Find recommendations of medical insurance […]

Group designed to search for jobs in the content creator and writers area (copywriter, content writer, etc)

Dedicated workshops by experts in a variety of professions.
The workshops will include practical applications for everyone to use in […]

For anyone who enjoys a good festival and is on the lookout for ones at any new destination.
Have you been to one you can recommend? […]

There are lots of groups out there organising trips aimed at digital nomads, combing work and vacation time. These are great for any nomad […]

Digital Nomads currently living or planning on traveling anywhere in the USA. The group focuses on broader information about the country […]

Digital Nomads currently living or planning on traveling anywhere in Portugal. The group focuses on broader information about the country […]

This group is for nomadic dogs and their pet humans to share useful information and help each other travel the planet, doggy style

Please share all your secret travel hacks and tips, best ways to find cheap flight and accommodation, or any cool gadget or accessary for traveling.