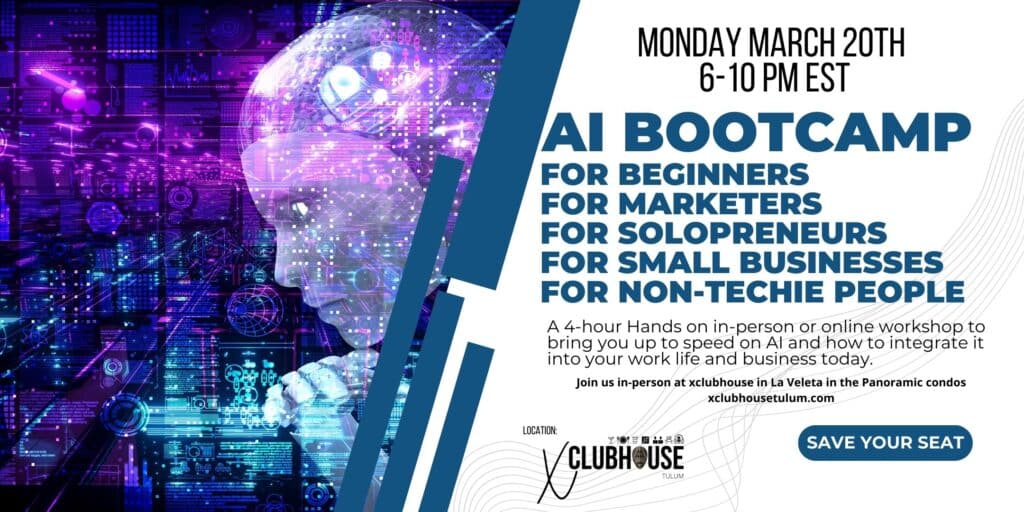 When
Start: march 20th, 2023 6pm
End: March 20th, 2023 10pm
What

Join us for a 4-hour Hands on in-person & online workshop to bring you up to speed on AI and how to integrate it into your work life and business today.

This workshop is designed for non-technical people to demystify Artificial Intelligence technology exploring the tools and trends. If you attend this workshop you will leave able to explain with confidence why AI is relevant and how the everyday person, solopreneurs, small businesses, marketers, artists, creators and more can integrate AI into their daily workflows.

You'll be introduced to many tools including the infamous ChatGPT, Mid-journey and more as well as how to optimize how you work with these tools and others. You will spend hands-on time learning about prompt engineering and by the end of that workshop you will be set-up with a few useful tools and have enough working knowledge to improve your productivity, save time and order of magnitude more creative.

Learn:

AI 101 Primer
10 + AI tools
7 + Usecases/ Demos
Introduction to Prompt Engineering
Workflows for your life
so much more
PLEASE BRING YOUR LAPTOP WIFI WILL BE PROVIDED IF JOINING BY ZOOM LINK WILL BE PROVIDED DAY OF.
Which
Announcements, news, and everything that does not fit in the other groups.
Join the conversation, ask a question – express yourself

Each week we will be hosting a special speaker with knowledge of a specific field or other interesting stories to share. They will talk […]

Buy and Sell Anything!
Looking to sell the furniture in your old apartment? Want to buy a cheap second hand laptop?
Post here all your […]

Shhh… Please enter respectfully.
This is a safe place free of judgement and sarcasm.
Here you could post anonymously your deep […]

Voice your concerns and advice for health related issues while traveling and living remotely.
Find recommendations of medical insurance […]

Group designed to search for jobs in the content creator and writers area (copywriter, content writer, etc)

Dedicated workshops by experts in a variety of professions.
The workshops will include practical applications for everyone to use in […]

For anyone who enjoys a good festival and is on the lookout for ones at any new destination.
Have you been to one you can recommend? […]

There are lots of groups out there organising trips aimed at digital nomads, combing work and vacation time. These are great for any nomad […]

Digital Nomads currently living or planning on traveling anywhere in the USA. The group focuses on broader information about the country […]

Digital Nomads currently living or planning on traveling anywhere in Portugal. The group focuses on broader information about the country […]

This group is for nomadic dogs and their pet humans to share useful information and help each other travel the planet, doggy style

Please share all your secret travel hacks and tips, best ways to find cheap flight and accommodation, or any cool gadget or accessary for traveling.